Felix's next start pivotal for rotation status
Right-hander's starting spot in question; Duke activated, Elias to DL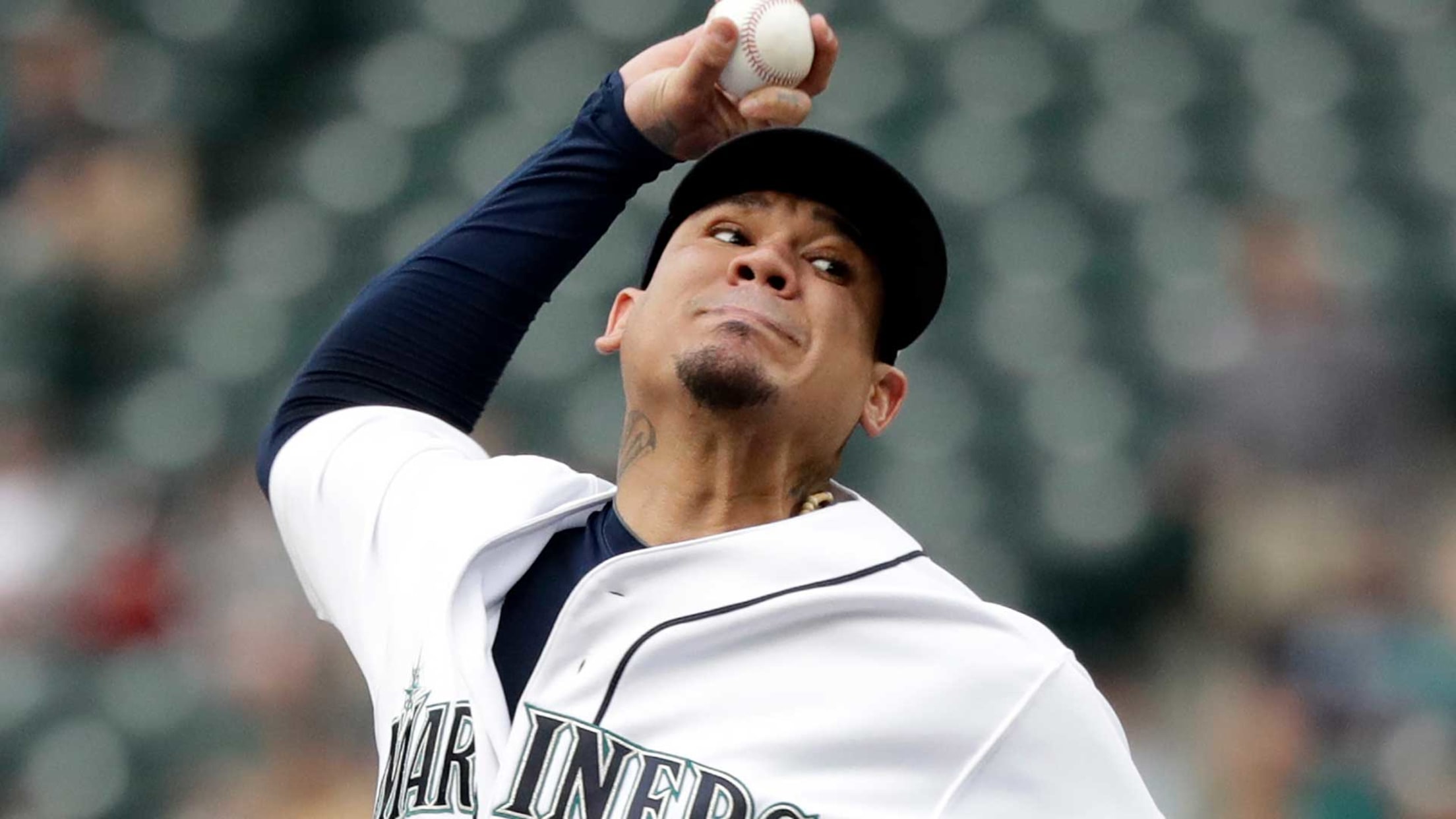 SEATTLE -- Despite his struggles this season and what he felt was an "embarrassing" outing his last time out, Felix Hernandez will start Thursday against the Blue Jays as scheduled, manager Scott Servais said on Tuesday.Hernandez is 8-9 with a career-high 5.58 ERA in 21 starts and gave up seven
SEATTLE -- Despite his struggles this season and what he felt was an "embarrassing" outing his last time out, Felix Hernandez will start Thursday against the Blue Jays as scheduled, manager Scott Servais said on Tuesday.
Hernandez is 8-9 with a career-high 5.58 ERA in 21 starts and gave up seven runs in 2 2/3 innings in an 11-5 loss Saturday in Anaheim. But after Servais and general manager Jerry Dipoto discussed the situation this week, they've elected to stick with the veteran right-hander for now.
Hernandez, a six-time All-Star and 2010 American League Cy Young Award winner, has been the face of the franchise for more than a decade. But even so, his next start looms large if he's to remain in the rotation and his performance is key to the Mariners' playoff push.
"Really important," said Dipoto. "And to that extent, obviously on Thursday, hopefully we get beyond where he's been, particularly this last start. The Mariners have relied on Felix to take the ball, we're going to rely on him again on Thursday and we're going to take it day by day and just see where we are as a team.
"If Felix gives us a good one, we're going to be a better team. If he doesn't, we're going to have to recover and find another way to answer those innings. We're just going to take it every time through the rotation and assess where we are."
Hernandez's long status with the team doesn't guarantee him anything if the performance doesn't improve.
"At the end of the day, we are here to win the games," Dipoto said. "And I think that is obvious, by the fact that we are making these moves, we know we're in this, we're doing our best to maintain our position and we're going to be conscious of the wins."
Servais acknowledged the tough season has weighed on Hernandez.
"It's been tough for him," said Servais. "I hope he gets it turned around. We certainly need him. He wants to be a part of this, there's no question about that. But you've got to go out and do it. It's the 'do-good' league. And he's been a big part of this league for a long time because he's done very well. He'll pitch Thursday night and hopefully, it's a good one."
Duke joins team, Elias placed on DL
Left-handed reliever Zach Duke, one of three players acquired in trades over the past two days, reported to the Mariners and was added to the 25-man roster in time for Tuesday night's game against the Astros.
To open a roster spot, lefty long reliever Roenis Elias was placed on the 10-day disabled list with a left triceps strain. That move is retroactive to Sunday. Elias last pitched on Saturday, throwing a scoreless eighth inning with one hit and a strikeout in the Mariners' 11-5 loss at Anaheim.
The two other recent trade acquisitions -- right-hander Adam Warren and outfielder Cameron Maybin -- are expected to join the team in time for Wednesday afternoon's series finale against the Astros.
Worth noting
• Third baseman Kyle Seager missed his second straight game on Tuesday as he remains on paternity leave. Servais said he didn't know yet if Seager will be back on Wednesday or Thursday. Paternity leave allows for a maximum of three days for players to spend with their families.
• Erasmo Ramirez, on the DL since early May, was slated to pitch four innings in a rehab start for Double-A Arkansas on Tuesday and is close to rejoining the Mariners. Dipoto said Ramirez is back up to 94 mph with his fastball and could be used either in the rotation or bullpen once he's recalled.
"There's a place for Erasmo on this team and he's going to help us," said Dipoto.