Fans must start voting now to get in all 35 ballots
Final-week stretch crucial to deciding who will be in starting lineups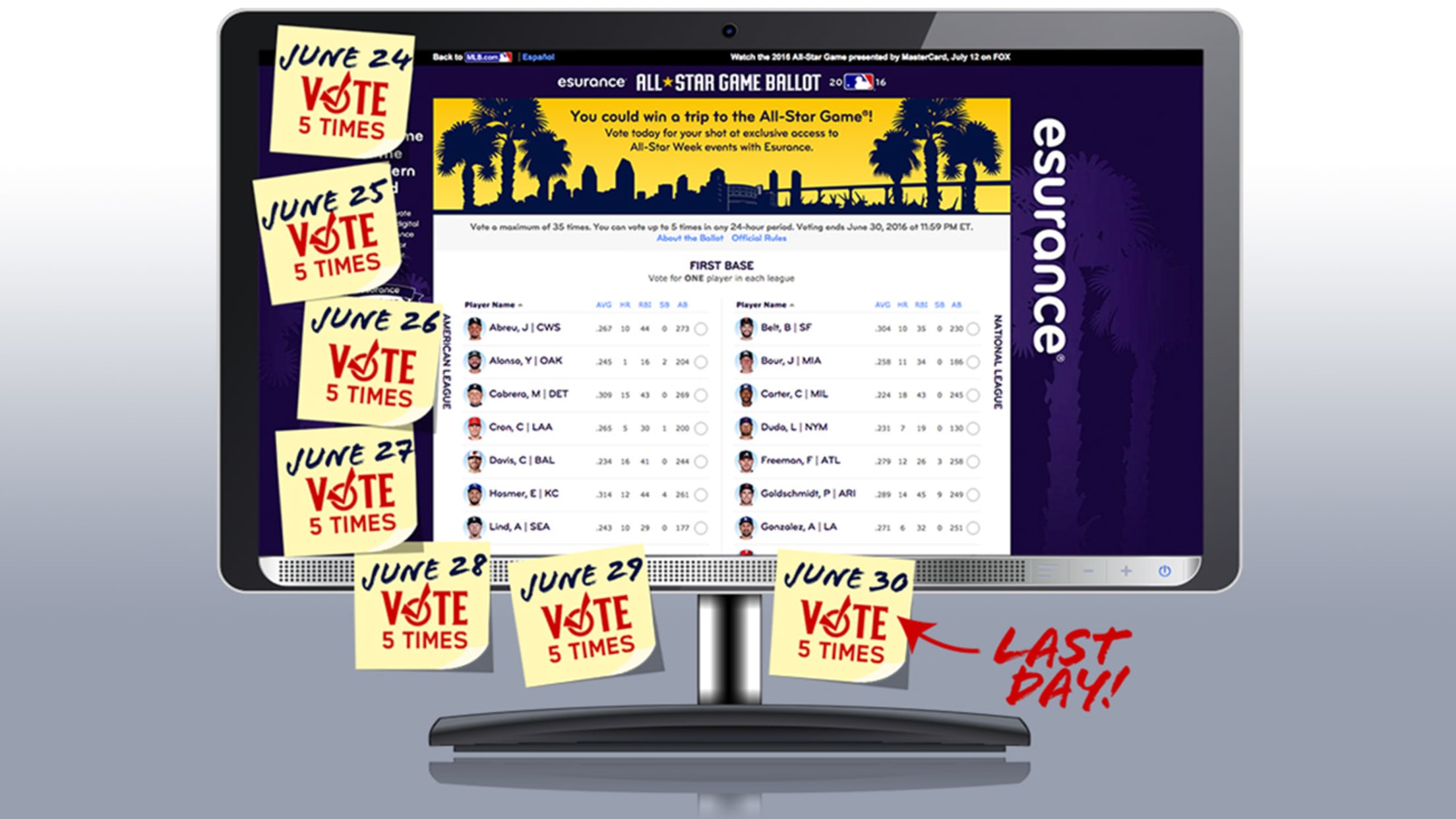 The 2016 Esurance MLB All-Star Game Ballot is down to its final week, and here are 10 important things to know as you continue deciding starters for the 87th All-Star Game presented by MasterCard on July 12 at Petco Park in San Diego.1. Simple All-Star math: 7 x 5 =
The 2016 Esurance MLB All-Star Game Ballot is down to its final week, and here are 10 important things to know as you continue deciding starters for the 87th All-Star Game presented by MasterCard on July 12 at Petco Park in San Diego.
1. Simple All-Star math: 7 x 5 = 35 ballots cast. Voting ends at 11:59 p.m. ET next Thursday. Fans can submit up to five ballots per any 24-hour period, so Friday is the start of an important window to make sure you use 'em and don't lose 'em.
• Cast your Esurance All-Star ballot for #ASGWorthy players
2. Rosters for the American League and National League will be revealed at 7 p.m. ET on July 5 during the Esurance All-Star Selection Show on ESPN, Major League Baseball announced Thursday. The one-hour show, which precedes ESPN's telecast that night between the Pirates and Cardinals, also will reveal the five nominees in each league for the Esurance MLB All-Star Game Final Vote. MLB.com will have full coverage of the roster selections.
3. Key AL race: outfield. Mookie Betts of the Red Sox jumped up to the No. 3 starting spot in Tuesday's voting update, behind two-time All-Star MVP Mike Trout of the Angels and Jackie Bradley Jr. of the Red Sox. Only 133,097 votes separated Betts from the three former All-Stars right behind him: Mark Trumbo of the Orioles, Lorenzo Cain of the Royals and Jose Bautista of the Blue Jays. And can outgoing designated hitter David Ortiz of the Red Sox overtake Royals catcher Salvador Perez in the battle for MLB's top overall vote-getter?
• AL voting update
Key NL races: catcher, shortstop, second base and third base. Yadier Molina of the Cardinals saw his lead Wednesday narrow slightly over Buster Posey of the Giants, while Wilson Ramos of the Nationals was making a big homestretch move by outvoting the first two significantly during the past week of balloting. Those other close races each feature Cubs holding off challengers: Addison Russell over Trevor Story of the Rockies at shortstop, Ben Zobrist over Daniel Murphy of the Nationals at second base and Kris Bryant over Colorado's Nolan Arenado at third base.
• NL voting update
Balloting history at MLB.com shows that many races are changeable despite seemingly large leads due to record voting pace during the final week, and late surges are a modern tradition. It all started in 2001, the first year of MLB.com digital All-Star balloting, when Cal Ripken Jr. trailed David Bell in AL third-base voting going into the final week. He finished nearly 45,000 votes ahead of Bell to start in his 19th and final All-Star Game, earning MVP honors. And in 2003, one of the most dazzling late surges in All-Star voting history, Albert Pujols was fourth among NL outfielders entering the final week but rode the wave of heavily increased online balloting to pass Sammy Sosa and finish not just as a starter but also as MLB's top overall vote-getter.

Brewers outfielder Ryan Braun is one who comes readily to mind after repeated late surges in past years. In 2008, he went from 10th place among NL outfielders to No. 2 overall NL vote-getter. He also was overtaken at the end in 2012 by Melky Cabrera, so he has seen both sides. Once again Braun is in striking position entering the final week with 1,045,953 votes as of Wednesday, in fifth place among NL outfielders behind Jason Heyward of the Cubs.

Miguel Cabrera, Josh Donaldson and Nelson Cruz all made late-surge starts last year. Pablo Sandoval and Robinson Cano did it in 2012. So did Alex Avila and Jose Reyes in 2011. There was Josh Hamilton in 2010, Dustin Pedroia in 2009, Mark Teixeira and David Eckstein in 2005. In 2004, Hideki Matsui surged past fellow countryman Ichiro Suzuki to start for the AL. There were others as well -- enough evidence to know that some big leads now are not safe.
6. The AL team will have nine elected starters via the Esurance MLB All-Star Game Ballot, while the NL roster will have eight fan-elected starters. Pitchers and reserves for both squads -- totaling 25 for the NL and 24 for the AL -- will be determined through a combination of "Player Ballot" choices and selections made by the two All-Star managers, Ned Yost from the Royals and Terry Collins from the Mets.
7. The Esurance MLB All-Star Game Final Vote will be your annual chance to select the final player on each league's All-Star roster. That balloting will conclude at 4 p.m. ET on Friday, July 8. Now in its 15th season with nearly 600 million votes cast, fans again will be able to make their Final Vote selections on MLB.com, club sites and mobile devices. Last year's Final Vote winners were Cardinals pitcher Carlos Martinez and Royals third baseman Mike Moustakas.
8. In finalizing the rosters, managers will also have plans in place to replace any starting pitchers who elect not to participate in the All-Star Game after pitching on Sunday, July 10. Any pitcher replaced on the active All-Star roster will be recognized as an All-Star and invited to San Diego with full All-Star honors.
9. On July 12, watch the All-Star Game live on FOX as well as MLB.TV Premium (for authenticated subscribers), and during the game visit MLB.com to submit your choice for the Ted Williams Most Valuable Player Award presented by Chevrolet via the 2016 MLB All-Star Game MVP Vote.
10. The league that wins the Midsummer Classic will have home-field advantage in this fall's 112th World Series. After a long reign by the AL, the traditionally streaky All-Star Game has been won three straight years by the NL from 2010-12 and then by the AL from 2013-15.