Yanks ink Davis, add first-baseman to 25-man roster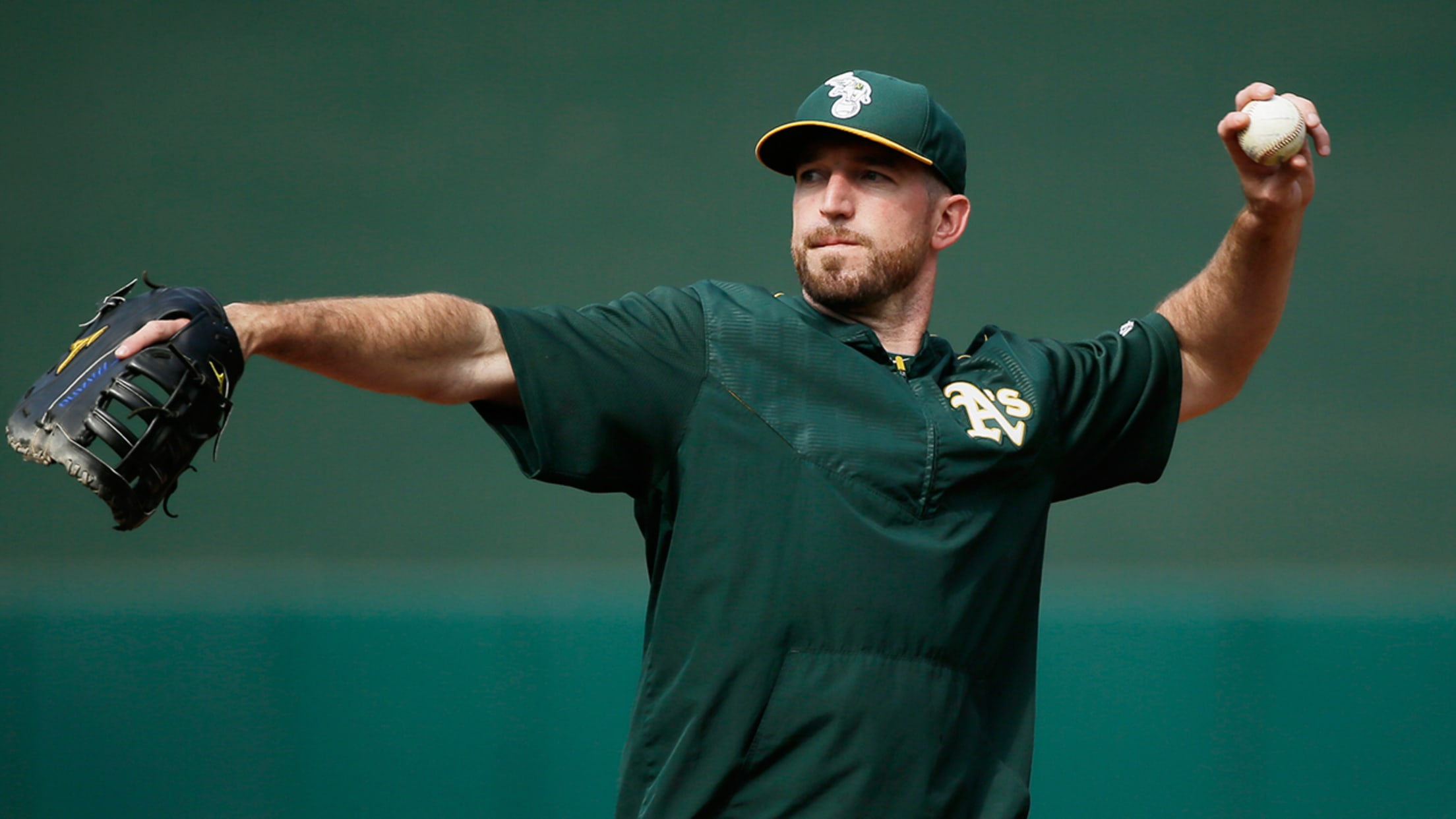 Ike Davis, who hit 81 home runs over six Major League seasons, last played for the A's in 2015. (AP)
NEW YORK -- The Yankees on Monday added to their first-base mix, officially signing Ike Davis to a Major League contract and adding him to the 25-man roster.In a corresponding move, the club designated right-hander Layne Somsen for assignment. New York also optioned reliever Chad Green to Triple-A Scranton/Wilkes-Barre after
NEW YORK -- The Yankees on Monday added to their first-base mix, officially signing Ike Davis to a Major League contract and adding him to the 25-man roster.
In a corresponding move, the club designated right-hander Layne Somsen for assignment. New York also optioned reliever Chad Green to Triple-A Scranton/Wilkes-Barre after Sunday's 4-1 loss to the Tigers.
The Yankees currently have four first basemen on the disabled list: Mark Teixeira, Greg Bird, Dustin Ackley and Chris Parmelee, who suffered a hamstring strain this week and could be out as long as a month. Rob Refsnyder has started all three games at first base in the interim, though he had never played a professional game their previously.
Davis last played in the Majors last season with Oakland, when he hit .229/.301/.350 in 74 games. He's hit 81 home runs over six Major League seasons, including 32 with the Mets in 2012, courtesy of an all-or-nothing approach from the left side that could work wonders in tandem with Yankee Stadium's short right-field porch. But Davis' inability to make consistent contact landed him in the Minors this season. Over the course of his career, Davis has struck out about once every four at-bats.
"He has a lot of power," said Carlos Beltran, who played with Davis from 2010-2011 with the Mets. "Having a guy like him, a lefty bat, maybe off the bench, is important."
If nothing else, adding Davis will provide the Yankees defensive stability they lost at first base when Teixeira landed on the DL on June 4 with a cartilage tear in his knee. His heir apparent, Bird, was already lost for the year with a labrum tear, so the Yankees turned to Ackley, who promptly suffered a season-ending shoulder injury. Parmelee homered twice in his first eight at-bats before straining his hamstring.
While Yankees manager Joe Girardi has praised Refsnyder's first-base cameo, the rookie is still clearly getting used to the position. He left the base vacated Sunday when ranging too far to his right for a routine ground ball to second base, a miscue common in inexperienced first basemen.
Davis brings a strong defensive reputation and throws left-handed.
"He's a guy who knows how to play first base," Beltran said. "Ref has done a real good job, but its tough to call a guy and to step in and say, 'You're the first baseman,' when he is learning the position."
Their dearth of first basemen apparent, the Yankees chose to sign Davis over promoting Nick Swisher, who homered twice Sunday for Triple-A Scranton Wilkes-Barre. Swisher was signed in April to provide depth at first base, but is hitting just .254 in 44 games for the RailRiders.
The Yankees offered Davis a Minor League contract this past offseason, but he signed instead with the Texas Rangers. He was hitting .268/.350/.437 with four home runs in 39 games at Triple-A Round Rock, buoyed by a recent two-game stretch in which he went 7-for-7 with two doubles and three RBIs.
Joe Trezza is a reporter for MLB.com based in New York.