Yankees Magazine: Pacesetter
In his first Big League camp, fleet-footed prospect Jorge Mateo slows the game down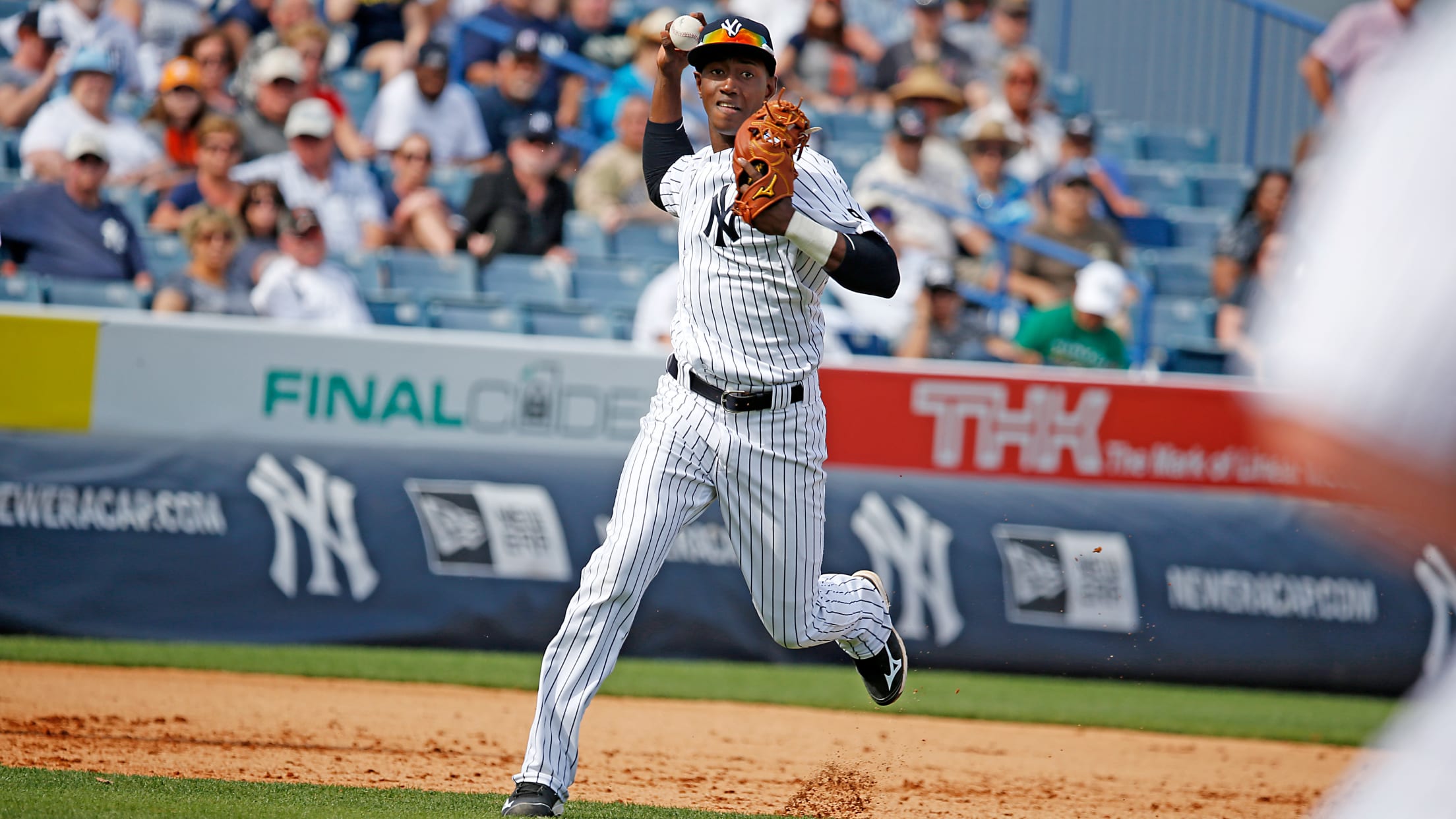 Twenty-year-old Yankees prospect Jorge Mateo received his first invitation to Big League training camp this spring. (New York Yankees) (NEW YORK YANKEES)
Personal space is not an option. With more than 65 players reporting for Spring Training, the home clubhouse at George M. Steinbrenner Field feels tight. The lockers line the walls one right after another after another, then spread out into the center of the room. A full house, and no
Personal space is not an option. With more than 65 players reporting for Spring Training, the home clubhouse at George M. Steinbrenner Field feels tight. The lockers line the walls one right after another after another, then spread out into the center of the room. A full house, and no one seems to mind. It's Tampa, Fla., after all. Winter is nearly over, and baseball is back.
On this March morning, a few hours before the Yankees' spring home opener, a scrum of reporters is doing its due diligence, huddling around Aroldis Chapman, recorders and notepads outstretched in a tangle of arms and awaiting the closer's reaction to the 30-game suspension handed down to him by Major League Baseball the previous afternoon.
In front of the second locker right off the door, 30-year-old reliever Anthony Swarzak -- new to the organization after signing a Minor League contract in January -- unwraps fresh gloves from their packaging while chatting with one of the Yankees' team security staffers. Nearby, outfielder Carlos Beltran and former Yankees hurler Orlando Hernandez are seated, deep in conversation.
More people come and go: Manager Joe Girardi, guest instructor Lee Mazzilli. The activity spills out the door, where you can see former Yankees trainer Gene Monahan chatting up YES Network play-by-play voice Michael Kay. Together, the subtle activities create a buzzing sensation.


Prospect Jorge Mateo passes through without so much as a glance in any other direction but forward. At 20 years old -- he'll turn 21 in June -- he was the youngest player in Big League camp.
The budding shortstop shared a row of lockers with Dustin Fowler, Tyler Wade and Lane Adams. Collectively, the quartet of infielders and outfielders has put in 17 years of Minor League work and -- thanks to a cup of coffee Adams enjoyed in 2014 with Kansas City -- six games' worth of Big League service time. The titles of oldest and most tenured players in the room belong to one man: Alex Rodriguez. Forty years old. Twenty-one years, 11 days of Major League service. An encyclopedia full of accomplishments.
Mateo tosses his cellphone onto the top shelf of his locker, grabs his bat and heads to the cages.
A Big League First
The invitation to Big League camp is Mateo's first. A quick survey of several of the more experienced players -- Brett Gardner, Andrew Miller, Chase Headley and Didi Gregorius -- reveals that on the career-milestone list, the first invite to take the field among some of the game's most successful players during the exhibition season falls somewhere near the bottom, a very early step on a road that aspiring players hope will be long and fruitful. That's not to say the invitation isn't significant.
"It's your first chance to really kind of show what you can do in front of the Major League staff," said Headley. "For a lot of guys, this is their first chance to work with them directly and play in front of them. It's exciting, I'm sure, for young guys. It's a good opportunity."
Mateo arrived in Tampa on Jan. 25 for Captains Camp, a development program for younger players, not long after receiving a call from one of his coaches earlier in the month with news of his invite. He was at home in the Dominican Republic, enjoying the beach and time with his family between workouts. When he made the commitment to pursue a career in baseball, he accepted that it would mean extended periods away from his wife and son, who is 3 years old. He's learned to maximize their time together, though, so when he leaves -- and quality time becomes thrice daily check-ins via FaceTime -- he's mentally prepared, even though he'll still miss them like crazy.
The Yankees signed Mateo as a non-drafted free agent in January 2012, and since then, he says, every aspect of his game has improved.
"There are so many different things," he said through the Yankees' Spanish-language translator, Marlon Abreu. "How to run the bases, how to prepare for a pitch, how to be consistent -- every part of my game. How to be a good teammate. All that."
And the improvements have not gone unnoticed.
Many factors go into a baseball operations department's decision to extend an invitation to Big League camp to one of its prospects: the team's needs now and in the short term; in the case of pitchers, the desire of a Major League pitching coach to get a closer look at a hurler he hasn't seen much; and, of course, past performance.
"Mateo had a very good year last year; he matured both physically and mentally," said Gary Denbo, the Yankees' vice president of player development. "All parts of his game, I thought, improved over the year. His defense got better, and I think it was a case where he earned the right to go up there and give the Major League staff and front office a chance to see him against this better competition and make a judgment as to how far away he is from contributing."
After spending two seasons in the Dominican Summer League and one in the Gulf Coast League, Mateo made his Single-A debut with the Charleston RiverDogs in 2015, batting .268 in 96 games before being promoted to Tampa, where he hit .321 the rest of the year. The coaches who have worked with him describe plus range at short, good hands and a good arm, and pop in his bat. One of his most impressive tools is his speed. The top-rated prospect in the Yankees' system swiped 82 bases across the two levels, leading all Minor Leaguers.
The sum of those parts is fun to watch, says Yankees assistant field coordinator/infield coordinator Carlos Mendoza, who has worked closely with Mateo over the last two-plus years and is happy with the progress the young infielder has made. At the start of last season, Mendoza noticed Mateo struggling to clear a hurdle not uncommon to players his age: a lack of routine, the all-important ingredient to creating the consistency that breeds baseball success. But the Charleston coaching staff did a tremendous job, and when Mendoza saw Mateo in the Florida State League after his promotion, he was "a totally different guy."
"He knew what he was doing on the field," said Mendoza. "He got here early. He got in the cage; he had a routine in the cage. [Now], we want him to watch how Big Leaguers handle themselves, how they work, how they go about their business and how they prepare, and that's our main goal."
Game Time
The day before the Yankees' spring home opener, Girardi told Mateo to be mentally and physically ready to play. For Mateo, that simply meant maintaining and trusting in his routine: stretching and lifting in the gym, cage work, field work. Repeat.
He got the call in the top of the sixth, taking over at short for Gregorius. The young infielder tempers his excitement in favor of focus. The second batter of the inning, the Tigers' Mike Aviles, hit Tyler Olson's first offering up the left side, and the instinct Mateo had been fine-tuning with drill after drill -- counting hops, identifying the good bounce, receiving the ball in the center of the body -- paid off. He cleanly fielded the ball and made a perfect throw to first for the out.
In the bottom of the frame, with the score tied at seven, Mateo struck out to end the inning. In the bottom of the ninth, he got another opportunity. With the Yankees trailing by one, he nearly homered, but the ball bounced off the left-field wall. With his speed -- he can get from the right-handed batter's box to first base in under four seconds, according to MLB.com's Prospect Watch -- he was able to leg out a triple after a slow start out of the box. Mateo scored the tying run on catcher Austin Romine's single two batters later, and the Yankees went on to win.
But it is in the routine fielding play that Denbo finds further proof of Mateo's maturity.
"He came in to his right and fielded a short hop and then realized he had time to throw the ball, took a couple of extra steps, and made an accurate throw to first base," Denbo said.
Denbo acknowledges a comical irony while grading out the shortstop's performance. Mateo's speed usually draws attention, but what most impressed Denbo was how the youngster slowed the game down.
"He's such a great athlete, and he's so fast, and he's got great range," Denbo said. "It's easy for him to make great plays; he doesn't have to think about it much. But the value of a Major League infielder comes largely from his consistency. Their ability to make routine plays day in and day out. When you're supposed to get an out, they get an out.
"Jorge is still working on that. It's typical of a player his age to be working on those things."
Teammates Together
For Mateo, the overwhelming highlight of camp wasn't dinner with his idol, Derek Jeter, during Captains Camp, nor was it squaring up against Chapman's heat or having Rodriguez seek him out to share a few words. His experience was deeper.
"It's the friendship and how much a group of guys care for each other. It's not just one guy, but a group all together into one. Very special," Mateo said, expressing gratitude for how willing everyone has been to help him improve.
When mentally preparing for a game, he draws on the encouragement of his teammates; the tying run he scored in the home opener was especially fulfilling because of the positive energy radiating throughout the dugout when he returned after crossing home plate.
There's an almost immediate sense that Mateo has elevated the word "teammate;" a noun in any standard dictionary, "teammate" to Mateo is a verb, an action he seeks to undertake. The mission was one he was able to recognize at 7 years old, when tuning in to Yankees games to admire his favorite player from down in the D.R.
"The thing that I liked the most was how hard [Jeter] played the game and how good he was with his teammates," said Mateo. "Even if he was 0 for 5 during a game, his head was still in the game, but he was also helping the other guys, even if it wasn't a good game for him. That's something I really admire."
He attributes his acute sense of teamwork to being ever watchful of those around him.
"I've learned from just looking at people, looking at teammates, and seeing how they do things, and if I see something that they do, and it's something that's done well, then I want to do that, too, and I want to be just like that."
Just the Beginning
Postgame locker rooms during Spring Training run differently than their equivalents in New York during the regular season, creating a looser, more relaxed atmosphere. Shortly after the day's starting pitcher exits the game, the Yankees' media and communications staff will announce to those seated in the press box the opening of the clubhouse. Mid-game, a scrum of reporters forms and moves en masse toward the elevators. At different points throughout the contest, players who have met their work quota in the game may hit the showers and head home.
By the time Mateo passes through after the game -- again without so much as a glance in any other direction but forward -- it's quieter than it had been earlier. He stops at his locker and is out the back door of the room, heading toward the gym for a workout.
An hour later, showered and nearly ready to go back to the hotel where he bunks with another prospect, he positions himself in front of a Yankees blue backdrop in the hall outside the locker room. A male reporter and cameraman from Telemundo Tampa, a local news outlet, prep their equipment.
Mateo looks at Abreu, the interpreter, who is on the opposite end of the camera, outside its view. In hushed tones and using his own body language to reinforce his words, Abreu reminds Mateo to relax his shoulders and take a deep breath, which he does.
Mateo is composed. As the camera rolls, he stands tall, his hands low and folded in front of his body, answering the reporter's questions, one after another. After several minutes, the interview is over, and the bright spotlight that the cameraman had positioned on Mateo is off. But the young shortstop is not yet done. There's just one more interview …
Kristina M. Dodge is an executive editor of Yankees Magazine. This article appears in the April issue of Yankees Magazine. Get this article and more delivered to your doorstep by purchasing a subscription at yankees.com/publications.