Five intriguing trade possibilities for Cano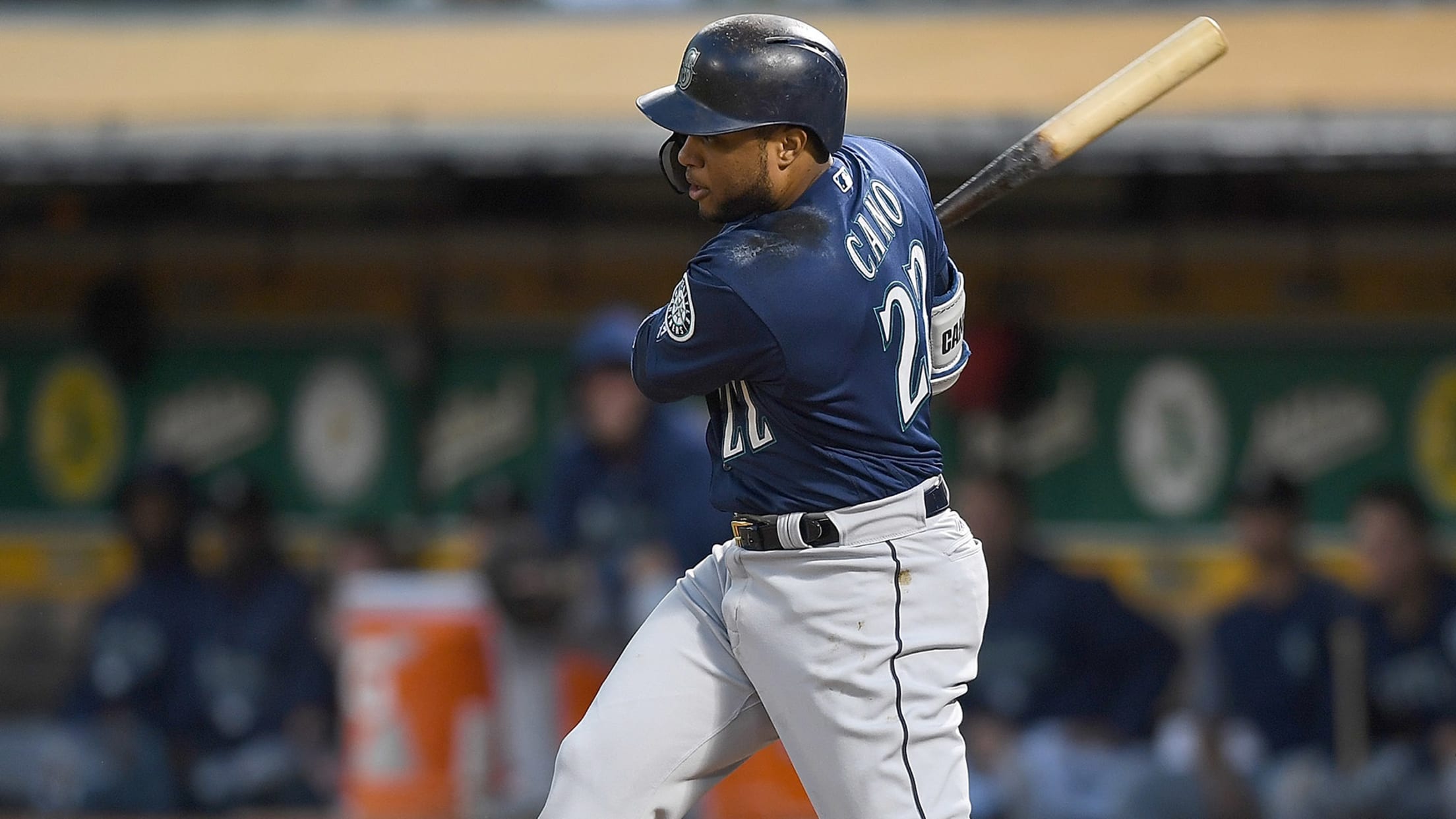 OAKLAND, CA - AUGUST 30: Robinson Cano #22 of the Seattle Mariners hits an rbi single scoring Denard Span #4 against the Oakland Athletics in the top of the second inning at Oakland Alameda Coliseum on August 30, 2018 in Oakland, California. (Photo by Thearon W. Henderson/Getty Images) (Thearon W. Henderson/Getty Images)
It's becoming more apparent each day that the Mariners plan to trade Robinson Cano this winter. In fact, a source suggested Wednesday that it would be surprising if it wasn't done before the end of the Winter Meetings.Trading Cano is more complicated than simply agreeing to a player swap. With
It's becoming more apparent each day that the Mariners plan to trade Robinson Cano this winter. In fact, a source suggested Wednesday that it would be surprising if it wasn't done before the end of the Winter Meetings.
Trading Cano is more complicated than simply agreeing to a player swap. With $120 million left on his contract over the next five years, Cano's talented bat comes at a hefty price. The 36-year-old is also coming off a season during which he served an 80-game suspension due to performance-enhancing drugs, though he performed well after returning, hitting .317/.363/.497 in 41 games.
Seattle will likely have to eat a portion of Cano's salary and possibly take back an onerous (but soon-to-expire) contract to make a deal happen. And if Mariners general manager Jerry Dipoto wants any elite real prospects in return, he might even have to pay down some of Cano's salary and include one of his three most desirable assets: Edwin Diaz, Mitch Haniger or Marco Gonzales.
Cano also holds a full no-trade clause, so the Mariners will need his approval to make any deal. A source said that as of Tuesday night, the team had yet to reach out to Cano to ask which teams he might be willing to approve, so Seattle appears to be in the same spot Miami was in a year ago with Giancarlo Stanton. Remember, the Marlins had deals worked out with both the Cardinals and Giants before Stanton vetoed them.
Where might Cano wind up? Those who know him believe he would approve a deal to either New York team, though it is unclear which other clubs would be satisfactory for the eight-time All-Star. Here's a look at five potential landing spots and what it might take to get a deal done:
Mets
The Mets and Mariners have already held discussions, so this one could have some legs. To get a deal done, the Mariners would likely need to include either Haniger or Diaz, as the Mets aren't the type of club to simply take on a large contract and already have a promising young player at second base in Jeff McNeil. It remains to be seen whether Dipoto is desperate enough to shed Cano's contract to add one of them into a trade, though with "Trader Jerry," you can never say never.
Seattle figures to want shortstop and Mets top prospect Andres Gimenez if they were to include Diaz, though the Mariners would also likely have to take back Jay Bruce, who is owed $28 million over the next two years. Jason Vargas ($8 million in 2019, $8 million option/$2 million buyout in 2020) and/or Anthony Swarzak ($8.5 million in 2019) could also be worked into the deal to help defray some of Cano's salary.
Potential deal: Cano, Diaz and cash considerations for Bruce, Gimenez, Swarzak and C Tomas Nido
Yankees
A return to the Bronx would likely be Cano's dream destination -- and one for which he would gladly waive his no-trade. The Yankees are expected to be players for both Patrick Corbin and Manny Machado, so it's unclear how much of Cano's contract GM Brian Cashman would be willing to absorb to bring back his second baseman. Cano could play second base with Gleyber Torres moving to shortstop, or perhaps Cano could split time between first base and DH. It's worth noting that the Yankees traded middle infielder Ronald Torreyes to the Cubs on Wednesday.
Seattle would have to eat a large portion of Cano's salary, though swapping outfielder Jacoby Ellsbury (owed about $42 million through 2020, plus a $5 million buyout of his 2021 option) to Seattle would essentially even out the money for the next two years. Sonny Gray could also be part of a deal, as the Mariners were reportedly interested in the right-hander during the James Paxton talks. The Yankees have a deep enough farm system to make a deal happen.
Potential deal: Cano and cash considerations for Ellsbury, Gray, RHP Chance Adams and RHP Freicer Perez
Phillies
While most project Scott Kingery as a second baseman and Rhys Hoskins as a first baseman, the addition of Cano would require leaving the former at shortstop or the latter in left field. We've heard so much about the Phillies' ability to sign both Bryce Harper and Machado, so we know Philadelphia has plenty of payroll flexibility. Philadelphia has reportedly inquired about Arizona's Paul Goldschmidt, so clearly there's a desire on the club's part to add offense this offseason, making the Phillies a dark horse for Cano.
Still, the Mariners would certainly need to pick up a good chunk of the $120 million owed to Cano over the next five seasons. Seattle could take back Carlos Santana, who will earn more than $41 million over the next two years. That would give the Mariners a solid bat back in their efforts to remain competitive while opening up first base for Hoskins in Philly. Tommy Hunter, who is owed $9 million in 2019, could also be included.
Potential deal: Cano and cash considerations for Santana, Hunter and LHP JoJo Romero
Rockies
Colorado has a hole at second base with DJ LeMahieu likely headed elsewhere as a free agent, so position-wise, this seems like a good fit. Financially, the Rockies have only one player under contract for big money beyond 2020: Charlie Blackmon, who is owed $84 million over the next four seasons, plus a $10 million player option for 2023. Of course, there will be the issue of re-signing Nolan Arenado after 2019, though that's no certainty. Cano could also move to first base, offering the Rockies some flexibility.
Ian Desmond, who is owed $38 million over the next three years, could be sent to Seattle to help balance the contracts, though Desmond's contract stipulates that he will receive a full no-trade clause if he's traded by the Rockies, so Dipoto might hesitate to take him back. Perhaps Bryan Shaw, who is owed a guaranteed $17.5 million over the next two years (plus a $2 million buyout for his $9 million option in 2021), could also be worked into a deal.
Potential deal: Cano and cash considerations for Desmond, INF Colton Welker and INF Garrett Hampson
Nationals
If Harper doesn't return to Washington, the Nationals will have to find offense to replace the former National League MVP. With a hole at second base and their top two position-player prospects (Carter Kieboom and Luis Garcia) both playing on the left side of the infield, Cano seemingly fits the lineup.
Unlike the other teams on this list, the Nationals don't have any obvious contracts they would want to send back to Seattle to help offset Cano's contract. Ryan Zimmerman has one year and $18 million left on his deal, but he also holds 10-5 rights and would have to approve a trade. Howie Kendrick and his $4 million salary would likely be part of a deal, as could Michael A. Taylor, who likely will get a raise in arbitration after making $2.5 million in 2018. The Mariners would need to include a hefty portion of the $120 million owed to Cano if they wanted to see any prospects of note coming back in a trade.
Potential deal: Cano and cash considerations for INF/OF Kendrick, OF Taylor, LHP Seth Romero and OF Daniel Johnson
Mark Feinsand, an executive reporter, originally joined MLB.com as a reporter in 2001.