Former Astros clubhouse manager dies at 63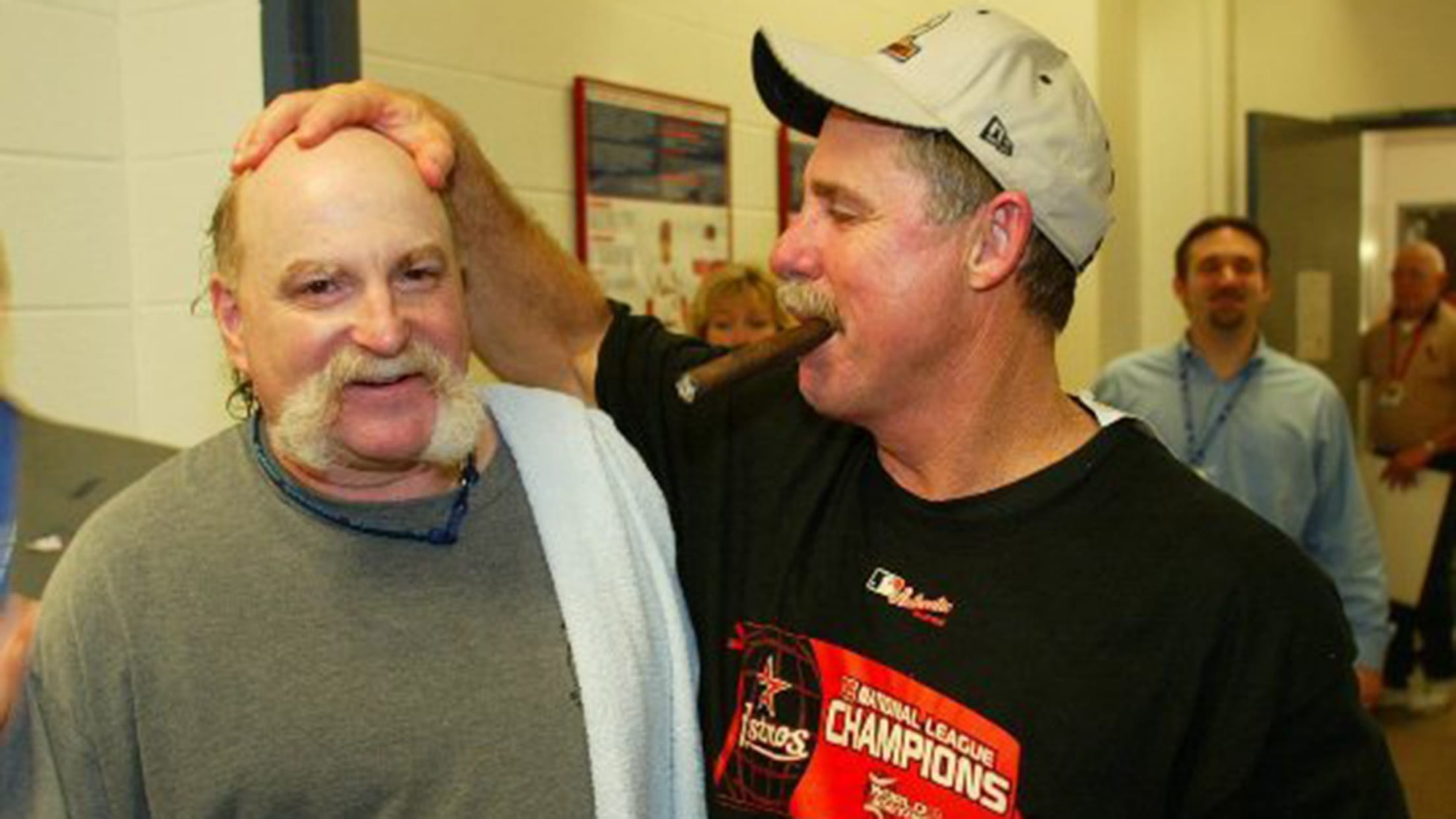 2005 Houston Astros. 2005 National League Championship Series Game Six. Houston Astros@St. Louis Cardinals at Busch Stadium Astros -5 Game Six- Astros win series 4-2 Cardinals -1 (Stephen P. O'Brien)
HOUSTON -- With a strong Boston accent, high-pitched laugh and signature thick, horseshoe mustache, former Astros clubhouse manager Dennis Liborio left a unique stamp on the Astros organization. As the dozens of friends he made during his 32-year Astros tenure can attest to, he was a true original.Liborio retired a
HOUSTON -- With a strong Boston accent, high-pitched laugh and signature thick, horseshoe mustache, former Astros clubhouse manager Dennis Liborio left a unique stamp on the Astros organization. As the dozens of friends he made during his 32-year Astros tenure can attest to, he was a true original.
Liborio retired a little more than six years ago, after being diagnosed with Alzheimer's disease. On Monday, he died, at the age of 63.
"Dennis was beloved by so many people," Hall of Famer Craig Biggio said in an interview with MLB.com after he heard the news Monday night. "We were lucky to have him for 30-some years. He was old school, with a big heart."
Liborio, a native of Ashland, Mass., joined the Astros in 1977, after prior employment with the Red Sox and Dodgers. As the gatekeeper of the most sacred area of the ballpark -- the clubhouse -- Liborio spent three decades forging trusting, lifelong friendships with scores of Astros players and personnel.
"Dennis was an institution in Houston," Astros president Reid Ryan said in a statement. "He was revered by the Astros players, who saw him not only as one of the best clubhouse managers in baseball, but also as a friend, father figure and confidant. We will be forever grateful for his dedication and his contributions to the Astros organization. We send our heartfelt condolences to his wife, Geraldine, and to his many friends and admirers."
Liborio was the first person Biggio met when he arrived to his first Spring Training as a rookie in 1988. His friendship with Hall of Famer Jeff Bagwell began soon after the then third-base prospect was traded from the Red Sox to the Astros. And for years, Liborio and another Hall of Famer, Nolan Ryan, traveled together to Las Vegas for their annual trip to the rodeo.
It was a career that began, more or less, on a fluke.
Liborio was a 14-year-old Red Sox fan in 1969, passing time during the summer months hanging out near the clubhouse at Fenway Park, for the sole purpose of watching the players walk in and out. After a while, the Red Sox clubhouse manager figured if Liborio was going to spend so much time there, he might as well put him to work.
One of the clubhouse kids was out sick, and Liborio filled in by taking the uniforms to the dry cleaners. He ended up working for the Red Sox for four years.
In 1977, the manager of the Dodgers' clubhouse offered Liborio a job as the assistant equipment manager, a position he held for the next two years. In November of 1979, the Astros -- specifically, then-assistant GM Gerry Hunsicker -- lured him to Houston, thus beginning one of the longest employment tenures in the organization's history.
Liborio's office -- at the Astrodome and then Minute Maid Park -- was a busy, bustling place, a revolving door of players, ex-players, broadcasters and longtime friends (and occasionally, a NASA astronaut) who would drop by to say hello.

Liborio's Boston accent never faded, even after decades of living deep in the heart of Texas. Astros players used to joke that their biggest language barrier was not between English and Spanish speakers; rather, it was when Liborio tried to have conversations with players from the deep South.
Liborio's Boston roots, melded with brushes with select famous Texans, made for great fodder.
In 2000, the year the Astros' new ballpark opened, George W. Bush, who at that time was preparing for his presidential campaign, walked into the clubhouse, threw his arm around Liborio's shoulder, and proclaimed, "This is my running mate!" within earshot of the large contingent of reporters.
One particular harried reporter rushed up to the pair and said, "I just want you to know you can't have two people on the ticket from the same state."
Without hesitation, Liborio, with high-pitched amusement, chortled, "That's all right. I'm from Massachusetts!"
Liborio's trips to Vegas with Ryan were a highlight of every offseason. The first night of their first trip, Liborio strutted into the lobby of the hotel wearing a 10-gallon hat, cowboy boots and a pair of jeans with a huge western belt buckle.
It was quite the eyeful for Ryan. In his thick southern drawl, he observed: "Here comes the Boston Cowboy."
"Nolan, I've heard of the Boston Strangler," Liborio responded, "But never the Boston Cowboy."
During baseball season, Liborio's workdays began nine or 10 hours before first pitch, and ended long after the final out.
He had a front-row view of nine Astros playoff appearances, and he was with the team when they clinched their first pennant in 2005. In total, Liborio worked more than 5,000 Astros gamedays.

The progression of the Alzheimer's prevented Liborio from attending the recent Hall of Fame inductions of both Biggio and Bagwell, though he was mentioned prominently in both speeches.
Biggio, who said he cried for an hour after learning of Liborio's passing, said that while he missed his friend in Cooperstown, he was more reflective of all of the years lost in recent times as Liborio's condition worsened.
"I never had a phone conversation with him that lasted less than 20 minutes," Biggio said. "Not having him at the Hall of Fame was one thing, but not having him the last many years has been terrible.
"The inside of a clubhouse is so special and delicate. That was his domain. He was great with people and great with players. This is a big loss today, for so many people."