Hendry: Cubs will win at least one World Series
Former Chicago GM, now Yankees special assistant, reflects on '03 club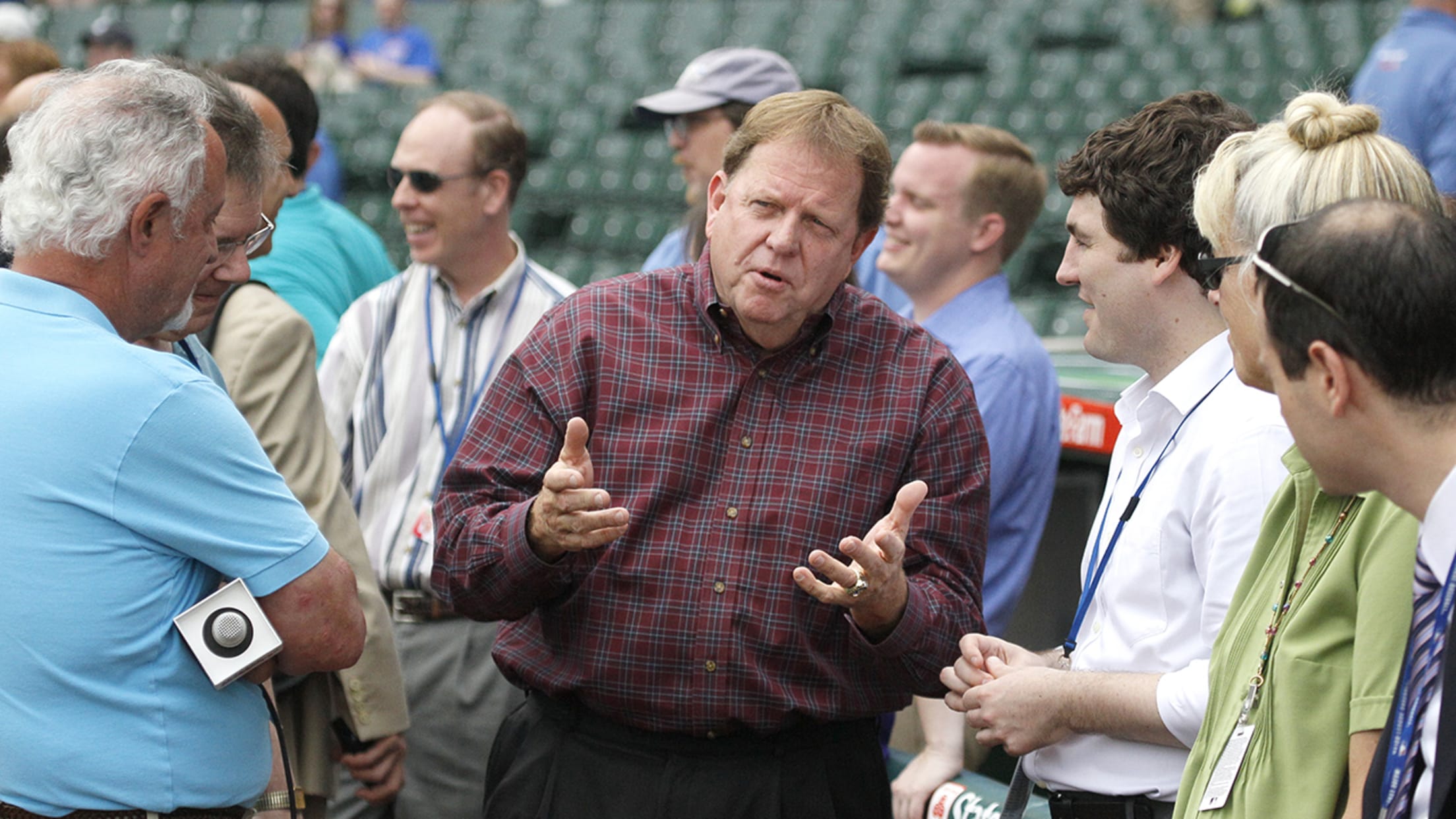 Jim Hendry spent nearly 17 seasons with the Cubs, including 2003 as GM of the NLCS team that was a win away from the World Series. (AP) (Charles Rex Arbogast/AP)
CHICAGO -- Jim Hendry wasn't at Wrigley Field on Saturday night, celebrating with his fellow Chicagoans. But there was no way to miss the delight so many of his neighbors were taking as the Cubs clinched their elusive National League pennant.Hendry probably could hear the roar of the crowd and
CHICAGO -- Jim Hendry wasn't at Wrigley Field on Saturday night, celebrating with his fellow Chicagoans. But there was no way to miss the delight so many of his neighbors were taking as the Cubs clinched their elusive National League pennant.
Hendry probably could hear the roar of the crowd and the honking horns at his home in Park Ridge, the quaint suburb he moved to when the Cubs hired him to work in scouting and player development in 1995.
• Get official gear: Go, Cubs, going to World Series!
After watching president of baseball operations Theo Epstein and manager Joe Maddon build toward this success, he found the NL Championship Series victory over the Dodgers almost inevitable. It's safe to say he likes the Cubs' chances against the Indians, too.
"I don't think there's any question that this team is going to win [at least one] World Series,'' Hendry said. "They'll probably win multiple World Series. That's how good they are, how great it's come together for them. I'm happy for all of them.''
• World Series Game 1: Tuesday, 7:30 p.m. ET air time | 8 ET game time on FOX
Hendry, now a special assistant to Yankees general manager Brian Cashman, spent almost 17 years with the Cubs, including parts of 10 seasons as their GM. His team in 2003 came about as close to reaching the World Series as you can come without actually getting the gear and the lifetime of good memories.
After discussing some other topics on Saturday afternoon, I asked Hendry if he had gotten over the disappointments of the infamous Bartman game and the Cubs' collapse in the '03 NLCS.
:: Complete World Series coverage ::
"I think I handle it well, but I don't think you ever get over it,'' Hendry said. "It wasn't the end of the world, but it was close.''
Here's something you should know about Hendry and the Cubs' franchise that will face the Indians this week: He's genuinely as big a fan of Tom Ricketts, Epstein and Maddon as you can find. While his tenure with the Cubs ended with Ricketts dismissing him midway through the 2011 season, he has complete respect for the team's chairman as well as the guys who followed him into the offices.
Hendry has always said he was treated very well by Ricketts, and he showed it by agreeing to run the team for a month after Ricketts had told him he was going to make a change. This was in June, after the Draft in which the Cubs selected Javier Báez with their first-round pick, and Hendry understood when Ricketts told him he wanted to clear the decks for a full-scale GM search.
Hendry kept that news to himself until Ricketts announced it in late-July, excusing Hendry from the responsibility of handling the team's business at the non-waiver Trade Deadline. Hendry knew Ricketts was committing himself to a complete overhaul and needed to bring in someone like Epstein to give his plan credibility.
Now, Hendry marvels at the work that his successors have done.
"From afar, I have all the respect in the world for what the Cubs are doing now,'' Hendry said. "Theo and Joe Maddon have done a terrific job. Theo put that team together in an amazing way. You couldn't write a script that would be better than how he's put that team together. They have talented guys, high-character guys, and they play together with confidence. They do things the right way.
"They have players with all that versatility, and I don't think anybody could do a better job handling them than Joe. He's a separator as a manager, just like Theo is a separator as a general manager. I don't think anybody could do better than they've done.''
Hiring Epstein from the Red Sox after Boston's horrific September 2011 got the ball rolling for the Cubs. But Hendry believes hiring Maddon from the Rays after '14 was just as important.
"Theo was the right guy to take that team over when he did, and Joe Maddon's the perfect manager,'' Hendry said. "You couldn't do better. When you look at that organization's last three or four years, how could it be better? Joe was the final piece -- how great he is with players, young players and in the community, everything. That team really plays for him.''
For Hendry, the connection between Maddon and the Cubs' players has been evident watching postseason games. The ninth-inning comeback against the Giants to wrap up the NL Division Series epitomized to Hendry the faith that Maddon has in his players, and vice versa.
"It would have been easy to have lost Game 4 in San Francisco, then Game 5 [back at Wrigley] would have tested everybody,'' Hendry said. "That would have been the ultimate test, but they just came back in the ninth inning to win Game 4. I give Joe a lot of credit for how they play. They're fearless. The entire operation the last few years, they're as good as it gets.''
Now, about 2003, Jim. How about we open up those wounds again?
Hendry doesn't blame the fan who interfered with Moises Alou in Game 6 for the eight-run eighth inning that stopped the Cubs from celebrating in 2003 (although he does think there's a 90-percent chance Alou makes the catch). He feels like the Cubs still would have won if shortstop Alex Gonzalez would have gotten at least one out on a subsequent grounder that went past him into left field.
But when Hendry wakes up at night thinking about how his team could have been the one to make history, he goes back to a place that has gotten lost in the retelling.
"We scored four runs in the first inning of Game 1 off Josh Beckett, and then we never scored off him again,'' Hendry said. "I can't tell you how much respect I have for Josh Beckett. He just shut us down. We had a four-run lead, and then we couldn't win that game. If we win that game, we would have swept them.''
Interesting point.
Hendry said the hardest part about the whole experience came after the Marlins had closed out a 9-6 victory in Game 7, with closer Ugueth Urbina slamming the door in the ninth inning.
"One thing I'll always remember is that after Game 7, it was an awfully hard walk to walk across the field to go in the visitor's clubhouse and send someone to get [Marlins GM] Larry Beinfest so I could congratulate him,'' Hendry said. "Larry and I were friends, and he deserved to be congratulated. He had done a very good job. People don't give him enough credit. But I remember it was a long, long walk. On the way home, in the car, I couldn't shake the feeling of how special it would have been to win that game, not for me, but for all our generations of fans. They deserved it."
Phil Rogers is a national columnist for MLB.com.