Ex-big leaguers give back at camp for kids
Arroyo, Walker among 8 former Major Leaguers on hand for MLBPAA event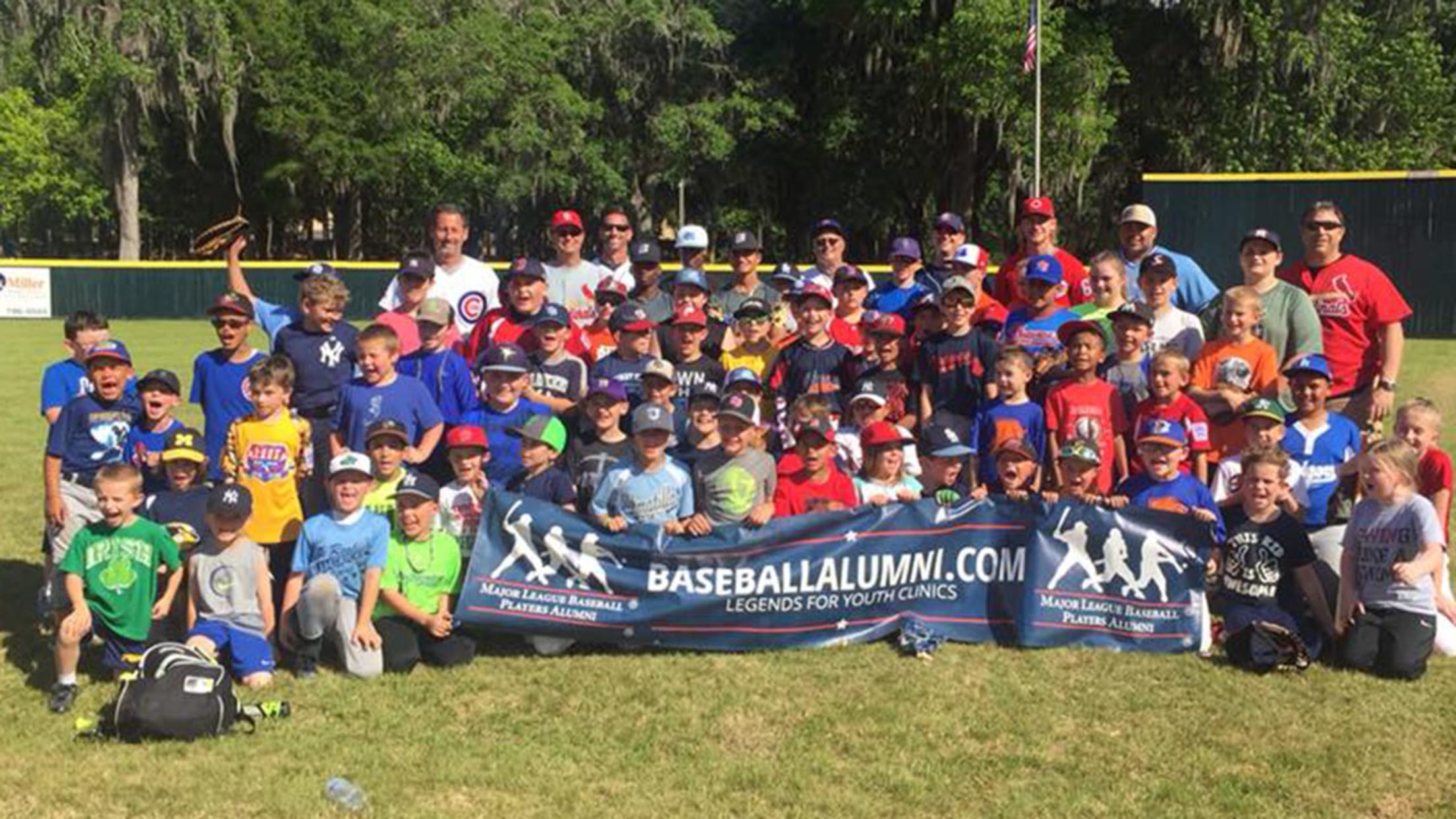 When playing baseball for the first time, kids are taught the basics of the game: how to swing a bat, catch a fly ball and run the bases.So on Sunday afternoon at Tom Varn Park in Brooksville, Fla., eight former big league players offered some great lessons to roughly 100
When playing baseball for the first time, kids are taught the basics of the game: how to swing a bat, catch a fly ball and run the bases.
So on Sunday afternoon at Tom Varn Park in Brooksville, Fla., eight former big league players offered some great lessons to roughly 100 local youth players in the Tampa Bay area. The eight representatives of the Major League Baseball Players Alumni Association included both local products and former big leaguers who spent parts of their careers in Florida-based organizations.
Grant Balfour, Brian Tollberg, John Frascatore, Bronson Arroyo, Randy Ruiz, Kevin Ohme, Alfred "Butch" Benton and Mike Walker each manned stations designed to provide 15-minute demonstrations and lessons on various skills. The former big leaguers not only offered advice to their young pupils, but they also listened as the kids discussed what they had experienced thus far as young ballplayers.
"It's a great experience for these young kids to get lessons from these legends of the game," Brooksville deputy mayor Butch Battista said. "We've done this event before, and the turnouts have been well-received, so it's great not only for the city, but for these kids. They're the future, and the lessons they learn today will only benefit them in the future."
While former Rays reliever Grant Balfour taught the kids how to throw several types of pitches, most notably the four-seam fastball, ex-Padres hurler Tollberg explained the "Six F's of Fielding: footwork, fielding, funnelling, secondary footwork, fire and follow-through.
"I used to play the infield before I focused on pitching, and this was my method to be efficient," said Tollberg. "The youth today, they really enjoy these events, and we as former players enjoy our time with them."
Out in center field, Frascatore demonstrated to the kids how to properly field a fly ball. And in right, Arroyo -- who grew up not too far from the park and graduated from Hernando High School in Brooksville -- worked with young players on a throwing drill which emphasized the importance of warming up.
"Balance is key," Arroyo explained. "You want to throw the ball in a straight line, from Point A to Point B, step towards your target, and always be behind the throw."

Arroyo couldn't help but reminisce during his time in the event.
"I'm a local product, so by participating in an event like this today, it has extra meaning to me -- being able to help mold the youth in my hometown with lessons I've had growing up," said Arroyo. "The MLBPAA is incredible, and I'm honored to be here."
In the batting cages, Ruiz taught kids how to square up for a bunt and also show them how to swing for the fences. Ohme handled the baserunning section by demonstrating the proper techniues to use when on the basepaths. The former big league backstop Benton led the catching session, explaining the importance of receiving the ball vs. just catching it.
Each participant received a ball autographed by the former big leaguers at the conclusion of the event. But even more than that, they received some great life lessons from ballplayers who made it to the top of their profession.
Walker, a former Cubs pitcher who grew up in Brooksville, said that the ex-players also got a lot out of working with the kids.
"The MLBPAA does a fantastic job with hosting, and we as former athletes are honored to come out and give these kids a fun time," said Walker. "Some of these kids won't commit to baseball ... but to have this experience -- which most of us didn't have when we were their age -- is special, and I hope everyone who participated had as much fun as we [former players] did."
Joe Carlino is a contributor to MLB.com.