Former Phillies OF Michaels started his own business
11-year veteran helps young players get most out of physical ability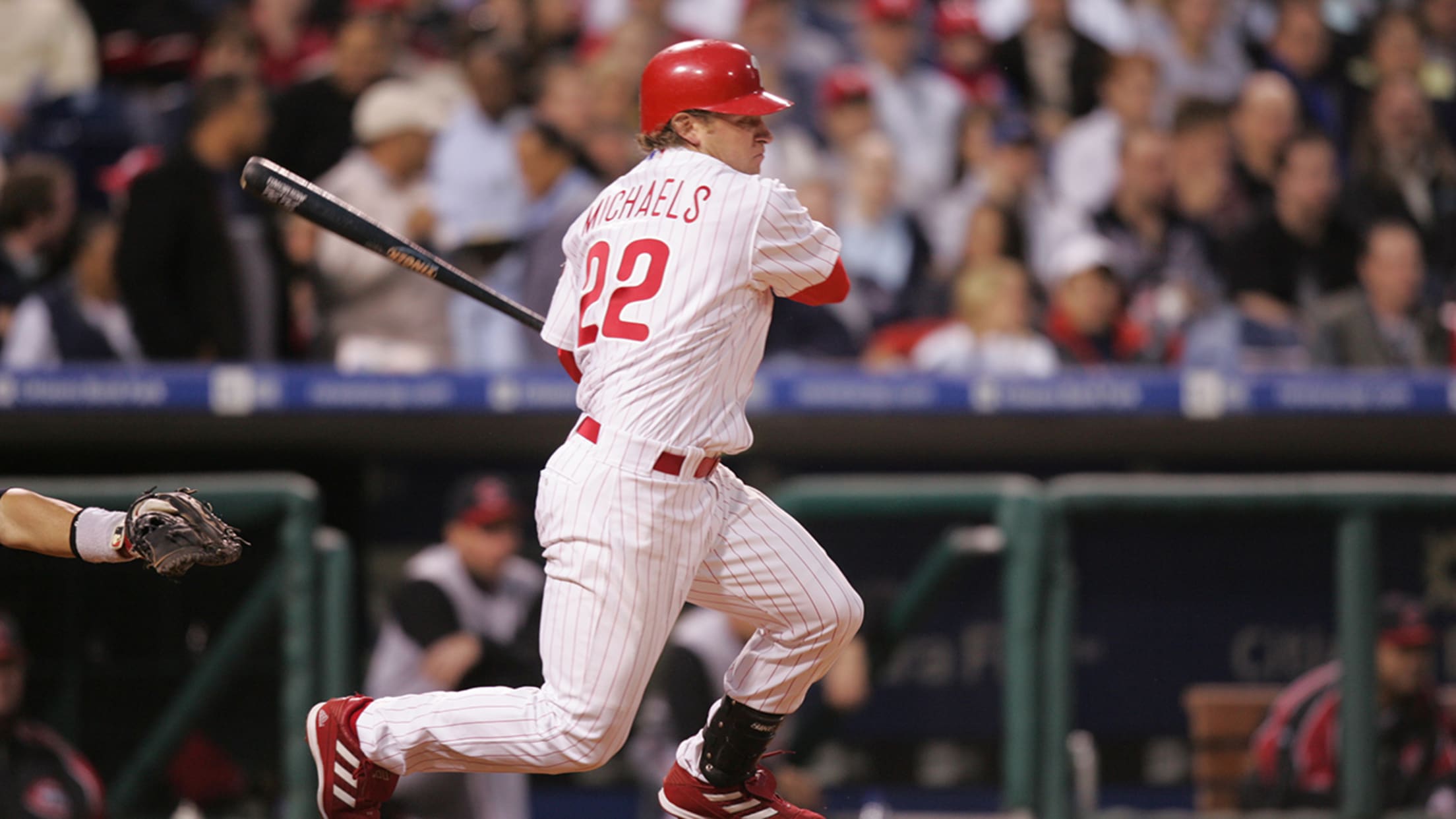 Jason Michaels hit .291 in parts of five seasons with the Phillies from 2001-05. (Miles Kennedy)
The way former Phillies outfielder Jason Michaels figures it, succeeding in baseball at the high school level is 70 percent physical ability and 30 percent mental acuity. In college, the split shifts to 60 percent below the neck and 40 percent above."And if you're fortunate enough to get drafted and
The way former Phillies outfielder Jason Michaels figures it, succeeding in baseball at the high school level is 70 percent physical ability and 30 percent mental acuity. In college, the split shifts to 60 percent below the neck and 40 percent above.
"And if you're fortunate enough to get drafted and get into an organization, it's 50-50," Michaels added. "Obviously, you had to have some talent to get there. And you also had to have some mental capacity to get there."
That's why Michaels, who spent five solid (.291 batting average and an .822 OPS) seasons with the Phils from 2001-05, has started a business called The Big League Approach. He hopes to be able to pass on the knowledge he accumulated during 15 years in professional baseball, 11 of them in the big leagues.
• Phillies Alumni page
Philadelphia selected Michaels in the fourth round out of the University of Miami in June 1998, the same year the Phillies made Hurricanes teammate Pat Burrell the first overall pick. Burrell was the headline, but he always said Michaels was the glue that held the team together.
Still, Michaels said he wouldn't have been able to enjoy the career he did without the mentoring he received from veterans like Dave Hollins and Todd Pratt.
"I learned so much from those guys," Michaels said. "And that's lacking today. You'll see that in the locker rooms. Nobody's sitting around talking baseball. There are a lot of distractions with the cell phones and the tablets and all that stuff. It's the same game but a different generation. I can't tell you where I'd be without the mentoring. I wouldn't have lasted in the big leagues that long."
As it turned out, that was the first step toward Michaels' decision to start his own business. The second came in 2013, the year after his playing career ended with Triple-A Syracuse, the Nationals' top affiliate. The Washington organization asked him to come back in a largely undefined Minor League coaching position.
"They didn't really have a name for it," Michaels said. "I don't know how you'd describe it. They wanted me to be around the younger guys. They wanted me to be with each team, but I really was with the younger guys, the Rookie-ball guys. I kind of made up a title. Like, 'Mentoring Rover.' And what that involved was me talking about approaches, the mental side of the game. What were you thinking at the plate there? What were you thinking on defense before that play? What was your process on the basepaths before the ball was hit?"
Michaels enjoyed what he was doing, but real life intervened. A divorce and custody responsibilities made it difficult for him to leave his home in Tampa, Fla., for an extended period of time. And that's when he decided to launch The Big League Approach.
"I've played with and against a lot of guys who, in a perfect world, would have been Major League superstars. A lot, a lot, a lot," Michaels said. "So why didn't they make it? There's obviously a little bit of luck involved. You need to be healthy. But you also need to have the right mental state. So many guys don't know how to manage failure. Life throws you curveballs. What are you going to do? If you get knocked down, you have to get back up. You have to manage failure. We all know the numbers in the game. And you can see the guys who can manage the failure, manage their emotions.
"It's kind of a tricky thing because it's not a tangible product. You can't see it, feel it, touch it. But it's necessary."
At age 40, Michaels is taking a class online to complete his degree in business management. He stays in touch with some of his old teammates, including Burrell, Nick Punto and Chase Utley. And while he ended up working for five organizations, he remembers his time with the Phils fondly.
"All my firsts were there," said Michaels, who was dealt to the Indians for left-handed reliever Arthur Rhodes in January 2006. "They were the organization that gave me an opportunity to continue playing. I was a senior drafted out of college. I learned a lot, had a good foundation. I was very happy and lucky to be a part of that organization."
Michaels would consider working for a team again, if the right situation presented itself. In the meantime, he's working to get his new business off the ground, focusing on taking what he has learned about the mental aspect of baseball and using that to help players get the most out of their physical ability.
MICHAELS FILE
Jason Drew Michaels … Born on May 4, 1976, in Tampa, Fla. ... Selected by the Phillies in the fourth round of the 1998 Draft out of the University of Miami, where he holds the single-season record for doubles.
Major League career: Played for the Phils (2001-05), Indians ('06-08), Pirates ('08) and Astros ('09-11) ... Batted .263 in 1,031 career games, with 59 home runs and 299 RBIs … For the Phillies, hit .291 in 383 games and made starts at all three outfield positions.
Postseason: Appeared in the American League Division Series and AL Championship Series with the Indians in 2007.
Paul Hagen is a national columnist for MLB.com.