Former Tiger recalls last WS game at Wrigley
Mierkowicz, last living member of '45 Fall Classic, replaced Greenberg in LF for 9th inning of Game 7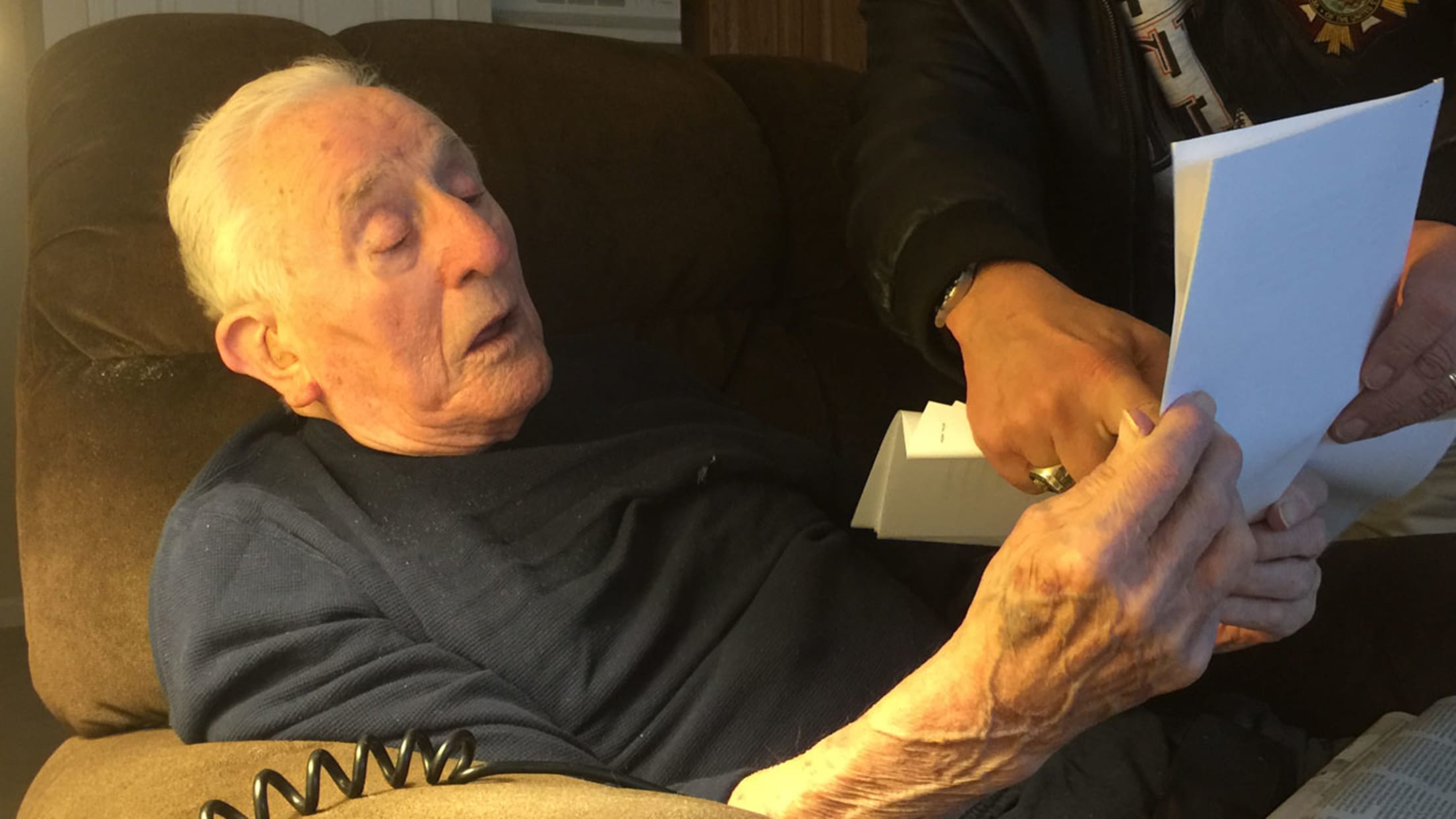 Ed Mierkowicz is the last living member of the 1945 World Series from either team. (MLB.com)
ROCHESTER HILLS, Mich. -- Ed Mierkowicz had seen enough of the weather forecast on Thursday morning to change the station. At 92 years old and with a previously broken hip, he tends to stay inside. His age and his armchair hide the strapping 6-foot-4 frame Mierkowicz had in his youth."I
ROCHESTER HILLS, Mich. -- Ed Mierkowicz had seen enough of the weather forecast on Thursday morning to change the station. At 92 years old and with a previously broken hip, he tends to stay inside. His age and his armchair hide the strapping 6-foot-4 frame Mierkowicz had in his youth.
"I could run like a rhino," he said wistfully. "I was fast."
Mierkowicz changed stations on his television, and his eyes lit up, a picture flashing back to his youth as MLB Network looked ahead to Game 3 of the World Series tonight.
:: Complete World Series coverage ::
"There's the field where I played," he said, "right there. Wrigley!"
• Shop for Cubs World Series and NL champs gear
One man knows the feeling the Cubs and Indians will experience there tonight, to take the field for a World Series game at Wrigley Field. Mierkowicz was there in 1945, the Cubs' last trip to the Fall Classic.
As Eddie Mayo recorded the forceout at second base on Roy Hughes, wrapping up the Tigers' 9-3 win in Game 7 on Oct. 10, Mierkowicz was in left field. A 21-year-old rookie who made his big league debut just six weeks earlier, he was a ninth-inning defensive replacement for the great Hank Greenberg, Mierkowicz's only appearance of the Series.
Now, 71 years after wondering what he was doing out there, Mierkowicz is the last living member of that Series from either team.
"It's been so long, I can hardly remember it," he said.
Mierkowicz remembers more than he lets on. He was a single line in a box score, but his story getting there was more of a Cinderella tale than these Cubs.
Mierkowicz was born and raised in downriver Detroit, a Wyandotte native discovered in high school by former Tigers scout Wish Egan when Mierkowicz homered twice off a pitcher Egan had traveled to watch. World War II delayed Mierkowicz's Major League dreams upon graduation from high school in 1942, but rheumatic fever led to an early discharge.
A year after signing, Mierkowicz was batting .303 with 21 home runs at the Tigers' top affiliate in Buffalo when he got the call. He made his Major League debut at Briggs Stadium on Aug. 31, 1945.
Aside from a couple starts in mid-September -- one of which yielded his first big league hit, an RBI double at Fenway Park -- Mierkowicz was a pinch-hitter and late-inning replacement in an American League pennant race that came down to the final day. He struck up a friendship with Greenberg, who Mierkowicz grew up idolizing.
"He was a good guy for me," Mierkowicz said, "because he thought I looked like him. I was a tall guy, and I played first base/outfield."
Mierkowicz made the World Series roster, but like the sold-out crowds, he was a spectator for the first six games.
Unlike the modern setup, the World Series changed cities only once that year, playing the first three games in Detroit before finishing out in Chicago. The Cubs took two of three at Briggs Stadium, needing just two wins at Wrigley to win their first title since 1908. The Tigers won back-to-back games before a Cubs win in Game 6 forced a winner-take-all showdown.

Never did Mierkowicz figure to play in that deciding game, even after a five-run opening inning off Hank Borowy put Detroit in control. But as the Tigers readied to take the field for the ninth inning with a 9-3 lead, Mierkowicz was beckoned.
Greenberg, who played 78 games that regular season after receiving his midseason discharge from the Army, had played every inning of the Series, including 12 innings in Game 6. Greenberg did not take the field for the ninth.
"Greenberg got hurt," Mierkowicz explained, "and they put me in there in left field. I only played an inning. I remember going out there, and my knees were shaking."
Like a gust of autumn wind off Lake Michigan, nerves swept through Mierkowicz's mighty frame as he ran to left field and looked around. Like baseball karma, the ball immediately found him, thanks to Hughes' leadoff single.
"I said to myself, 'What the [heck] am I doing here?'" Mierkowicz said. "And a left-handed hitter from the Cubs hit a line drive to me. I caught it and I was OK."
Hal Newhouser retired the Cubs in order from there. And with Mayo's step on second base, Mierkowicz joined the celebration in the infield, exalting in the Tigers' first championship since 1935.
Unlike the champagne celebrations of today, he said, the postgame spray was water.
"Are you kidding? They couldn't afford it," Mierkowicz said.
Though Mierkowicz had a long life ahead of him, that was the highlight of his baseball career. He played for 12 more years, but saw action in just 25 more Major League games, the last a pinch-hit appearance for the Cardinals in 1950.
"I got a cup of coffee, but forgot the cream," he jokes.
Mierkowicz retired in 1957 and returned home to Wyandotte, where he worked at a waste water treatment plant, raised two kids and settled into a normal life. Not until a few years ago, when writer David Dyer heard about a former Tiger who lived in his hometown of Grosse Ile, did Mierkowicz's story come to light.
From his room at the American House, Mierkowicz is a window to history. His body is weakened, but his mind remains sharp. And when people ask him about his baseball days, he smiles.
"I was just a kid," Mierkowicz said, "and I said, 'What's going on?' I didn't appreciate it until I got older."