Friday's top prospect performers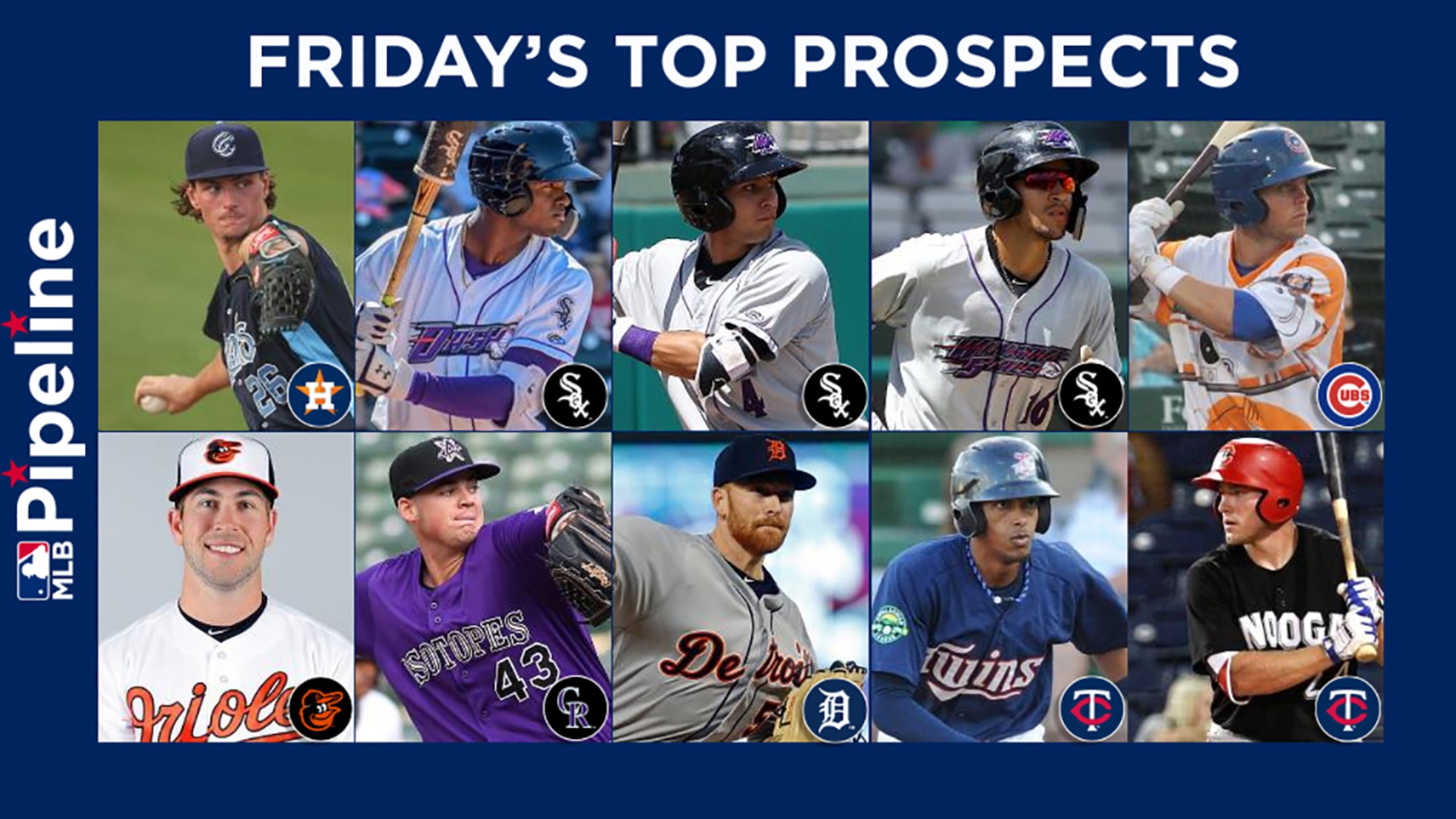 Forrest Whitley (Astros' No. 1, No. 7 overall) continues to show that he's both the No. 1 pitching prospect in baseball and already capable of retiring hitters at the Major League level. Whitley, who threw just 26 1/3 innings last season because of injuries and a suspension, was reassigned to
Forrest Whitley (Astros' No. 1, No. 7 overall) continues to show that he's both the No. 1 pitching prospect in baseball and already capable of retiring hitters at the Major League level.
Whitley, who threw just 26 1/3 innings last season because of injuries and a suspension, was reassigned to Minor League camp earlier this week, but is very likely to pitch in Houston at some point this season.
Starting against the Cardinals on Friday, the 21-year-old lowered his Spring Training ERA to 1.50 with four scoreless innings. Whitley issued a pair of walks, but didn't allow a hit and struck out four.
Playing in the other half of the Astros' split-squad, Abraham Toro (Astros' No. 23) showed off some power and highlighted Houston's six-run sixth with a grand slam. The homer was the second of Spring Training for Toro, who finished his night 1-for-3.
Here's how other top prospects performed on Friday:
• No. 35 overall prospect Alex Verdugo (Dodgers' No. 1) and Jeter Downs (Dodgers' No. 8) came through with a trio of RBIs in the Dodgers' win over the Reds. Verdugo, who finished 1-for-4, jump started an eight-run eighth with a two-RBI single to right and Downs, in his lone at-bat of the game, followed with an RBI single of his own.
• No. 40 overall prospect Luis Robert (White Sox No. 4), Nick Madrigal (No. 47 overall, White Sox No. 5) and Laz Rivera (White Sox No. 17) combined to go 4-for-6 with four RBIs in a loss to the Cubs.
Rivera got things started for the trio as he came up with an RBI double in the seventh. Two batters later, Robert, who is hitting an impressive .385 in Spring Training, tied the game with a two-out, two-run double that just snuck inside the bag at third. Madrigal came up with an RBI single in the ninth, but it wasn't enough as the White Sox fell 11-9 to the Cubs.
• No. 100 overall prospect Nico Hoerner (Cubs' No. 2) hasn't had a ton of opportunities this spring, but he's been absolutely raking in the few plate appearances he's had. That trend continued against the White Sox when Hoerner went 1-for-2 with an RBI double. That performance actually lowered Hoerner's spring average to .636 (7-for-11).
• Orioles' No. 25 prospect Drew Jackson hit his first homer of Spring Training, a two-run blast in the sixth inning of Baltimore's loss to Minnesota. Jackson, whom the Orioles acquired via trade from the Phillies during the offseason, finished 1-for-2 and is hitting an even .400 (14-for-35).
• Rays' No. 29 prospect Tristan Gray hit his first homer of Spring Training, a three-run shot, in the seventh inning of the Rays' tie against the Pirates. Gray finished 1-for-2 and is hitting .200 in Spring Training.
• Rockies' No. 4 prospect Peter Lambert took to the mound for his first Spring Training start and the 21-year-old did not disappoint. Lambert retired nine of the first 10 batters he faced and was ultimately lifted after 3 2/3 innings. The right-hander gave up three hits, struck out two and gave up one unearned run.
• Tigers' No. 19 prospect Spencer Turnbull put together a solid start against the Rays. The 26-year-old right-hander walked one and yielded just one run over four innings. Turnbull did give up five hits, but struck out two and limited the damage. Turnbull has a 2.70 ERA and 1.10 WHIP this spring.
• Twins' prospects Wander Javier (No. 4) and Luke Raley (No. 26) combined to go 3-for-6 with three RBIs in a win over the Orioles. Javier went 2-for-2 with an RBI double, but was pulled from the game after just three innings as a precaution for a right quad strain. Raley was just 1-for-4 at the plate, but that one hit was a big one, a two-run homer in the third.