Cards eye Fowler, Siegrist returns next week
Wong likely back after All-Star break; Carpenter takes reps at 2B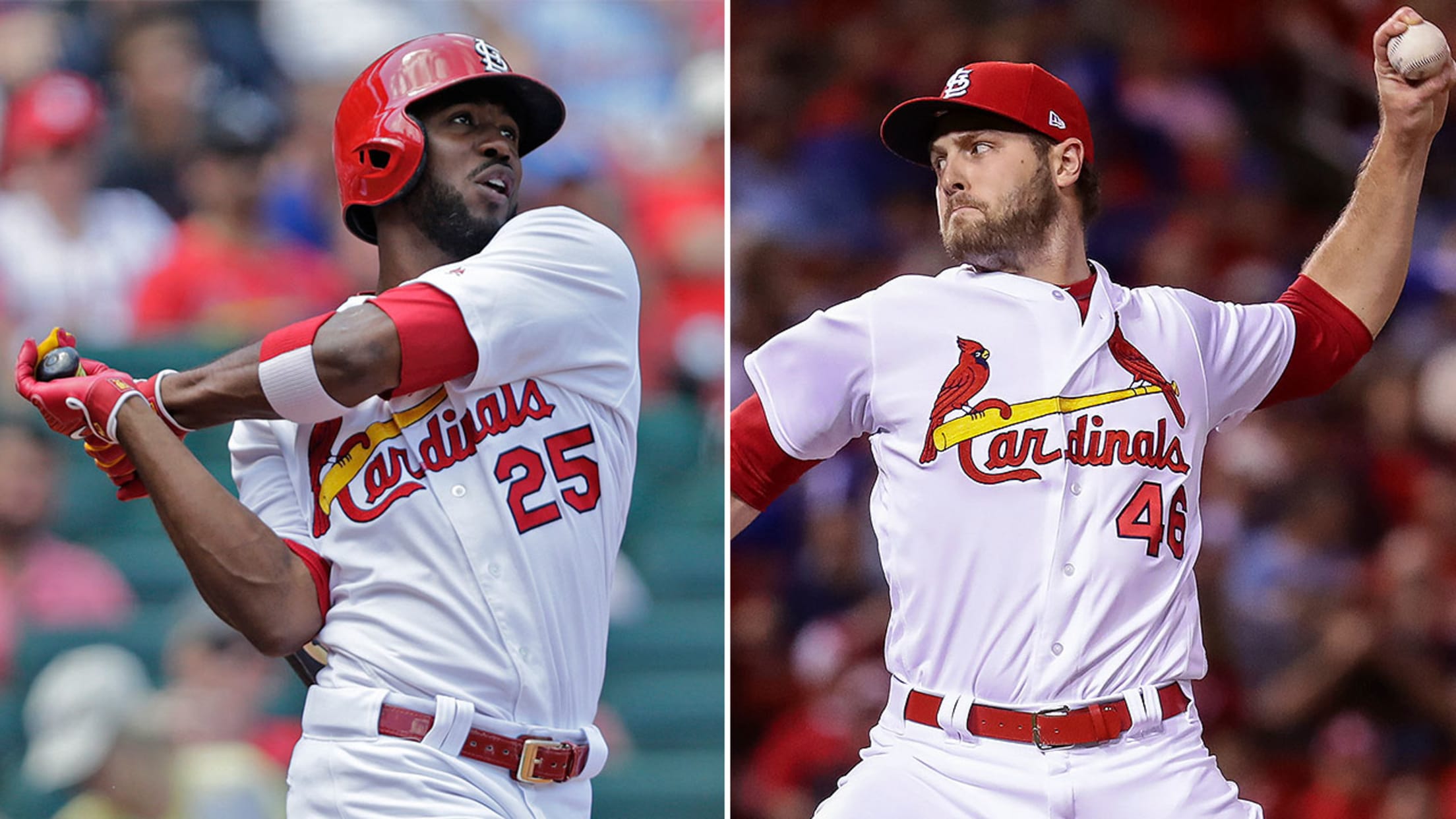 Dexter Fowler (heel spur) and Kevin Siegrist (cervical spine sprain) are eligible to return from the 10-day DL during this homestand. (AP)
ST. LOUIS -- Though Kolten Wong's expected return from the disabled list has been pushed back until after the All-Star break, the Cardinals were still optimistic Friday that outfielder William Fowler and reliever Kevin Siegrist will be cleared to return next week.All three players recently underwent cortisone injections to alleviate
ST. LOUIS -- Though Kolten Wong's expected return from the disabled list has been pushed back until after the All-Star break, the Cardinals were still optimistic Friday that outfielder William Fowler and reliever Kevin Siegrist will be cleared to return next week.
All three players recently underwent cortisone injections to alleviate various areas of discomfort. Siegrist, who is eligible to come off the 10-day DL on Monday, is expected to resume throwing this weekend after a cervical spine sprain. Fowler, who can return as early as Wednesday, is still limiting his baseball activity to keep pressure off his ailing right heel.
John Mozeliak, the newly appointed president of baseball operations, said on Friday that there has not been conversation about moving Fowler to left field -- for either health or competitive advantage -- when he returns.
As for Wong, the Cardinals had tentatively circled this weekend series against Washington as a likely return date. But Wong, who has been sidelined since June 15, continued to feel discomfort around his right triceps as he increased his throwing and swing work last week. That prompted the organization to order a cortisone injection for the second baseman on Tuesday.
The Cardinals' hope now is that Wong will return shortly after the All-Star break.
Carpenter on the move?
Unwilling to consider a defensive move for Matt Carpenter earlier this season when looking for ways to get Matt Adams more involved, the Cardinals are now open to carving out opportunities for Luke Voit.
Voit's defensive limitations make him an option only at first base, a position that Carpenter permanently took over this season. But on Friday, Carpenter went out for early infield work at second base. It's already a familiar position for Carpenter, who was an All-Star second baseman in 2013 and played 40 games there last season.
"Just making sure we're covering all our bases if there's options," manager Mike Matheny said. "If we're faced with a tough lefty, that's something we're going to at least make sure we have covered. Carp has been taking ground balls all season, all over the place, just a little more concentrated work at second today might give him a little bit more opportunity."
This wouldn't be a permanent move, as the Cardinals do hope to get Wong, their starting second baseman, back in mid-to-late July.
Worth noting
• Zach Duke, who underwent Tommy John surgery in October, is inching closer to an unexpected midseason return. He began a Minor League rehab assignment with the Gulf Coast League Cardinals on Friday and pitched one scoreless inning. Duke allowed one hit and struck out one.
• FOX Sports Midwest announced that the Cardinals' game next Friday will air in Qatar for members of the Missouri National Guard's 1-138th Infantry Regiment. The 'This One's For You' telecast will also include periodic live look-ins to the troops.
• Infielder Patrick Wisdom homered twice in Triple-A Memphis' 8-2 win over Oklahoma City on Thursday. Wisdom has 15 homers this season, already matching his career high.