Lindor hosts 4th kids clinic of year in Atlanta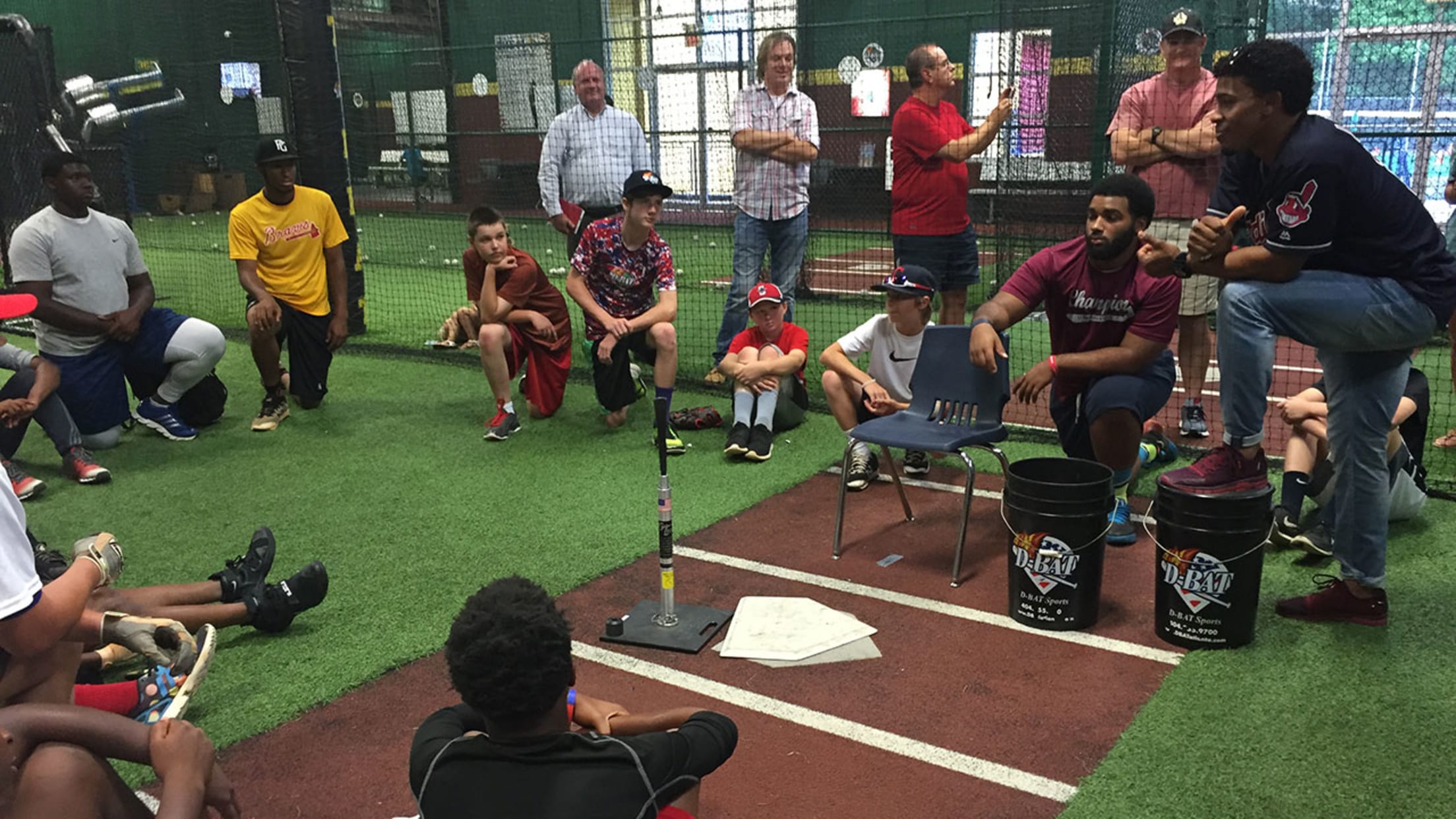 Indians shortstop Francisco Lindor hosts his fourth clinic of the year ahead of Tuesday night's game vs. the Braves. (Pat James)
ATLANTA -- Ayden Light has been an Indians fan for as long as he can remember. So as he sat in his Atlanta home on Monday, he was doing what any typical 11-year-old fan of the Tribe might be doing -- watching highlights of shortstop Francisco Lindor on his phone.But
ATLANTA -- Ayden Light has been an Indians fan for as long as he can remember. So as he sat in his Atlanta home on Monday, he was doing what any typical 11-year-old fan of the Tribe might be doing -- watching highlights of shortstop Francisco Lindor on his phone.
But when he walked into the kitchen, his mother greeted him with a surprise. Light wouldn't be spending Tuesday studying videos of one of his favorite players. He'd be meeting him face-to-face.
Light was one of 22 boys who attended Lindor's youth clinic at the D-BAT training facility in Buckhead, Ga., on Tuesday afternoon. There, the Indians shortstop spent close to 90 minutes talking about hitting fundamentals and imparting his wisdom.
"It's always fun whenever you can come out and support the kids and get a chance to talk to the kids," Lindor said. "You don't really get that chance a lot when you get on the field. You say hi and stuff, but don't really get time to spend with the kids.
"It's an honor and it's a blessing to talk to the kids and see them hit."
Wearing his No. 12 jersey and a pair of jeans, Lindor stepped into a batting cage upon his arrival and started talking about his upbringing. He told the participants about growing up in Puerto Rico and how baseball served as an outlet for him as he struggled learning English once he moved to Florida.
But most of all, he stressed the importance of hard work.
Once he finished, Lindor conducted a Q&A session, where topics ranged from dealing with failure to how he became a switch-hitter. Lindor's response to a question about his offseason schedule caught Light's attention.
"He literally plays baseball like eight hours a day, every day," Light said. "So that was really cool."
Then it was time to hit. Participants filed into two separate batting cages and took turns hitting off a tee. Lindor sat on a bucket in one of the cages and provided tips to each boy who came through the station.
Tuesday's gathering marked the fourth of multiple clinics on the 22-year-old's schedule this year. He's previously held similar events in Philadelphia, Cleveland and Compton, Calif.
"I always want to be able to give back and help the kids," Lindor said. "People helped me throughout my whole life, so why not help others?"
Before heading to Turner Field for his game against the Braves, Lindor stuck around to sign autographs and pose for pictures. Among those who waited patiently in line was Light, donning an Indians cap and carrying another in his hands reserved for Lindor's signature.
"It's cool to see how he's supporting us already," Lindor said. "For him to be at such a young age and for us to be his favorite team, it's really cool."
Pat James is a reporter for MLB.com based in Atlanta.