Lindor suffers setback, sprains ankle in workout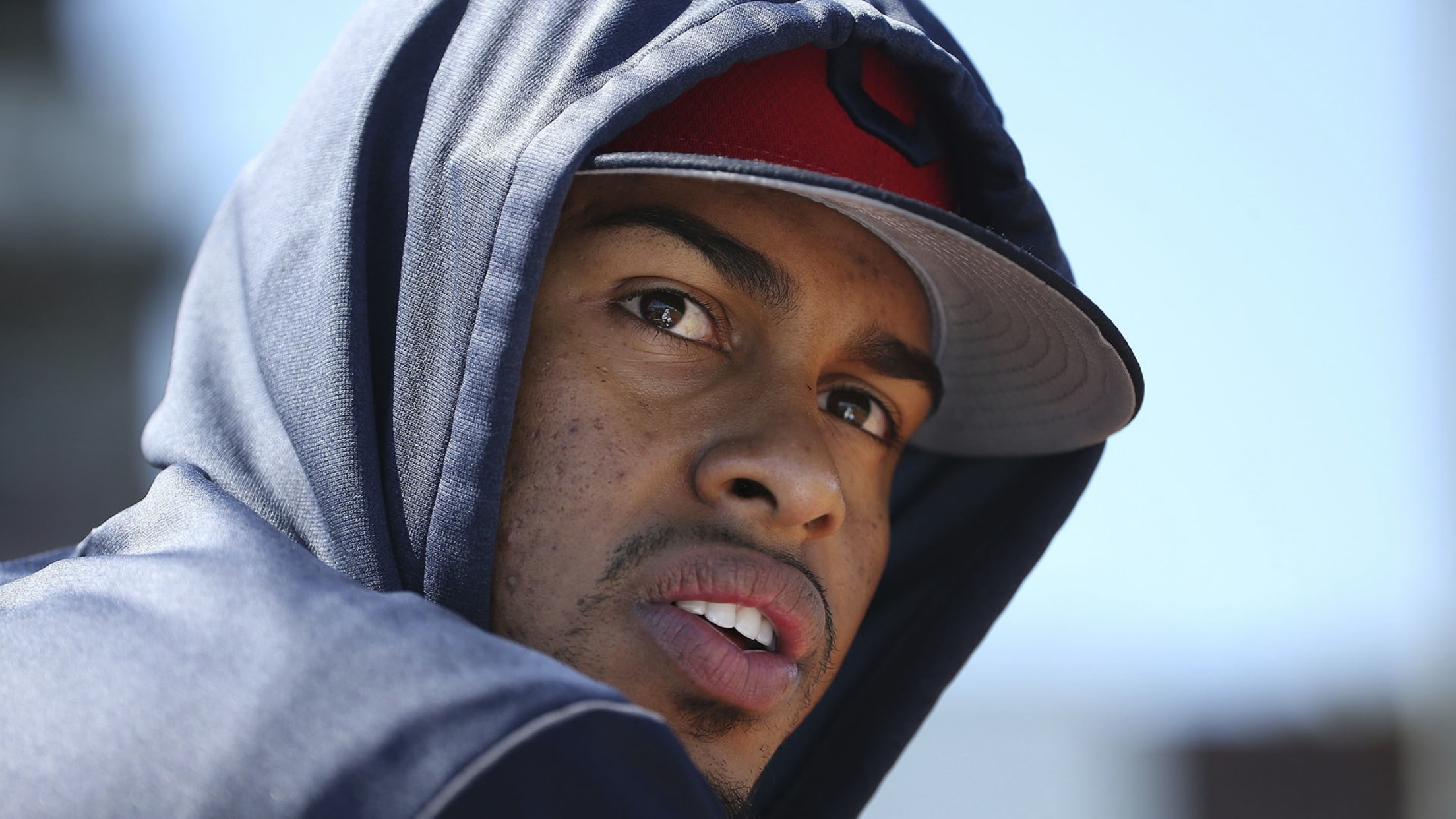 CLEVELAND -- Francisco Lindor can't catch a break this spring. Just when his return to the Tribe started to come into sight, it looks like he'll likely have to be out even longer. The Indians announced on Wednesday afternoon that their All-Star shortstop sustained an acute left ankle sprain while
CLEVELAND -- Francisco Lindor can't catch a break this spring. Just when his return to the Tribe started to come into sight, it looks like he'll likely have to be out even longer.
The Indians announced on Wednesday afternoon that their All-Star shortstop sustained an acute left ankle sprain while running the bases during a Minor League intrasquad game against Double-A Akron on Tuesday. He underwent an MRI later that night, which revealed the mild to moderate left ankle sprain. His timeframe for return is to be determined.
"Frankie was running the bases yesterday in a game, and he was in between first and second and got caught in a rundown, and kind of the dirt gave way a little bit and he twisted his ankle," manager Terry Francona said. "It's hard to give a timetable because he's already battling something else."
The 25-year-old has been rehabbing since Feb. 6, when he was diagnosed with a moderate right calf strain. Toward the end of Spring Training, Indians manager Terry Francona and the team's training staff worked together to determine whether Lindor would be able to break camp with the Tribe. Although Lindor thought he was ready, the club decided to play it safe and have him start the year on the injured list and remain in Goodyear, Ariz., for the time being. But now, he may be staying there longer than he anticipated.
"I've watched it on tape," Francona said, referring to the rundown. "He walked off the field. But [the medical staff is] trying to put their heads together to get some more information."
The Indians were optimistic that Lindor would return on April 4, which was the earliest date he'd be eligible to come off the injured list. But now, that date will need to be pushed back. Eric Stamets will continue to play shortstop in Lindor's absence, and Brad Miller will play second base until Jason Kipnis (mild calf strain) is able to get back into Major League game activity. Kipnis is currently working out on the AlterG treadmill.
"Some of the plan is dependent on like their progression, like how they're doing," Francona said of Kipnis and Lindor. "They have to meet kind of a milestone and then they move on. So, like they said, Kip's doing great. That's good. I don't think they thought he'd be to where he is right now. But his body is gonna tell us how quickly he can go."
The Indians also announced on Wednesday that Hanley Ramirez will make the 25-man roster.