Here are 7 potential Lindor trade proposals
Who says no to these hypothetical deals involving star shortstop?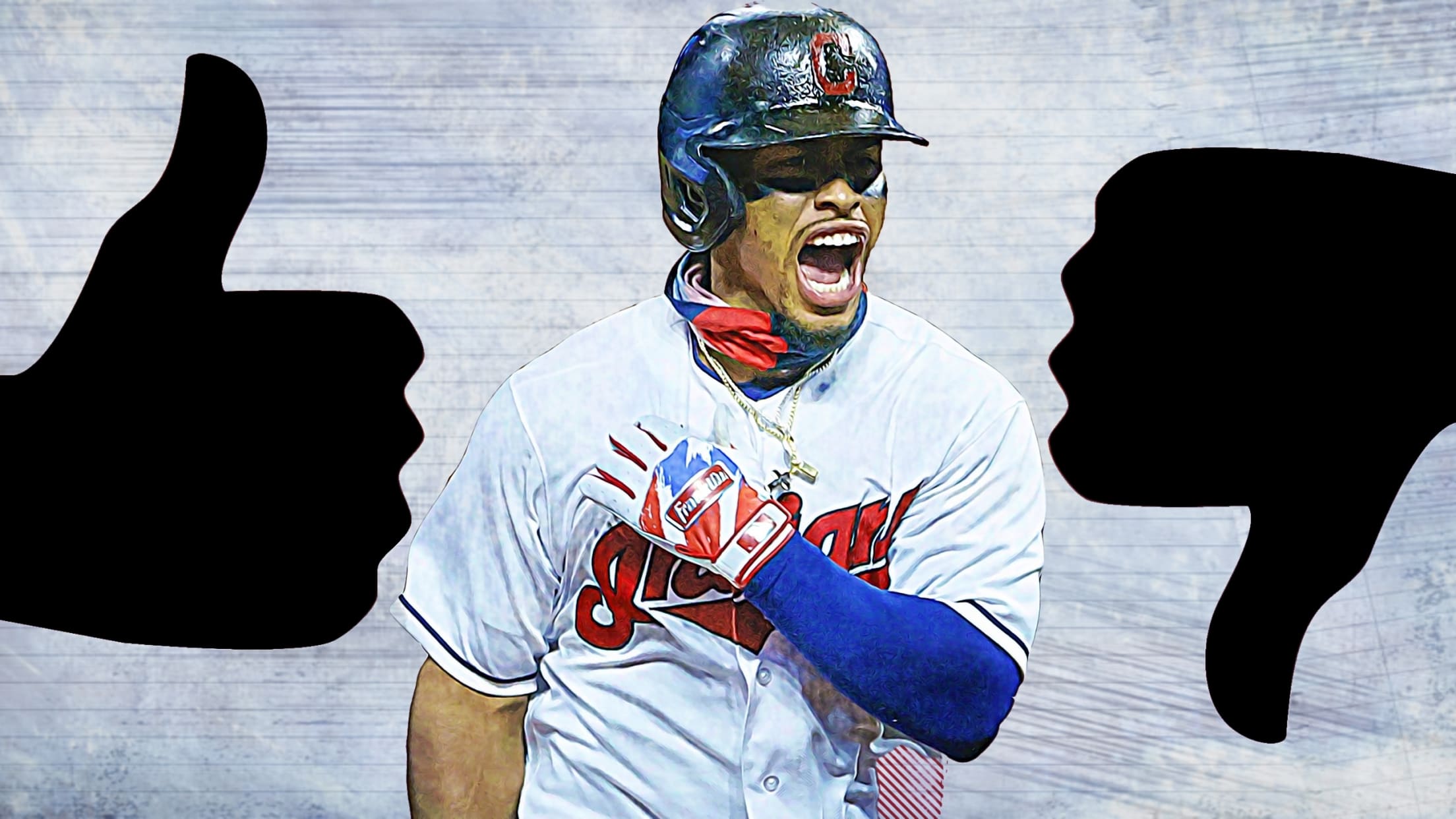 Set to become a free agent a year from now, Indians superstar shortstop Francisco Lindor is expected to be put on the trade block this offseason. In fact, multiple industry sources told MLB.com's Jon Paul Morosi that Lindor is likely to be dealt before Opening Day, and the Mets, Yankees,
Set to become a free agent a year from now, Indians superstar shortstop Francisco Lindor is expected to be put on the trade block this offseason. In fact, multiple industry sources told MLB.com's Jon Paul Morosi that Lindor is likely to be dealt before Opening Day, and the Mets, Yankees, Phillies, Blue Jays and Cardinals are viewed as the strongest candidates to acquire the four-time All-Star.
The Dodgers' trade for Mookie Betts last February is a solid model for what we can expect a Lindor trade to look like. Like Lindor, Betts was heading into his final year before free agency when the trade was completed. He was due to earn $27 million before the COVID-19 pandemic shortened the campaign, while Lindor is projected to earn roughly $20 million in 2021.
Boston received young outfielder Alex Verdugo (formerly a Top 100 prospect), shortstop Jeter Downs (MLB's No. 44 prospect at the time) and catcher Connor Wong (the Dodgers' No. 28 prospect at the time) in exchange for Betts and left-hander David Price, with Los Angeles taking on half of the $96 million still owed to the southpaw.
Considering the Indians don't have a Price-sized contract to tie to Lindor, they presumably could demand a heftier prospect haul than Boston got for Betts. On the other hand, the Tribe may be more open to accepting a lesser offer than it would have been in a typical year, given the financial situation amid the pandemic. One source told Morosi that Cleveland is seeking three players either in the Majors or close to debuting for Lindor.
Keeping all of that in mind, here are seven trade proposals that could work for both of the teams involved.
Lindor joins Blue Jays' super-infield
Blue Jays get: SS Francisco Lindor
Indians get: LF Lourdes Gurriel Jr., C Alejandro Kirk (Blue Jays' No. 6 prospect), SS/3B Kevin Smith (Blue Jays' No. 19 prospect)
Why it could work: While Cleveland could try to pry away one of Toronto's two elite infield prospects (Austin Martin or Jordan Groshans -- both among MLB Pipeline's Top 100), this might be a more realistic haul for a player with only one year of control remaining. Gurriel and his .508 career slugging percentage could step right into Cleveland's weak outfield situation and hit in the middle of the order. (He's also signed through 2023). The 5-foot-8 Kirk became something of a sensation in his successful September debut and would bring a lot more offensive upside than Roberto Pérez or Austin Hedges. Smith grades out as an above-average shortstop and could be ready to help fill the void left by Lindor at some point in 2021.
While the Blue Jays already have Bo Bichette, they could shift him to third base for 2021 and then back to short if the club is unable to retain Lindor beyond that point. In the meantime, Lindor would bring steadier defense at the position and help the Blue Jays challenge the Rays and Yankees in the AL East. Toronto could pursue a free agent (George Springer?) to take Gurriel's spot, and the presence of catchers Danny Jansen and Reese McGuire would lessen the sting of dealing Kirk.
Who says no? The Blue Jays. It depends on what other offseason moves they think they can execute, but in a vacuum, the losses of Gurriel and Kirk might cancel out a good chunk of Lindor's benefit -- not to mention having to move Bichette. Combined with the distinct possibility Lindor goes one-and-done, that may give Toronto cold feet.
-- Andrew Simon
Lindor joins Bryce on Philly marquee
Phillies get: SS Francisco Lindor and C Roberto Pérez
Indians get: C Rafael Marchan (Phillies' No. 7 prospect), RHP Francisco Morales (Phillies' No. 4 prospect), OF Jhailyn Ortiz (Phillies' No. 19 prospect), SS Bryson Stott (MLB's No. 82 prospect)
Why it could work: The Phillies need to replace free-agent catcher J.T. Realmuto and shortstop Didi Gregorius, and this trade helps them accomplish both of those tasks in one fell swoop. The acquisition of Lindor gives Philadelphia another marquee name to pair with Bryce Harper, and this proposal doesn't require the team to give up National League Rookie of the Year Award second-place finisher Alec Bohm or right-hander Spencer Howard (MLB's No. 28 prospect).
Pérez isn't close to the hitter Realmuto is, but he did hit 24 homers in 2019 and is comparable on the defensive end, both in framing ability and throwing out would-be basestealers. Pérez is set to earn $5.5 million in 2021, and he can be retained for $7 million in '22, or bought out for a mere $450,000.
Stott, the 14th overall pick in the 2019 MLB Draft, is the big prize for the Indians in this trade. Cleveland doesn't necessarily need to get back a shortstop in a Lindor deal, as three of its top eight prospects play that position. But Stott is likely the best prospect the Indians are going to be able to pry from the Phillies. The 23-year-old doesn't jump out in any one area, but his tools are solid across the board.
Cleveland also gets back a replacement for Pérez in Marchan, a glove-first catching prospect with room to grow on offense, given his contact-heavy approach. Rounding out the deal are Morales, a high-upside righty with a plus fastball and slider, and Ortiz, an outfielder with impressive raw power.
Who says no? The Indians. This is likely close to the best offer the Phillies can put on the table if they aren't willing to include Bohm or Howard. If so many of Cleveland's top prospects weren't shortstops, then Stott might be more attractive as the centerpiece of a trade, but the makeup of the Tribe's farm system takes away some of the appeal.
-- Thomas Harrigan
Mr. Smile stays in-state
Reds get: SS Francisco Lindor
Indians get: SS Jose Garcia (Reds' No. 6 prospect), OF Austin Hendrick (MLB's No. 78 prospect), 3B Jonathan India (Reds' No. 5 prospect), INF/OF Nick Senzel, C Tyler Stephenson (MLB's No. 96 prospect)
Why it could work: This isn't the first time these Ohio clubs have flirted with a potential Lindor trade; there were reported discussions last year that centered around Senzel. But Senzel's stock -- due to both health and generally uninspiring performance -- has dropped substantially in the two years since he ranked among baseball's top prospects, meaning Cincinnati will have to really pony up in the prospect department.
The Indians, as their fans are well aware, desperately need to upgrade their outfield production. Senzel has at least shown himself to be athletic enough (he ranked in the 97th percentile in average sprint speed in 2020) to cover ground out there and Hendrick -- the Reds' 12th overall pick in this year's Draft -- is regarded by MLB Pipeline as having "the best raw left-handed power" in the 2020 class. The Cleveland outfield wasn't the only unit that was historically anemic; so perhaps Stephenson could eventually give the Indians some punch behind the plate, too. While it's true that Tribe fans would have to wait several years for all of these prospects to impact the big league club, it's hard to see the Indians taking home a bigger farm haul than this.
Meanwhile, the Reds spent somewhere around $170 million to upgrade their roster right before a pandemic hit, and that timing obviously wasn't ideal. But the NL Central remains wide open, and the combination of Lindor (even if just for one year) and turnarounds from incumbent sluggers like Nick Castellanos, Mike Moustakas and Eugenio Suárez would give Cincinnati an excellent chance to win its first postseason series since 1995.
Who says no? The Reds. The reality is that, for all the money it spent last year, Cincinnati is still a small-market club just like the Indians. It's highly unlikely that the Reds could gather the resources needed to convince Lindor to stay beyond 2021, and general manager Nick Krall probably wouldn't be comfortable bundling up the top of his farm system for a one-year rental -- even if that rental happens to be among the sport's best players.
-- Matt Kelly
Lindor bound for the Bronx
Yankees get: SS Francisco Lindor
Indians get: OF Clint Frazier, INF Miguel Andújar, RHP Luis Gil (Yankees' No. 5 prospect), RHP Albert Abreu (Yankees' No. 12 prospect)
Why it could work: With young star Gleyber Torres at shortstop, the Yankees don't have a need at the position as much as some of the other clubs here do. Not to mention, if they do want to address the spot, they instead could target one of this year's free-agent shortstops -- Marcus Semien, Andrelton Simmons or old friend Didi Gregorius. That said, New York still could jump at the chance to add another big name to its star-studded lineup and improve on Torres' questionable defense at short. Shifting Torres back to second base would be easy enough, particularly if the Yankees don't re-sign free agent DJ LeMahieu, which would allow them to concentrate on adding much-needed arms to the rotation via free agency.
The Indians have been desperately seeking offense -- especially in the outfield -- and they are plenty familiar with Frazier, whom they drafted fifth overall in 2013. Still only 26 years old, the righty slugger comes with four more years of club control and took advantage of his first real opportunity at regular action in 2020, posting a .394 OBP and a .511 SLG while showing improved defense. Add in 25-year-old Andújar's four additional seasons before free agency, as well as the 2018 AL Rookie of the Year runner-up's potential with the bat, and Cleveland would be obtaining two cost-controlled position players ready to contribute right away. Gil and Abreu, meanwhile, both may wind up in the bullpen, but their high-octane stuff would fit well in an organization that gets as much as any other out of promising young arms.
Who says no? Ultimately, the Yankees might prefer to dangle Frazier and/or Andújar -- two of their biggest trade chips -- to shore up the pitching staff rather than pay a premium for one year of a superstar at a position they already have covered. However, if they fail to retain LeMahieu and feel confident they could ink Lindor to a long-term extension, they might become more apt (desperate?) to go this route.
-- Jason Catania
A superstar splash for the new-look Mets
Mets get: SS Francisco Lindor, C Austin Hedges
Indians get: SS Andrés Giménez, 2B/OF Jeff McNeil, OF Pete Crow-Armstrong (Mets' No. 5 prospect), RHP Ryley Gilliam (Mets' No. 25 prospect)
Why it could work: This trade gives both teams multiple pieces that they both need. No shenanigans. Especially if the Mets could get Lindor to sign a long-term extension after a trade to New York, this could be a win-win.
The Mets get a superstar shortstop and "face of the franchise"-type player for the biggest market in baseball, whose acquisition would make an instant impact statement to the rest of the league under Steve Cohen's new ownership. They also get one of the top defensive and framing catchers in the Majors, addressing what has been a major area of weakness for the team in recent seasons.
The Indians get a promising shortstop to replace Lindor -- not only did Giménez show promising tools as a rookie in 2020, but he's also under team control until 2026 -- a versatile infielder and batting title contender in McNeil, who can play wherever José Ramírez doesn't or even fill in in the Cleveland outfield, and a high-ceiling outfield prospect in Crow-Armstrong, since the Indians' outfield always comes up as an area that needs addressing. Gilliam is just a pitching prospect close to the Majors who could balance the deal since it also includes Hedges and his two more years of team control.
Who says no? The Mets. There are a couple of hangups here. Even aside from McNeil being a fan favorite who the New York faithful wouldn't want to see go (and for good reason), it might be overreaching to ask the Mets to give up Crow-Armstrong on top of everything else. He was their first-round Draft pick just this year -- and the memory of the Jarred Kelenic deal is still fresh in their minds. Kelenic looks like he'll be a future star with the Mariners, so who could blame the Mets for wanting to hold onto their new top outfield prospect? Crow-Armstrong is only 18, and he could be a future star, too. If the Mets are too wary of giving up the next Kelenic, this deal would be waterlogged.
-- David Adler
Lindor in the Cards for St. Louis
Cardinals get: SS Francisco Lindor
Indians get: CF Harrison Bader, INF/OF Tommy Edman, RHP Johan Oviedo (Cardinals' No. 12 prospect), RHP Angel Rondon (Cardinals' No. 13 prospect)
Why it could work: In 2020, Indians outfielders combined for a .575 OPS, and that certainly can't continue if the Tribe wants to continue competing in the much-improved AL Central. Bader is tremendous defensively, but has shown little at the plate. Still, he's only 26 and 178 games removed from a .264/.334/.422 line (106 OPS+) with 12 home runs and 15 steals in 138 games. Edman produced an .850 OPS with 11 homers and 15 steals in 92 games during his 2019 rookie campaign before a mediocre 2020 season, though the 2020 sample is only 55 games. And Edman's defensive versatility means he could also play second base with Cesar Hernandez on the free-agent market.
Cleveland's bullpen had the fifth-lowest ERA in the Majors last year, and we know how good that starting rotation can be with Shane Bieber, Carlos Carrasco, Zach Plesac and Triston McKenzie. But you can't have too much pitching, and adding nearly big league-ready pitchers Oviedo and Rondon would be a plus. Oviedo is a 6-foot-6 right-hander with four quality pitches, including a plus fastball and a potential out-pitch in his slider. Rondon was the Cardinals' Minor League Pitcher of the Year in 2019, finishing first in the Double-A Texas League with a 3.21 ERA. He has a deceptive delivery and a three-pitch mix -- a fastball with late movement, a power curveball and an average changeup.
The Cardinals, meanwhile, obviously would upgrade at shortstop -- Paul DeJong has been about league-average at the plate so far in his career, and though he was a Gold Glove Award finalist in 2019, he has been below average in his other three seasons defensively, according to Statcast Outs Above Average. Lindor would slot in nicely for a lineup that could definitely use more pop to help Paul Goldschmidt, and has a pair of Gold Glove Awards to his name.
Who says no? The Cardinals. Lindor would be a great pickup for obvious reasons. But he's projected to earn around $20 million in his final year of arbitration eligibility, and is scheduled to be a free agent after next season. St. Louis general manager John Mozeliak said earlier this offseason that he doesn't see the franchise increasing its payroll, particularly after COVID-19-related losses this past season. And given that financial outlook, re-signing Lindor wouldn't appear likely.
-- Manny Randhawa
Lindor heads to Hollywood
Dodgers get: SS Francisco Lindor
Indians get: RHP Dustin May, 1B/OF Matt Beaty, OF Cody Thomas (Dodgers' No. 30 prospect)
Why it could work: The Indians have a legitimate chance to be a contender in 2021 and beyond, even without Lindor on the team. Given that, a package that centers on Major League-ready level talent seems like an approach that could work -- and helps the Dodgers retain top prospects, especially those who are still a few years away from the Majors. May had a strong regular season and showed flashes of the dominant pitcher he can be at points in the postseason. His 100-mph heat joining Shane Bieber and eventually Triston McKenzie in the Indians' rotation could help continue the team's strong recent pitching tradition. The Dodgers have 15 pitchers among their current top 30 prospects according to MLB Pipeline, so there is plenty more young pitching coming over the next handful of years.
Beaty offers another Major League-ready talent, and he could play in the infield, where the Indians need offensive help with Cesar Hernandez and Carlos Santana both free agents. He hit .265 and slugged .458 in 99 games in 2019, before taking a step back in 54 plate appearances in 2020, hitting .220 with a .360 slugging percentage. Beaty, a former top-30 prospect for the Dodgers, would likely benefit from more consistent playing time. Beaty can play first base every day. To bolster the outfield, there's outfield prospect Cody Thomas, who played in Triple-A in 2019 and is close to Major League-ready.
In this scenario, the Dodgers can move Corey Seager to third base and not re-sign Justin Turner. Seager and Lindor are both set to be free agents after 2021 anyway, so at that point the team can choose to pursue either of them, as well as Rockies' shortstop Trevor Story.
Who says no? The Dodgers. The freedom to move Seager to third and have both Lindor and Seager in the same lineup is certainly intriguing, but ultimately, the Dodgers already have a star-caliber shortstop on the roster, without giving up anything -- even if he doesn't have Lindor's complete track record. After 2021, it's hard to know, but based on what we've seen from Los Angeles, it will likely go after Lindor, Story and Carlos Correa in free agency, as well as consider keeping Seager on. This team just won the World Series in part due to its sheer depth, so it doesn't need to give anything up to be good again in 2021 or beyond.
-- Sarah Langs