Liriano, Melky make Bucs' Opening Day roster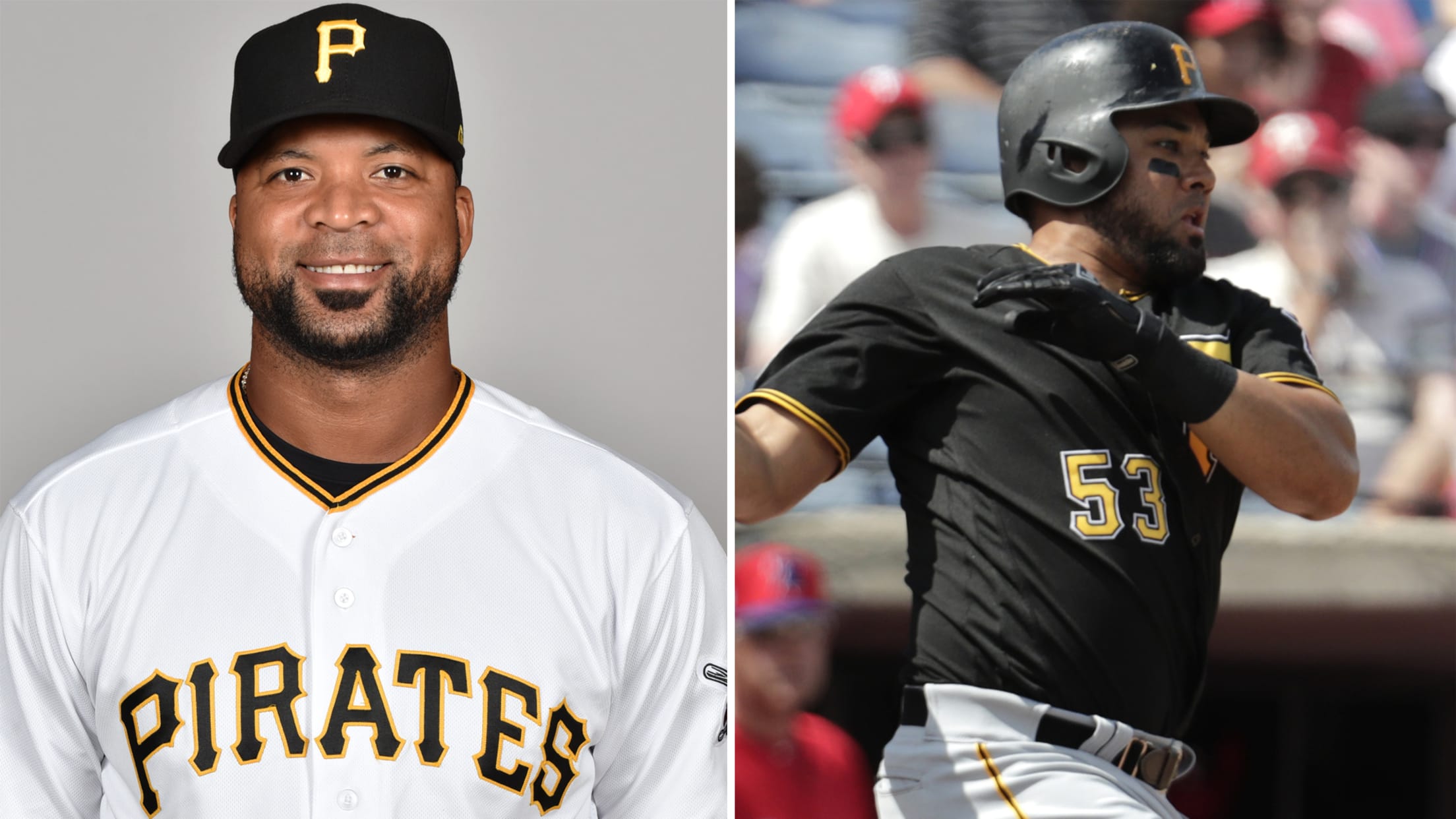 BRADENTON, Fla. -- The Pirates' bullpen and bench came into clearer focus Saturday when they committed to putting left-hander Francisco Liriano and outfielder Melky Cabrera on their Opening Day roster. Saturday was the deadline for Pittsburgh to make a decision regarding the status of Liriano and Cabrera, according to the
BRADENTON, Fla. -- The Pirates' bullpen and bench came into clearer focus Saturday when they committed to putting left-hander Francisco Liriano and outfielder Melky Cabrera on their Opening Day roster.
Saturday was the deadline for Pittsburgh to make a decision regarding the status of Liriano and Cabrera, according to the retention bonus protocol. The Bucs had to commit to putting them on the active roster, release them or offer them a retention bonus if they were being sent to the Minors. They chose to keep both veterans.
"They both know where they're going, and they both have strong expectations on being important players for us moving forward," manager Clint Hurdle said.
Liriano will earn $1.8 million, according to USA Today. Cabrera is set to make $1.15 million, according to The Associated Press. The Pirates don't have to officially add them to the roster until Thursday. They can easily clear one spot on their full 40-man roster by moving reliever Edgar Santana, who will sit out the entire season following Tommy John surgery, to the 60-day injured list.
Liriano, Pittsburgh's Opening Day starter from 2014-16, will slot into the bullpen as a lefty capable of pitching multiple innings. He gave up five runs on seven hits and nine walks in nine appearances this spring, but most of the damage came in two of those outings.
"We still saw the velocity, the action of the slider, the action of the changeup," general manager Neal Huntington said. "He still has weapons versus left-handers, still can give us multiple innings out of the 'pen if need be. Just great veteran presence and maturity. Good addition to the clubhouse."
Liriano acknowledged that having to compete for a spot in Spring Training was a new and unusual experience for him. The 35-year-old didn't have any contract offers until later in the offseason, either, so he thought that he could take his time getting ready for the season. Then he received interest from nine or 10 teams, signed with the Pirates and had to win a job for the first time in at least a decade.
After pitching Friday, Liriano admitted that he didn't know if he would make the team. Thinking about it Friday night kept him from sleeping well. So, he was quite relieved when word came down Saturday.
"It took me a couple weeks to get myself ready and get my pitches going," Liriano said. "It's still not where I wanted it to be. The next couple days, I think I'm going to get better and keep working. … I'm going to do everything I can to help the team win some ballgames."
The bullpen will include Pittsburgh's top four high-leverage relievers -- Felipe Vazquez, Keone Kela, Kyle Crick and Richard Rodriguez -- as well as Liriano. The Pirates haven't officially settled the other two spots, but it seems likely that one will go to hard-throwing righty Nick Burdi and the other to either Nick Kingham or Steven Brault, assuming Jordan Lyles claims the fifth spot in the rotation. Kingham has an advantage because he's out of Minor League options.
Cabrera gives the Pirates a veteran, switch-hitting fourth outfielder to complement right fielder Lonnie Chisenhall while Gregory Polanco is finishing his recovery from September shoulder surgery. The 34-year-old Cabrera has hit .289/.334/.435 over the last three years, and he's batting .302 this spring. Huntington summarized Cabrera's appeal with four words: "Solid, steady, professional bat."
"When the manager told me the news that I made the team, I got really excited," Cabrera said through interpreter Mike Gonzalez. "I'm excited to be a help to this team and to help them win."
Cabrera will join corner infielder Colin Moran and backup catcher Jacob Stallings on the bench to start the season. That leaves two spots for infielder Kevin Newman, super-utility man Pablo Reyes, corner infielder/outfielder Jose Osuna, corner infielder/outfielder Patrick Kivlehan and center fielder JB Shuck.
While Saturday's announcement brought some clarity, the Pirates likely won't finalize their Opening Day roster until next week, after they play a pair of exhibition games against the Astros in Houston.
"You always want to protect yourself in case of injury. You always want to protect yourself in case of an unexpected move," Huntington said. "I would assume we'll make the final few moves there in Houston."
Around the horn

• Huntington reiterated that Lyles has the "inside track" for the final spot in Pittsburgh's rotation. Lyles gave up three runs on seven hits and struck out five over five innings in the Pirates' 5-3 win over the Phillies on Saturday at LECOM Park. Lyles will need to make one more start, of six innings or 100 pitches, before he's ready for the regular season.
• Opening Day starter Jameson Taillon started the Pirates' 12-3 split-squad loss to the Red Sox in Fort Myers on Saturday. In his final tuneup for Thursday, Taillon allowed four runs on eight hits over four innings.
• Shortstop prospect Oneil Cruz started for the Pirates at LECOM Park, initiated two double plays and mashed a home run over the boardwalk beyond the right-center-field fence. The 6-foot-6, 20-year-old is Pittsburgh's No. 4 prospect, according to MLB Pipeline, and No. 95 overall.
"I love the fact that our player development people have shown the commitment to shortstop. Let him play," Hurdle said. "There may be a day he shows you that's not the fit; right now, it's the fit. The bat's real, and it plays."
Up next

The Pirates will wrap up their Grapefruit League schedule Sunday with a 1:05 p.m. ET game against the Orioles at Ed Smith Stadium in Sarasota. Trevor Williams will start for Pittsburgh. Nick Kingham and Steven Brault are also scheduled to pitch before the Bucs break camp and fly to Houston. The game will air on KDKA-FM and the Pirates Radio Network.