Penita recalls thrill, drama of 2001 LLWS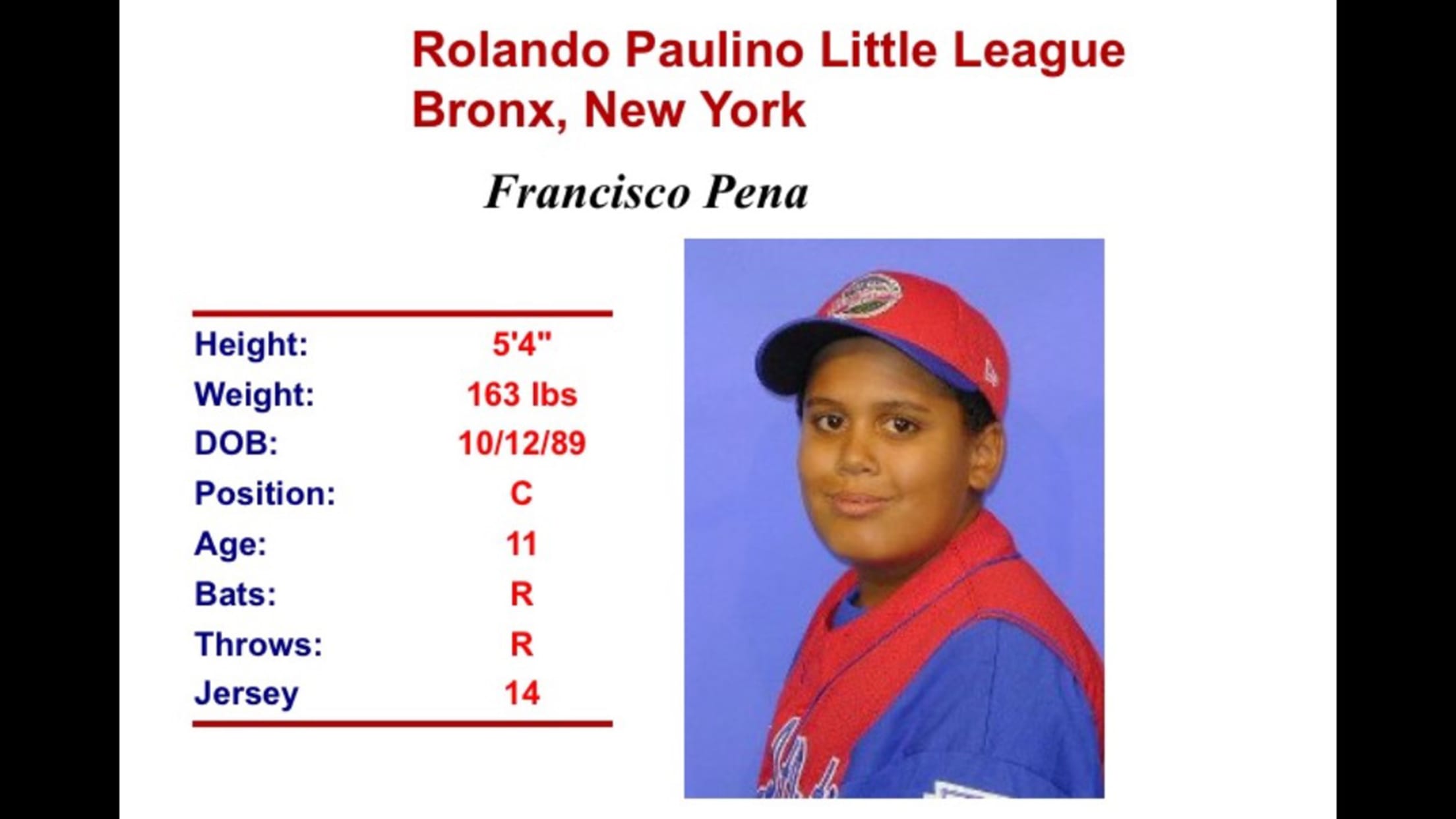 DENVER -- Every August, Francisco Pena (Penita) watches with mixed emotions as a new Little League World Series champion is crowned. The images, pumped from Williamsport, Pa., to the television of whatever clubhouse he is in, takes the Cardinals' backup catcher back to one of the more complex periods of
DENVER -- Every August, Francisco Pena (Penita) watches with mixed emotions as a new Little League World Series champion is crowned. The images, pumped from Williamsport, Pa., to the television of whatever clubhouse he is in, takes the Cardinals' backup catcher back to one of the more complex periods of his life.
:: Players' Weekend presented by Valspar Stain ::
• Cardinals' nicknames for Players' Weekend
On one hand, Pena remembers the joy of succeeding on the biggest amateur stage, one he said "every 11- or 12-year-old would love to be on." On the other, he can't forget the turmoil that came afterward. That Bronx, New York, club Pena caught for remains one of the most infamous in Little League history, forever tied to the scandal involving the age of its star, Danny Almonte, that drew national media attention.
• Cardinals Players' Weekend gear
Months after the team's third-place finish, and after Pena and his teammates had received a parade and a key to New York City, it was revealed that Almonte was actually two years too old to participate in the tournament. Little League officials stripped the team of its wins, and banned its architect, Rolando Paulino, for life.
"The sad part was that none of us knew what was going on," Pena told MLB.com on Saturday, a day before Hawaii and South Korea square off for this year's LLWS championship. "When it happened, we were devastated as a team. As little kids, you don't know what you're doing."

While several investigations focused on Almonte, who became a sensation by throwing the equivalent of 99 mph in the tournament, Paulino also drew criticism for the way he brought Pena into the fold. Paulino recruited Pena, who was living in the Dominican Republic but had U.S. citizenship. That made it simple for Paulino to bring him to upper Manhattan and enroll him in school. Pena only stayed in New York for a few months.
"My parents didn't know how it worked. … It was a messed-up decision our family got into. It was a crazy moment in our lives," said Pena, whose father, long-time MLB catcher, coach and manager Tony Pena, was managing at Triple-A in New Orleans at the time. "I wanted to be there. My dream was to play in the Little League World Series, and when it happened, it was special."
Pena said he was the only member of the team who didn't grow up in New York City, and that Almonte was the only one who wasn't 11 or 12 years old. Pena was born in 1989, which made him 11 at the time.
"[Almonte] was a superstar, one of a kind," Pena said. "The attention was on him. He was a phenom. We were in the background of that."
Almonte eventually attended several community colleges and bounced around Independent League circuits, but was never drafted or signed by a Major League club. Pena became the only member of that team to play in the Majors. And that he's spent this season with the Cardinals makes him the answer to some unique trivia.
By receiving pitches from Almonte then and Jordan Hicks (Hicks) now, Pena has caught both of the hardest pitchers in the history of amateur and professional baseball.
"When you're 11, you're just having fun, trying to catch the ball. Now I know what I'm doing behind the plate, I've learned so much from [Yadier Molina] and my dad and my coaches," Pena said. "I've been preparing for this job I'm doing now since I was 11."