McGriff sees Hall of Fame votes increase in '17
Former Braves slugger was on 21.7 percent of ballots this year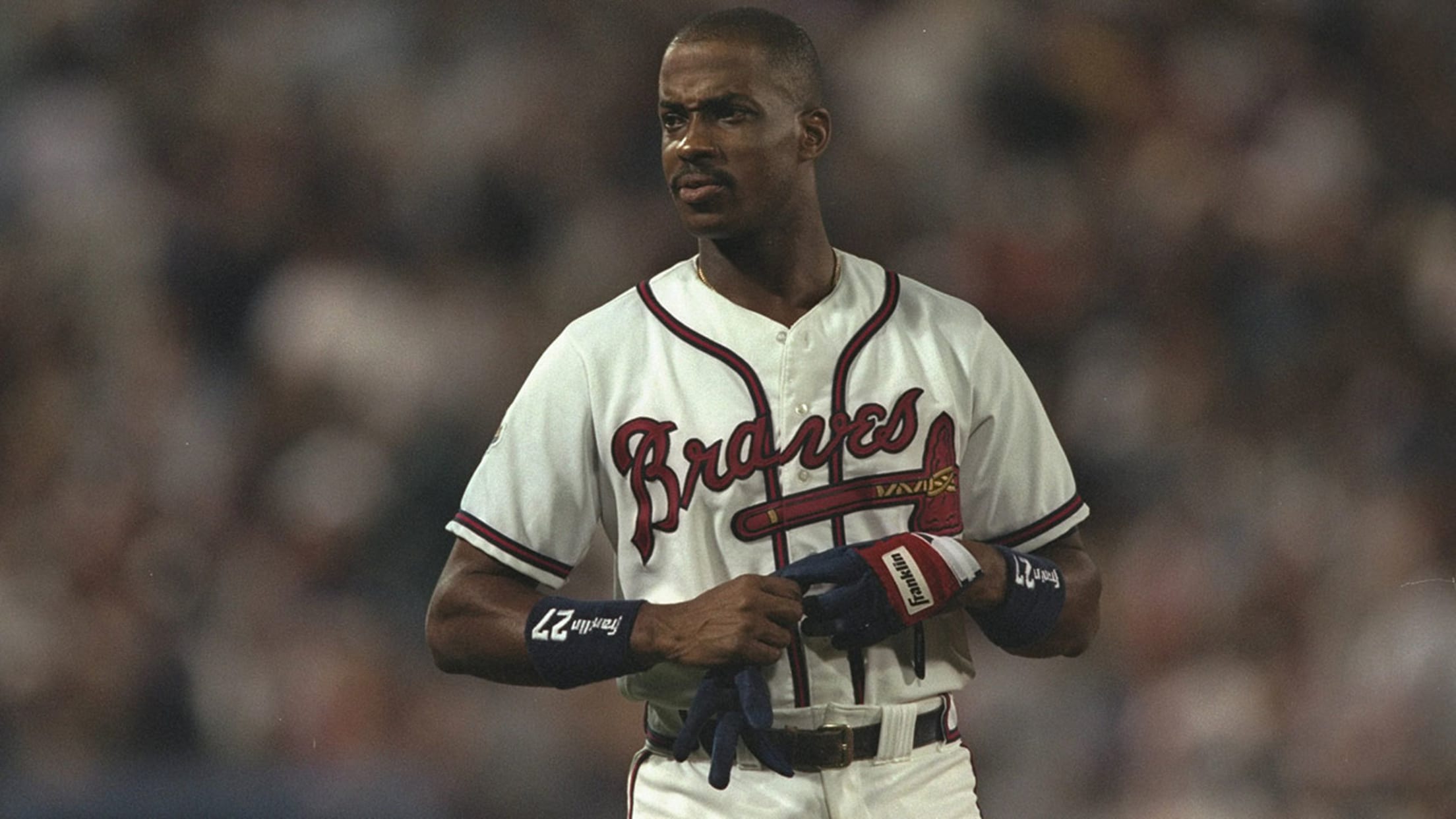 During his time in Atlanta, Fred McGriff was a three-time All-Star and hit 130 home runs. (Getty)
ATLANTA -- Fred McGriff has garnered enough support to remain on each of the past eight Baseball Hall of Fame ballots. But the former first baseman must prepare for the likelihood he will rest in the same category as Dale Murphy and other greats who were never immortalized in Cooperstown.When
ATLANTA -- Fred McGriff has garnered enough support to remain on each of the past eight Baseball Hall of Fame ballots. But the former first baseman must prepare for the likelihood he will rest in the same category as Dale Murphy and other greats who were never immortalized in Cooperstown.
When this year's Hall of Fame balloting results were announced on Wednesday night, it was revealed McGriff received a vote on 21.7 percent of the ballots cast by members of the Baseball Writers' Association of America. A player must receive a vote on 75 percent of these ballots to gain election, but all who receive a vote on five percent of the ballots remain eligible for up to 10 years.
• Complete Hall of Fame coverage
So it appears McGriff will at least remain on the ballot until his eligibility expires two years from now. But he has never received votes on more than 23.9 percent -- in 2012 -- of the ballots. This year's result was just slightly better than the 20.9 percent he received last year.
Tim Raines, Jeff Bagwell and Ivan Rodriguez were the only players elected through voting this year. They will all be inducted into the Hall of Fame in July along with Commissioner Emeritus Bud Selig and heralded Braves executive John Schuerholz, who were both elected by a veteran's committee in December.
McGriff finished his 19-season career with a .284 batting average, a .377 on-base percentage, a .509 slugging percentage and 493 home runs, which are tied with Lou Gehrig for 28th most in Major League history.
The Braves acquired McGriff from the Padres just in time to fuel the second-half charge that enabled them to pass the 103-win Giants and win the 1993 National League West. During his five-season stint with Atlanta (1993-97), McGriff hit .293 with 130 home runs and a .885 on-base plus slugging percentage. He gained three of his five All-Star selections while with the Braves and finished among the top 10 in NL Most Valuable Player voting in 1993 (4th) and '94 (8th).
The other former Braves on this year's ballot included Gary Sheffield, Billy Wagner, J.D. Drew, Edgar Renteria and Derrek Lee. Drew, Renteria and Lee were all in their first year of eligibility, but none of them received the necessary five percent to be included on future ballots. Renteria was the only one to receive any vote, garnering two.
Sheffield remained on the ballot, as he received a vote on 13.3 percent of ballots in his third year of eligibility, up from 11.6 in 2016. The well-traveled outfielder tallied 64 home runs and recorded a .974 OPS during his two-year stint (2002-03) in Atlanta. He finished third in balloting for the 2003 NL MVP.
Wagner produced statistics that rival those compiled by some of the game's best closers, but he received just 10.5 percent during his first year of eligibility last year and 10.2 percent this year. During his one-year stint with the Braves in 2010, Wagner recorded 37 of his 422 career saves and a 1.43 ERA in 71 appearances. He also served as a valuable mentor to a rookie closer-in-the-making named Craig Kimbrel.
Mark Bowman has covered the Braves for MLB.com since 2001.