Peralta's rotation spot in question after latest rout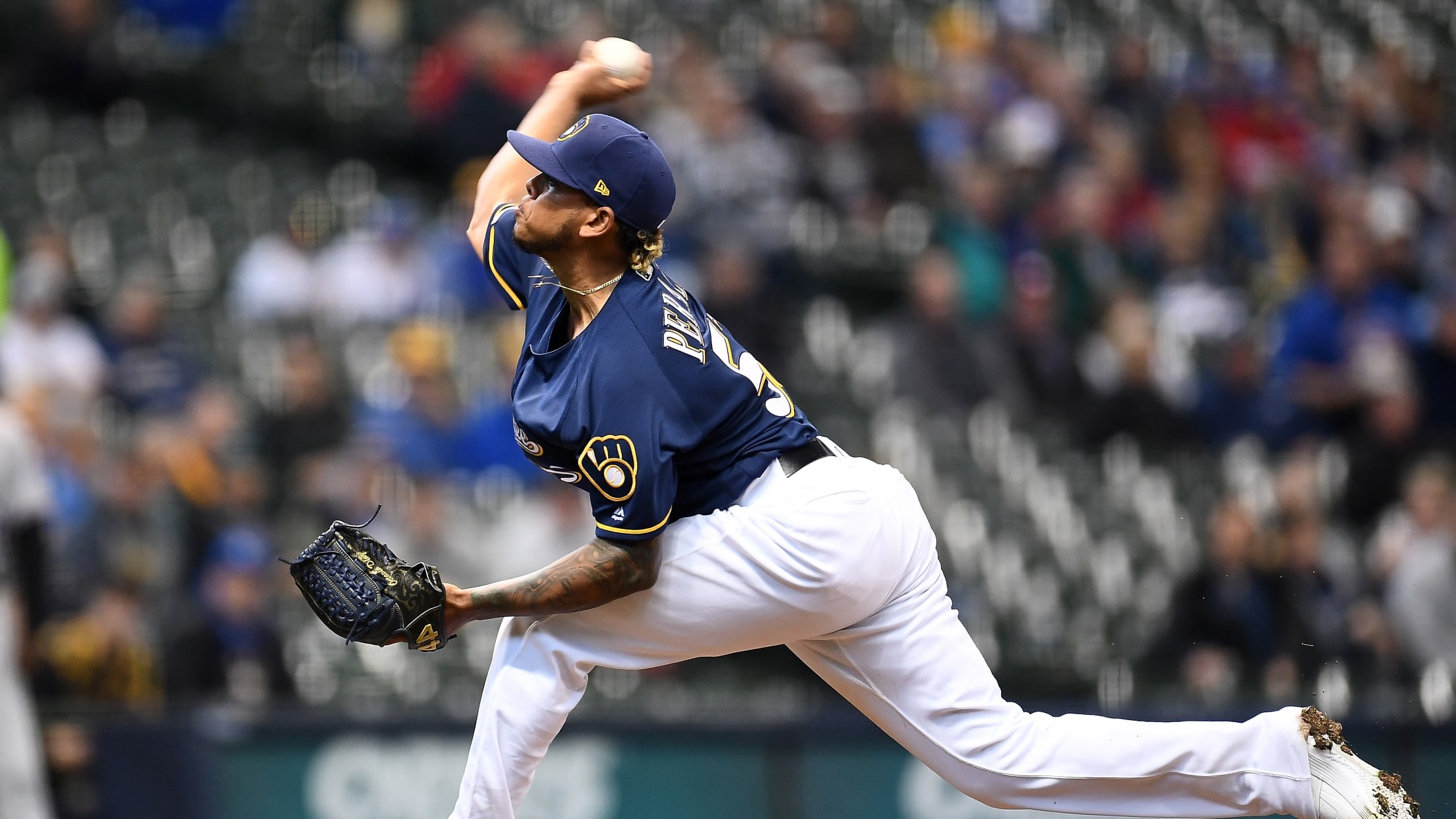 MILWAUKEE -- It's time for another "conversation" about one of the Brewers' struggling young starting pitchers. The last time manager Craig Counsell used that term, it preceded a demotion to the Minor Leagues for 24-year-old Corbin Burnes. Counsell said it again Thursday after Freddy Peralta struggled in an 11-6 loss
MILWAUKEE -- It's time for another "conversation" about one of the Brewers' struggling young starting pitchers.
The last time manager Craig Counsell used that term, it preceded a demotion to the Minor Leagues for 24-year-old Corbin Burnes. Counsell said it again Thursday after Freddy Peralta struggled in an 11-6 loss to the Rockies at Miller Park in the 22-year-old's return from the injured list.
Peralta, who said his right shoulder was back to 100 percent, didn't get much help from his defense. But he also didn't pitch well over four innings, allowing eight hits, nine runs (six earned), three walks, three strikeouts and two home runs. Peralta's ERA through five Major League starts this season is 8.31.
Asked if Peralta would remain in the rotation, Counsell said, "We're going to have to have a conversation about that."
The Brewers are running low on choices. Chase Anderson was placed on the 10-day injured list Wednesday with a cut on his right middle finger. Swingman Aaron Wilkerson is on the IL with a left foot contusion and not eligible to return until May 9. Burnes is a possibility after rejoining the team Wednesday to pitch out of the bullpen, but he has struggled even more in the Majors this season than Peralta.
If they dip to Triple-A San Antonio for help, Adrian Houser, who lost his lone big league start on April 22 against the Cardinals, is scheduled to pitch Saturday. If he doesn't make that start, it's a sign that he's the pick. Brewers No. 6 prospect Zack Brown has a 4.18 ERA in his first six starts and is lined up for Monday, but he is not on Milwaukee's full 40-man roster. Burch Smith has a 1.37 ERA after five starts, but he also is not on the 40-man.
"We have options, but we'll have to discuss that as we go here," Counsell said.
Brewers starters have a 5.49 ERA, worst in the National League.
"I don't say I'm worried," said center fielder Lorenzo Cain. "We've had a few bad outings, but I think these guys can bounce back and get back into form. As an offense, we've had our days, too. I feel that we've been … putting up a decent amount of runs. We'll see what happens. I have faith in those guys. Hopefully they can bounce back."
Brewers president of baseball operations David Stearns has said he prefers to let 40-50 games play out before making drastic changes to the roster. After allowing 11 runs in each of its consecutive losses to Colorado, Milwaukee has played 33 games and is 17-16.
The past two games have been particularly taxing. Anderson was scratched mere minutes before his scheduled start the Rockies on Wednesday, making it a bullpen day. Then Peralta labored through a 37-pitch first inning on Thursday and was out of the game after the top of the fourth with the Brewers facing a 9-3 deficit.
"I feel bad because I only went out there for four innings," Peralta said. "I tried to help the team but only went four innings."
Milwaukee is averaging just over 4 2/3 innings per start. The Brewers are the only NL team averaging fewer than five innings. That puts strain on a bullpen missing right-handed setup man Corey Knebel -- who is out for the year -- and with Jeremy Jeffress still gaining strength after a spring right shoulder issue.
"We have to be better to put together consistent wins," Counsell said. "We can't dig ourselves holes like this or else it's going to be one step forward, one step back. There are some good things happening. [Jeffress'] last two outings, to me, are real signs of progress. Back-to-back today, better in the second inning than the first.
"There are some good things happening, but it has to be consistent for us to give ourselves a chance to win on a daily basis."