Peralta: Miller Park debut will be 'like a dream'
Counsell will continue to rotate starts at second base and shortstop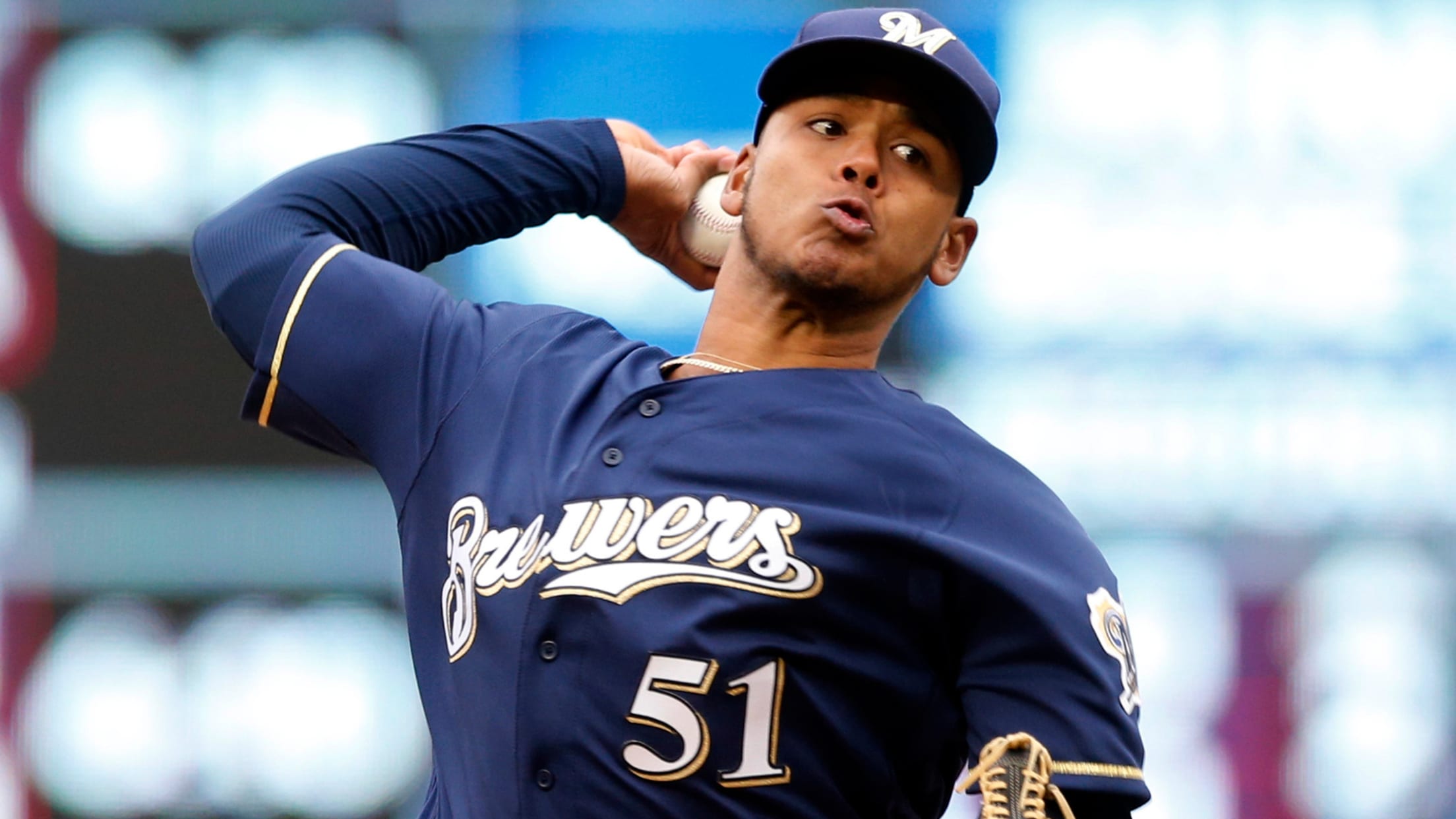 MILWAUKEE -- Freddy Peralta's Miller Park debut is finally almost here.After making his first three Major League starts on the road and seeing a home start pushed back due to Wednesday's rainout in Pittsburgh, the rookie will take the Miller Park mound for the first time on Tuesday against the
MILWAUKEE -- Freddy Peralta's Miller Park debut is finally almost here.
After making his first three Major League starts on the road and seeing a home start pushed back due to Wednesday's rainout in Pittsburgh, the rookie will take the Miller Park mound for the first time on Tuesday against the Royals, giving fans their first look at one of the club's top prospects.
"I'm very excited," Peralta said. "It's like a dream, pitching in Miller Park."
The right-hander started his career on Mother's Day in Colorado, striking out 13 over 5 2/3 scoreless innings in front of his family, who were visiting from the Dominican Republic and had never seen him pitch as a professional. Instead of seeing him pitch that day for Triple-A Colorado Springs, Peralta was called up for his debut when Chase Anderson became ill.
Anderson went on the disabled list, which led to Peralta's second start at Minnesota on May 19, when he allowed four earned runs over four innings while walking six and striking out five. Sent back down to Triple-A after the start, Peralta was called up to pitch on Tuesday in Pittsburgh, when he struck out seven over six shutout innings.
"I had good command of the fastball and confidence in myself and my teammates," Peralta said. "Just was using my fastball a lot, going to it, and it worked on the corners and everything went pretty well."
Peralta, who turned 22 on June 4, is 2-0 with a 2.30 ERA in his first three big league games, all of which the Brewers have won. In 59 innings in Triple-A this season, he is 6-1 with a 2.75 ERA with 84 strikeouts, and he's replicating his success at the Major League level.
"I know that [Major League hitters] are smart, but I just have to pitch the same and believe in myself, trust my ability in making pitches," Peralta said. "I know they're better hitters than in the Minor Leagues, and I just have to make the adjustments, but it's all the same for me."
Middle-infield shuffle continues
Adding Brad Miller to the Major League roster on Saturday, the Brewers have plenty of options in the middle infield. Just look at the second base-shortstop pairings manager Craig Counsell drew up for Milwaukee's four-game series against the Cardinals: Jonathan Villar and Eric Sogard started on Thursday, Villar and Orlando Arcia on Friday and Sunday and Miller and Hernan Perez on Saturday.
Villar, Perez and Sogard all have at least 19 starts at second base this year for the Brewers, and Arcia and Sogard each have at least 21 at shortstop and Tyler Saladino has nine (which would be more if not for an ankle injury in late May).
It's a lot of shuffling, and Counsell said it will continue for the foreseeable future.
"It's not a strict platoon in any way," Counsell said, "but I think you will see some different sets of players in the middle infield going forward here."
The Brewers are hoping one of their many options up the middle begins to stand out offensively. Perez entered Sunday's game hitting .260, but his ability to play everywhere but catcher makes him a valuable asset. Saladino hit .324 in 16 games, but he's still recovering from an ankle injury. Sogard raised his average to .146 after recording a hit as a pinch-hitter on Friday and Saturday. Arcia is hovering around the .200 mark and was sent down to Triple-A earlier this season, while Villar has maybe been the best offensive option, batting .261 going into Sunday.
And then on Saturday the Brewers added Miller, who went 1-for-2 with a RBI and a walk in his debut at second base.
Miller, who also can play in the outfield, thinks consistent playing time will come down to who is able to seize their chance.
"I feel like they always do a good job of communicating [what the situation is], but whoever takes advantage of opportunity, it's all about performance," Miller said. "We've got a lot of good players, so we're in a good spot. It'll be kind of fun to mix and match and go get 'em."