Fredi wishes Braves' Snitker 'a lot of success'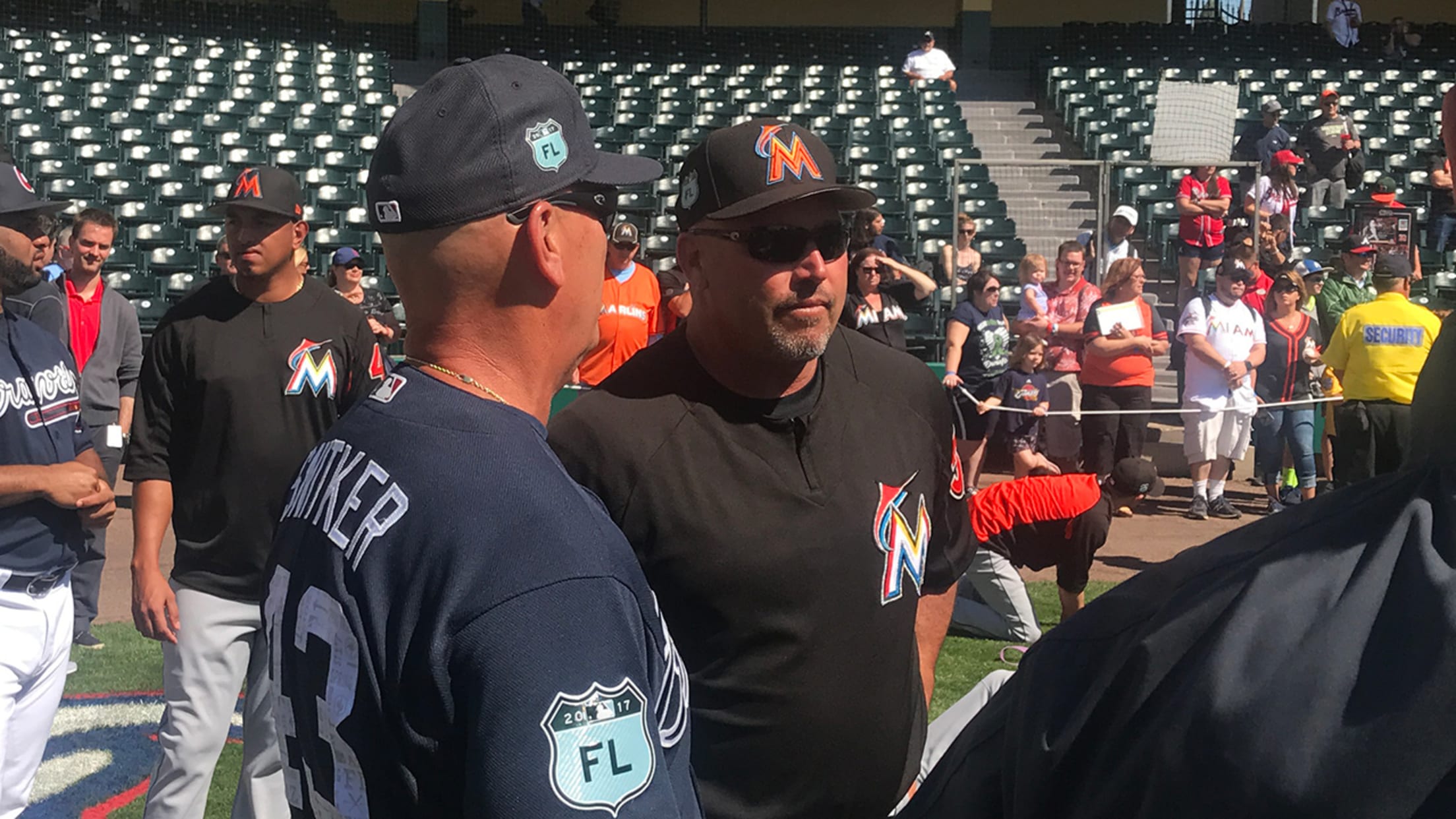 Former Braves manager Fredi Gonzalez is now the Marlins' third-base coach. (MLB.com)
LAKE BUENA VISTA, Fla. -- Though he could seemingly see the writing on the wall as soon as he was tasked with managing the Braves teams that were pieced together during the first two years of a massive rebuild, Fredi Gonzalez was still obviously somewhat surprised when he awkwardly learned
LAKE BUENA VISTA, Fla. -- Though he could seemingly see the writing on the wall as soon as he was tasked with managing the Braves teams that were pieced together during the first two years of a massive rebuild, Fredi Gonzalez was still obviously somewhat surprised when he awkwardly learned he was dismissed less than two months into last season.
Still, within an hour of receiving an automated email from Delta Air Lines that detailed plans for an unexpected flight to Atlanta during a four-game series against the Pirates, Gonzalez entered Braves general manager John Coppolella's Pittsburgh hotel room with a bottle of wine and the willingness to spend a few hours casually discussing what they had experienced together.
Now the third-base coach for the Marlins, Gonzalez reunited with many of his Braves friends before Miami and Atlanta played a Grapefruit League game at ESPN's Wide World of Sports complex on Saturday afternoon.
"It's a little awkward, but we left on such great terms with everybody," Gonzalez said. "I'm so happy for [Braves manager Brian Snitker]. I wish him a lot of success. We talk all the time."
Gonzalez succeeded Hall of Fame manager Bobby Cox as Atlanta's manager before the 2011 season and remained in that role until his team began last season with a 9-27 record. He guided the Braves to the postseason in 2012 and a National League East title in 2013. But a disappointing 2014 season led to the massive rebuild that overhauled a previously struggling farm system and cleaned the payroll at the expense of the talent on the Major League roster.
Though he was let go as the Marlins' manager during the 2010 season, Gonzalez still accepted this chance to return to the coaching staff in Miami, where he now has a chance to spend time with his parents and two siblings. He got married in January and now lives near Philadelphia.
"[Marlins manager Don Mattingly] has made me feel real comfortable and he has given me some responsibilities," Gonzalez said. "You know the most fun I've had, I've had fun coaching. It's going to sound funny, but as a manager, you don't coach."
Mark Bowman has covered the Braves for MLB.com since 2001.