These Major Leaguers made their names in Omaha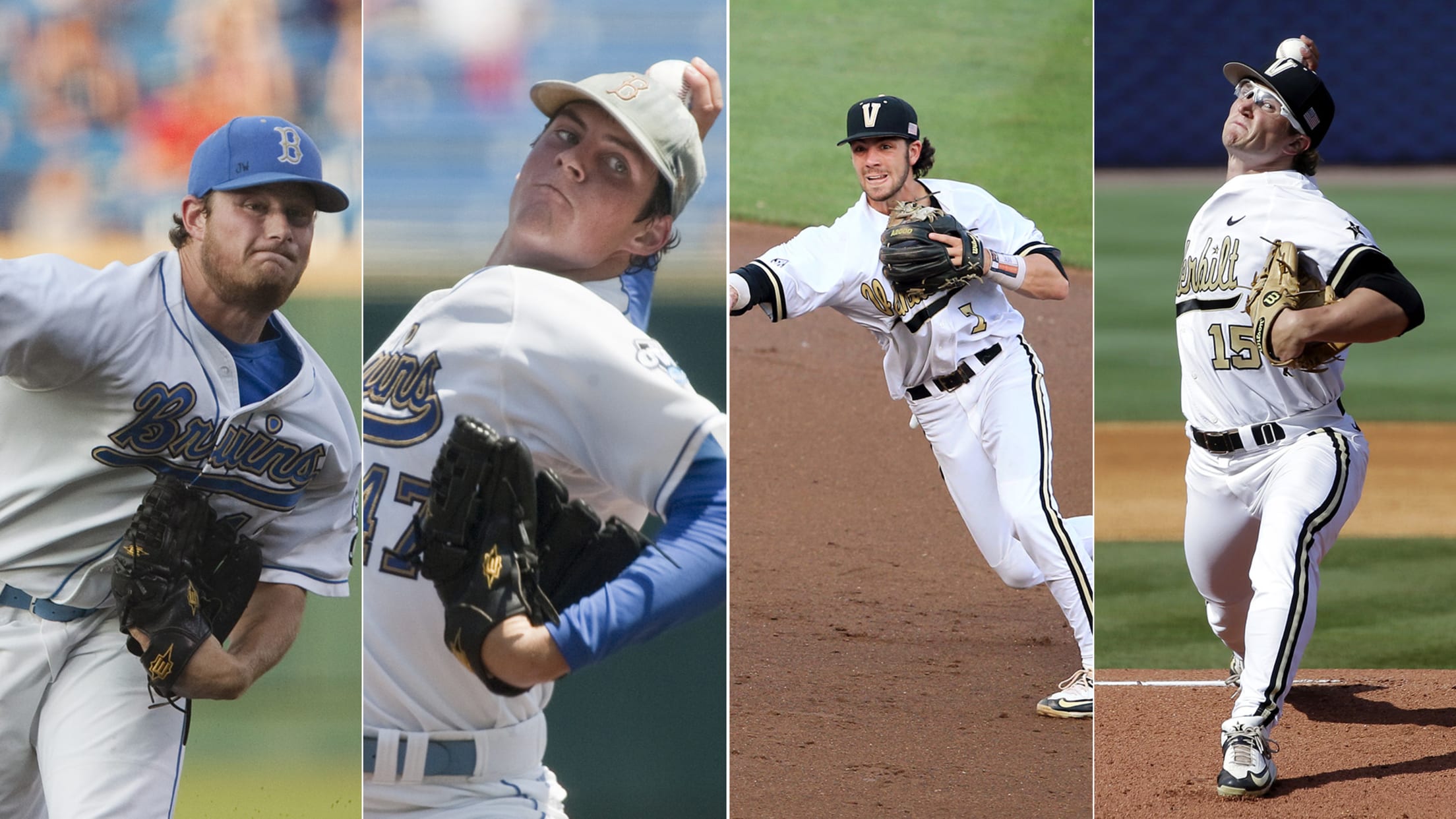 At the Major League level, there's Fenway and there's Wrigley. In youth baseball, there's Williamsport. In between is another of baseball's most hallowed places: Omaha. They've been playing the men's College World Series in Nebraska's largest city since 1950, and it's truly one of the sport's jewels. Some of baseball's
At the Major League level, there's Fenway and there's Wrigley. In youth baseball, there's Williamsport. In between is another of baseball's most hallowed places: Omaha.
They've been playing the men's College World Series in Nebraska's largest city since 1950, and it's truly one of the sport's jewels. Some of baseball's all-time greats have played in Omaha -- names like Schmidt and Bonds, Winfield and Molitor. As have some of the greats of the game today.
As the 2019 CWS approaches, not to mention the first MLB game in Omaha, MLB.com looks back at the Omaha experiences of some of the top current Major Leaguers.
Trevor Bauer (UCLA, 2010)
Bauer and Gerrit Cole (see below) headlined a UCLA pitching staff that included five eventual big leaguers. The right-hander was dominant in his only trip to the CWS, winning two games with a staggering 24 strikeouts in 15 combined innings. The Bruins advanced to the championship series, before falling to a powerhouse South Carolina team. The next year, Bauer was absolutely unhittable, but the Bruins fell in the regional round and he was taken third overall in the 2011 Draft.
Ryan Braun (Miami, 2003 and 2004)
With four national titles, UM is college baseball royalty, and Braun is one of the program's greatest players. But his two trips to Omaha were a bit disappointing. Miami went 1-2 each year, including as the No. 3 overall seed in '04. Braun himself went a combined 4-for-23 (.174), though he did homer in the Canes' win in their opener in 2004. Still, Braun was the No. 5 overall pick of the Brewers in 2005.
Alex Bregman (LSU, 2013 and 2015)
Bregman raked throughout his three-year career at LSU, but his CWS results were mixed. He went 0-for-8 in LSU's two losses in 2013, shut down by a pair of future big leaguers in Adam Plutko (UCLA) and Trent Thornton (North Carolina). When the Tigers returned two years later, Bregman turned into a force at the plate, going 7-for-13 (.538), but it wasn't enough as LSU went 1-2, losing twice to TCU.
Walker Buehler (Vanderbilt, 2014 and 2015)
Here's how good Vandy's back-to-back CWS teams were: Buehler wasn't the No. 1 starter on either one. That honor went to Carson Fulmer, who was a pretty dominant college pitcher. But so was Buehler. He made two appearances (one start) for the 2014 national champions, allowing five runs in 8 1/3 innings. In 2015, he put together an excellent game against TCU to advance to the championship series but struggled in the final and was lifted after three innings in Vandy's eventual loss to Virginia.
Gerrit Cole (UCLA, 2010)
Paired with Bauer at the front of UCLA's rotation, Cole turned in a strong start in UCLA's second game in Omaha but took the loss in Game 1 of the championship series, allowing six runs (four earned) on 11 hits in seven innings against the Gamecocks. His numbers were a bit less eye-popping than Bauer's in their second and final year together in 2011; however, his pure stuff -- and perhaps his reputation as a more conventional pitcher -- made him the No. 1 overall pick by Pittsburgh, two slots ahead of his teammate.
Michael Conforto (Oregon State, 2013)
Conforto was a sensational college hitter practically from the day he set foot in Corvallis, and he lived up to the Omaha stage. The Beavers went 2-2, losing twice to national finalist Mississippi State, but Conforto more than held his own. He went 7-for-16 with four doubles in a park notoriously hard on power hitters. The Mets took him 10th overall the following year, and by 2015, he was playing in Queens, continuing that pattern of hitting at every single level.
"It was a checklist item along the way," Conforto told MLB.com's Anthony DiComo. "I knew I wanted to play in the big leagues, but I wanted to be in the College World Series first. College is just different. You spend so much time with those guys. You've got school together and you've got class and all that stuff. … It's just a unique bond."
Alex Gordon (Nebraska, 2005)
One of the great things about Omaha is that fans of all the teams travel, and the local fans know their college baseball. There's never a dull atmosphere. But when there's a local team in it, it hits a whole other level. Gordon was born, raised and educated in Lincoln, so his trip to the 2005 CWS with Nebraska was truly something special. He was the best player in college baseball that year but scuffled a bit in Omaha, posting a .182/.333/.182 line as the Huskers lost two out of three games.
"I had always watched the College World Series growing up and dreamed of playing in it," Gordon told MLB.com's Jeffrey Flanagan. "It was definitely a great experience, very cool for someone who grew up so close to it."
The Royals, the closest thing to a hometown team for him, took Gordon second overall that year, and he's played his whole career in KC ever since.
Whit Merrifield (South Carolina, 2010)
Long one of the college game's top programs, South Carolina is best known for power. Sluggers like Justin Smoak, Steve Pearce, and Christian Walker all played for the Gamecocks. Then there's Merrifield, who tied for the team lead in homers in 2010 but was never that kind of long ball beast. He hit .273/.294/.455 as USC surged from an opening loss to win the whole shebang, and it was Merrifield who had perhaps the biggest hit in the program's storied history. His RBI single in the bottom of the 11th gave South Carolina the win and the national title against UCLA -- the program's first – in the last CWS game at venerable Rosenblatt Stadium (it's now played downtown at TD Ameritrade Park).
"Growing up, I watched the College World Series every year. You had an idea how it might be," Merrifield told Flanagan. "But getting there and seeing how Omaha really embraces that tournament was pretty special to see. It was incredible the amount of support that town gives to eight random teams that show up every year. They always kind of adopt one team, and we were that team in 2010."
Aaron Nola (LSU, 2013)
Nola and Bregman's Tigers suffered the dreaded "two and 'cue" (that is, two losses and off to a summer of barbecue) in 2013, but it was surely no fault of the Phillies right-hander. As a sophomore, Nola pitched eight brilliant innings in LSU's opener against UCLA, allowing only a pair of unearned runs in a 2-1 loss. He fanned five and walked one, needing only 98 pitches for his gem. Much like Bauer, he was even better as a junior, but his team was upset in its own regional and he went seventh overall to the Phillies in the 2014 Draft.
Buster Posey (Florida State, 2008)
The story of Florida State in Omaha is the story of what might have been. Despite being one of the sport's elite programs, the Seminoles have never won a title. In one of the greatest individual seasons in college baseball history, Posey hit .463/.566/.879 as a junior and then went 5-for-9 with a double in his only CWS trip. And yet, FSU bowed out in two games and Posey went fifth overall to the Giants. It's worked out pretty well for him there though.
Dansby Swanson (Vanderbit, 2014 and 2015)
Swanson had two very different Omaha experiences. In 2014, he was Most Outstanding Player of the tournament for a national championship team, posting a .323/.382/.419 line with four steals and five runs scored in seven games. He struggled a bit at the plate in 2015, going 4-for-24 (.167) in six games for the national runners-up. Overall, Swanson started a remarkable 13 games in Omaha and won nine of them. He went on to be the No. 1 overall pick in 2015, going to the D-backs before being traded to Atlanta later that year.
Justin Turner (Cal State-Fullerton, 2003, 2004, and 2006)
Few teams have made their mark on Omaha over the years like Fullerton, one of the proudest baseball programs in the country. Turner certainly played his part as a regular on three CWS squads, including the 2004 national champions, hitting a combined .333 (19-for-57) over 14 games. Those '04 champs are one of the tournament's great Cinderella stories despite their program's pedigree, overcoming a 15-16 start to the regular season and knocking off a dominant Texas team to win it all.
"There was a lot to it," Turner told MLB.com's Ken Gurnick. "They'd beaten us up. [Former Fullerton head coach] Augie Garrido, obviously with Fullerton ties, he was the head coach [for Texas]. There was a lot to it. They were No. 1. They hadn't lost a game the entire postseason."