Kings of NY, Mets or Yanks? Let's discuss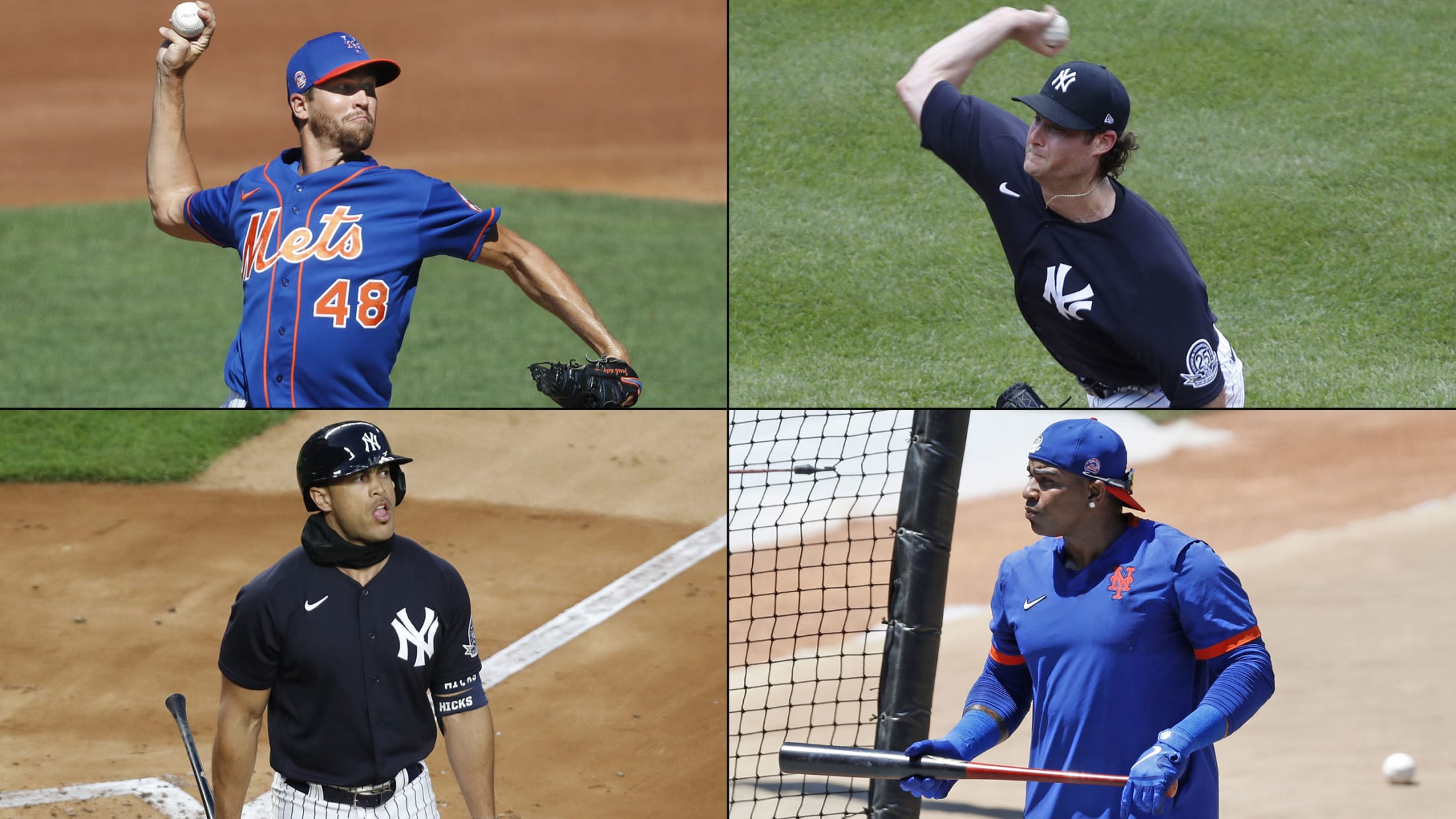 There are questions all over baseball as we hope to begin a "Fast and Furious" season on July 23. But no city has more good questions, and more good storylines, than New York. The Yankees, coming off a 103-win season, are loaded. But you have to know that the Mets
There are questions all over baseball as we hope to begin a "Fast and Furious" season on July 23. But no city has more good questions, and more good storylines, than New York. The Yankees, coming off a 103-win season, are loaded. But you have to know that the Mets aren't bad, especially playing in the National League East, now the best and deepest division in baseball.
There are more questions than these about the two New York teams. But here are five good ones:
1) Who will be the home run king of New York?
Three years ago, Aaron Judge set the rookie home run record by hitting 52 for the Yankees. Then last year, along came Pete Alonso to hit 53. The same year that Judge hit all those home runs for the Yankees, Giancarlo Stanton -- still with the Marlins then -- hit 59.
And the outlier here might be Yoenis Céspedes, who hasn't played an official game for the Mets in two years because of surgeries to both heels and then another surgery for multiple fractures in his ankles. But Mets fans still remember 2015, when the Mets got him from the Tigers and he hit 17 homers in 57 games, ultimately carrying them all the way to the World Series.
That's a long time ago. There have been all those surgeries. Céspedes will turn 35 in October. But when he was healthy and first got to Citi Field, in that short post-trade period, his numbers projected out to a 50-homer season.
Speaking of Céspedes, Judge and Stanton …
2) Who will play more games: Céspedes, Judge or Stanton?
Stanton should be the better bet, even coming off a season when he only played 18 regular-season games for the Yankees.
Céspedes? We've already talked about him -- his last game for the Mets was in July 2018 (he did hit a home run that day). But he is vowing to be ready for July 24, when the Mets open at home against the Braves. Stanton is on course for the Yankees' opener on July 23 against the Nationals.
Judge? He's missed 110 games the past two seasons and would have missed several months with a rib injury if the season had started in late March. And he already has missed a couple of days in Summer Camp with a stiff neck.
3) Might two Cy Young winners come out of the same city for the first time in baseball history?
You bet. The two Cy Young Award winners could come out of New York the way the two MVP Award winners -- Mike Trout and Cody Bellinger -- came out of Los Angeles last year. Jacob deGrom is about to take his shot at three NL Cy Young Awards in a row. Gerrit Cole, now a Yankee, probably should have beaten out then-teammate Justin Verlander for American League honors last year, if only because of the way he dominated batters down the stretch.
There are six games between the Yankees and Mets this year, which turns out to be one-tenth of the regular-season schedule. Here's hoping deGrom and Cole face off twice.
4) Who will have the highest batting average in town: DJ, The Squirrel or someone else?
DJ LeMahieu did not just win the city batting title last season at .327, he was the Yankees' MVP. When he is healthy (he began Summer Camp on the injured list because of a positive test for COVID-19), LeMahieu is the best second baseman in baseball. But Jeff McNeil, aka The Squirrel, has been a base-hit machine since coming to the big leagues for good in the summer of 2018. He hit .329 his first season and .318 last season, even after fading slightly at the end.
LeMahieu won a batting title in 2016 with the Rockies. McNeil will win one eventually for the Mets, the way he is going. This is another race that might turn out to be a lot of fun.
5) So who will win the city championship?
The Yankees are the favorites, of course. They won 103 games last season, and the Mets had to finish 36-23 just to get to 86. But … the Mets, who were fighting to first get back into the NL Wild Card race (and then stay in it once they were), had a better record over the last 72 games (after being 40-50) than the Yankees did.
Obviously that's a random sampling, and the Yankees were on cruise control for most of the second half. It became inevitable by September that they weren't going to catch the Astros for the best record overall, and the Rays weren't going to catch New York in the East. Still, crazy things can happen in a short season, and it should not surprise anyone if the Mets end up with more wins than the Yankees.
Baseball in New York is always better when both teams are in play. Both are going to be in play very soon. The last time both teams finished in first place was 2006. Could it happen again this time? Maybe that's the best question of all.
Mike Lupica is a columnist for MLB.com.