Fun for all at Legends/Celebrity Game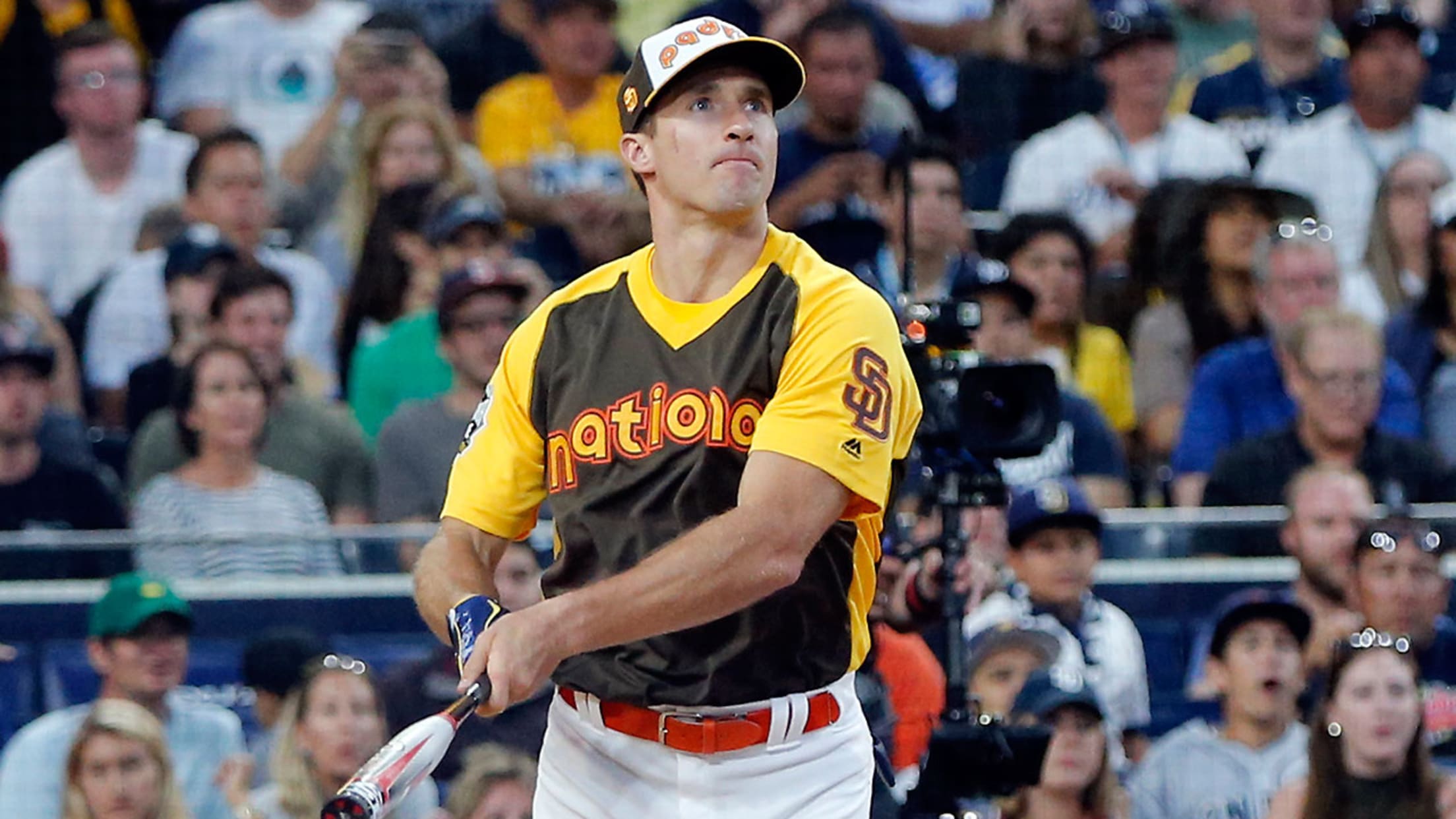 Saints quarterback Drew Brees homers in the first inning.
SAN DIEGO -- The overlying theme of the All-Star Legends and Celebrity Softball Game on Sunday was threefold: Don't strike out, don't pull a hammy and, to paraphrase one participant, don't look like a fool.By all accounts, all participants walked away from the experience unscathed, and the American League squad
SAN DIEGO -- The overlying theme of the All-Star Legends and Celebrity Softball Game on Sunday was threefold: Don't strike out, don't pull a hammy and, to paraphrase one participant, don't look like a fool.
By all accounts, all participants walked away from the experience unscathed, and the American League squad came away with an 8-7 win. More important, the crowd walked away entertained after taking in the nightcap of Taco Bell All-Star Sunday, an event that has become a staple of All-Star Week.
Crews and Wells ... Separated at birth?
The bottom of the second inning provided some interesting shenanigans for reasons that may never be fully explained. Actor Terry Crews, the reigning "Most Buff Celebrity Ever to Play in the All-Star Softball Game," took off his jersey, strode to the plate and gave the crowd an impromptu, Hollywood-style pec flex.
:: Complete All-Star Game coverage ::
The fans weren't the only ones seemingly delighted. Former Blue Jays/Yankees/Padres/Tigers/Red Sox/Dodgers/Reds/Orioles/White Sox pitcher David Wells, another celebrity also known for, um, his svelte physique during his pitching days, stepped off the mound, pulled out his phone and snapped several photos.
(Then he struck him out.)
Homers for Henderson
Rickey Henderson may be the all-time stolen-base king, but for the celebrity softball game, his goal wasn't to swipe a bag; rather, he preferred to hit a home run.
Believe it or not, it's a skill he's worked on over the years. Hitting a softball is different from hitting a baseball, as Henderson discovered the first time he played in the celebrity game. So he sought advice, and some lessons from, of all people, Hall of Fame pitcher Rollie Fingers.
"He was killing the ball," Henderson said. "So I said, 'Rollie, how to you do that as a pitcher?' I couldn't understand it. I couldn't hit the ball like that. So he taught me."
Fingers, a regular participant in the softball game every year, was happy to get Henderson moving in the right direction.
"He taught me how to hit the ball in the air and get it over the fence," Henderson said. "Now I'm out there trying to hit the ball out of the park."
It's a bird, it's a plane ...
Superman plays softball, too.
Or at least he did on Sunday, in his human embodiment, Tyler Hoechlin, who was tapped last month to play the character in The CW's "Supergirl."
Hoechlin, also known for his starring role in MTV's "Teen Wolf," is a native of Southern California and represented his Angels, with high expectations.
"If [my performance is] anything less than at least one home run, my brothers would kill me. So I'd say at least one [home run]," Hoechlin said. "Maybe try to get two."
He didn't homer.
Ozzie fan club
Actor Billy Brown, who's known for his roles in "Dexter" and, more recently, "How to Get Away With Murder," was especially excited to meet teammate Ozzie Smith.
Brown is a native of St. Louis with a particular affinity for the Wizard of Oz, who, it just so happened, had a locker next to his.
"My heart nearly skipped a beat. I got a chance to get a picture taken with Ozzie Smith," Brown said.
Brown admitted to having considerable difficulty keeping his cool, and at one point doubled over laughing in disbelief while telling reporters, "Ozzie Smith will be watching me. He's on my team!"
So, having met Smith, Brown, who confessed to being a competitive spirit, had only one goal for the game.
"Not to make myself look like a dad-gum fool."
Cohen: Cardinals fan, Matheny fanatic
Of all of the celebrity fans of the St. Louis Cardinals, there are few more famous than Andy Cohen, the host and executive producer of Bravo's "Watch What Happens Live."
Cohen's loyalty to the Cardinals dates back to his childhood. He has traveled back to the Midwest to attend Cardinals playoff games, and he has struck up friendships with many current and former players.
He also agrees with a recent poll that deemed Mike Matheny as baseball's most handsome manager.
"Matheny is a stud," Cohen declared. "He is the most handsome man in baseball. There should be a Mike Matheny calendar."
A '90s Icon
In his adulthood, Mark-Paul Gosselaar has accomplished plenty. He played Detective John Clark on "NYPD Blue," he had a starring role on TNT's "Raising the Bar" and he's currently starring in a new FOX show called "Pitch," about a woman pitching in the Major Leagues.
But to one generation (and maybe more), he'll always be known as Zack Morris, the impish, smooth-talking, well-coiffed high schooler who owned the world's most gigantic cell phone on "Saved By the Bell."
Gosselaar, now 42 and bearded, realizes the show is a big part of his legacy, and he embraces it.
"It's amazing how current the show still is, and it is so dated," he said. "It was a '90s show, but it's amazing how current it still is and the generations that continue to watch it and recycle it. My kids, 10 and 12, are now watching it and picking it up. But yeah ... The cell phone and the hair and the clothing ... Everything."
Brees-ing through the game
Drew Brees didn't have much of a game plan going into Sunday's matchup.
"I went to bed last night trying to dream about home runs," Brees said. "That's how I prepared."
As it turned out, that was all that was necessary, as he hit one over the fence in the first inning.
Not bad, but then again, you could say Brees is somewhat qualified in the athletic department.
The New Orleans Saints quarterback and former Super Bowl MVP was once a threat on the diamond, too, a power-hitting infielder who boasted an 88-mph fastball in high school.
"I love baseball. I played it in high school and always thought it might be my path. I hoped it would be. But football kind of got in the picture."
Meyer meets his hero
Peyton Meyer gave up baseball to pursue a career in acting when he hit his teenage years. Now, at 17, he's starring in the Disney Channel's "Girl Meets World."
Worked out OK, right?
"Um ... Yes?" Meyer laughed.
Turns out he got the best of both worlds, suiting up for the AL, with a locker next to Henderson's, to boot.
"He was right next to me in the locker room and I was like, 'This is crazy. I'm warming up with Rickey Henderson right now,'" Meyer said.
Alyson Footer is a national correspondent for MLB.com. Follow her on Twitter @alysonfooter. Megan Zahneis is a reporter for MLB.com.