Kapler meets with Phils' brass to discuss '18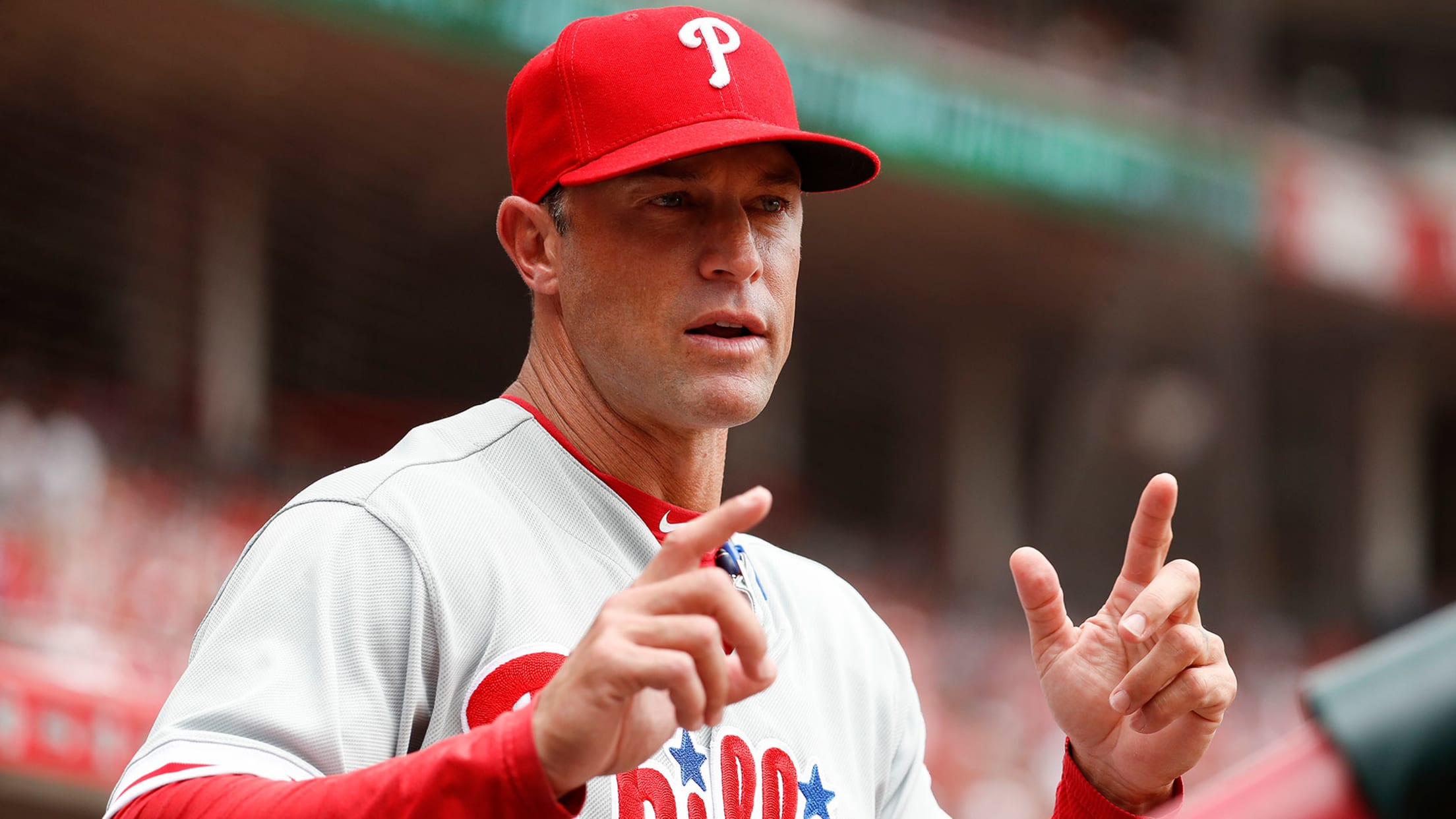 PHILADELPHIA -- Gabe Kapler spent much of Friday at Citizens Bank Park in meetings with Phillies managing partner John Middleton, president Andy MacPhail, general manager Matt Klentak and others from the front office and coaching staff. The meetings served as a postmortem on a once promising season and a look
PHILADELPHIA -- Gabe Kapler spent much of Friday at Citizens Bank Park in meetings with Phillies managing partner John Middleton, president Andy MacPhail, general manager Matt Klentak and others from the front office and coaching staff. The meetings served as a postmortem on a once promising season and a look ahead at ways to avoid another late-season collapse in 2019.
"Just normal, end-of-the-season meetings," Kapler said before Friday's series opener against the Braves. "Nothing in particular."
A little more than a week ago, the Phillies hoped Friday would be the beginning of a series with National League East title implications. Instead, the Braves eliminated the Phillies from the postseason last weekend in Atlanta and the Phillies are playing out the string, hoping to snap a season-high eight-game losing streak and maybe finish .500.
"I've been spending a lot of time thinking about it," Kapler said of the team's skid. "And I think, quite simply, we can prepare better to be prepared for August and September and being strong through those months. I thought we did a really good job of being a really good version of this club for the first four months of the season. And I think, going forward, spending this offseason right now beginning to prepare for next year's August and September is the adjustment that has to be made and we're very excited to get to."
But what does that mean exactly?
"I think from a mental-preparation standpoint, it's acknowledging the difficulty of getting to August and September, and then understanding once it gets there, it becomes even more challenging," Kapler said. "So I think the preparation is having the conversation about what might come up. I'll tell you what, the fact that we went through this once in August and September, and a lot of our young, developing players experienced the pressure and the magnitude of the situation, they are better equipped to handle it next year in 2019."
Kapler's job performance has come under scrutiny the past several weeks. He knows it, but he also does not believe he will give free agents any reason not to consider coming to Philadelphia. He is not wrong. If the Phillies show players the money, they will sign.
"We have a tremendous amount of resources with the Philadelphia Phillies," Kapler said. "I think the players, if nothing else, will tell you how deeply I care for them and how much effort and energy I put into putting them to be in a position to have success. I think we run a clubhouse where players feel like they can be themselves. They don't have to put on any acts. So for all of those reasons and the obvious [one] that we are going to get more competitive, that we are going to make adjustments, that we are going to be better in 2019 than we were in 2018, I think this is as attractive a destination as there is in baseball."
Paul Owens winners receive award
Prior to Friday's game, the Phillies honored their top Minor Leaguers by awarding left-hander David Parkinson and infielder/outfielder Austin Listi with the 2018 Paul Owens Award.
Parkinson's 1.45 ERA (20 ER, 124 1/3 IP) was the lowest of all qualifying Minor League pitchers in 2018. In 22 games (21 starts) between Class A Lakewood and Class A Advanced Clearwater, he went 11-1 with 141 strikeouts while holding opponents to a .202 batting average. The 22-year-old said that being on a Lakewood team that posted a 2.74 ERA -- lower than any other full-season Minor League club -- led to "friendly competition" among the pitching staff.
"We definitely fed off each other," said Parkinson, the Phillies' No. 19 prospect according to MLB Pipeline. "We learned from each other a lot, too. I picked their brains, they picked my brain."
Listi, 24, slashed .312/.412/.502 with 25 doubles, 18 home runs, 84 RBIs and 62 walks in 123 games between Clearwater and Double-A Reading. He played both corner-infield spots and both corner-outfield positions. Next week, he'll head west to play against other top Minor Leaguers in the Arizona Fall League. He is "fired up" about it.
Is Triple-A waiting in 2019?
"I'm confident in my ability to perform and compete." Listi said. "I think I will be [in Triple-A]. That's up to the Phillies and what they plan on doing with me. I don't try to think about it. I just try to stick to my game and go out there and compete."
Todd Zolecki has covered the Phillies since 2003, and for MLB.com since 2009. Follow him on Twitter, Instagram and Facebook.
Joe Bloss is a reporter for MLB.com based in Philadelphia.