Kapler says starters are better than their ERA
Poor defense has hurt numbers of Velasquez, other pitchers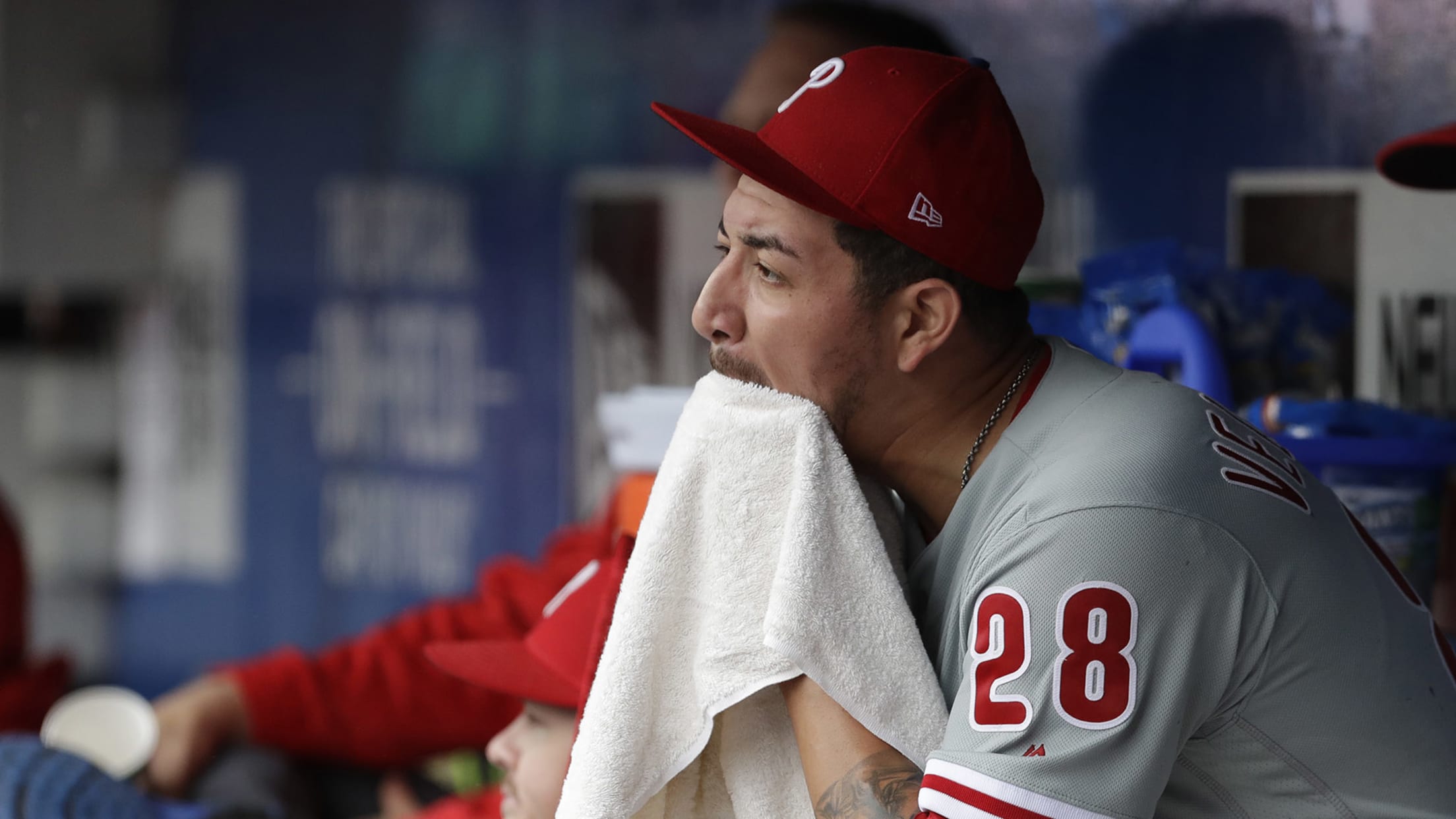 Philadelphia Phillies pitcher Vince Velasquez sits in the dugout after being relieved in the fifth inning of a baseball game against the New York Mets, Sunday, Sept. 9, 2018, in New York. (AP Photo/Mark Lennihan) (Mark Lennihan/AP)
ATLANTA -- Gabe Kapler came armed with a sheet of paper to the visitors' dugout Friday afternoon at SunTrust Park. He came with a point to make.The paper read: "Vince Velasquez (3.65), Charlie Morton (3.65), Kyle Freeland (3.77), Zack Greinke (3.79) and David Price (3.90)." The pitchers not named Velasquez
ATLANTA -- Gabe Kapler came armed with a sheet of paper to the visitors' dugout Friday afternoon at SunTrust Park. He came with a point to make.
The paper read: "Vince Velasquez (3.65), Charlie Morton (3.65), Kyle Freeland (3.77), Zack Greinke (3.79) and David Price (3.90)." The pitchers not named Velasquez are four of the more highly regarded pitchers in baseball. The numbers next to their names represented their Fielding Independent Pitching. Kapler wanted to say that Velasquez (9-11, 4.59 ERA, including a 7.67 ERA in his last eight starts) has been better than the traditional numbers indicate. He wanted to say that, based on his FIP, Velasquez will be better in the future.
"The people on that list are on that list for a reason, right?" Kapler said. "Because they're good at their jobs, and most of the people in that range are really good at their jobs. One of the things that I will submit is that if we caught the ball as a team better this year, if we made plays better as a team, that includes everything you can think of defensively, I think our pitchers would stand out even more than they have."
The Phillies' defense has been a serious problem since Opening Day. It entered Friday's game against the Braves at SunTrust Park with -127 Defensive Runs Saved, according to FanGraphs. It is the lowest mark of any team in baseball since DRS started to be tracked in 2003.
"I acknowledge our defense has not been great," Kapler said.
But what can be done to improve it? The most realistic means is personnel changes, although the Phillies seem likely to examine their infield shifts and outfield alignments. In Thursday's loss to the Braves, Carlos Santana missed a catchable ball that led to two runs in the first inning. Santana, whose best position is first base, started the game at third. He shifted to shortstop for the play. Those things happen when the team also is trying to find ways to have their best hitters in the lineup.
"There are a number of things that we will dive into, that we will improve, that we will focus on to help our fielders be the best version of themselves and to help the collection of defenders to be the best version of themselves," Kapler said.
But back to FIP. The Phillies are big believers in it. It is why they expressed little interest in pitchers like Cole Hamels (4.60 FIP), J.A. Happ (3.99 FIP) and Chris Archer (3.86 FIP) before the July 31 non-waiver Trade Deadline. Velasquez, Nick Pivetta (3.72 FIP) and Zach Eflin (3.75 FIP) might not have the track records of those three, but the Phillies believed they would pitch effectively down the stretch.
Pivetta (4.24 ERA), Eflin (4.81 ERA) and Velasquez (6.31 ERA) struggled the final two months of the season, but the Phillies remain high on them.
"If your FIP is especially low and you're ERA is high, it's likely that that ERA is going to come down some," Kapler said. "This is something that I have to explain to Vince -- you're OK. If a team doesn't value a guy with a low FIP and a high ERA, they're not paying attention. Those guys get snatched up, they get asked for in trades. They're in high demand because the expectation is that with an improved defense and a little bit of luck you get a much better pitcher and maybe a superstar pitcher."