Cooper likely done for season after setback
Rookie aggravated his right wrist during rehab assignment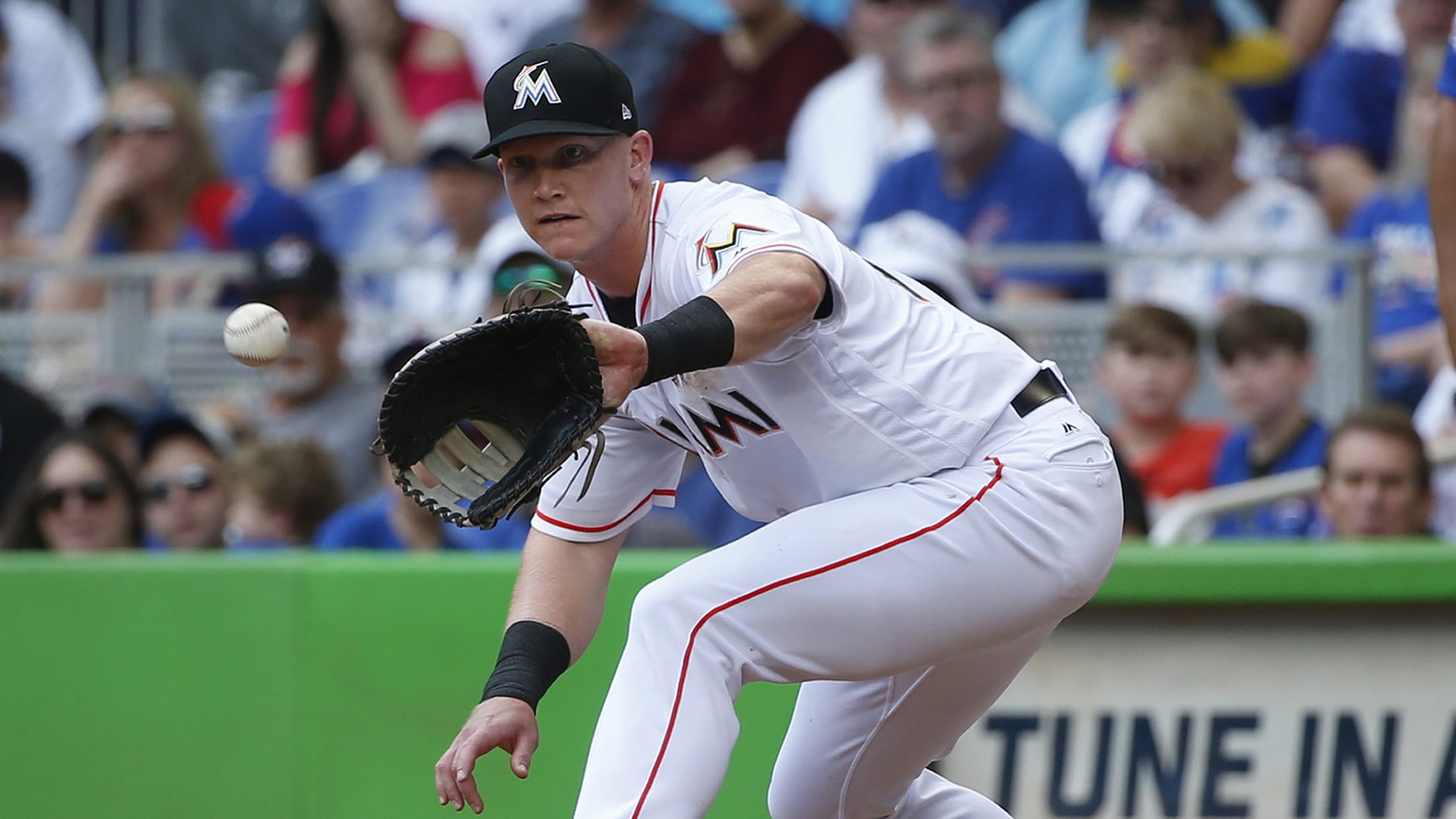 Miami Marlins first baseman Garrett Cooper puts out Chicago Cubs' Victor Caratini during the fourth inning of a baseball game, Sunday, April 1, 2018, in Miami. (AP Photo/Wilfredo Lee) (Wilfredo Lee/AP)
MIAMI -- The hope was to have Garrett Cooper come off the disabled list and join the Marlins when rosters expanded in September. But after sustaining a setback in a rehab assignment game with Class A Advanced Jupiter on Wednesday, Cooper's season is likely finished.Cooper aggravated his right wrist while
MIAMI -- The hope was to have Garrett Cooper come off the disabled list and join the Marlins when rosters expanded in September. But after sustaining a setback in a rehab assignment game with Class A Advanced Jupiter on Wednesday, Cooper's season is likely finished.
Cooper aggravated his right wrist while playing left field for the Hammerheads, and the 27-year-old rookie is scheduled to be examined by a hand specialist in the upcoming days.
"For him, probably in his mind, it's probably a wasted year," Marlins manager Don Mattingly said on Saturday. "He had a chance to make the club, show what he can do at the big league level. We were hoping for extended at-bats. He didn't really get a chance to do any of that."
The Marlins' Opening Day right fielder, Cooper was struck on the right wrist by a pitch from Cubs right-hander Kyle Hendricks in the second game of the season.
The injury lingered, and Cooper spent two stints on the disabled list. In the first half, he missed three months before returning on July 6. But on July 20 against the Rays, he reinjured the wrist while playing first base and returned to the DL.
Cooper appeared in 14 games with the Marlins, compiling a .212 batting average with one double and two RBIs in 33 at-bats.
The Marlins were hoping Cooper would rejoin them in September and get about 100 at-bats in the final month. He was expected to see time at first base along with the corner-outfield spots.
Mattingly said Cooper has to look at the big picture.
"You can't look at it as a wall," Mattingly said. "It's a speed bump. You've got to go over it. That's what you've got to do to accomplish something. You don't let anything stand in your way. It would be, 'Get back on track, and go ahead.'"
Worth noting
• Dan Straily was recently claimed on waivers by an unspecified club, but the Marlins were unable to reach agreement on a trade and pulled the right-hander back off waivers.
• With Cooper sidelined indefinitely, veteran Martin Prado is getting work at first base during batting practice. Prado has been on the DL since Aug. 13 with a left quad strain. Mattingly said Prado is likely to be reinstated in September, not beforehand.
• Lewis Brinson, on the DL since July 4 with right hip inflammation, is having his rehab assignment transferred to Triple-A New Orleans. Brinson had been at Double-A Jacksonville.
"We're just getting him some more timing," Mattingly said. "That was the one thing we were seeing. That time off was more than we thought. We thought it would be quick, let him find his timing and get back in the groove. I don't want him to do that here. We let him struggle through the season because he was healthy and was making ground up. … He's healthy. We just want him to get a little more timing so he has the best chance to be successful when he comes back."