Sanchez showing desire to end year strong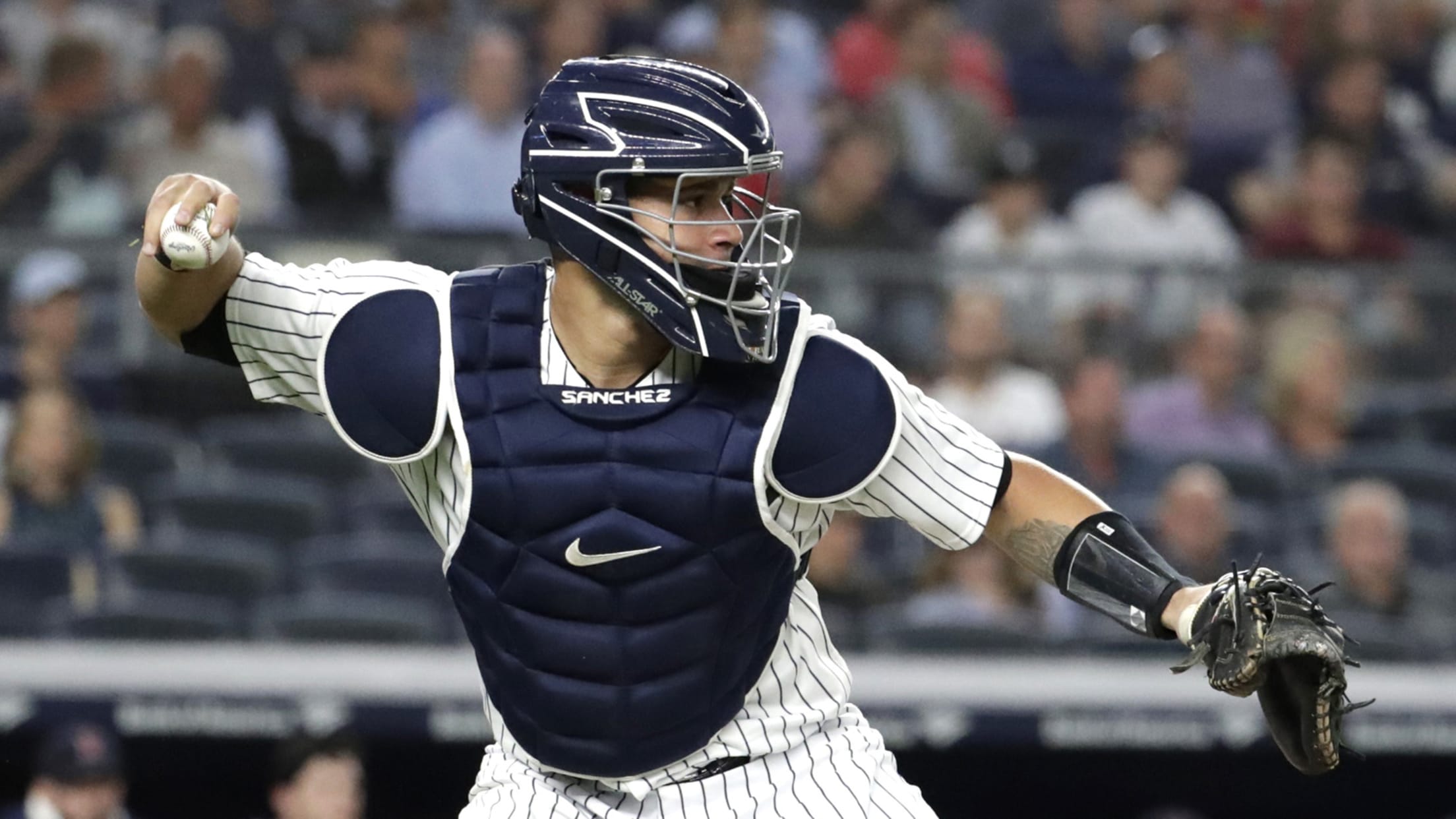 New York Yankees catcher Gary Sanchez fakes a throw to second base during the first inning of a baseball game against the Boston Red Sox, Wednesday, Sept. 19, 2018, in New York. (AP Photo/Julio Cortez) (Julio Cortez/AP)
NEW YORK -- The hallways of Yankee Stadium are normally peaceful during a team off-day, but they were bustling with activity earlier this week. While Aaron Judge and Albertin Chapman were proving their health in simulated games, Gary Sanchez was working hard in hopes of finishing his year on a
NEW YORK -- The hallways of Yankee Stadium are normally peaceful during a team off-day, but they were bustling with activity earlier this week. While Aaron Judge and Albertin Chapman were proving their health in simulated games, Gary Sanchez was working hard in hopes of finishing his year on a strong note.
"He came in on the off-day [Monday]. You don't see that very often," Yankees general manager Brian Cashman said. "But that shows his interest level and commitment to try and find to unlock what he typically does best, which is hit the baseball really hard."
Sanchez was a key cog of the Yankees' offense in 2017, when he batted .278/.345/.531 with 33 homers and 90 RBIs, earning recognition as an American League All-Star and the AL's Silver Slugger Award winner at catcher.
That production has been largely absent this year, as Sanchez entered play on Saturday batting .184 with a .685 OPS in 345 plate appearances. Among AL players with at least 280 plate appearances, only the Orioles' Chris Davis has posted a lower batting average (.170) and OPS (.545).
"I think there's no question he's hit into some tough luck," Yankees manager Aaron Boone said. "All of our internal numbers absolutely suggest that, but with that said … I think when you struggle and you don't get results as a hitter, you chase the results sometime and you want to get a hit, you want to drive this run in so bad and that can really work against you as a hitter."
Sanchez's defense has also been suspect, as the 25-year-old is pacing the Majors with 14 passed balls despite having played just 69 games behind the plate. Two of those passed balls (and two wild pitches) came during an ugly half-inning during the Yankees' September series in Oakland this month, when he and Luis Severino had difficulty getting on the same page.
"He obviously continues to work at it," Boone said. "He needs to continue to be better at it. But I would say the vast majority of the work that he's done has been really strong. And I think in some of the wins we've had since he's come back, some of those games I feel like he's had a major impact on the defensive side of the ball and contributed to those wins."
While Austin Romine did a capable job filling in while Sanchez served two stints on the disabled list with groin injuries, Sanchez is expected to be behind the plate for the AL Wild Card Game, regardless of whom the Yankees select to pitch.
"We're doubling down and tripling down on Gary Sanchez because we know the ceiling that is there and the capabilities this player has on both sides of the ball," Cashman said.
What's Happ-ening?
The Yankees announced that J.A. Happ will start Sunday's series finale against the Orioles. He could then pitch on Friday at Boston on regular rest and would be lined up to pitch the Wild Card Game on Oct. 3.
Boone said that no decision has been made, and the delay in announcing Happ as the starter against Baltimore was more to decide if the Yankees should have a bullpen game on Sunday. Happ is aware of how the calendar lines up, but he is keeping his cool.
"You might not believe me, but it's not my focus," Happ said. "I'm trying to finish the season strong, give us a good position [for the playoffs]. I think we're good with whatever option, we're comfortable with whoever it is."
Bombers bits
Andrew McCutchen made his fourth career start (sixth appearance) in left field on Saturday, all of which have come with the Yankees. Outfield coach Reggie Willits told Boone that he has been pleased by McCutchen's transition to the new assignment.
This date in Yankees history
Sept. 22, 2013: The Yankees hold a tribute for Mariano Rivera, who helps to unveil a new Jackie Robinson tribute plaque before receiving gifts and addressing the crowd during pregame ceremonies. In a twist from their usual on-field relationship, Jorge Posada throws the ceremonial first pitch to Rivera. The future Hall of Famer pitches 1 2/3 scoreless innings in the Yankees' 2-1 loss to the Giants.