Perry lauded on eve of statue dedication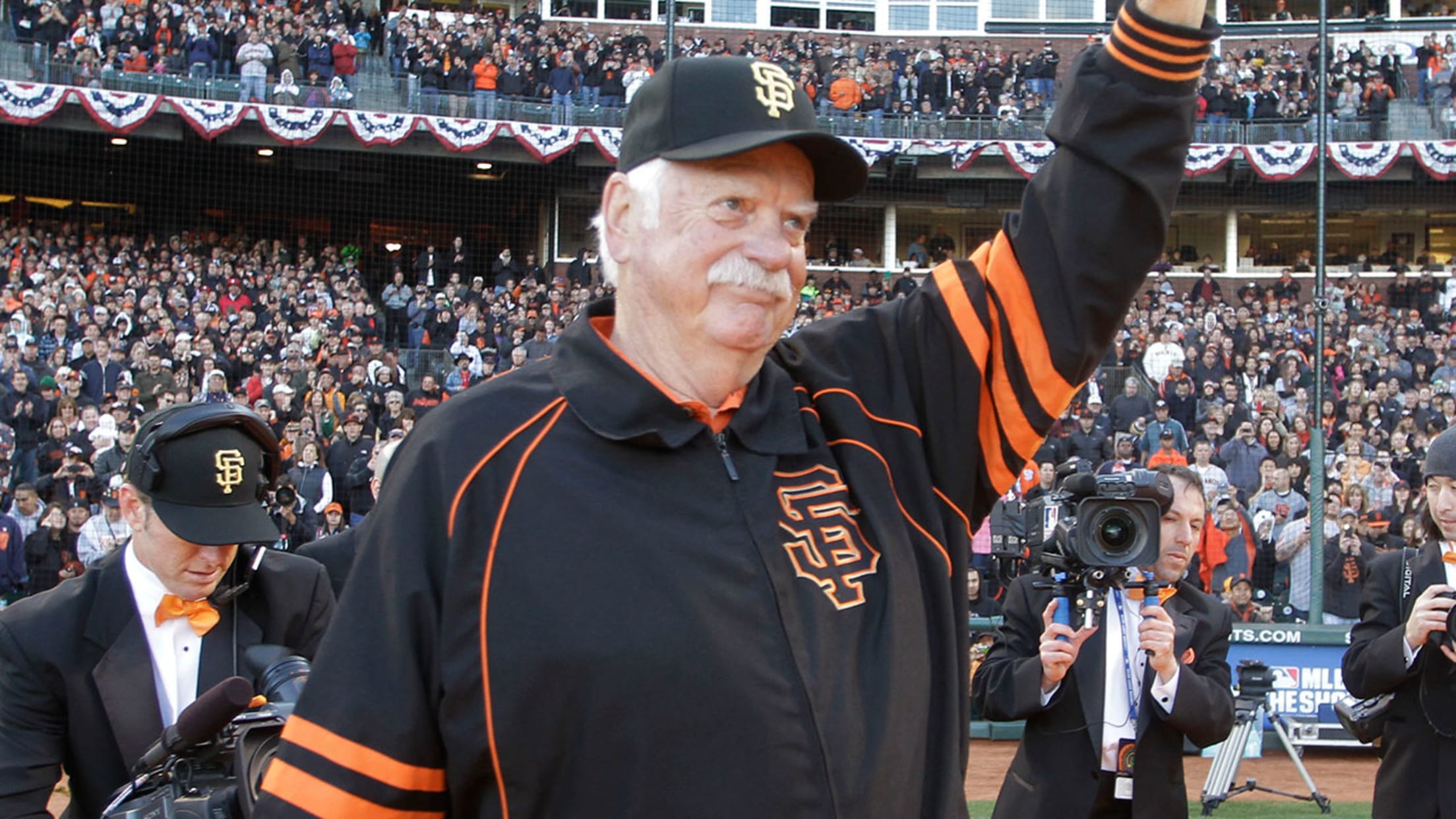 The Giants will unveil a statue of Gaylord Perry on Saturday outside AT&T Park. (AP)
SAN FRANCISCO -- The statue of Gaylord Perry, which the Giants will unveil Saturday outside AT&T Park, is guaranteed to be a superb rendering of the Hall of Fame right-hander. Will Behrends, the sculptor who created Perry's bronze likeness, already has proven his skill by fashioning the images of Willie
SAN FRANCISCO -- The statue of Gaylord Perry, which the Giants will unveil Saturday outside AT&T Park, is guaranteed to be a superb rendering of the Hall of Fame right-hander. Will Behrends, the sculptor who created Perry's bronze likeness, already has proven his skill by fashioning the images of Willie Mays, Willie McCovey, Juan Marichal and Orlando Cepeda that grace the ballpark's exterior.
Here's hoping that Behrends included one small yet significant detail to capture the pitcher's essence. The face of Perry the statue ought to be contorted in a snarl or a glare, similar to the expression Perry wore through much of his 22-year Major League career.
Characterizing an accomplished athlete as a "competitor" has relatively little meaning. Virtually everybody who reaches a high level -- professionals, Olympians, top collegians -- did so by maintaining drive and overcoming challenges.
Yet there exists a certain strata of individuals who are separate among equals. They don't simply want to win. They have to win. Perry, who was raised in the Giants organization before spending his first 10 big league seasons with San Francisco, belongs in this group.
Perry conducted his business with such controlled fury that he could make a pickoff throw look like a malevolent act. "As a competitor on a scale of one to 10, he was a 20," former Giants outfielder Ken Henderson said.
Henderson and Perry were San Francisco teammates between 1965-71. They were briefly reunited with the Texas Rangers in 1977. Had Perry mellowed at all by then? "No. Not really," Henderson said with a chuckle. "He was on a quest. He wanted to win 300 games. He expected to go 30-0. That was Gaylord."
Perry's self-motivation included self-sacrifice. "He did anything he could to win a ballgame," 1960s-era catcher Jack Hiatt said. "A guy would hit a line drive through the box and he'd stick his foot in the way or turn his back and let the ball hit him, just to make sure he wouldn't end up with a baserunner."
Perry also maintained a dedicated effort when almost nobody was watching. Hiatt recalled that on days Perry started, he insisted on playing pepper -- a near-extinct drill involving a player lobbing pitches to a hitter, who tries to tap the ball back to the pitcher or surrounding fielders. Except Perry wanted the ball smashed to him, not tapped. "Firm pepper," Hiatt said.
Later, as Hiatt related, Perry finished his pregame warmup in the bullpen by throwing the sequence of pitches that he planned to use on the game's first three hitters. If Perry flung what he considered to be a hittable strike, he'd holler, "Base hit," and begin pitching from the stretch position.
Perry was just as exacting with teammates. "He could be really intimidating," said Chris Speier, the Giants' three-time All-Star shortstop (1972-74). "He didn't want anybody to make any mistakes behind him. When you did, he'd give you that look, like, 'What are you doing?' "
However, Perry cared more about supporting his teammates than criticizing them. "If somebody knocked my teammates down, I couldn't wait to get him," he said.
Hiatt remembered enduring a collision with the New York Mets' Ron Swoboda, who arrived at home plate long after the throw. In an effort to jar the ball loose, Swoboda essentially plowed into Hiatt and flipped him like an omelet. Perry had no appetite for that. When Swoboda batted again, Perry threw three pitches at him before plunking him. One at-bat later, Perry threw at Swoboda once more.
"When is this going to be over?" Swoboda hollered at Perry as he dusted himself off.
"When I say it is," Perry barked.
No discussion of Perry would be complete without mentioning the spitball. He has never directly admitted throwing it. Others attribute his 314-265 career record to his mastery of the wet one.
"I say it was a spitter," former Mets star Ed Kranepool said in a 2014 interview. "When the dirt would grab onto the ball and stay in one spot, I would say that has nothing to do with circumstance. Everybody knew it. The umpires knew it; the players knew it. They just didn't enforce the rules."
Even Perry's fellow Giants hinted that Perry doctored the baseball.
"That hard slider was tough to hit," right-hander Bob Bolin said euphemistically.
Said Speier, "He had a sign for his 'special pitch.' If I got a ground ball, I hoped I could grip the dry side of the ball."
Skeptics have questioned why Perry, who accumulated fewer than half of his career wins (134) with the Giants, merits a statue. For what it's worth, the organization traded him against his wishes to Cleveland for left-hander Sam McDowell in an ill-fated deal following the 1971 season. Had it been up to Perry, he might never have left San Francisco.
"I spent 10 years with the Giants and played 11 years after that, but I didn't find any bunch of guys who could match them," Perry said.