He had a HOF pitching career ... it began at age 39
George Brunet pitched in 33 consecutive seasons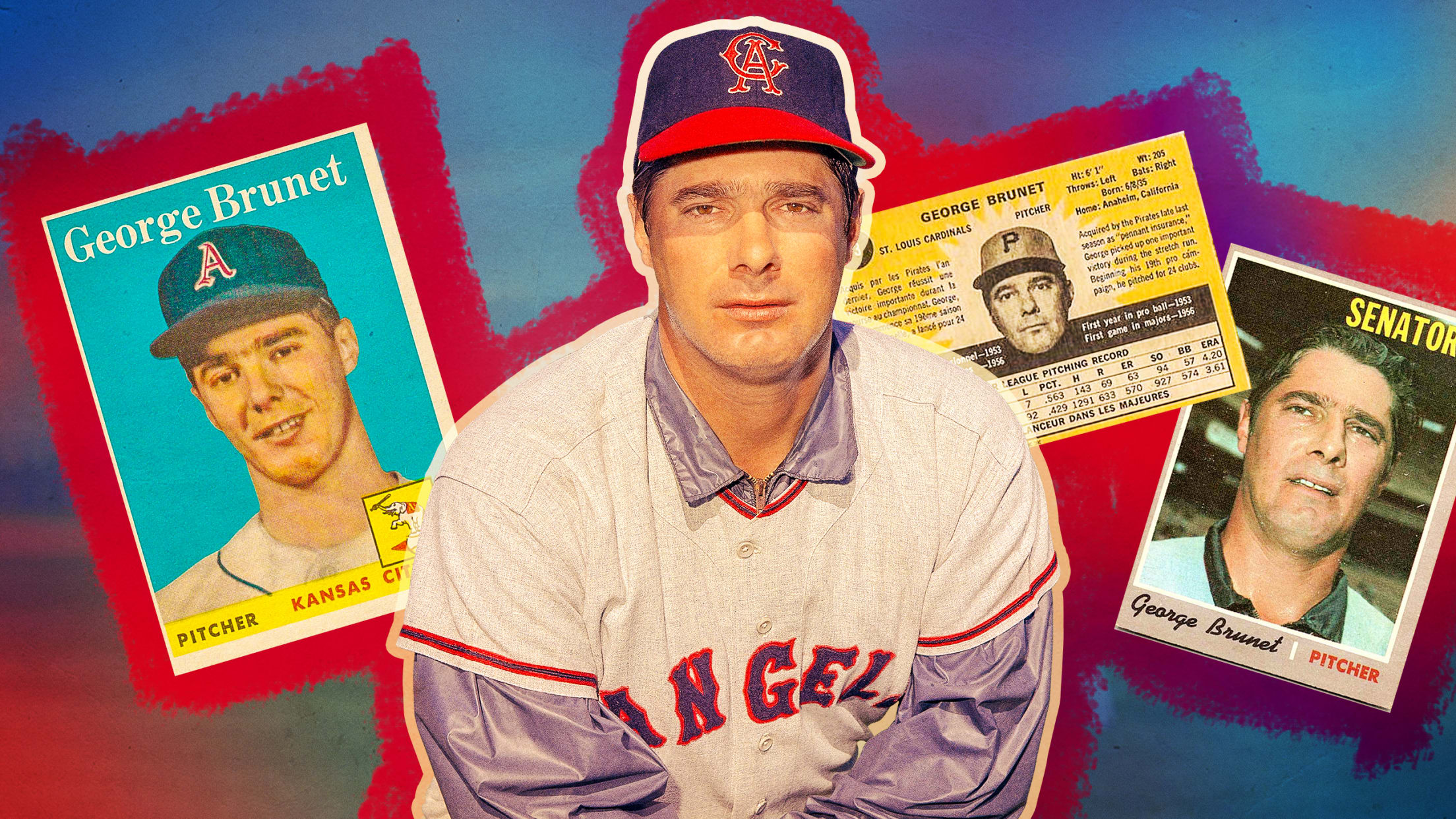 The most interesting player you've never heard of pitched in at least 33 consecutive professional seasons, from 1953 to 1985 -- and that's just what we can verify. He holds a share of the Major League record for most uniform numbers worn, and a share of the Angels' record for
The most interesting player you've never heard of pitched in at least 33 consecutive professional seasons, from 1953 to 1985 -- and that's just what we can verify. He holds a share of the Major League record for most uniform numbers worn, and a share of the Angels' record for most losses in a season. He owns the Minor League record for most strikeouts. He's a member of the Mexican League Hall of Fame. This is all just barely scraping the surface of an incredible baseball life.
He threw two no-hitters -- 21 years apart. He was once signed by the Philadelphia A's, but he also pitched as recently as the Reagan administration, a career span that roughly coincides with the two time-period settings of "Back To The Future." He once issued five bases-loaded walks -- plus a hit-by-pitch -- in a single inning. It's probably the worst inning in Major League history, but it's hard to say if that's better or worse than the time he went more than a month in the Minors and over 50 innings without his team scoring a run for him.
As a rookie, after being escorted to the mound in a pink Lincoln Continental, he faced the legendary Ted Williams, who he described as his boyhood idol ... and didn't even realize who was hitting against him until he was ahead 0-2.
He did all of this, and more, while refusing to wear underwear or a protective cup on the mound. He still managed to have three children.
Welcome to the absolutely fascinating life and career of George Brunet, who was born in Michigan in 1935, passed away in Mexico in 1991 and pitched for dozens of teams in between. His name won't ring any bells for most people, and none of the teams he pitched for will have a special day to remember his life. But if you're interested in exciting lives and incredible stories, few can top Brunet's. Here's just a fraction of what made him so intriguing.
1. He pitched for at least 33 consecutive seasons
Brunet was originally signed by his home state Tigers in 1953, after being scouted by "Schoolboy" Rowe, who had starred for Detroit in the 1930s. (If this Michigan Facebook photo caption can be believed, his mother stood on the field while he worked out for the team.) But he never pitched in the bigs for the Tigers, who cut him free after three Minor League seasons. ("You always get a little more fired up for the team that signed you," he once said about facing the Tigers. "And released you.") He caught on with the Philadelphia Athletics' farm system just before they moved to Kansas City, then made his Major League debut on Sept. 14, 1956, to throw the final inning of a 4-1 loss to Washington.
Thus began an odyssey through literally dozens of teams, from Shelby, N.C., to Seminole, Okla., to Hawaii, and all the way back again. This 1966 list from the Guam Daily News -- no, we didn't expect that either -- gives you a taste.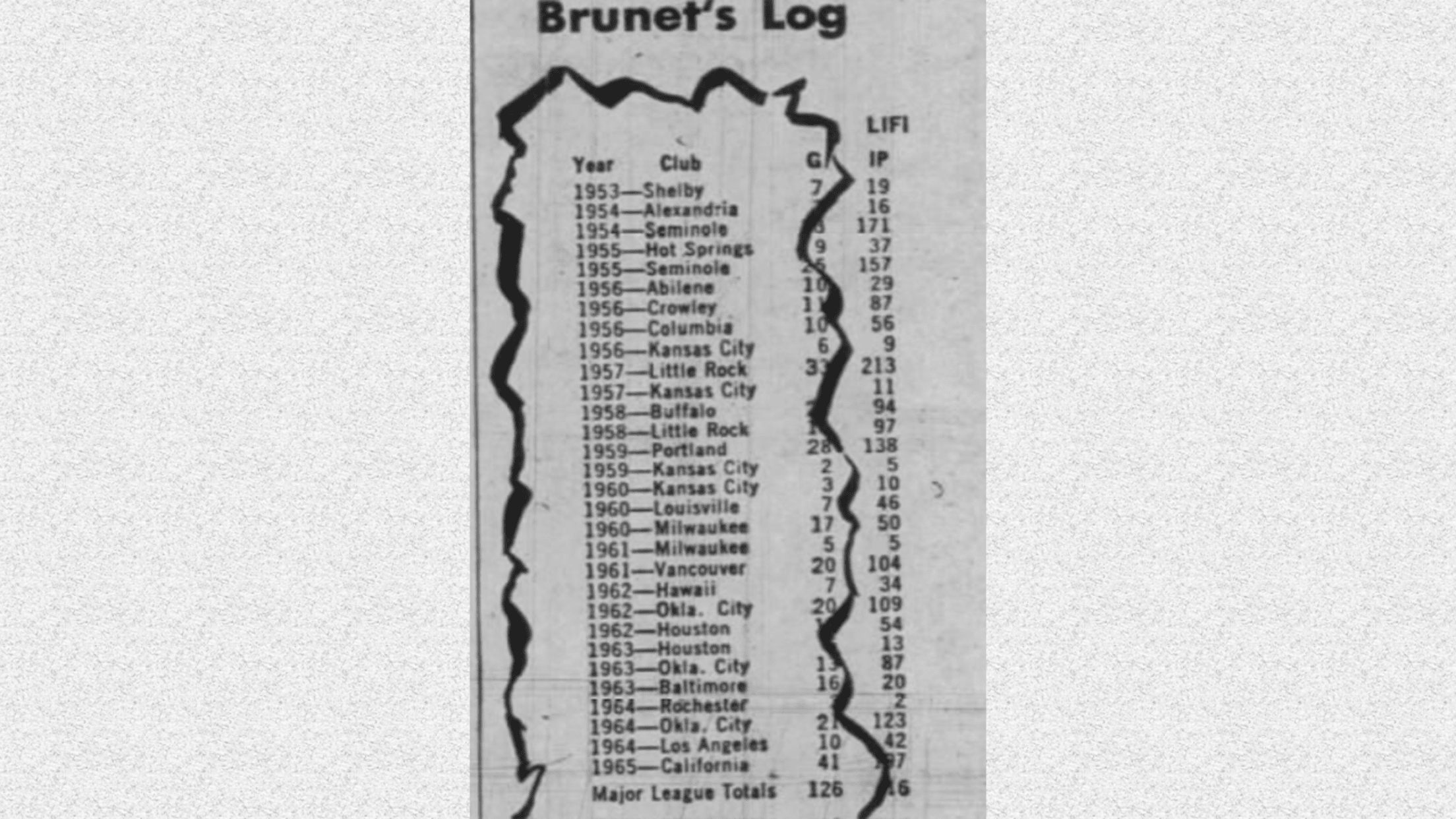 After parts of four seasons with the A's between 1956 and '60, Brunet saw big league time with the Milwaukee Braves (1960-61), Houston Colt .45s (1962-63), Baltimore Orioles ('63), and then, in his longest stretch in one place, for the Los Angeles/California Angels from 1964 through '69, serving as their Opening Day starter in '67. That catches us up to where the city log above finishes off. It's not nearly the end.
He'd next go to Seattle in 1969 (the Pilots, not the Mariners), Washington in 1970 (the Senators, not the Nationals), Pittsburgh later in '70 and, to finish off his Major League career, seven games for the 1971 St. Louis Cardinals. He briefly put on an Angels uniform again to throw batting practice to his old team, then he went back to Hawaii again (Triple-A for the Padres in 1971 and '72) and Eugene, Ore. (Triple-A for the Phillies in '73) to finish off his domestic career. That's 21 seasons of professional baseball, from 1953-73. That's more than enough for most players.
He still wasn't done. In 1974, he went south to Poza Rica of the Mexican League, and here's where it gets interesting. He was 39 years old. He'd pitch for at least another 12 years -- and maybe, as we'll explain shortly, more than that.
In his first Major League season, he faced Williams, who had debuted in 1939. In his final season, he faced Joe Morgan, who would play until 1984.
2. He began a Hall of Fame pitching career at age 39
We keep saying "at least 33 seasons," and that's because conflicting reports get a little murky. As Peter Gammons wrote in a January 1986 edition of the Sporting News, "George Brunet, pitching coach of the Mexico City Tigers, pitched in two games in 1985. That meant he set a record, having pitched professionally in 33 seasons. Brunet, 50, is eight games short of pitching in 1,000 pro games."
So we know he was active through 1985. The problem is, the records from the two Mexican Leagues (winter and summer) in the 1980s are somewhat unclear, and we kept finding reports like these:
"Brunet continued to pitch into his 50s in the Mexican League, until 1989," wrote the Seattle Times in 2006. When he passed in 1991 at 56, the Boston Globe noted that he had pitched until he was 54, which would also be 1989. We know that he got into those two games in 1985, moonlighting from his job as Mexico City's pitching coach, but we can't find any actual game logs or stats to support that he also pitched from '86 to '89. So whether or not he did, or that one long-ago writer made one mistake that kept getting repeated until it was fact, we can't say for sure. (We do know he pitched beyond a 1981 heart attack.)
Still, after all this time, he remains second in Mexican League history (min. 2,000 innings thrown) with a 2.66 ERA and second in shutouts with 55.
When he was inducted into Mexico's baseball Hall of Fame -- the Salón de la Fama -- in 1999, it was noted that he'd played for Poza Rica, Coatzacoalcos, Tigres, Aguila de Veracruz, Saltillo and Monterrey for 14 seasons in the summer league, and for nine additional years with Culiacán, Guasave and Los Mochis in the winter league. That doesn't mean 23 more years; it means that for many years in his 40s, he was pitching nearly year-round, tossing potentially three to four hundred innings each year.
So, using all the sources available -- Baseball Reference, the encyclopedia of the winter Mexican Pacific League, this record of Venezuelan baseball and this site dedicated to Latin American baseball, we pulled together the most complete list of Brunet's travels we could find. This doesn't include the Caribbean Series, where he represented both Panama and Mexico, or his time playing Puerto Rico winter ball, which we could find reference to but not dates for. The fact that we know this isn't 100% complete and it's still this long should tell you something.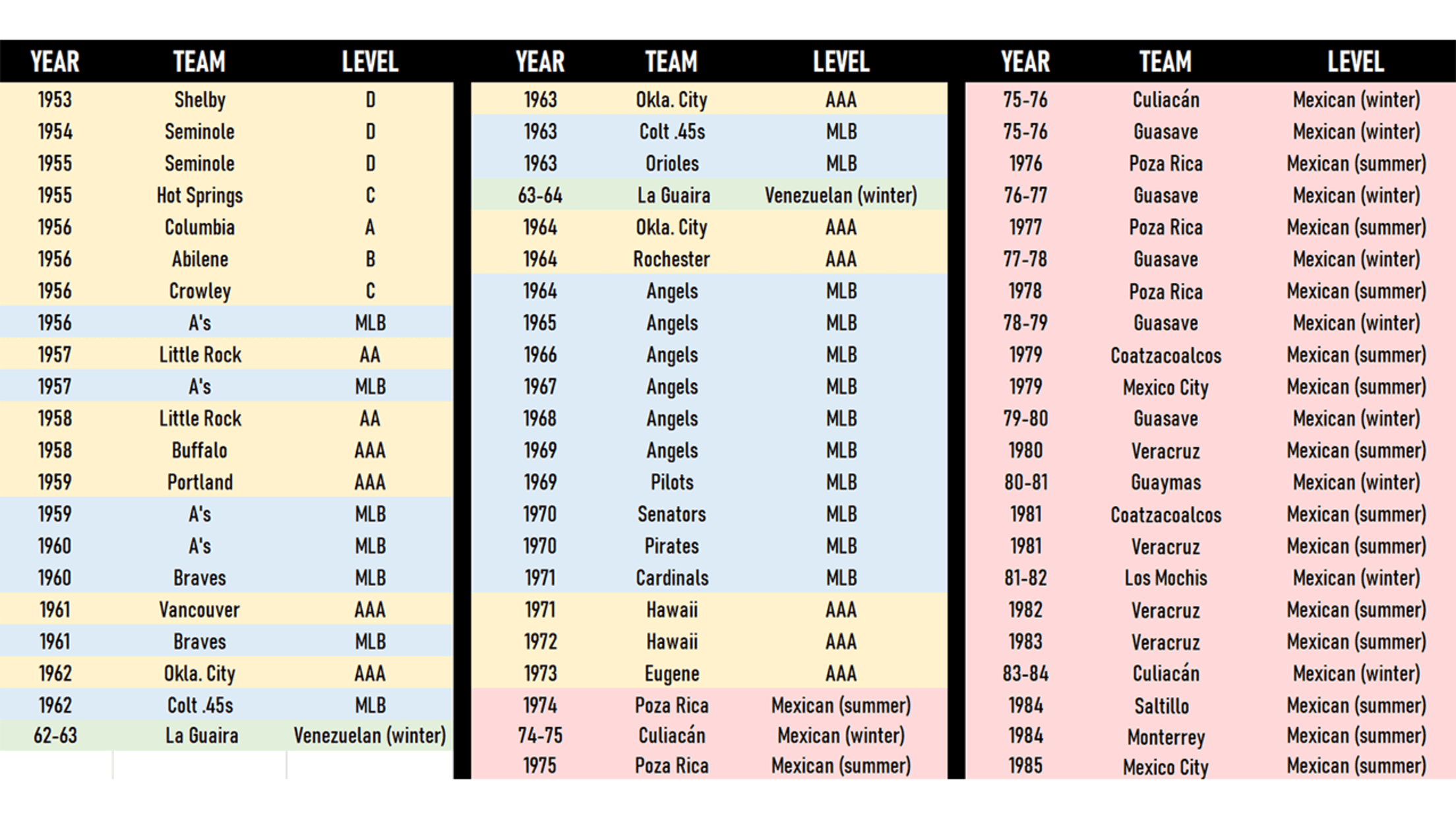 That's 65 different entries.
3. No Major Leaguer has ever worn more different uniform numbers
Over his 15 Major League seasons, Brunet got into 324 games for nine teams and wore -- deep breath -- 15 unique uniform numbers. (It's 18, if you consider that he wore 28, 30 and 34 for multiple teams with other numbers in between.)
That is, according to Baseball-Reference, tied for the most numbers worn by a single player in baseball history.
15 -- George Brunet, 1956-71
15 -- Bob Miller, 1957-74
13 -- Ken Brett, 1967-81
13 -- Bobo Newsom, 1929-53
13 -- Juan Pizarro, 1967-74
It's a lot. It's so many. It looks like this.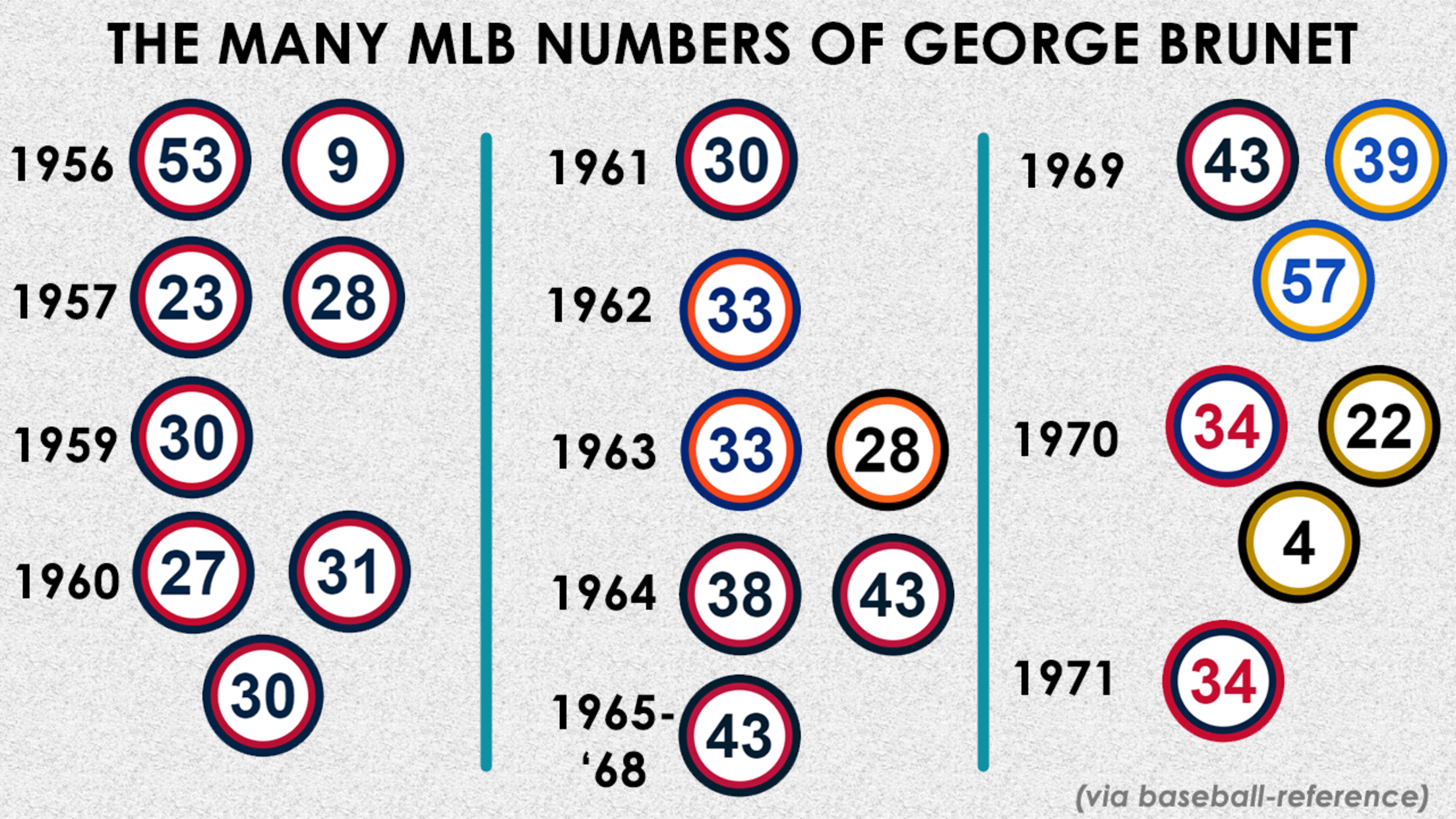 That far back in history, we can't dig up explanations for all of them, other than to assume that as he moved from team to team in those days, he was simply handed whatever the equipment manager had in his size.
Still, there's plenty of weirdness in there. For example, when he was sold from the Angels to the Pilots on July 31, 1969, he took No. 39, which had already been worn that year by Gary Bell, who was traded to the White Sox in June, and Garry Roggenburk, who had somehow cycled through three numbers -- 39, 44, and 46 -- in six weeks with the team before walking out on baseball entirely, which was why the Pilots acquired Brunet in the first place. But then Brunet ended up moving on to No. 57, which Bucky Brandon had worn before being sent to Minnesota in June. Why? Absolutely no idea.
When he was with the Pirates, he wore No. 4 and No. 22 in just a dozen games for Pittsburgh, back when it was still extremely odd for a pitcher to wear single digits. Back in 2009, Keith Olbermann relayed the story as told by broadcasters Hal Kelly and Don Drysdale:
Drysdale says to Kelly that Brunet is going to change the number as soon as possible because: a) pitchers just don't wear "low numbers" like that, and b) Brunet has told him so. Left unspoken is the fact that Brunet, listed at 6'1″, 195, was probably closer to 220 by the time he got to Pittsburgh, and they probably gave him Number 4 because, in that first year in which double-knit unis were ever used in the Majors, it was likely the only shirt they had that fit him.
Of course, it wasn't even his first single-digit number, having worn No. 9 for part of his rookie season in 1956.
4. He was part of maybe the worst inning of all time
In 1959, a 24-year-old Brunet spent most of the year pitching for Triple-A Portland, but he got into two games for the Kansas City A's. The first one was bad, allowing two homers and five earned runs in two innings of a 13-4 loss to Cleveland on April 18. The second was worse.
Four days later, the A's were down, 8-6, to the White Sox entering the seventh inning. That deficit was 19-6 at the end of the seventh inning ... a frame in which the White Sox had managed only one hit, a single. Three Kansas City pitchers had allowed 11 runs on one hit, three errors, a hit-by-pitch and 10 walks -- eight coming with the bases loaded.
Shield your eyes from the carnage, via the Baseball-Reference box score.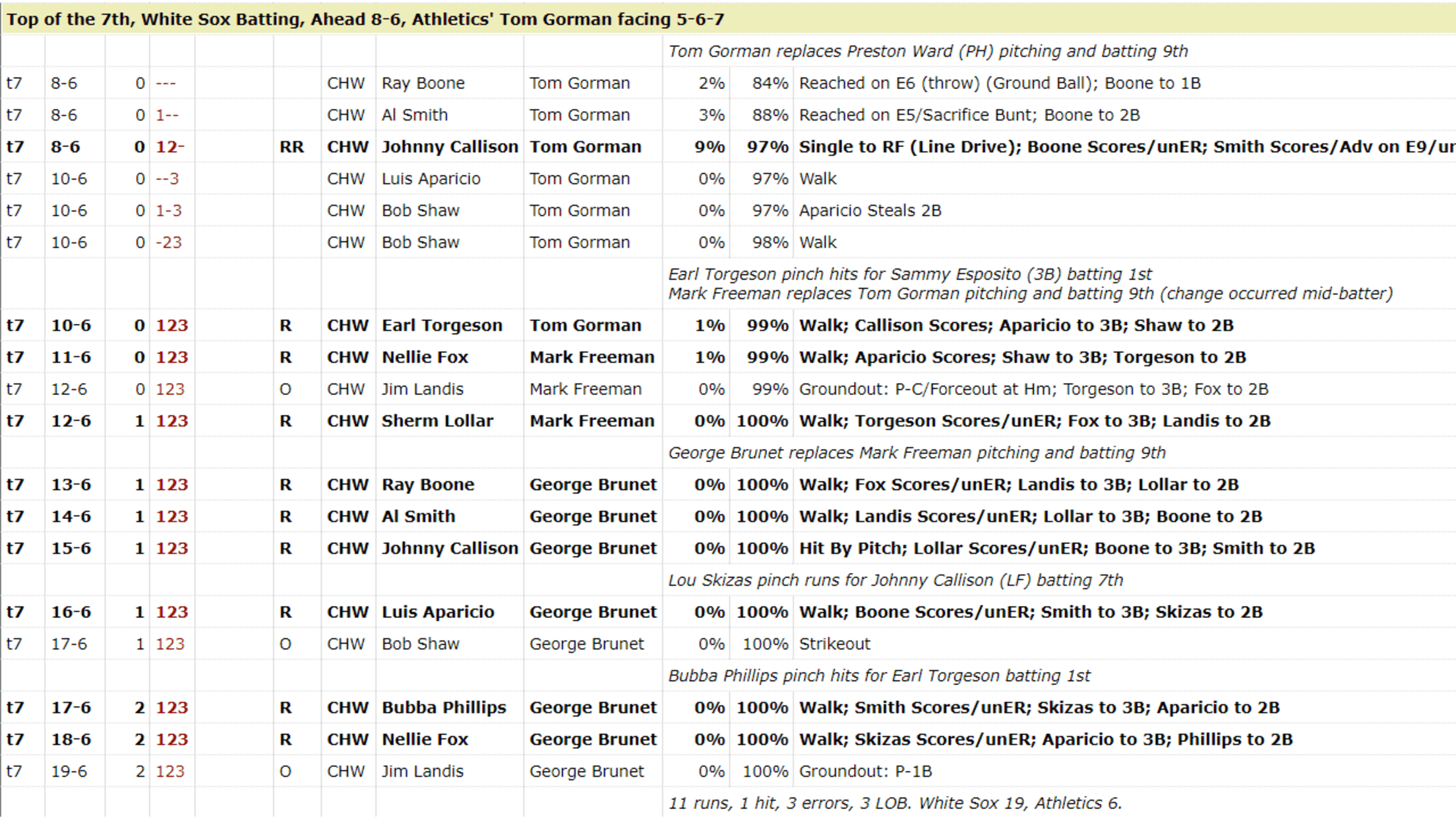 Brunet faced eight batters, every single one coming with the bases loaded. He walked five, resulting in five runs. He hit Johnny Callison to force in an eighth. He mercifully got a strikeout and a groundout.
To this day, it remains the most bases-loaded walks allowed in a single inning by a team ...
8 -- A's vs. White Sox, 7th inning, 4/22/59
5 -- Pirates vs. Dodgers, 3rd inning, 7/22/50
5 -- Senators vs. Yankees, 3rd inning, 9/11/49
5 -- A's vs. Yankees, 1st inning, 9/7/31
... or by a pitcher ...
5 -- George Brunet, 7th inning, 4/22/59
4 -- Steve Delabar, 5th inning, 5/17/16
4 -- Hal Gregg, 5th inning, 6/15/44
... and that doesn't even include his bases-loaded hit-by-pitch. So, even though other teams have scored more runs in an inning, we're comfortable calling it the worst inning in baseball history. At least those other clubs got some hits. The next day's headlines: "Big or Little League? One Hit Nets 11 Runs."
5. He was made (in)famous by Jim Bouton in "Ball Four"
Brunet didn't pitch for the Pilots for very long, just a dozen late-season games in 1969 after he was acquired from the Angels on July 31. But in that time, he made enough of an impression to gain mention in Bouton's seminal baseball tell-all, "Ball Four."
"No, I never wear undershorts," Brunet was quoted as saying in the book. "Hell, the only time you need them is if you get into a car wreck. Besides, this way I don't have to worry about losing them."
"I just always felt more comfortable that way," he told Sports Illustrated a decade later in 1980. "Of course, getting out of the way of ground balls up the middle has cost me a few singles over the years."
6. He was notorious for ... "enjoying life"
"The only trouble with George Brunet's arm," wrote Los Angeles Times sportswriter Jim Murray in 1966, "in the view of a round dozen baseball managers, is that it came attached to George Brunet."
Brunet gained himself quite a reputation. In 1959, he was supposed to have been Kansas City's fifth starter, but just before the end of Spring Training, and after an apparently enjoyable night, he decided to direct traffic in front of the team hotel at 2 o'clock in the morning -- stopping a car occupied by the team's general manager (Parke Carroll) and manager (Harry Craft). (One might inquire as to why they were out so late, but not us.) The next day, it cost him his roster spot.
He reportedly helped Angels teammate Jack Hamilton crack a rib while wrestling in the clubhouse in 1968. He "stood head and shoulders above most big league ballplayers in the postgame party department," wrote the Los Angeles Times in 1979. "Every time there was a song to be sung, a beer to be opened, a card to be turned over, or a town to be closed up or a fight to be started, George was your man," Murray had written in 1965. "He'll fit right in on this ballclub," Bouton wrote when his Pilots picked up Brunet. "He's crazy."
You don't get that sort of notoriety by accident, but there's evidence he began to sour on it.
"The stories are always the same," Brunet said to Ross Newhan in 1967. "It was always, 'Here comes George, hide the bottle.' That's all they wrote and talked about. It was either that or my weight. Even last year, even in L.A. and Anaheim, there were columns [written] which embarrassed my wife and myself. I'm really a little disgusted with that whole bit."
7. He had one of the weakest batting averages in big league history
In the long history of the game, there have been 5,806 different players to take at least 450 plate appearances. The best career average among them is .366, belonging to Ty Cobb. The weakest is .066 -- that's 44 hits in 662 at-bats -- belonging to Dean Chance, unsurprisingly a pitcher.
You won't be surprised, obviously, to find that all of the lowest batting averages in history belong to pitchers, mostly in the pre-DH days. But among all of those nearly 6,000 players, only eight -- a fraction of one percent -- came in with lower averages than Brunet did, who managed a mere 37 hits in 418 at-bats.
.066 -- Dean Chance
.076 -- Ben Sheets
.078 -- Bill Hands
.083 -- Doug Davis
.085 -- Al Leiter
.085 -- Roger Craig
.088 -- Hoyt Wilhelm
.088 -- Dick Ellsworth
.089 -- George Brunet
.089 -- Bob Buhl
To his credit, at least, he did manage to mash three homers, one apiece in '66, '69, and '70. Interestingly enough, Brunet and Chance were Angels teammates from 1964-66, combining to toss 471 2/3 innings for that '66 club. That's a lot of non-competitive plate appearances.
8. He never pitched for the Red Sox, but had a hand in the 1967 "Impossible Dream" season
In '67, the Red Sox were coming off of eight straight losing seasons and little was expected to change, but the team was shockingly competitive, and on the first day of September, it had the best record in the American League -- but with the Twins, Tigers and White Sox all within 2 1/2 games. On the final weekend of the season, the Red Sox and Tigers were each one game behind the Twins, with Boston and Minnesota facing off in a two-game season-ending set at Fenway Park. The Red Sox won both games to top the Twins, but the Tigers won the first game of a final day doubleheader with the Angels. If they won the second game, they'd have tied the Red Sox, forcing a one-game tiebreaker -- which, in those pre-division days, meant a ticket to the World Series.
California starter Rickey Clark lasted only five outs, but the Angels had built an 8-3 lead entering the seventh. Reliever Jim McGlothlin gave up two to make it 8-5, so in came closer Minnie Rojas, who'd had 27 saves that year. After escaping the seventh and pitching a scoreless eighth, he allowed a double and a walk to start the ninth, putting the tying run at the plate with no outs. In came Brunet, who was decidedly not a reliever. (He'd started Opening Day and would throw 250 innings that year.)
Still, he had made a habit of harassing his hometown team over the years. (In 162 2/3 innings against the Tigers, he'd posted a career 3.65 ERA. As a June 1967 Sports Illustrated article presciently noted, "George Brunet is a Tiger-killer. The Detroit Tigers whimper like kittens when they hear George's name mentioned.") That said, he'd pitched just the day before, and not well, allowing four runs to the Tigers in just two innings.
As the book "The 1967 American League Pennant Race: Four Teams, Six Weeks, One Winner" explained, the Red Sox, listening to the radio broadcast in their clubhouse, were hearing the Tigers slowly blow the lead, and potentially their own trip to the World Series. Future Hall of Famer Al Kaline was due up fourth.
"If Brunet does it," said Carl Yastrzemski, "we'll buy him a year's supply of beer."
Brunet managed to induce a flyball and a double play, ending the game, sending Boston on to the Fall Classic for the first time in over 20 years, and collecting his fourth and final career save. He'd apparently done so while suffering from pneumonia. No word on if Yaz's promise was ever carried through.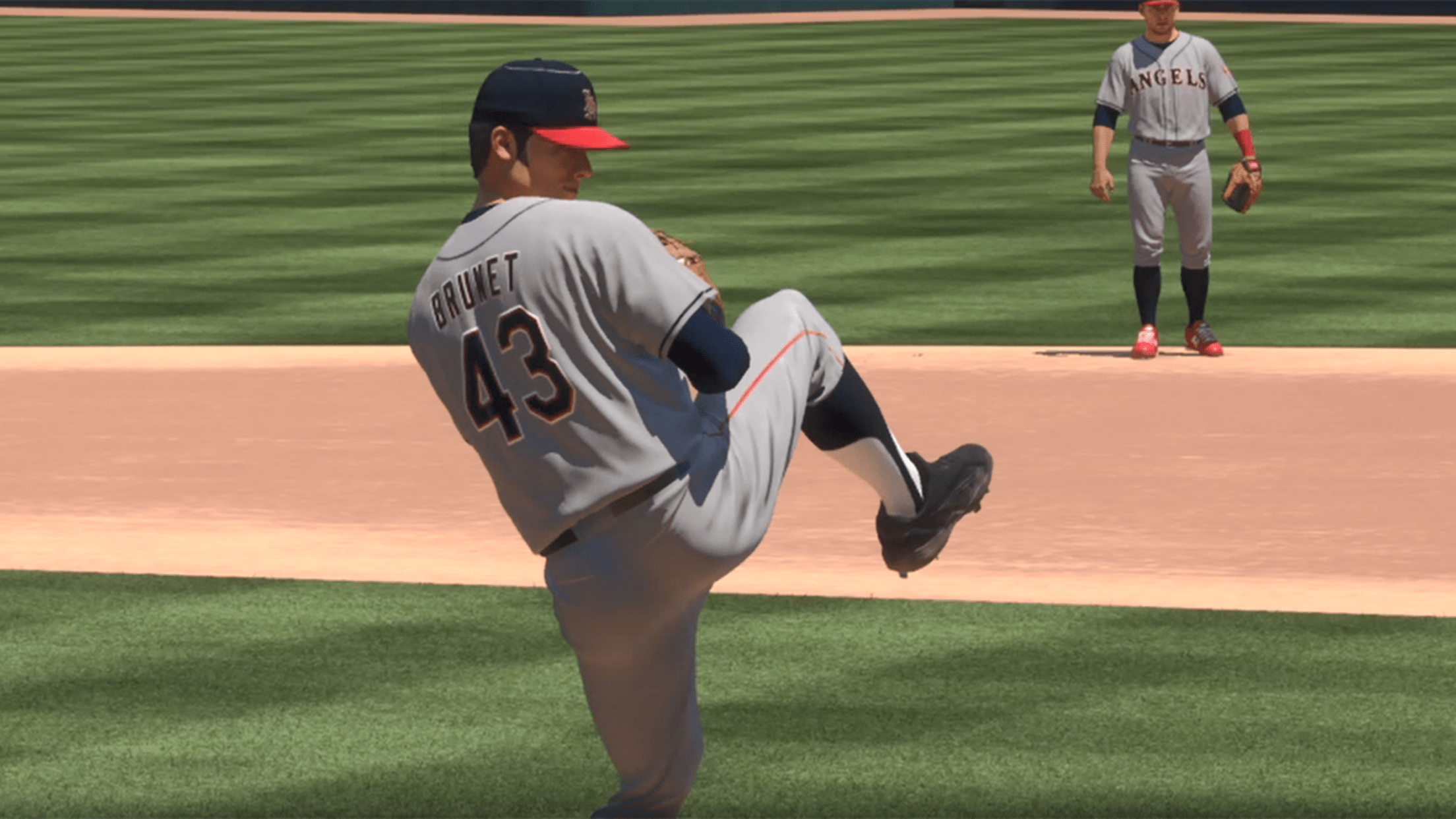 9. He reportedly almost made it back to the Majors at age 47
Brunet never really let the big league dream go, telling Sports Illustrated in 1980 that "I know I can pitch two or three innings at a time up there," and openly musing that he might go back to Anaheim and ask then-Angels manager Jim Fregosi -- who had been Brunet's teammate during his Angels stint in the '60s -- for a workout.
Obviously, he never did return to the Angels or any other Major League team. But, as Peter Gammons reported in the March 13, 1983, issue of the Boston Globe, he might have come closer than you would have thought.
"The Angels' new Caribbean scout is George Brunet," Gammons wrote. "But more interesting, when they purchased Luis Tiant last August, they almost bought the then-47-year-old Brunet instead."
Tiant, mostly famous for his time with Cleveland and Boston, finished his career at age 41 with six late-season games for the '82 Angels. That could have been Brunet. Maybe, looking back, it should have been. It would have been the perfect capper to an extraordinary career.
***
Baseball-Reference's Kenny Jackelen helped to confirm the most uniform numbers worn by one player, and Bruce Markusen's 2013 Hardball Times piece on Brunet was an invaluable research source.