Trio of Blue Jays on DL progressing
Trainer Poulis also gives updates on Donaldson, prospect Pentecost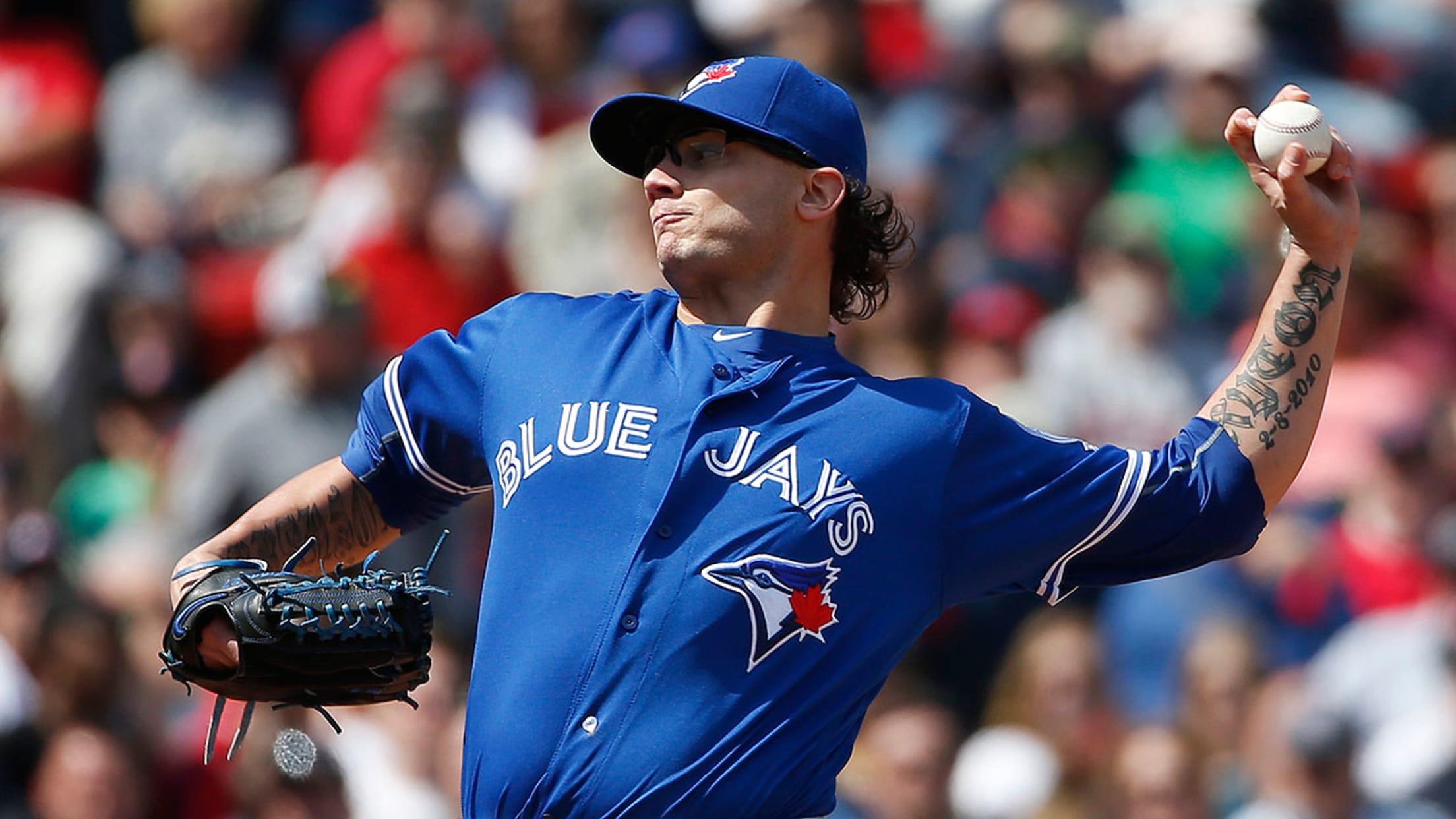 Brett Cecil is one of three Blue Jays on the disabled list. (AP)
BOSTON -- The Blue Jays have remained relatively healthy this season, but they're not completely immune from the injury bug.Toronto has three players -- Brett Cecil, Troy Tulowitzki and Franklin Morales -- on the disabled list. Josh Donaldson also has been battling a nagging right thumb injury, but he was
BOSTON -- The Blue Jays have remained relatively healthy this season, but they're not completely immune from the injury bug.
Toronto has three players -- Brett Cecil, Troy Tulowitzki and Franklin Morales -- on the disabled list. Josh Donaldson also has been battling a nagging right thumb injury, but he was in the lineup Sunday afternoon vs. Boston.
Blue Jays head athletic trainer George Poulis met with the media on Sunday morning to update the status for each of his injured players. Here's the latest:
Cecil (15-day DL, torn lat)
"Brett Cecil is down in Florida," Poulis said. "He's throwing from about 90 feet, and feeling really good. He's really anxious to get going, so we're just kind of keeping him in his lane, not really rushing things, because we just want to make sure that lat is feeling good. But he's doing really good. We're really optimistic on how he's doing right now.
"It's so hard to set any timelines, just because you just don't know. He hasn't even thrown off the mound yet, so it's hard to set a timeline. Once he throws off a mound a few times, comes back the next day not feeling sore, then it's a lot easier to plan the program out at that point. But we are optimistic. He's doing great."
Tulowitzki (15-day DL, sore right quad)
"Tulo is feeling better and better each day," Poulis said. "He's playing catch right now. He's going to hit off a tee [on Monday]. We're not going to hold him back, that's for sure. As far as timeline goes, because I know that's the million-dollar question, we just re-evaluate him each day. If he can take the next step, we're not gong to hold him back."
Morales (15-day DL, left shoulder soreness):
"Morales is throwing bullpens, and we're just kind of getting him up to pitching shape," Poulis said. "He's going to have several more bullpens leading up to his return. Right now, really no timetable. The bullpens are really light, but he's feeling good and bouncing back. [I'm] optimistic but can't give you a timeline right now on him, as well."
Donaldson (previously was day to day with a jammed right thumb)
"We treated him throughout the whole game yesterday," Poulis said. "We just ambushed him as far as treatments go from ice, to electric stimulation, ultrasound, the whole thing. Just trying to get the swelling and discomfort out of there. But he responded great, he's a warrior. We didn't leave here until it was late at night, still doing treatment. He came in today, performed all of the activities, was great and felt good."
No. 7 prospect, catcher Max Pentecost (recovering from right shoulder surgery):
"Max is still DHing down in Lansing, and he's on a throwing program," Poulis said. "So he is progressing, but we're just making sure that he's sticking with the game-hitting situations right now. But throwing is going to build up there."