Kids visit Yankee Stadium thanks to Springer
Astros outfielder pays for students to attend series finale in New York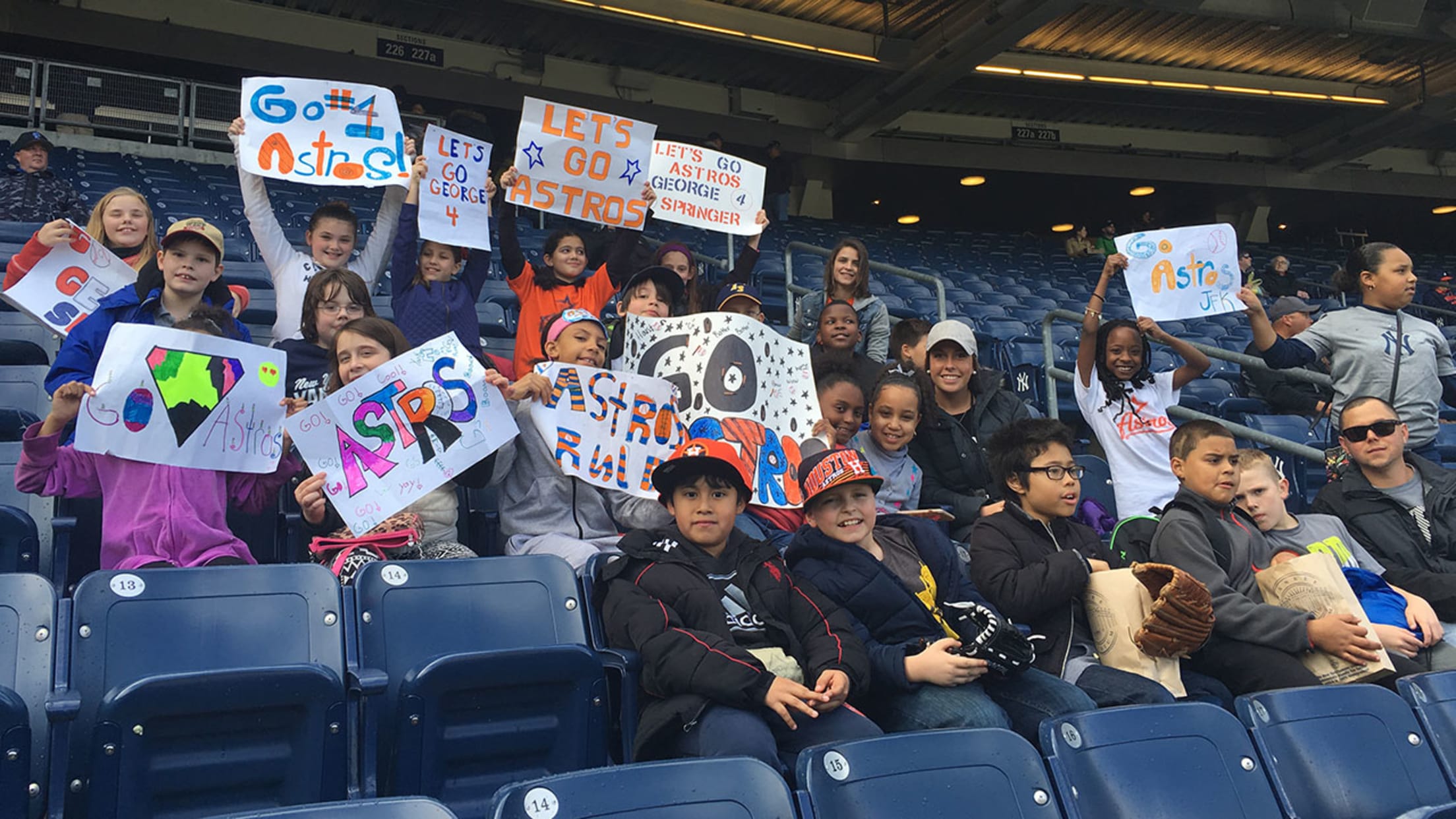 The children showed their support for George Springer and the Astros. (Brian McTaggart/MLB.com)
NEW YORK -- Astros outfielder George Springer paid to have 24 fourth-grade students, many of whom are disadvantaged, from John F. Kennedy Elementary School in Kingston, N.Y., attend Thursday's game against the Yankees at Yankee Stadium. The kids made a roughly 100-mile trip, and for most of them it was
NEW YORK -- Astros outfielder George Springer paid to have 24 fourth-grade students, many of whom are disadvantaged, from John F. Kennedy Elementary School in Kingston, N.Y., attend Thursday's game against the Yankees at Yankee Stadium. The kids made a roughly 100-mile trip, and for most of them it was their first time seeing a big league game.
The kids' teacher, Nicole Van Loan, has been friends with Springer's girlfriend, Charlise Castro, since middle school, and Springer went to the school this winter and spoke to the class. The students did a writing assignment on Springer, who later surprised them with tickets.
"I was there this offseason and I thought it would be all right to get them down here," Springer said. "Who doesn't want to go to a Yankee game? I was kind of hoping to do something for some kids in New Britain [Conn., Springer's hometown] soon, but that will be up in Boston."
When Springer was talking to the class in the offseason, none of the students said they had ever been to a Major League Baseball game. That lit a spark to make sure they got to see one after taking a two-hour bus ride.
"A lot of them actually haven't been out of Kingston," Van Loan said. "It was just exciting for them to be on a bus that has bathrooms. They were so excited. This is probably going to be one of the best days of their lives."
The kids made several pro-Astros signs and got excited when they saw Springer on the field during pregame warmups. Springer gave them a wave as they chanted his name.
"Some of them are Yankees fans, but they are going to be George Springer fans today," Van Loan said.
Springer said the chance to touch the lives of some kids in need and provide them with a once-in-a-lifetime experience is rewarding for him.
"I just think as an athlete that's our job, to give back to the kids and show them they can do anything they want to do and someday be like us," he said. "When I was there [in the offseason] they had the standard-issue questions, 'How are the cars? How much money do you make?' There were some who had some really good questions. 'How do you eat? What's it like to travel? Is it fun being on TV?' All that stuff. It's just something that I take pride in is giving back to the community."