Parra's addition provides veteran OF presence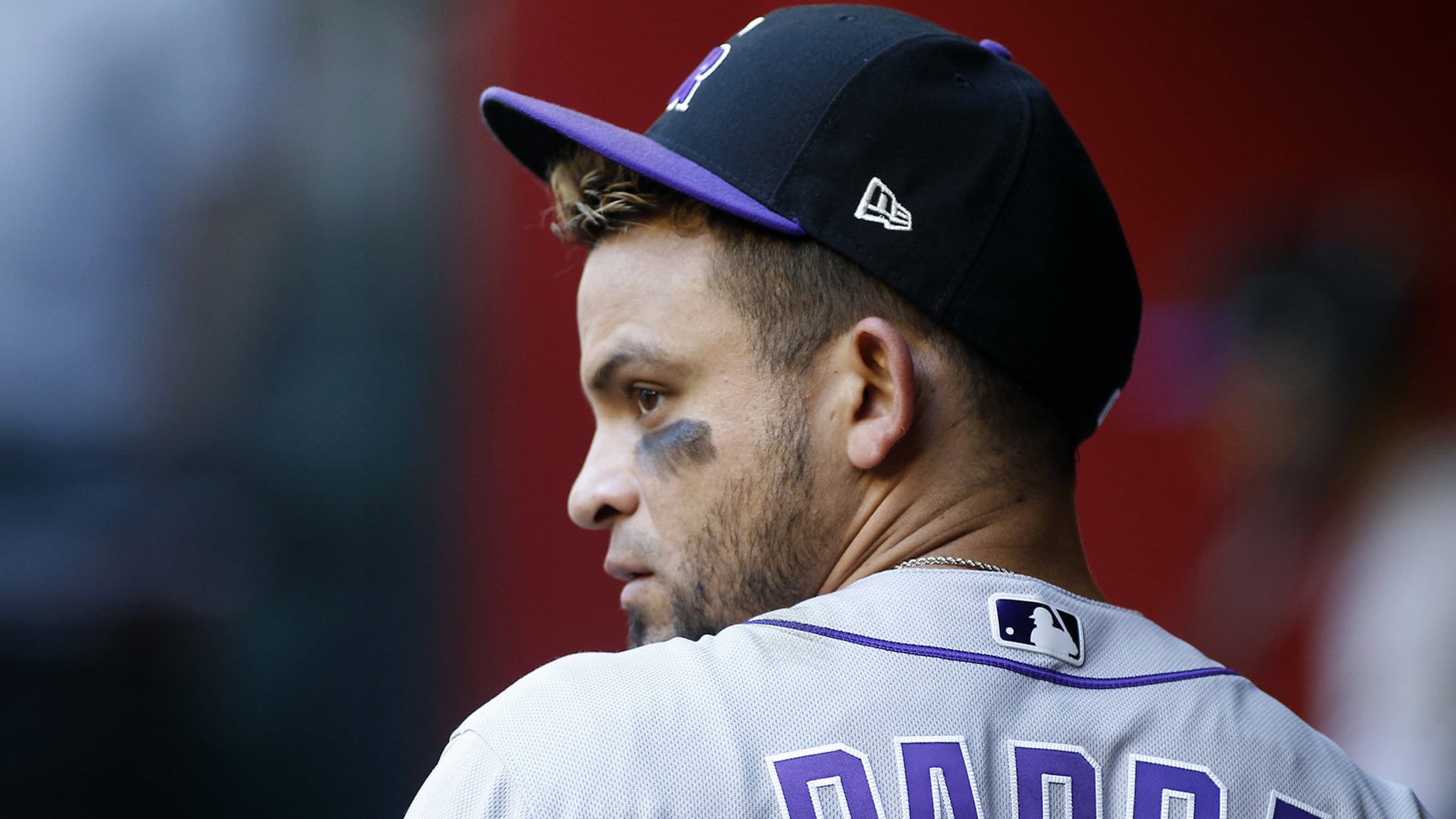 Colorado Rockies' Gerardo Parra looks out from the dugout before the start of a baseball game against the Arizona Diamondbacks, Saturday, April 29, 2017, in Phoenix. The Rockies defeated the Diamondbacks 7-6. (AP Photo/Ralph Freso) (Ralph Freso/AP)
SCOTTSDALE, Ariz. -- The Giants have expressed a desire to add multiple veteran outfielders throughout the offseason, and they made their first notable acquisition earlier this week after signing Gerardo Parra to a Minor League contract.:: Spring Training coverage presented by Camping World ::Parra, 31, has not been added to
SCOTTSDALE, Ariz. -- The Giants have expressed a desire to add multiple veteran outfielders throughout the offseason, and they made their first notable acquisition earlier this week after signing Gerardo Parra to a Minor League contract.
:: Spring Training coverage presented by Camping World ::
Parra, 31, has not been added to the club's 40-man roster, though he seems likely to break camp with the Giants given his experience and productive track record in the Majors.
"It's great to have Gerardo," Giants manager Bruce Bochy said. "Gives us an experienced outfielder, good defender. Good hitter. Good makeup. I've seen a lot of him, and he's played very well against us. I think he's going to add experience with this club, so he's a very talented player. He can play all three outfield positions, so we're glad to get this done."
• Cueto nearing milestone in Tommy John rehab
Parra has primarily played the corner outfield in recent years, though Bochy said Parra remains capable of starting in center. He is very familiar with the National League West, as he debuted with the D-backs in 2009 and spent the previous three seasons with the Rockies. He has also hit well at Oracle Park over his 10-year career, posting a .310/.350/.399 slash line in 63 games.
"You don't find that very often, do you?" Bochy quipped.
Worth noting
• Bochy said he'd like his starting pitchers to focus on improving their bunting this spring, as many of them struggled to execute in those types of situations last season.
• Spring Training tickets | Schedule | Roster
"There's room for improvement," Bochy said. "That's an area we've got to execute a little bit better there, because as you know, there were times when it was ugly."
• Alen Hanson is expected to split his time among multiple positions this spring, as the Giants would like him to retain the versatility he showed last year. Hanson appeared at five different positions in 2018, and he is capable of playing both the infield and outfield.
"We still want to keep our flexibility with him, so you'll see him all over the field," Bochy said. "It's valuable to have a guy like that. You always want to have coverage at shortstop, so he'll get some work there. And he'll just give us depth really at every position."
Maria Guardado covers the Giants for MLB.com. She previously covered the Angels from 2017-18. Follow her on Twitter.