Stanton's script still being written
Reggie Jackson: 'Around here, they pay you for October'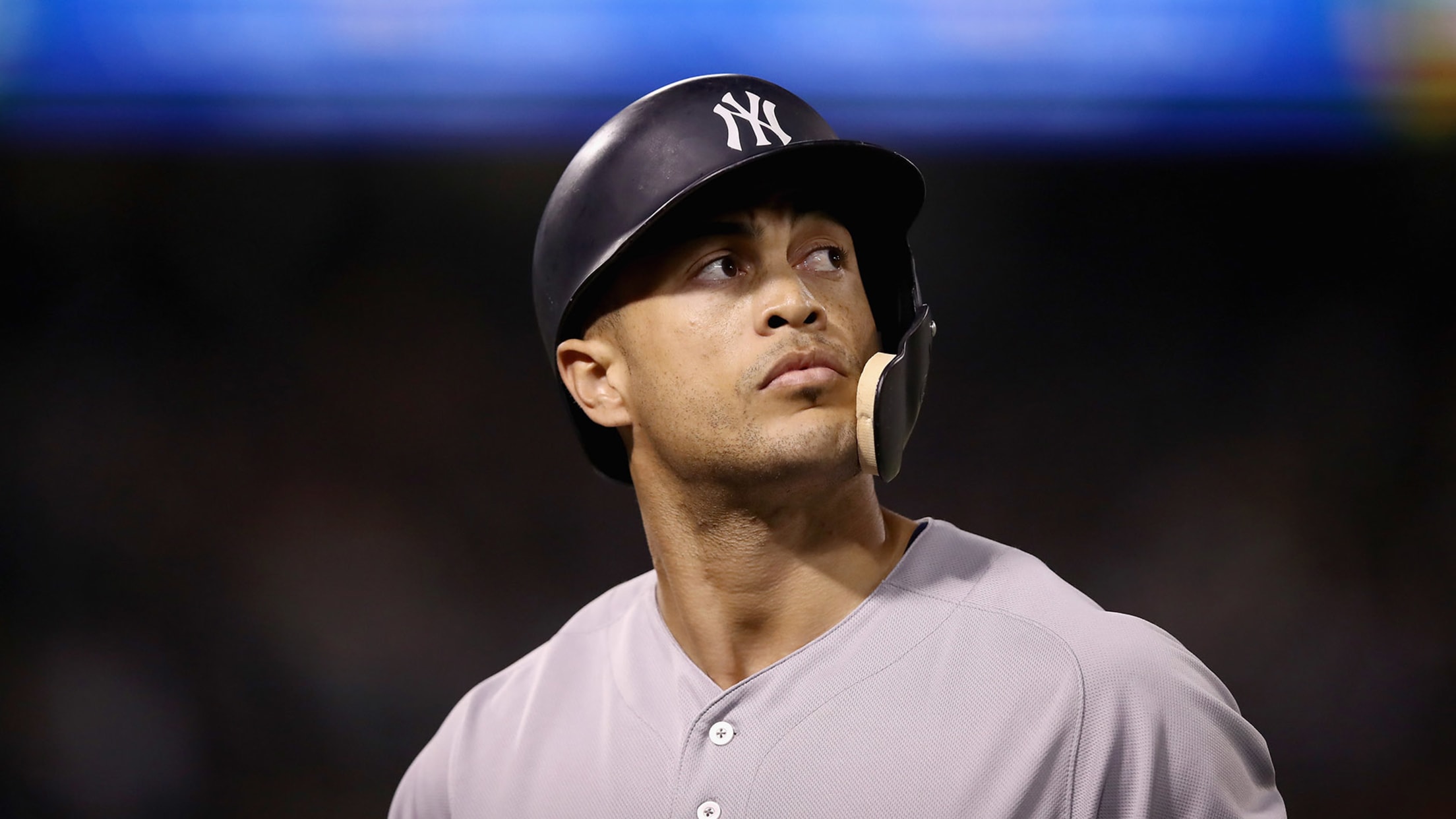 Going into Tuesday's games, only eight men had hit more home runs this season than Giancarlo Stanton, whose 59 in 2017 were seven more than anyone else. Stanton has 34 homers, which is the same as Nolan Arenado, Michael Trout and Bryce Harper -- who I think gets closer to being
Going into Tuesday's games, only eight men had hit more home runs this season than Giancarlo Stanton, whose 59 in 2017 were seven more than anyone else. Stanton has 34 homers, which is the same as Nolan Arenado, Michael Trout and Bryce Harper -- who I think gets closer to being a Yankee in 2019 every time the Yankees lose another game -- and one more than Paul Goldschmidt.
The rest of it with Stanton is a great big mixed bag, even on a team for which five other guys have hit more than 23 home runs. He has 89 RBIs, a .265 batting average and an .842 OPS. Through last weekend's games, he had also struck out 199 times. Stanton has been a lot of things then this season, his first in New York, just everything except the total home run star that everybody thought he was going to be when the Yankees the trade for him on Dec. 11, 2017, not even close to being the kind of star J.D. Martinez has been for the Red Sox.
"The only question," a Yankees fan friend of mine said on Tuesday, "was how many home runs Stanton and Aaron Judge were going to hit. Was it going to be 100? Hey, they hit 110 between them last season. How many were they going to hit at Yankee Stadium if they both stayed healthy?"
They didn't stay healthy. Judge fractured his right wrist when getting hit by a pitch on July 26 and was in the starting lineup for the first time since on Tuesday. But if there was going to be a time when Stanton did hit like a total star and carry the team, the time to do it was after Judge fractured that bone. Stanton did not. In so many ways, considering the team he is playing for and the stage on which he is playing, Stanton has been the quietest slugger in baseball this season.
But the good news for Stanton is that there is still time for him to change the narrative and the way his first season in New York ends, as long as the Yankees can reach the American League Wild Card Game, most likely against the A's, and win. The Yanks could then get another crack at the Red Sox in the AL Division Series, after failing miserably at taking the AL East division title from Boston. The Red Sox can clinch the division with a win at Yankee Stadium on Tuesday.
The Yankees could change everything and so could Stanton, in what will be the first postseason of his career, if they hang on over the final two weeks. If and when Stanton steps to the plate in October, he will be taking the first postseason swings he's ever taken. And if you are a Yankee, those swings really can change everything, including baseball history sometimes.
"Around here," Reggie Jackson says, "they pay you for October. It isn't spelled out that way on your paycheck. But as soon as you put on the uniform, it's more of an understood type thing."
For now, though, going into the Yankees' second-to-last regular season series against the Red Sox, here are Stanton's numbers since Judge got hurt, courtesy of the Elias Sports Bureau: He has had 11 homers, 28 RBIs and a .231 batting average over 47 games. Stanton's 64 strikeouts in 184 at-bats are the Majors' highest in that stretch. Since July 26, Stanton has basically been striking out at a rate of once every three at-bats. Going into Tuesday game, he had hit just two homers in his past 25 games.
Stanton isn't going to hit 50 homers this season. So he and Judge, for their first season together in New York, haven't been some modern reimagining of Roger Maris and Mickey Mantle in their epic home run season of 1961, when Maris ended up with 61 homers and Mantle ended up with 54.
But Stanton still has time to flip the switch and the script. Jackson hit 32 homers and knocked in 100 RBIs in 1977. It was not a quiet year for him, because nothing was ever quiet for him, at the old Yankee Stadium or anywhere else. Jackson's controversy started in Spring Training when he was famously quoted as saying that he, not Yankees captain Thurman Munson, was "the straw that stirs the drink."
Jackson fought with manager Billy Martin, who benched Jackson for the deciding game of the AL Championship Series against the Royals, even if Jackson came off the bench to get clutch pinch-hit in the late innings. But then all of that was forgotten, of course, when Jackson's last three swings of that season produced three home runs in World Series Game 6 against the Dodgers.
Nobody is saying that Stanton is going to do something like that, in his own first season with the Yankees. No one knows how long his first October with the Yanks could last. But a long time after Stanton broke in with the Yankees by hitting two home runs against the Blue Jays on Opening Day, he will likely get another Opening Day as a Yankee, on Oct. 3 in the AL Wild Card Game. They won't call it that. It's more an understood type thing.
Mike Lupica is a columnist for MLB.com.