Giants-Dodgers highlights MLB Opening Day
NL West rivals clash one of two games slated to open season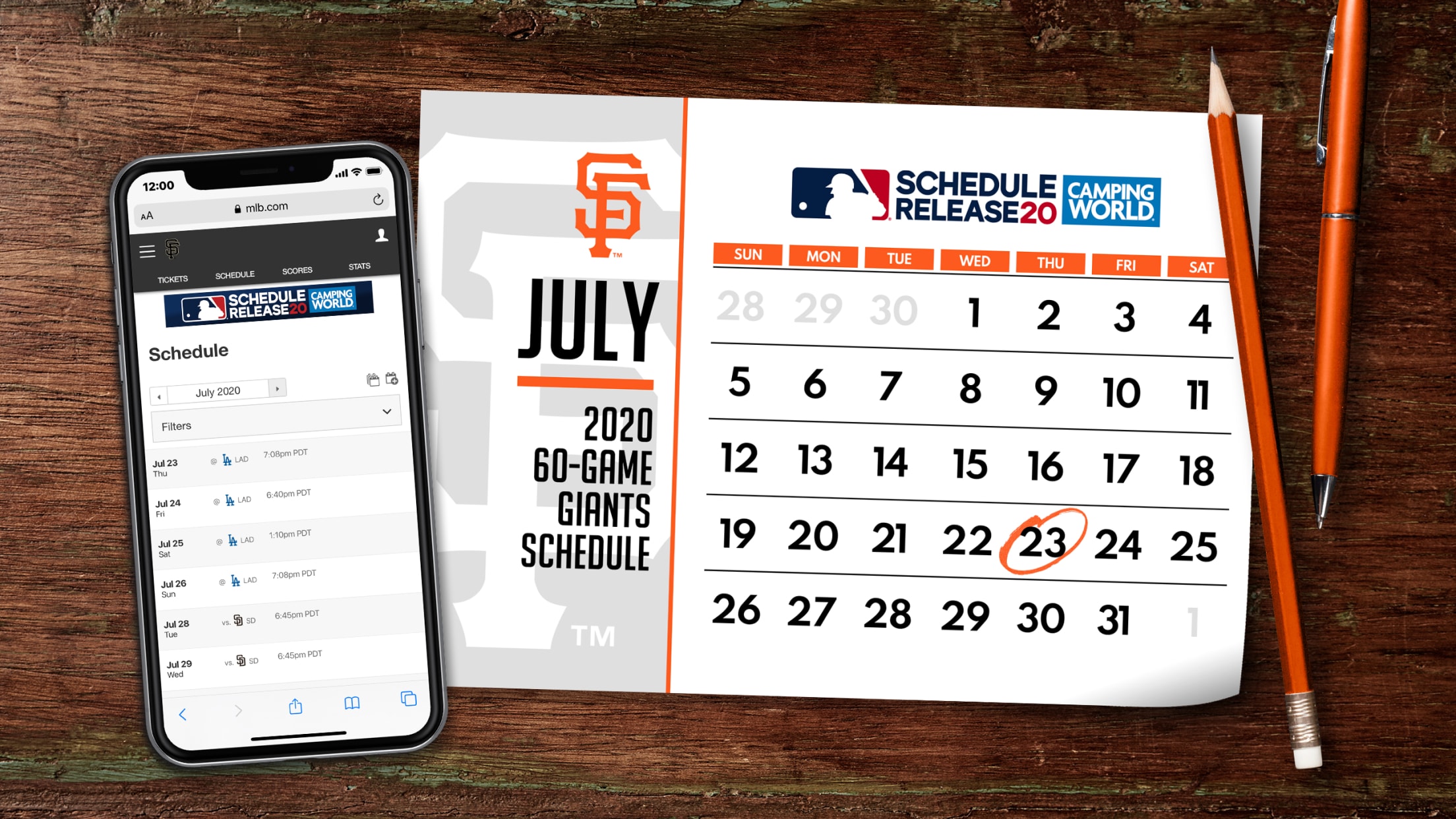 SAN FRANCISCO -- The 60-game sprint will begin in Los Angeles for the Giants, who will open the pandemic-shortened 2020 regular season against the Dodgers on July 23. The Opening Day matchup between the longtime rivals will be nationally televised on ESPN at 7 p.m. PT. "It kind of feels
SAN FRANCISCO -- The 60-game sprint will begin in Los Angeles for the Giants, who will open the pandemic-shortened 2020 regular season against the Dodgers on July 23. The Opening Day matchup between the longtime rivals will be nationally televised on ESPN at 7 p.m. PT.
"It kind of feels like Christmas morning where you open a present and you're not sure if you like it yet," manager Gabe Kapler said Monday. "I think we're all kind of still digesting the schedule, talking about it. We simulated games for several months against all the teams on our schedule. Nothing is coming as a surprise. We expected that the schedule was going to be tough."
• Here is the Giants' 2020 regular season schedule
MLB's regular season begins on July 23rd with two great matchups. pic.twitter.com/jXH6OO8Doc

— MLB (@MLB) July 6, 2020
The Giants will play four games at Dodger Stadium before returning to San Francisco for their home opener against the Padres on June 28.
To minimize travel, the Giants will play 40 of their games against the National League West. They'll face each of their division opponents -- the Dodgers, D-backs, Padres and Rockies -- 10 times and play their remaining 20 games against the American League West, which includes the A's, Angels, Astros, Mariners and Rangers.
The Giants will play a home-and-home series against the Angels, with two games in Orange County on Aug. 17-18 and two games at Oracle Park on Aug. 19-20. The Halos are projected to feature a star-studded lineup that includes Mike Trout, Anthony Rendon, Shohei Ohtani, Justin Upton and Albert Pujols.
"The games with Anaheim are going to be difficult," Kapler said. "The reason they're going to be difficult is because the middle of their lineup is so strong. One of the better parts of a lineup in the game. Obviously, we have many games in Los Angeles, so that stands out as well."
Here's the Giants' full 60-game schedule: pic.twitter.com/7QnkdQm0LT

— Maria I. Guardado (@mi_guardado) July 6, 2020
The Giants will play seven of their 10 games against the Dodgers on the road this year. The Dodgers will make only one trip to Oracle Park from Aug. 25-27. The NL West foes are not scheduled to face each other in September.
Madison Bumgarner will make his first appearance at Oracle Park as a visiting player from Aug. 21-23, when the Giants host the D-backs in a three-game series.
The annual Bay Bridge Series against the A's will begin with a three-game set in San Francisco from Aug. 14-16 and conclude with three games in Oakland from Sept. 18-20.
The Giants will face the Rockies and the Padres in their final homestand of the season, with their regular season finale set for Sept. 27.
Two more positive tests
The Giants announced Monday that two more members of the organization have tested positive for COVID-19. They did not release the names of the individuals.
"The impacted individuals have been placed in self-isolation and will continue until MLB protocols for discontinuing isolation have been satisfied, including clearance by the Giants medical staff," the club said in a statement. "[Contact] tracing for both was conducted and resources and protocols are in place to ensure these individuals receive the best medical care."
Outfield prospect Hunter Bishop and right-hander Luis Madero have also tested positive for COVID-19 thus far, though only Madero was included in the Giants' initial player pool. Both players gave the Giants permission to disclose their test results.
"There are privacy concerns that we have to adhere to, and we're going to continue to respect staff members' privacy, players' privacy," Kapler said. "I'm not specifying either one of those things. I'm just saying, in general, we need to adhere to and protect people's privacy."
Maria Guardado covers the Giants for MLB.com. She previously covered the Angels from 2017-18. Follow her on Twitter.