Gearrin bucks convention with off-day wedding
Giants reliever on quick nuptials: 'We just decided we didn't want to wait'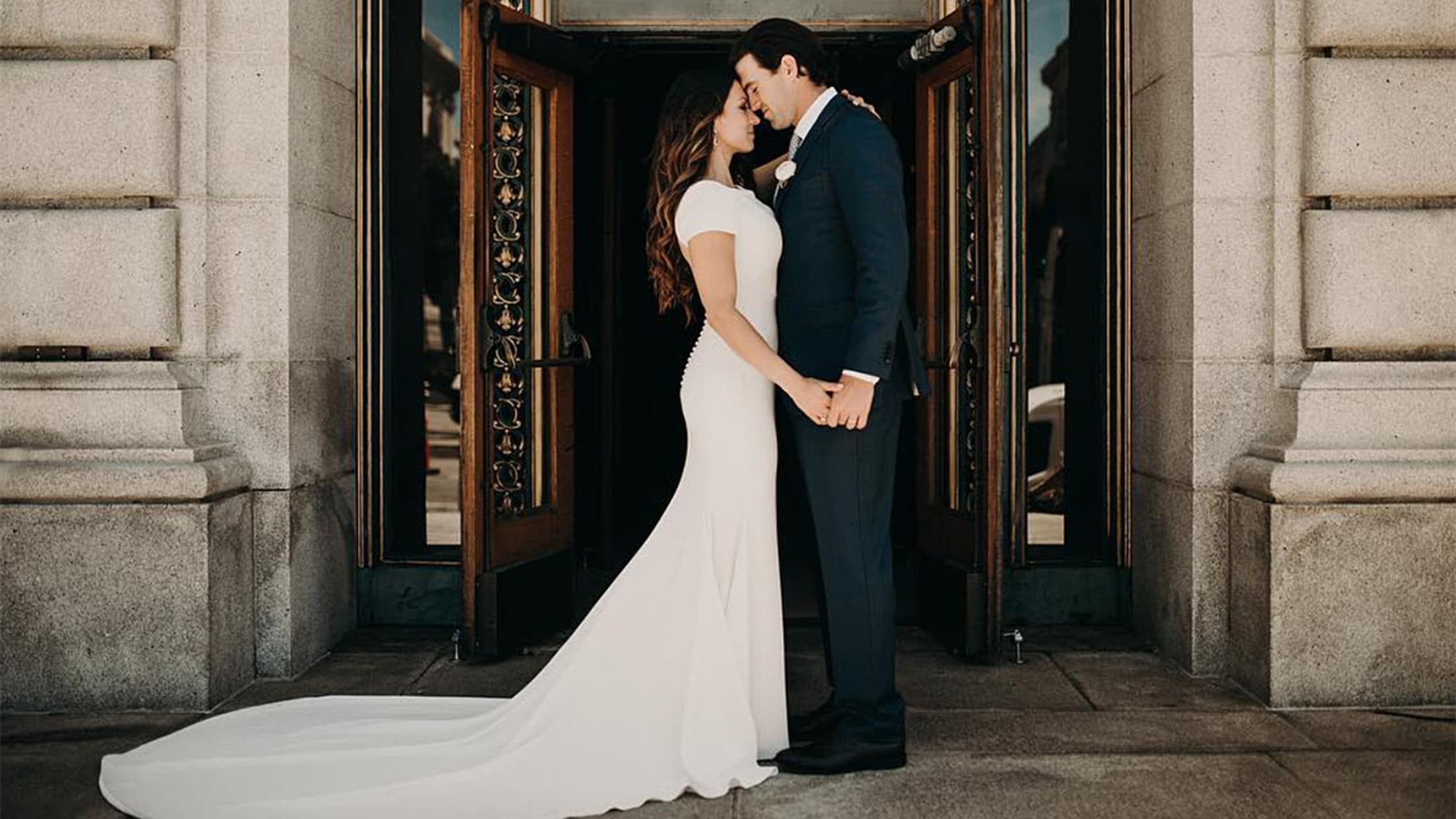 Maddi and Cory Gearrin were married at San Francisco City Hall on Thursday. (Maddi Gearrin on Instagram)
ST. LOUIS -- Most weddings are planned months in advance with celebrations and a honeymoon immediately following the big day. But for Giants right-hander Cory Gearrin's nuptials, things could not have been more different. Not only was a date selected just two weeks prior, but the couple also made the
ST. LOUIS -- Most weddings are planned months in advance with celebrations and a honeymoon immediately following the big day. But for Giants right-hander Cory Gearrin's nuptials, things could not have been more different. Not only was a date selected just two weeks prior, but the couple also made the unconventional choice to tie the knot in the middle of the season.
Gearrin married his wife, Maddi Gearrin, on Thursday, while the rest of the Giants traveled to St. Louis for this weekend's series. Marrying on a travel off-day was not a difficult decision for the pair to make after just getting engaged in January.
"You know we've got this long season, so you either have to decide to just kind of do something quick during the year, maybe on an off-day or All-Star break, I know some guys who have done that, or you have to wait until November," Cory Gearrin said. "We just decided we didn't want to wait."
The ceremony took place Thursday around 11:30 a.m. at San Francisco's City Hall with about 10 close family members in attendance. A lunch followed at one of the couple's favorite restaurants, Slanted Door in the city's Ferry Building, a perfect fit for the couple who credits San Francisco as being a particularly special place for them.
"We knew we wanted to get married there [in San Francisco] and waiting another seven months for the ceremony just wasn't as important as getting married," Gearrin said. "It ended up being perfect for us."
After taking their dog, Izzy, for a quick walk in the nearest park, which just happens to be the outfield of AT&T Park, a rush to join the team in St. Louis followed. Their efforts were stalled by a flight delay that didn't land the couple at their destination until 4 a.m. Friday morning, only hours before Gearrin was due at Busch Stadium.
Dates during Spring Training were first considered for the wedding, as the couple hoped to have the ceremony as soon as possible, but things couldn't come together. Even now that the nuptials have finally taken place, the celebrations will continue throughout the year, including a honeymoon and a larger party once the season ends. Plans are also in place for getting together with family in both Atlanta and Colorado as the Giants travel later this year.
For now, the happy couple and Izzy will hope to continue celebrations with each other and a few more "W's" on the field.
"We had kind of known for a long time that we had found our person and we wanted to be married. I just can't imagine not being with her and I think she would say the same thing," Gearrin said. "Getting to travel together, be together during the season, this is a really exciting time for us."
Alaina Getzenberg is a reporter for MLB.com based in St. Louis.