Giarratano looks to go from USF to AT&T Park
University of San Francisco shortstop selected by Giants in Draft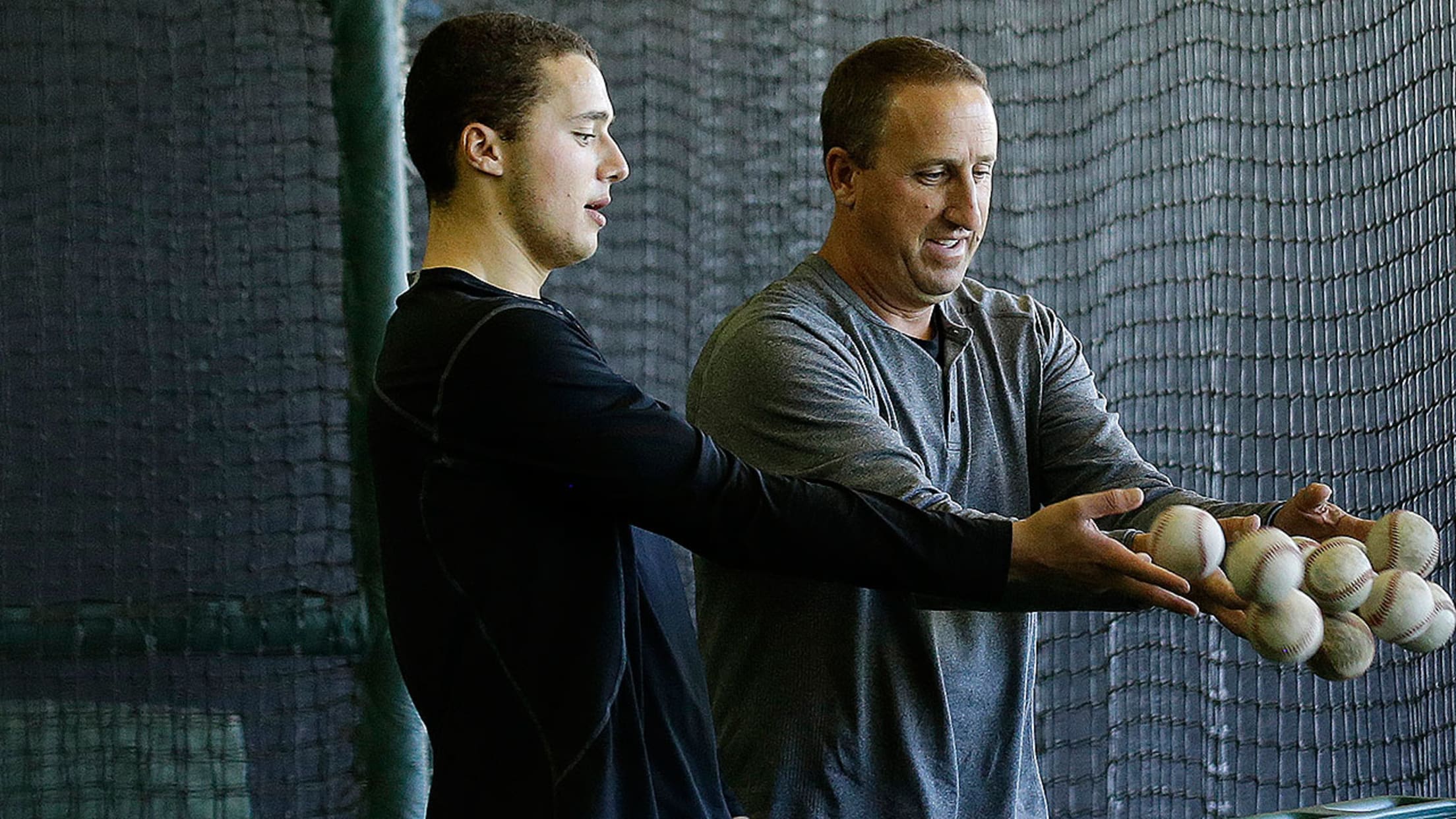 Giants 24th-round Draft pick Nico Giarratano, left, is coached by his father, Nino, at the University of San Francisco. (AP)
SAN FRANCISCO -- Traveling the 4 1/2 miles that separate the University of San Francisco campus from AT&T Park has remained a considerable challenge for ballplayers, figuratively speaking.However, Nico Giarratano is eager to attempt the short, yet arduous, journey.The Giants selected the USF shortstop in the 24th round of the
SAN FRANCISCO -- Traveling the 4 1/2 miles that separate the University of San Francisco campus from AT&T Park has remained a considerable challenge for ballplayers, figuratively speaking.
However, Nico Giarratano is eager to attempt the short, yet arduous, journey.
The Giants selected the USF shortstop in the 24th round of the MLB Draft on Wednesday, thrilling the 22-year-old who was raised in the Bay Area.
If Giarratano, a 6-foot, 195-pound senior, signs a professional contract, he'll attempt to become just the second USF product to play in the Majors for the Giants. Right-hander Jesse Foppert, a top prospect before an arm injury, remains the lone Giant who arrived at AT&T Park by way of USF. Foppert was 8-9 with a 5.00 ERA in 27 games (23 starts) for San Francisco from 2003-05.
:: 2017 MLB Draft coverage ::
"When your son gets a chance to live out his dream by playing for the team he grew up watching since he was four years old, you're really excited about it," said Nino Giarratano, Nico's father and coach at USF.
On this city's special occasions, City Hall and Coit Tower are illuminated in colors that represent the event being celebrated. For instance, both were bathed in orange light when the Giants won each of their three World Series in 2010, '12 and '14.
Too bad somebody couldn't have arranged for those landmarks to be lit in USF's green and gold for the Giarratanos.
Nino Giarratano has coached USF baseball for 19 years. Nico graduated from San Francisco's St. Ignatius College Preparatory, before setting numerous defensive records in his four years at the Hilltop, as USF is known locally.
"I'm so relieved and happy, because I worked for it my whole life," Nico said of getting drafted. "I was watching every pick go by, and with each pick, I hurt a bit. But once your name is called, it's such a great feeling -- not only for me, but also for my family, because they were in it with me."
• Giants select lefty Corry in Round 3 of Draft
Nino recalled watching young Nico break windows in the family home while taking indoor batting practice. In fact, Nico was at the USF field working on his hitting when he learned that the Giants drafted him.
"He's got a long way to go," Nino said of his son. "But at least he's got a chance. ... People think that talent just came to him, growing up as the son of a coach. But he's had to work for everything he's ever gotten. I couldn't be more proud of him, and what he's been able to do as a player."
The Giants watched Nico Giarratano at a pre-Draft workout at AT&T Park last week, but dropped no hints regarding their interest in him.
"A few teams were interested, but nobody says, 'Hey, we're going to take you,'" Giarratano said.
• Lifelong fan thrilled to be drafted by Giants
Giarratano posted a modest slash line of .218/.295/.311, while collecting two home runs and 35 RBIs, in 57 games this season. Yet, his defense could help improve his offense.
"He knows the game, and does the things to help you win a ballgame," Giants scouting director John Barr said. "His glove will help him gain more and more at-bats because, being a pitcher, you want someone like that behind you."
Giarratano said that Giants shortstop Brandon Crawford exemplifies how he might develop his own game.
"I love to watch him defensively, because that's the same game I try to play," Giarratano said.