For Law, lessons from dad on field and off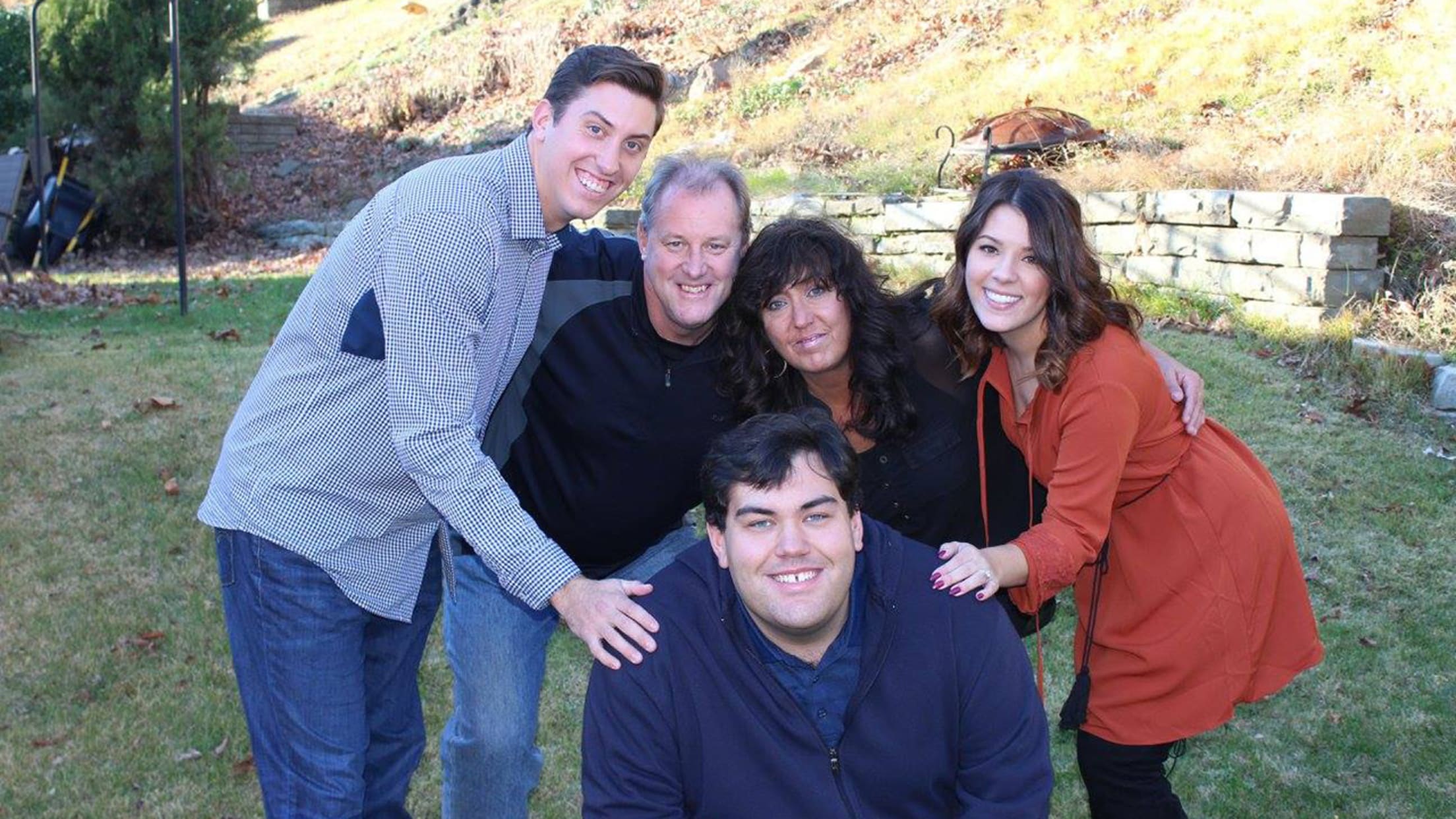 Clockwise from left: Derek Law with father Joe, mother Tracey, fiancée Chelsea and brother Dustin. (Laws)
SAN FRANCISCO -- Derek Law took a grip on honesty and threw a high, hard one at himself."Honestly, I don't think I ever thanked him enough for what he's done," said Law, a rookie reliever with the Giants.:: Father's Day 2016 ::Derek was referring to the man who sparked his
SAN FRANCISCO -- Derek Law took a grip on honesty and threw a high, hard one at himself.
"Honestly, I don't think I ever thanked him enough for what he's done," said Law, a rookie reliever with the Giants.
:: Father's Day 2016 ::
Derek was referring to the man who sparked his baseball career -- his father, Joe. Told of his son's remark, Joe responded as most parents would: selflessly.
"He has [thanked me], in his own way," Joe said. "I didn't do it for thanks. I did it because I wanted to help him be a good baseball player. I never, ever, ever thought he would get as far as he did."
Make no mistake: Joe didn't lack confidence in Derek. However, Joe, having pitched professionally for nine seasons, understood the odds that an aspiring player must overcome to reach the Major Leagues. Primarily a starter, Joe compiled a career pro record of 64-49, which included some extremely successful years. The right-hander finished 11-2 with a 2.58 ERA in 1984 and 10-2 with a 2.86 ERA in '87, performing mostly for Oakland's Class A Advanced California League affiliate in Modesto. He also compiled a 14-6 record while dividing 1988 between Double-A and Triple-A.
Having heard it all from dozens of pitching coaches, Joe sensed what to tell young Derek when he threw off the mound built alongside the family's home in the Beechview section of Pittsburgh.
"He obviously taught me everything I know in baseball," Derek said.
One subject they rarely discussed was disappointment.
The A's summoned Joe to the Majors in July 1988 to replace Eric Plunk, who had been placed on the 15-day disabled list. Law was scheduled to start at Cleveland on July 5, but the A's shuffled their rotation to allow ace right-hander Dave Stewart to pitch. Law returned to the Minors without appearing in a big league game. He never received another chance in the Majors.
Joe insisted that Derek's success "definitely" eases the sting of his bad luck with the A's, then politely declined to discuss the issue further. Any story written about any pitcher in the Law family should focus on Derek, said Joe.
"I'm happy for his career," Joe said. "I'd rather it be him."
Growing up, Derek felt reluctant to pry too much regarding his father's lost opportunity.
"He talked about it once in a while and didn't really say much about it," said Derek, who suspected that leaving the subject alone was best. "I never really wanted to get into his head about that. He never got that chance. It could have been him."
Derek experienced his own bout with adversity, undergoing Tommy John surgery on his elbow in 2014. He has rebounded nicely with the Giants, recording a 2.82 ERA in his first 22 appearances while striking out 20 and walking just four in 22 1/3 innings.
Of course, Derek takes Joe's pitching wisdom to the mound with him. Asked to cite the most enduring athletic lesson he learned from his father, Derek said, "The thing that sticks in my head the most is you don't ever want to give the hitters too much credit. They'll get themselves out."
When the Giants recalled Law in early April as Sergio Romo went on the disabled list, Joe and his wife, Tracey, didn't bother trying to contain their emotions. They cried tears of joy as they recalled Derek's countless youth league games, Joe's one-on-one pointers on throwing breaking pitches and Tracey's insistence that her husband move hitting lessons outside because 4-year-old Derek was breaking lamps and other fragile objects with his line drives.
"It was a good day in the Law household," Joe said.