3 observations from Giants' first live workouts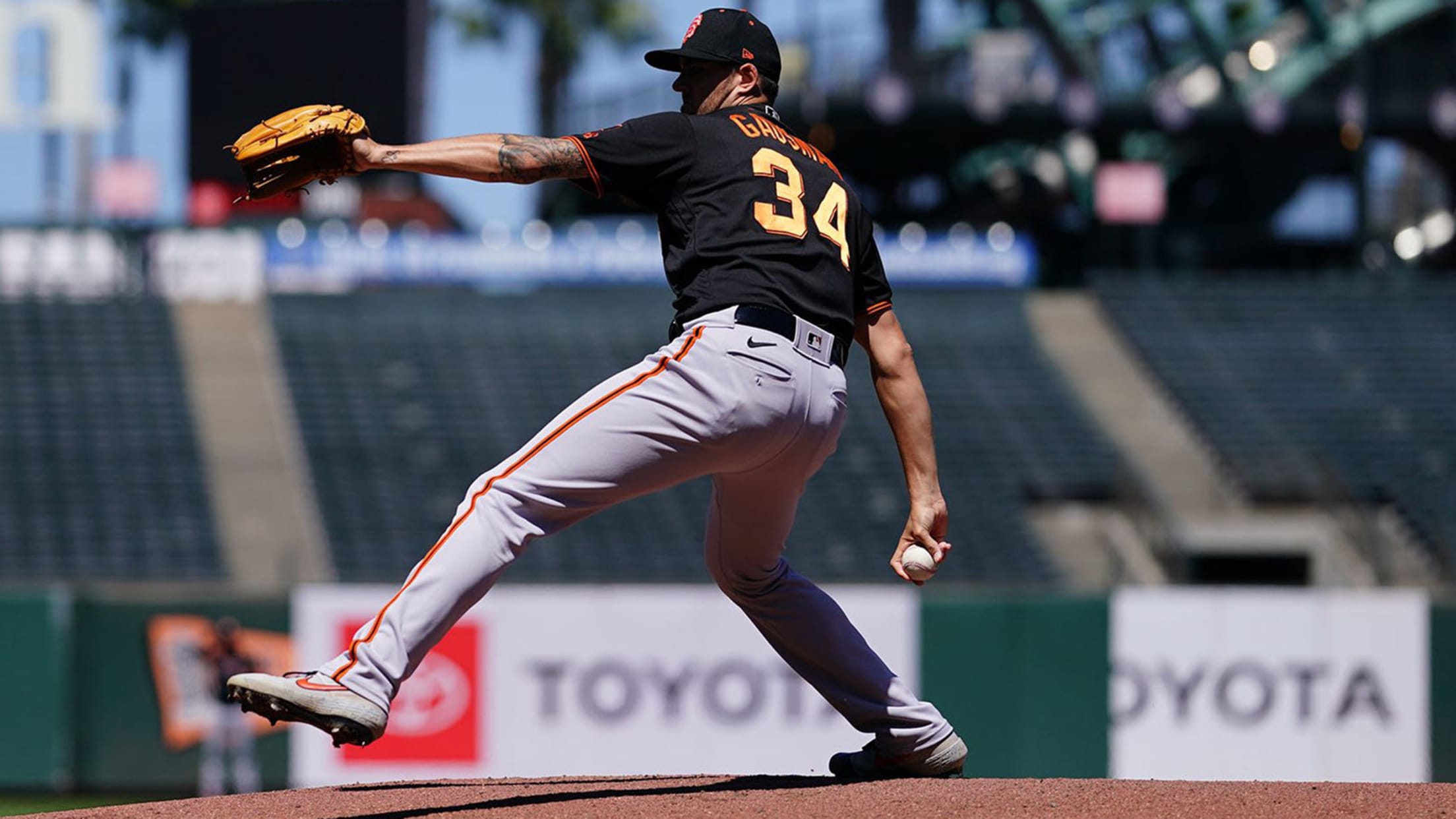 SAN FRANCISCO -- After missing one day of workouts due to COVID-19 testing delays, the Giants were cleared to return to action at Oracle Park on Wednesday, intensifying their preparation for the 2020 campaign by holding their first rounds of modified live batting practice. The Giants trained in two groups
SAN FRANCISCO -- After missing one day of workouts due to COVID-19 testing delays, the Giants were cleared to return to action at Oracle Park on Wednesday, intensifying their preparation for the 2020 campaign by holding their first rounds of modified live batting practice.
The Giants trained in two groups to uphold social distancing measures, with Kevin Gausman, Drew Smyly and Logan Webb pitching two simulated innings apiece in the second session in the afternoon. Tyler Anderson, Sam Coonrod, Trevor Gott, Andrew Triggs and Tyler Rogers followed by each logging one inning of work.
The Giants deployed a rotating cast of defenders behind each pitcher, alternating between having a populated infield and outfield. Members of the coaching staff were occasionally tasked with filling in at various spots around the diamond.
Here are three observations from the live action at Oracle Park:
Gausman, Smyly sharp
Gausman picked up from where he left off in the spring, striking out four of the seven batters he faced during his outing on Wednesday. Smyly impressed as well, racking up three strikeouts while allowing only one hit, a single to Donovan Solano.
• Notes: Canario joins player pool
A beautiful day for baseball at @OracleParkSF ☀️⚾️#SFGiants pic.twitter.com/Qu0zSchorX

— SFGiants (@SFGiants) July 9, 2020
"Drew Smyly was awesome today," said Gabe Kapler, who also managed the 31-year-old left-hander with the Phillies last year. "His cutter is really getting a lot of horizontal movement. He's dropping his curveballs in for strikes. His velocity is right where it needs to be."
The Giants are planning to experiment with new pitching strategies to try to get the most out of their staff at the beginning of the regular season, but Kapler has said he expects Gausman and Smyly to join Johnny Cueto and Jeff Samardzija in the club's rotation. Gausman and Smyly both signed one-year deals with the Giants this offseason, in part because of their desire to rebuild their value as starters.
Solano keeps hitting
Solano enjoyed the most productive day of any Giants hitter in the second workout group. He collected hits in three of his four plate appearances, notching singles off Smyly and Rogers and a double off Coonrod, while also reaching base on an error.
"Solano looked great at the plate," Kapler said. "He's got a knack for putting the barrel on the ball."
Solano, 32, emerged as a surprise contributor for the Giants in 2019, batting .330 with an .815 OPS and four home runs over 81 games as a backup middle infielder. He is projected to assume a similar role this year and saw time at both second base and shortstop on Wednesday.
Youth movement
Top prospect Joey Bart, 2020 first-round Draft pick Patrick Bailey and Chadwick Tromp handled catching duties, which also entailed calling balls and strikes and keeping counts.
Here's Chadwick Tromp throwing out Brandon Crawford: pic.twitter.com/uNch5XaNCU

— Maria I. Guardado (@mi_guardado) July 8, 2020
Kapler said he liked what he saw from Bailey, who is only a few months removed from playing collegiately at North Carolina State.
"Pat's got a lot of energy in his body," Kapler said. "I really, really like his setup, and his flexibility in his ankles and his hips. Really nice exchange. I think what is most impressive is his body language and his poise. A lot of people noticed that. It wasn't just my perspective. People were commenting on how poised and natural he was behind the plate and not rattled at all from the first real intense competition."
Maria Guardado covers the Giants for MLB.com. She previously covered the Angels from 2017-18. Follow her on Twitter.