Beede optioned to Triple-A; Venditte recalled
Longoria out of lineup with left shoulder inflammation; Holland expected back Wednesday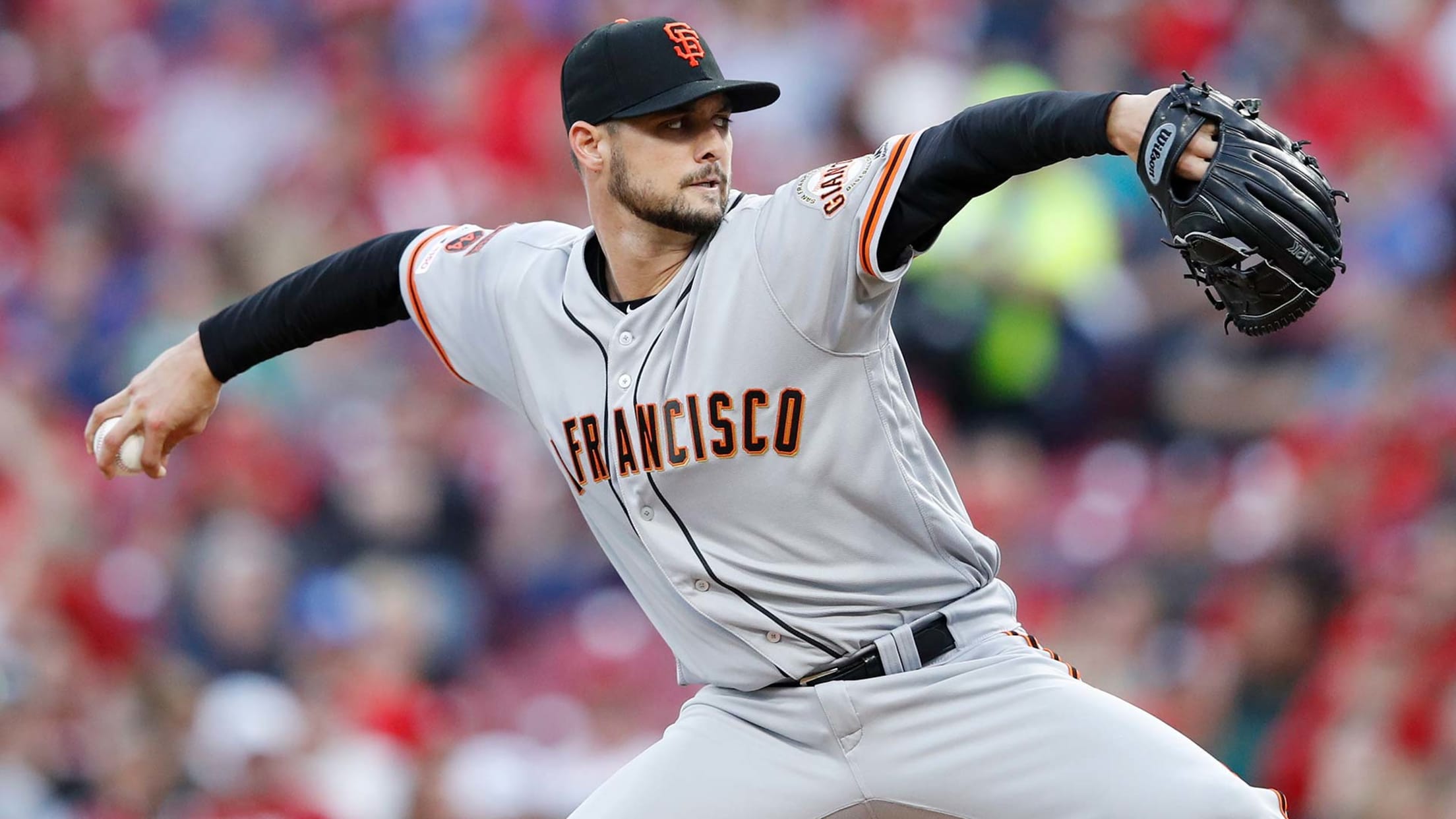 CINCINNATI -- The Giants were hoping that Tyler Beede would pitch well enough to stay longer than a spot start, but the 25-year-old right-hander was optioned back to Triple-A Sacramento on Saturday following his rocky 2019 debut in the club's 12-11 series-opening win over the Reds. Beede yielded eight runs
CINCINNATI -- The Giants were hoping that Tyler Beede would pitch well enough to stay longer than a spot start, but the 25-year-old right-hander was optioned back to Triple-A Sacramento on Saturday following his rocky 2019 debut in the club's 12-11 series-opening win over the Reds.
Beede yielded eight runs over 2 1/3 innings, with the bulk of the damage coming on a pair of three-run home runs from Derek Dietrich. While the Giants went on to stage a historic comeback, they were forced to use seven relievers after Beede's early exit, leading them to recall switch-pitcher Pat Venditte, who worked two innings of one-run ball in Saturday's 9-2 loss.
Venditte, who signed a one-year deal with the Giants over the offseason, rebounded from a spotty spring to log a 2.40 ERA over 15 innings with Triple-A Sacramento this season.
"He's kind of gotten his game on track," manager Bruce Bochy said. "Rough Spring Training for him, but he's been throwing the ball well or he wouldn't be here. We think he can help us."
While Beede's outing didn't unfold as he had envisioned, he said he didn't expect the results to affect his confidence moving forward, especially given the success he enjoyed at Sacramento where he logged a 1.99 ERA over five starts this season.
"My mindset has changed from trying to analyze my outings based on the results as opposed to how I felt, and kind of what I can learn and take away from it now," Beede said. "This outing certainly doesn't change my confidence. I'm still confident in what I'm doing. I'm still confident in my stuff. And feeling like I'm throwing the ball better than I ever have.
"It's just a matter of using these opportunities as lessons and making sure I continue to grow each outing, whether it's here or wherever. My confidence won't waver. I know what I'm doing just needs some refining."
Injury updates
• Evan Longoria was scratched from the Giants' lineup on Saturday after waking up with left shoulder inflammation. Bochy said Longoria, who delivered a tie-breaking home run in the 11th inning on Friday, would be available off the bench, but he did not get an-bat. Pablo Sandoval started at third base in his place.
"He can help us in a pinch-hitting role," Bochy said. "Even if he had to go out there and play defense, he could probably do it for an inning or two. We just want to get it calmed down. If we played him and he played the whole game, this thing could flare up even worse."
• The Giants brought left-hander Williams Jerez to Cincinnati along with Venditte on Saturday, and put him on the taxi squad in case Yangervis Solarte had to be placed on the injury list. Solarte fouled a ball off his right foot during a 10th-inning at-bat Friday, but X-rays came back negative. He will also be available to pinch-hit against the Reds.
• Left-hander Derek Holland (left index finger bone bruise) faced hitters Friday and is expected to come off the injured list and pitch against the Rockies on Wednesday.
Maria Guardado covers the Giants for MLB.com. She previously covered the Angels from 2017-18. Follow her on Twitter.