Opening Day FAQ: Giants vs. Padres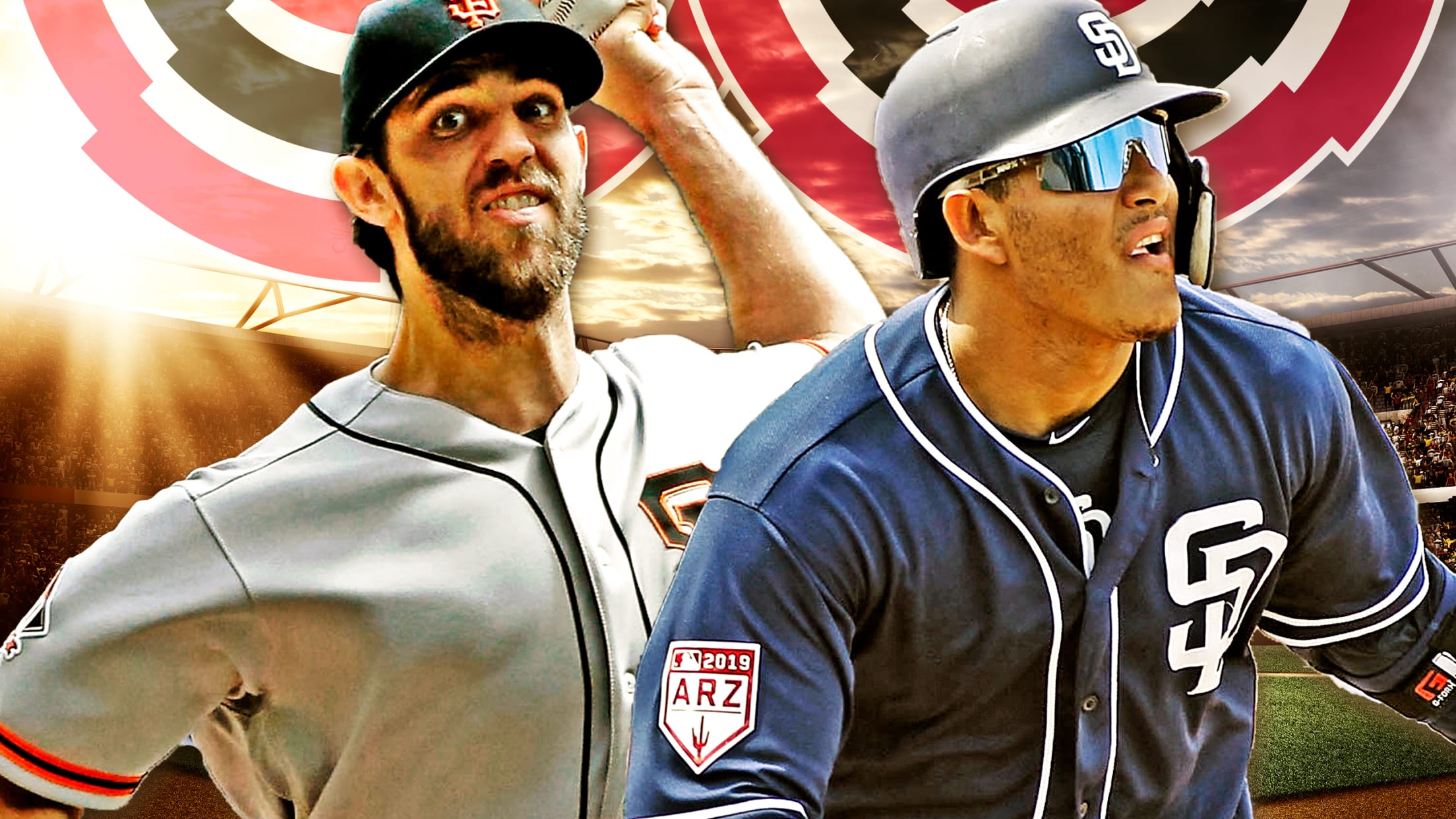 The Manny Machado-Fernando Tatis Jr. era in San Diego begins Thursday. Giants ace Madison Bumgarner is out to spoil the party. On the heels of the biggest free-agent signing in franchise history and the arrival of the sport's No. 2 overall prospect, the new-look Padres host the Giants to open
The Manny Machado-Fernando Tatis Jr. era in San Diego begins Thursday. Giants ace Madison Bumgarner is out to spoil the party.
On the heels of the biggest free-agent signing in franchise history and the arrival of the sport's No. 2 overall prospect, the new-look Padres host the Giants to open the 2019 season. The four-game series should offer quite the contrast in styles, with the inexperienced Friars boasting one of the youngest rosters in baseball. San Francisco, meanwhile, is one of the sport's most veteran-laden clubs.
Here's everything you need to know about Thursday's opener.
When is the game and how can I watch it?
First pitch is slated for 1:10 p.m. PT. The game is available on NBC Sports Bay Area and Fox Sports San Diego, as well as MLB.TV.
The starting lineups
Giants: The Giants' lineup is mostly comprised of holdovers from last season, but the club is hoping to squeeze more production out of its established veterans now that everyone is healthy.
Projected lineup
1) Steven Duggar, CF
2) Joe Panik, 2B
3) Buster Posey, C
4) Brandon Belt, 1B
5) Evan Longoria, 3B
6) Brandon Crawford, SS
7) Gerardo Parra, RF
8) Mac Williamson, LF
9) Madison Bumgarner, P
Padres: Etch Machado's name into the middle of this lineup for the next decade. He's surrounded by some big names, too, though the Padres' experiment to use Wil Myers as a center fielder never bore fruit. As a result, they'll have to omit one of their heavy-hitting, righty-corner outfielders -- likely Hunter Renfroe -- while Manuel Margot plays center.
Projected lineup
1) Ian Kinsler, 2B
2) Eric Hosmer, 1B
3) Manny Machado, 3B
4) Franmil Reyes, RF
5) Wil Myers, LF
6) Fernando Tatis Jr., SS
7) Manuel Margot, CF
8) Austin Hedges, C
9) Eric Lauer, P
Who are the starting pitchers?
Giants: A fractured left hand prevented Bumgarner from starting for the Giants on Opening Day last season, halting his streak at four consecutive years, but he reclaimed the honor for the 2019 regular-season opener. Bumgarner was hit hard in his final tuneup of the spring against the Royals on Friday, yielding seven runs over two innings, but he's never put too much stock in Spring Training results. The 29-year-old ace has a 3.32 ERA in 32 career appearances against the Padres.
Padres: Over the past 10 seasons, the Padres have used nine different Opening Day starters. They were always going to add to that total this year. Among their rotation candidates, not a single one was on the Opening Day roster last season. Lauer, called up late last April, gets the ball this year, after an excellent spring in which he held his opponents scoreless in three Cactus League appearances. At 23, he will become the second-youngest Opening Day starter in franchise history, three days older than Clay Kirby in 1972.
How will the bullpens line up after the starter?
Giants: The Giants will lean on Bumgarner to go as deep into the game as possible, before turning it over to their talented bullpen led by closer Will Smith, Tony Watson, Sam Dyson and Reyes Moronta.
Padres: Backed by one of the game's best bullpens, Lauer might be on a short leash. The Padres will work backward from Kirby Yates, who has developed into a dominant relief weapon since joining the club. Robert Stock, Craig Stammen and newly-acquired lefty Aaron Loup could also face leverage situations.
Any injuries of note?
Giants: Johnny Cueto is expected to miss most, if not all, of the 2019 season as he continues to rehab from Tommy John surgery.
Padres: Travis Jankowski is expected to miss at least two more months as he recovers from a broken bone in his left wrist. He figured to serve as a speed-and-defense option off the bench. In the bullpen, the Padres are without lefties Jose Castillo and Brad Wieck, and righty Miguel Diaz.
Who is hot and who is not?
Giants: Belt finished Cactus League play as one of the Giants' most productive hitters, batting .386 with four home runs. Crawford started off slowly and entered Tuesday hitting .217 with a .541 OPS this spring.
Padres: Kinsler staked a loud claim to the leadoff spot, hitting .350/.395/.700 in the Cactus League. Machado, meanwhile, struggled for most of the spring, with a .683 OPS (though he began to heat up toward the end of camp).
Anything else fans might want to know?
• Tatis -- at 20 years and 95 days old -- will become the youngest player to start on Opening Day since Adrian Beltre in 1999, and he'll be the youngest in Padres history to do so. No player younger than Tatis has taken the field for San Diego at any time during the season since Roberto Alomar in 1988.
• Giants manager Bruce Bochy, who announced that he'll be retiring at the end of the season, figures to get a warm reception at Petco Park, as he began his managerial career with the Padres in 1995. Bochy guided the Padres to four division titles and the '98 National League pennant.
• The Padres have dropped four straight Opening Day games, and the Giants have won four of five. But the two sides squared off in 2017 for the Petco Park opener, which San Diego won 7-6. In that game, Margot became the first Padres rookie to homer twice in a home opener. The two teams have squared off on Opening Day 14 times, with each having won seven.
• Machado has yet to homer at Petco Park, but he came awfully close in his most recent game there. In the 2017 World Baseball Classic, Machado's home-run bid was robbed by then-teammate Adam Jones in what became the tournament's defining play. In four regular-season games at Petco Park, Machado is 8-for-18 with a pair of walks.