Meulens shifts to bench coach; Wotus to 3B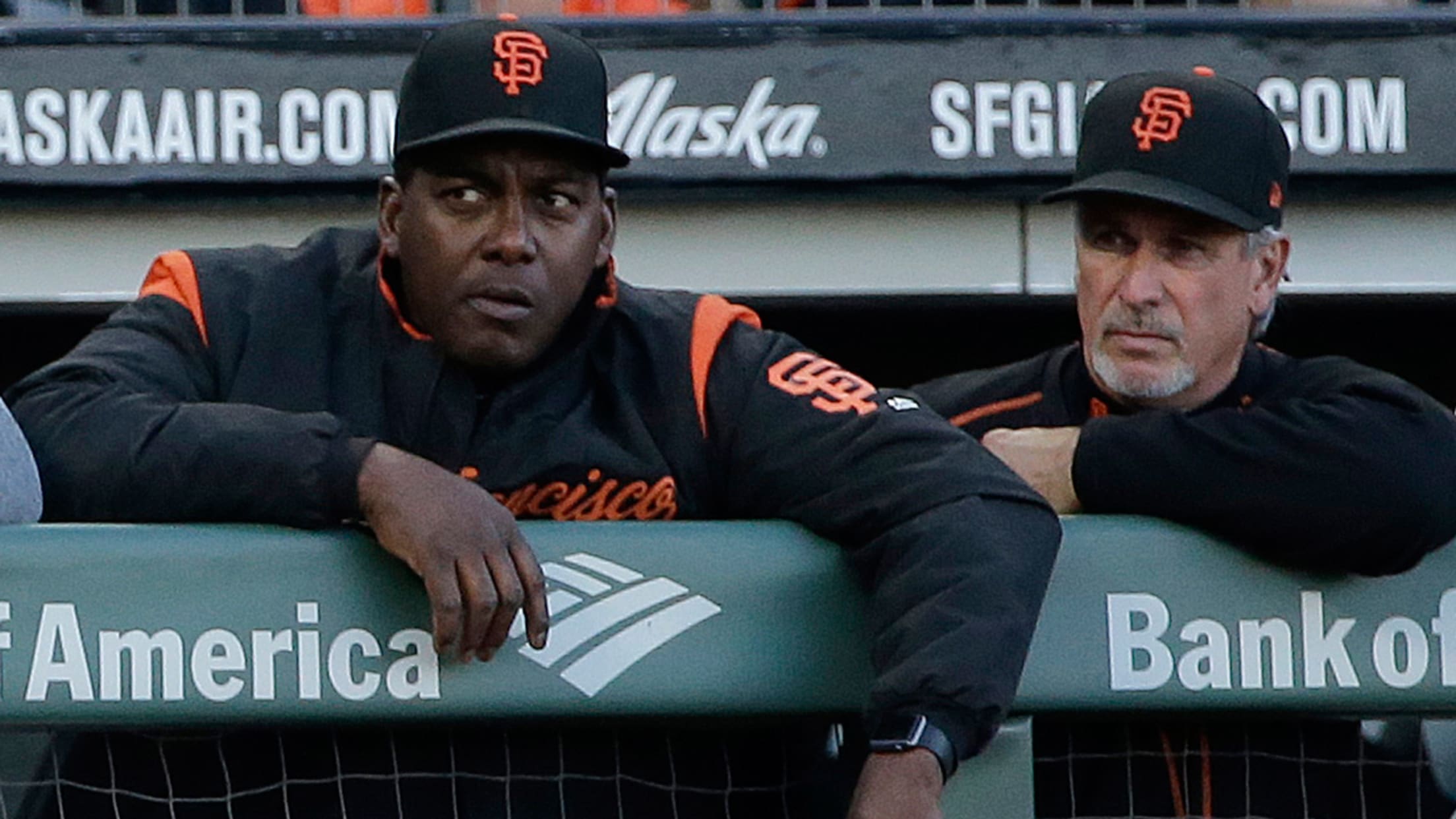 Hensley Meulens (left) will shift from hitting coach to bench coach, and former bench coach Ron Wotus (right) will coach third base. (AP)
SAN FRANCISCO -- The Giants resumed dancing the "Coaching Staff Shuffle" on Thursday, a sequence of moves which general manager Bobby Evans believes can hasten the club's improvement.Hitting coach Hensley Meulens became manager Bruce Bochy's bench coach. Ron Wotus, the previous bench coach, is the new third-base coach. Evans said
SAN FRANCISCO -- The Giants resumed dancing the "Coaching Staff Shuffle" on Thursday, a sequence of moves which general manager Bobby Evans believes can hasten the club's improvement.
Hitting coach Hensley Meulens became manager Bruce Bochy's bench coach. Ron Wotus, the previous bench coach, is the new third-base coach. Evans said that Phil Nevin, who was the third-base coach in 2017, refused reassignment to another role and has left the organization.
The biggest prizes -- hitting and pitching coaches -- remain vacant and likely won't be filled until after the World Series ends, said Evans, who also must hire an assistant hitting coach.
The Giants also announced that former reliever Matt Herges, who spent 2003-05 with San Francisco, is the team's new bullpen coach. First-base coach Jose Alguacil and on-field instructor/replay analyst Shawon Dunston will retain their respective jobs.
Some concern apparently lingered over the perception of the Giants' coaching shifts. A significant portion of the news release issued to trumpet Thursday's more significant assignments focused instead on last Saturday's changes, most notably pitching coach Dave Righetti's switch to a front office position under Evans.
Righetti, who will strive to make sure that the organization's pitchers are being taught consistent methods from Rookie ball to the Majors, said in the news release, "After 38 years on the field as a player and coach, I'll be looking at things through a different lens. Working with Bobby and his baseball ops team in the front office, I'll be able to apply all those years of experience to help the team in new ways."
That also was the objective behind Thursday's changes, Evans said.
"I'm not necessarily suggesting that guys who are leaving their positions are moving to more suitable roles," Evans said. "They're very talented baseball people, and I think that there are opportunities to advance their influence and also infuse new perspectives, new energy, new backgrounds into other roles in the organization. It's just part of what happens in organizations, how you keep things strong."
Wotus, who last coached third base regularly in 1998 when he joined the Giants' Major League staff, sounded excited and in no way considered his move a demotion.
"I'm looking forward to being on the field again with the players and having more of an impact on our offensive game," said Wotus, who will continue to function as the team's defensive guru. "This is about putting a quality staff together. It's not about me personally. When you're needed somewhere, you go where you're needed. I'm looking forward to the challenge."
As bench coach, Meulens, who has openly discussed his big league managerial aspirations since joining the Giants' staff in 2010, will be more involved in helping Bochy outline strategy.
"There's two key leadership roles that are very important," Evans said, referring to the third-base and bench coaches. "We're putting two very strong baseball people in those roles who have worked together for a good while. It gives Boch two strong pillars around him."