Giants reportedly interested in Cubs' McLeod
San Francisco also interested in D-backs assistant GM Sawdaye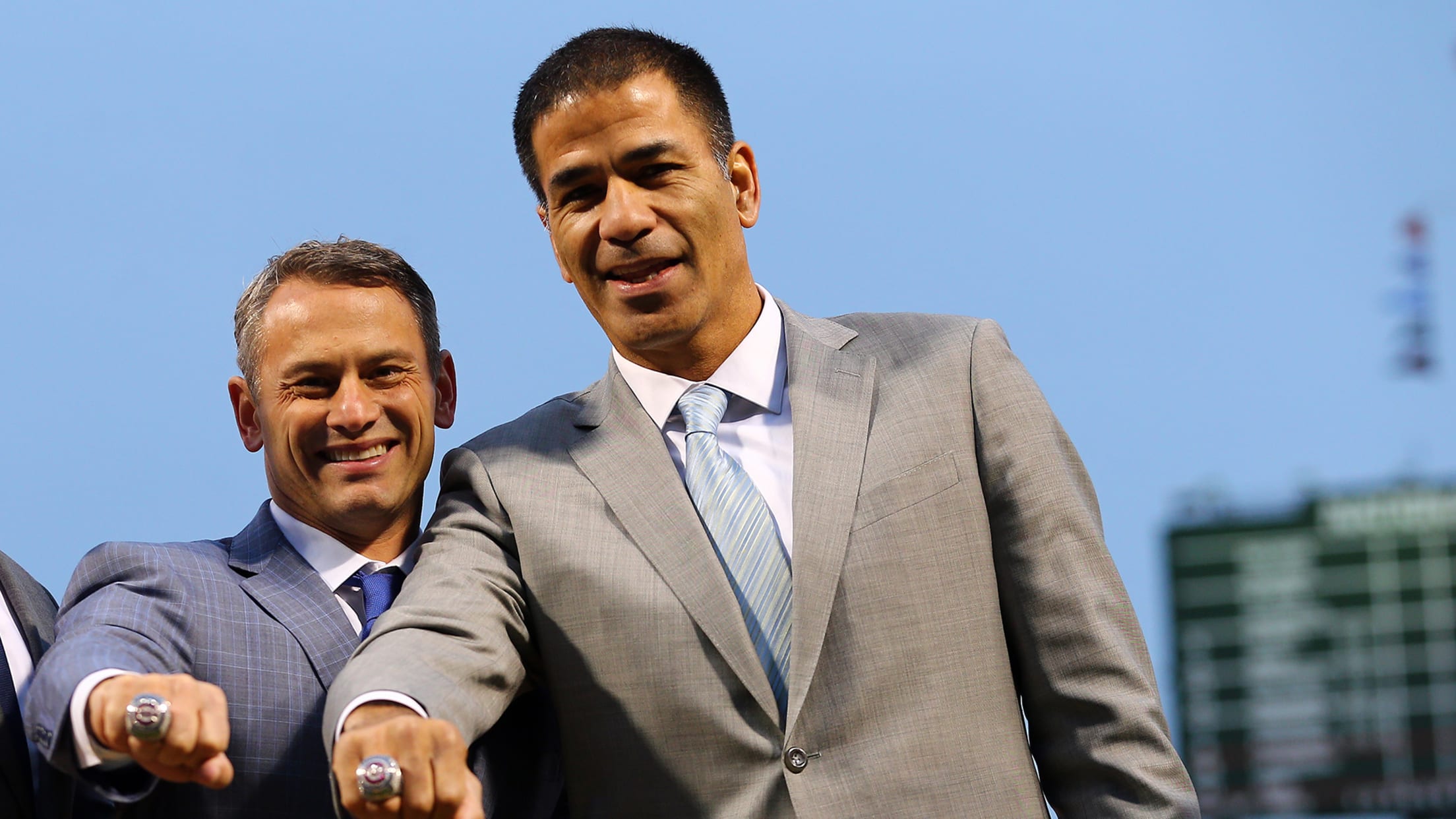 CHICAGO, IL - APRIL 12: (L-R) Chicago Cubs President of Baseball Operations Theo Epstein, General Manager Jed Hoyer, and Senior Vice President, Player Development and Amateur Scouting Jason McLeod stand on the field during the World Series ring ceremony ahead of the game between the Los Angeles Dodgers and the Chicago Cubs at Wrigley Field on Wednesday, April, 12 2017 in Chicago, Illinois. (Photo by Alex Trautwig/MLB Photos) (Alex Trautwig)
SAN FRANCISCO -- The Giants' search for a new general manager appears to be intensifying.Various reports added two names to the mix on Monday: Cubs vice president of scouting and player development Jason McLeod and D-backs senior vice president of baseball operations and assistant GM Amiel Sawdaye.MLB.com reported last week
SAN FRANCISCO -- The Giants' search for a new general manager appears to be intensifying.
Various reports added two names to the mix on Monday: Cubs vice president of scouting and player development Jason McLeod and D-backs senior vice president of baseball operations and assistant GM Amiel Sawdaye.
MLB.com reported last week that Kim Ng, MLB's senior vice president for baseball operations, was scheduled to interview for the vacancy this past Friday.
• Giants to interview MLB official for GM role
USA Today's Bob Nightengale originally reported that Sawdaye has interviewed for the Giants' job and impressed club officials enough to be considered a finalist. A D-backs source confirmed the Giants' interest in Sawdaye. Chicago sports radio station 670 The Score was the first to report the Giants' interest in McLeod, though Cubs officials either could not be reached or had no comment.
Giants president Larry Baer has emphasized that the club will take its time to hire a "great baseball mind" who's likely to implement contemporary strategies, such as analytics, more frequently. Jon Heyman of Fancred has reported that Brewers assistant GM Matt Arnold, Rays senior vice president of baseball operations Chaim Bloom and Dodgers executive Josh Byrnes also could emerge as candidates.
San Francisco created the vacancy last month when Bobby Evans was relieved of his duties as GM.
McLeod, who received a contract extension through 2021 after Chicago won the 2016 World Series, has long maintained ties with the esteemed Theo Epstein. McLeod worked for six years in the Red Sox's scouting department when Epstein served as their GM. McLeod then followed Epstein to Chicago when the latter became the Cubs' president of baseball operations following the 2011 season.
McLeod has earned praise for playing a role in the drafting and development of the Red Sox's Dustin Pedroia and the Cubs' Kris Bryant, both winners of the Rookie of the Year and Most Valuable Player Awards in their first two full Major League seasons.
McLeod interviewed for the Twins' GM job in 2016 that eventually went to Thad Levine and received consideration for the same role with the Padres' in 2014, which went to A.J. Preller. McLeod removed his name from consideration early in the hiring process, however.
Sawdaye has held his current position with been with the D-backs for two seasons. He previously supervised Boston's international and amateur scouting efforts. With him in that role, the Red Sox drafted multiple prospects who developed into established performers, such as Mookie Betts, Andrew Benintendi, Jackie Bradley Jr., Matt Barnes and Travis Shaw, who's now with Milwaukee.