Perkins close to throwing off mound
Three-time All-Star's rehab from left shoulder surgery has gone according to schedule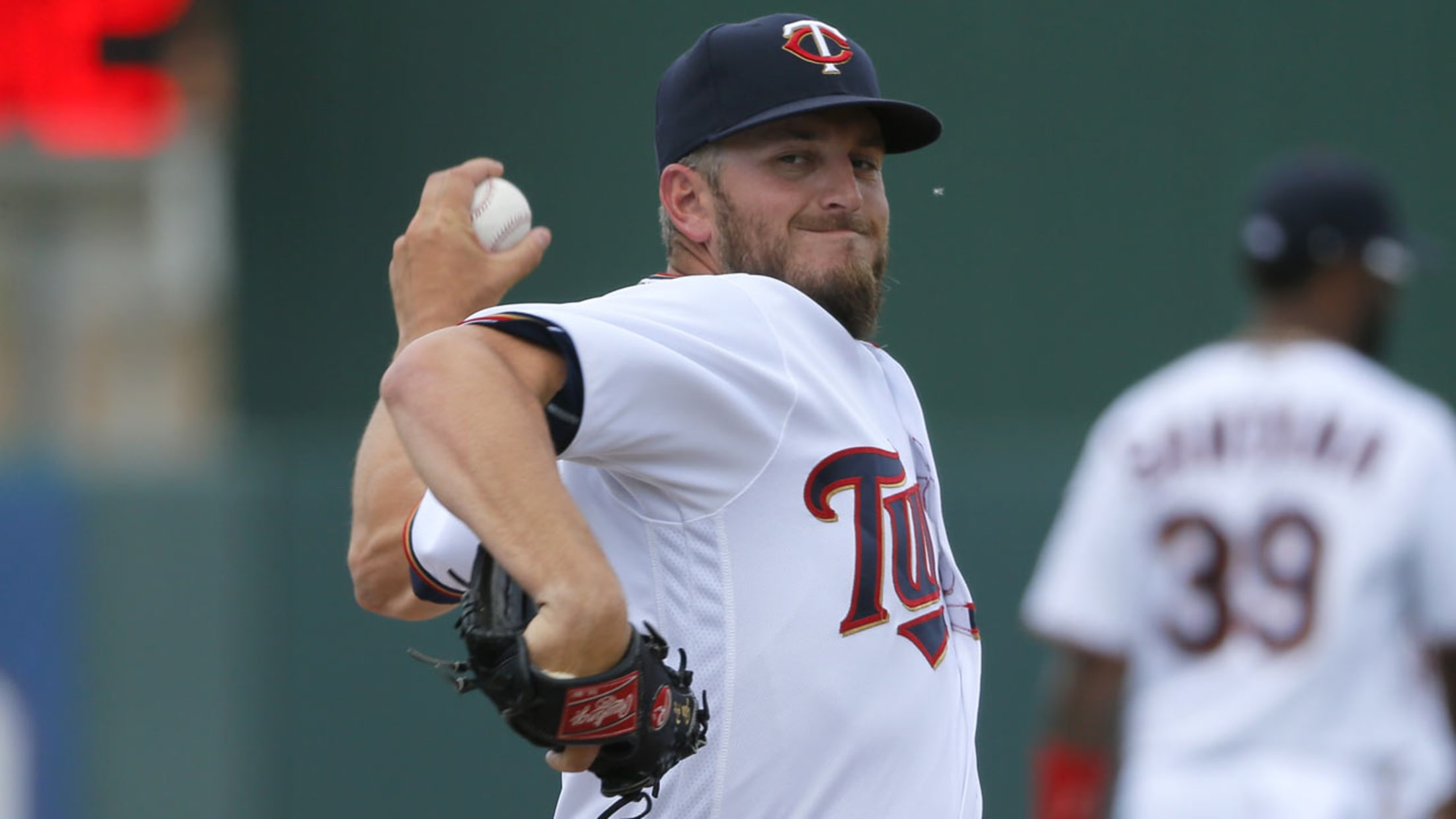 Twins closer Glen Perkins made only two appearances in 2016, posting a 9.00 ERA. (AP)
MINNEAPOLIS -- Twins closer Glen Perkins' rehab from his left shoulder surgery has gone according to schedule and he's expected to throw off a mound as early as next week.Perkins, who underwent surgery to reattach his labrum to the bone in June, spent three weeks rehabbing at the club's Spring
MINNEAPOLIS -- Twins closer Glen Perkins' rehab from his left shoulder surgery has gone according to schedule and he's expected to throw off a mound as early as next week.
Perkins, who underwent surgery to reattach his labrum to the bone in June, spent three weeks rehabbing at the club's Spring Training complex in Fort Myers, Fla., before heading to TwinsFest this weekend. The three-time All-Star will resume his throwing program when he heads back to Florida on Tuesday. He was throwing from about 120 feet at 75 percent intensity last week.
"It's gone well, so far," Perkins said. "I don't have the schedule, but I think I'll be [throwing] off the mound in the next week or so. I'll throw four 'pens before Spring Training. I've been able to check every box as the rehab has gone along. I haven't had to push anything back."
Perkins said he usually throws four bullpens or so before heading to Spring Training. He's behind his normal schedule because he's not throwing at high intensity and hasn't mixed in any two-seamers or breaking pitches. He estimated he's about three weeks behind his normal schedule, and said he's hopeful to pitch in a Spring Training game by mid-March. But he said it's too far out to fully map everything out, because the way things unfold will depend on how he feels.
"I'm not saying I'm right where I would be without surgery," Perkins said. "I'm a little behind that, but right on schedule as far as rehab."
Perkins, though, did say the surgery has brought more strength and stability to his shoulder. He said he didn't feel right after the All-Star Game in 2015 -- dealing with back injuries in the second half of that season, before his shoulder woes limited him to two appearances in '16.
"It feels better than it did before surgery," Perkins said. "I know that. It feels strong and more stable. I don't have the sensations I had before the surgery. So far, so good."
If healthy, Perkins is expected to reclaim his role as Minnesota's closer. But he admitted he'll have to be eased into the season, as he's not expected to pitch in back-to-back games early in the season -- and there's still a chance he could open the campaign on the disabled list. Reliever Brandon Kintzler is most likely to be the closer if Perkins isn't ready.
"My goal isn't to make an All-Star team or have a zero ERA, I just want to be healthy," Perkins said. "I want to throw and not have my shoulder hurt or my back hurt. I have [no] goals other than to be healthy."
Perkins, a Stillwater, Minn., native with a career 3.83 ERA in 11 seasons with the Twins, also said he's at peace if he can't ultimately make it back from the surgery. The 33-year-old knows injuries are simply part of the game, especially for hard-throwing pitchers.
"When you throw baseballs at 96 or 97 mph for four years, you don't come out of it healthy," Perkins said. "It was meant to be. It's what was supposed to happen. I've done everything I can to rehab this. Hopefully, it means I can have success and be healthy. There [are] no guarantees, but I know I've given it all I have, so far."