Bucs open Play Ball Weekend with 2 legends
Jackson, Sanguillen meet with local Little Leaguers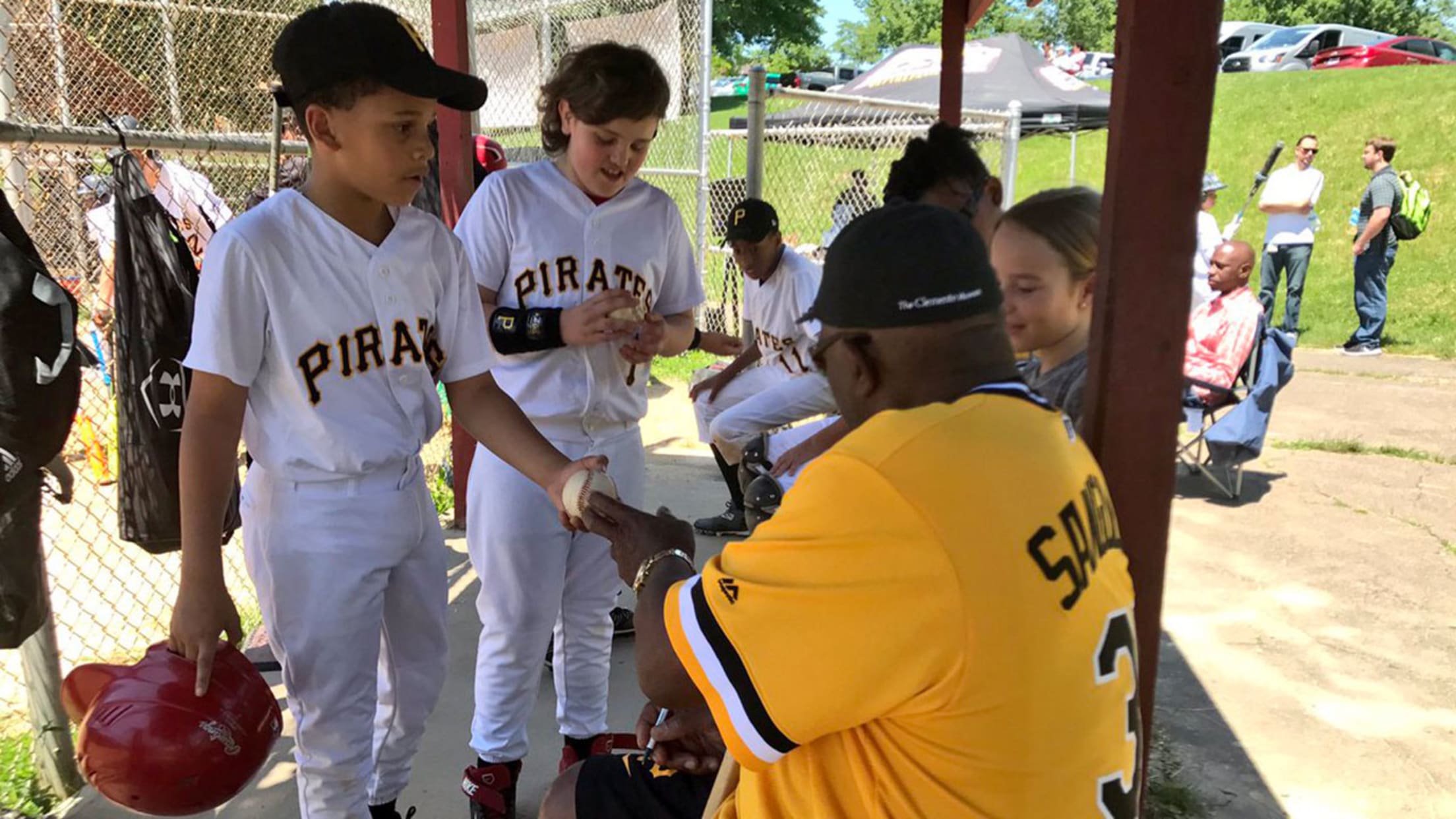 Children meet with three-time All-Star Manny Sanguillen at the Pirates' Play Ball Weekend event Saturday. (Pirates)
PITTSBURGH -- Little League coach John Celesti gives several of his players a ride to every game. But the ride Saturday morning was special. On the way to the ballpark, he discovered that none of his players had slept the night before. They knew a surprise awaited them at the
PITTSBURGH -- Little League coach John Celesti gives several of his players a ride to every game. But the ride Saturday morning was special. On the way to the ballpark, he discovered that none of his players had slept the night before. They knew a surprise awaited them at the Brighton Heights Athletic Association, and they knew the surprise involved their favorite Major League team.
"In the past 10 days, we kind of filtered it to the kids that the Pirates were going to come and representatives of the organization," Celesti said. "But once they heard something about the Pirates, that was it. There was no sleep."
The surprise didn't disappoint. Pirates alumni Grant Jackson and Manny Sanguillen both made appearances Saturday during a Senior Little League game at the Brighton Heights Athletic Association as part of MLB's Play Ball Weekend initiative, which celebrates youth baseball and softball participation in communities across the country.
The second annual Play Ball Weekend features a variety of youth engagement activities by nearly 200 Major League and Minor League clubs to highlight the fun of youth baseball and softball. It is a complementary program of the Play Ball initiative, designed by MLB to celebrate youth baseball and softball participation. MLB has provided clubs with more than 300,000 youth plastic bat and ball sets to distribute in both ballparks and at community events.
Many MLB clubs are hosting skills and physical fitness clinics as well as surprise "takeovers" of youth baseball and softball games or practices featuring appearances by Major League players, alumni, mascots, public address announcers and more. Activities will include kids participating in special news conferences, pregame meet-and-greets and catches with players, ceremonial first pitches, public address duties, lineup card exchanges, taking the field with players, postgame running the bases and more. Major League players, coaches and managers will wear Play Ball Weekend patches during the weekend's games, and players on home clubs will wear custom T-shirts during batting practice on the date of their club's activations.
Time to #PlayBall! ⚾️

Thanks to Brighton Heights Athletic Association for having us today. 👋 pic.twitter.com/uqVIz2jaIG

— Pirates (@Pirates) June 3, 2017
Jackson was the winning pitcher in Game 7 of the 1979 World Series, and Sanguillen is a three-time All-Star catcher who helped the Pirates win the World Series in '71 and '79. Both are beloved in the Pittsburgh community.
"The kids, for them, to meet Manny Sanguillen, who was one of my childhood heroes, and Grant Jackson, and have them realize that the last time we were in the World Series, both of those guys were part of it. It really jelled with the kids," Celesti said. "And of course I loved it because they were both my childhood heroes."
Jackson and Sanguillen spoke to the players before the game, and they stayed after the game to sign baseballs, bats and anything else the kids wanted them to sign.
"Right now on a Saturday, instead of sitting at the house playing video games, they are out here playing ball in the name of the game," Jackson said. "There might be a superstar or Hall of Famer out there, you never know."
Jackson and Sanguillen weren't the only surprises on Saturday. Bucco Brigade members and the Pirate Parrot were all present to provide in-game entertainment, giving the players the opportunity to participate in the Great Pittsburgh Pierogi Race.
But Saturday's events also underscored the idea that baseball can be a valuable tool for teaching kids lessons they can carry with them. The sport preaches responsibility, builds work ethic and helps children become better teammates.
"I just told [the kids] to have great discipline, work hard and make sure they listen to their coaches," Sanguillen said. "You learn to be a better person with baseball."
And Saturday was significant for another reason: It provided the young baseball players with an unforgettable memory.
"Somebody told me this one time: 'You don't remember much when you're 11 or 12,'" Celesti said. "'You might remember the name of your Little League coach, you might not. But there's always that one thing that happens that you always remember.'
"Today will be that for these kids."
Jonathan Toye is a reporter for MLB.com based in Pittsburgh.