Most electric postseason relief moments
Pedro, K-Rod and a possibly hungover Grover Cleveland Alexander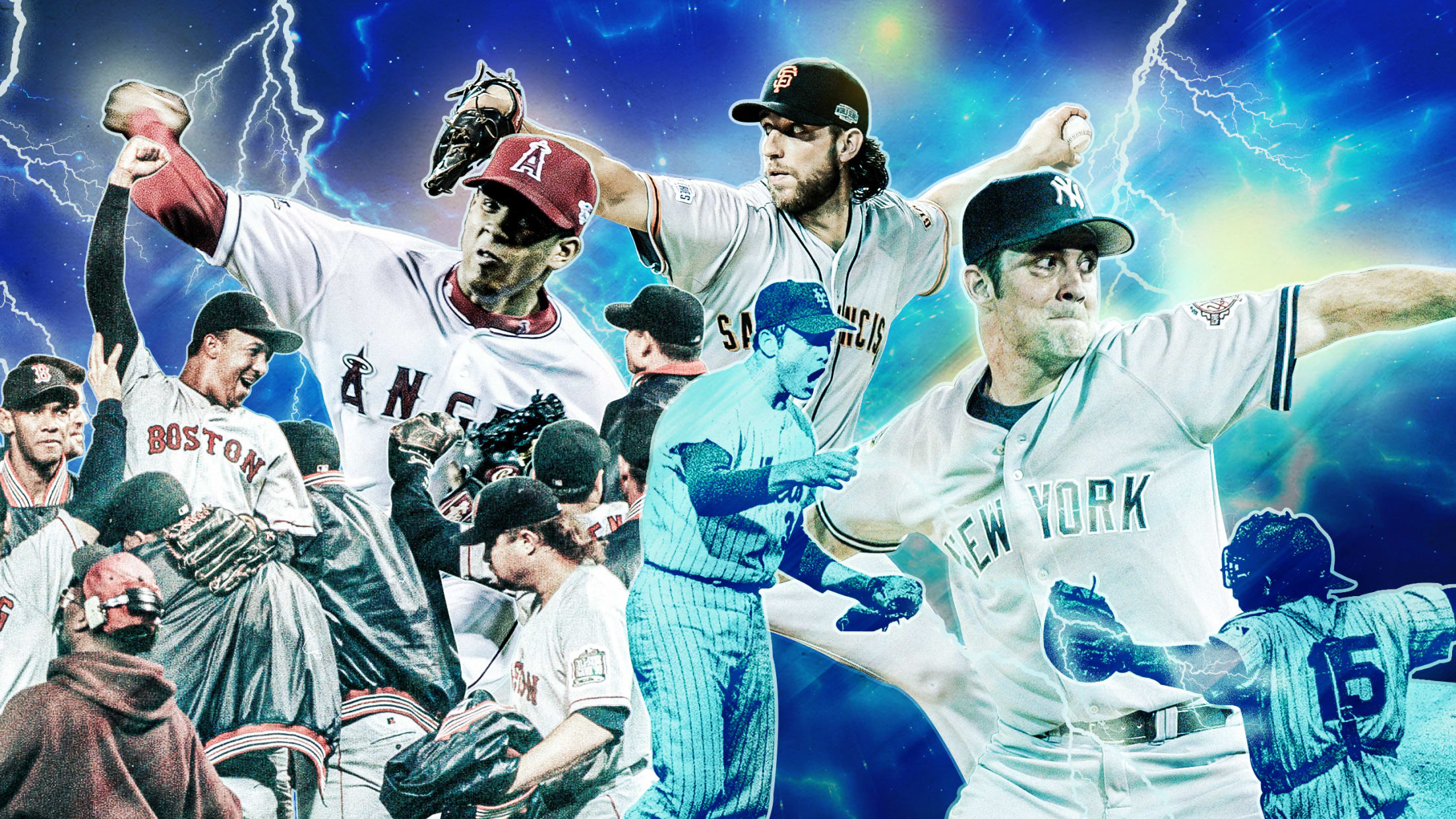 (Art by Tom Forget)
It happens nearly every postseason: A pitcher -- either a reliever or starter on a few days' rest -- comes out of the bullpen, puts his team on his back and wills his franchise to live another day with an epic performance on the mound. Their electrifying appearance is remembered
It happens nearly every postseason: A pitcher -- either a reliever or starter on a few days' rest -- comes out of the bullpen, puts his team on his back and wills his franchise to live another day with an epic performance on the mound. Their electrifying appearance is remembered for years to come, with GIFs, clips and remember-when stories passed down from one generation to the next. Here are 10 of the best over the last century.
Pedro Martinez, 1999 ALDS Game 5
Martinez shouldn't even have been able to pick up a baseball, let alone throw one in Game 5 against the Indians. After coming out of Game 1 after four innings with a shoulder injury, he remembered the feeling well:
"I thought I did something bad because I heard it. I wasn't just feeling it. I heard it. I heard the pull. Pop."
But after watching the slugfest taking place in the elimination game from the bullpen (it was 8-8 after three innings), Martinez knew the Red Sox needed a stopper -- and they needed it from the best pitcher in baseball. He warmed up, the first time he'd touched a baseball since Game 1, and realized he didn't have his fastest fastball -- but he could still throw his changeup and curveball. He delivered six hitless innings with eight strikeouts, carrying the Sox to a 12-8 victory and ALCS berth.
"I put my career in jeopardy," Martinez said. "I knew that."
Madison Bumgarner, 2014 World Series Game 7
There probably hasn't been a bigger workhorse pitcher this past decade than Bumgarner. Going nine innings in a game is nothing for a man who once killed a snake and opened it up to save two baby jackrabbits. And during the 2014 World Series with the Giants, he put on one of the greatest individual performances in World Series history.
After throwing seven, one-run innings in Game 1 and tossing a 117-pitch shutout in Game 5, MadBum came in three days later in relief in Game 7. He entered the game in the bottom of the fifth with the Giants holding a 3-2 lead and never relinquished it. Five innings, four strikeouts and just two hits.
"He's not human," center fielder Gregor Blanco said after the game. "We gotta do something about this guy. We gotta take him to the doctor, I guess. I don't know. It seems like he is a robot."
Moe Drabowsky, 1966 World Series Game 1
Maybe best known for being a notorious prankster (he once claimed he was hit by a pitch and had somebody bring him to first base in a wheelchair), there was nothing funny about the Orioles reliever's appearance in Game 1 of the World Series against the Dodgers.
Drabowsky entered the game with one out and the bases loaded in the third inning, relieving starter Dave McNally. Drabowsky walked in one run, but then got out of it and pitched six more scoreless innings -- helping his team to a 5-2 win. He struck out a reliever-postseason-record 11, including six batters in a row. The underdog O's swept the Series, 4-0.
"Just what is a guy like me doing in fast company like this?" marveled Drabowsky after the game, his arms around Frank and Brooks Robinson. " ... It's about time I got in the books for something except the wrong end of the record."
We remember Moe Drabowski (1935-2006) https://t.co/cVFjSvpHID pic.twitter.com/00SL1PCc9U

— Silvio Canto, Jr. (@SCantojr) July 21, 2017
Mike Mussina, 2003 ALCS Game 7
Yankees starter Roger Clemens didn't have it in Game 7 against the Red Sox. He had given up six hits and four runs in three innings. The Yankees were down 4-0 and facing elimination against their bitter rivals. That couldn't happen, not to a team that hadn't won a World Series in 85 years.
So, manager Joe Torre called upon a guy that had never pitched out of the bullpen in his career. A guy that had just thrown 95 pitches three days before. Mike Mussina. He came in and shut down Boston's bats -- three innings, two hits, three strikeouts and zero runs. The Yankees won, 6-5, in 11 innings and moved on to the World Series.
Orlando Hernandez, 2005 ALDS Game 3
El Duque was more magician than pitcher during his nine-year career. His impossibly high leg-kicks, his eephus pitches, his ability to hide the ball behind his back until the very last second -- he made batters twist themselves into knots. And in Game 3 of the 2005 ALDS for the White Sox, he performed his greatest escape act ever.
The Red Sox, down 4-3, had loaded the bases with no outs in the sixth inning. Ozzie Guillen called upon the 39-year-old postseason master to get his team out of it, and he did. Hernandez got three straight outs and then six more in all -- striking out four, while giving up just one hit.
Pitching coach Don Cooper called it maybe the most important inning in White Sox history, while Hernandez said please don't bring me in with three runners on base again.
Nolan Ryan, 1969 NLCS Game 3
It's tough enough facing a team that has Tom Seaver and Nolan Ryan at the front of its rotation, but what if one of those guys can also come out of the bullpen for seven innings?
That's what Ryan did in Game 3 of the NLCS in 1969. The Braves were up, 2-0, after a Hank Aaron homer off starter Gary Gentry. With runners on second and third and nobody out in the third, Mets manager Gil Hodges decided to sub in the 22-year-old Ryan. The future Hall of Famer struck out his first batter, intentionally walked the next, struck out another and then got out of the jam with a fly ball. He went seven innings in total, striking out seven and giving up just two more runs. The Mets broke through against Braves starter Pat Jarvis and won the game, 7-4, advancing to the World Series.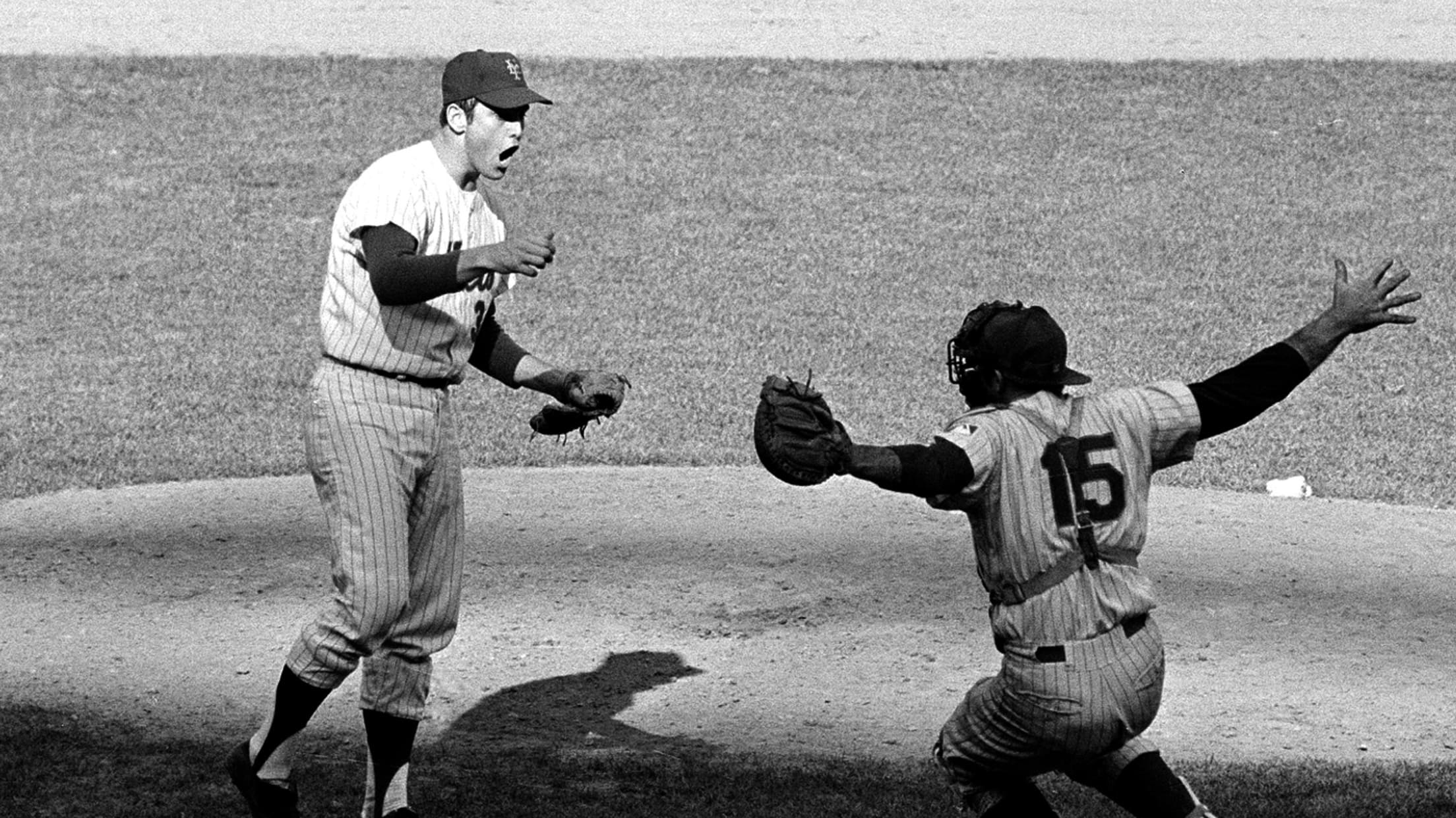 Andrew Miller, 2016 ALCS Game 2
We probably could've just put "Andrew Miller, entire 2016 ALCS" at the top and been done with it. The long, lanky lefty exploded onto the national scene during the '16 playoffs for the Indians: he pitched 7 2/3 scoreless innings over 4 games with a ridiculous 14 strikeouts during the ALCS alone. His best performance may have come in Game 2, though, when he struck out five over two perfect innings to guide Cleveland to a 2-1 win over Toronto.
Teammates called him the "best they've ever seen" and he was eventually awarded the ALCS MVP.
Francisco Rodriguez, 2002 ALDS Game 3
This may be the dictionary definition of an explosive postseason appearance.
K-Rod had pitched just five big league games before he was added to the Angels' postseason roster in October '02. The lack of experience didn't hurt him. He pitched 18 2/3 innings, compiling a 1.93 ERA, five wins, 28 strikeouts and just five walks. The most feared slugger of all-time, Barry Bonds, called the 20-year-old fearless, teammates raved about his high-90's fastball and slider that snapped off quicker than it came out of his hand.
His best and probably most remembered relief appearance was against the Yankees in ALDS Game 3. He threw a perfect two innings with four strikeouts. With the red sea of Angels fans, the fireworks, the Rally Monkey and this young phenom nobody had heard of -- the defending AL champs didn't stand a chance.
Grover Cleveland Alexander, 1926 World Series Game 7
Alexander is an all-time great pitcher in MLB history. He had 373 wins over 20 seasons with a 2.56 ERA.
But by the '26 World Series with the Cardinals, he was 39 years old. He was still very good, but he had more than 4,500 innings on his arm. And by Game 7 that postseason, he had already pitched two complete-game wins -- one in Game 2 and one just the day before in Game 6.
Oh, and also, when manager Rogers Hornsby called on him to come in relief against the Murderers' Row Yankees with the bases loaded in the seventh to hold onto a 3-2 lead, he may have been extremely hungover.
It depends who you asked postgame: some say Alexander wasn't hungover at all, while others say he was drunk, sleeping with a bottle of whiskey in his pocket and Hornsby had to meet him out in left field to make sure he could see straight. Either way, the right-hander was brilliant: He struck out Tony Lazzeri to end the threat and then pitched two more scoreless innings to seal the championship. He did walk Babe Ruth with two outs in the ninth ... and then The Babe was caught stealing to end the game.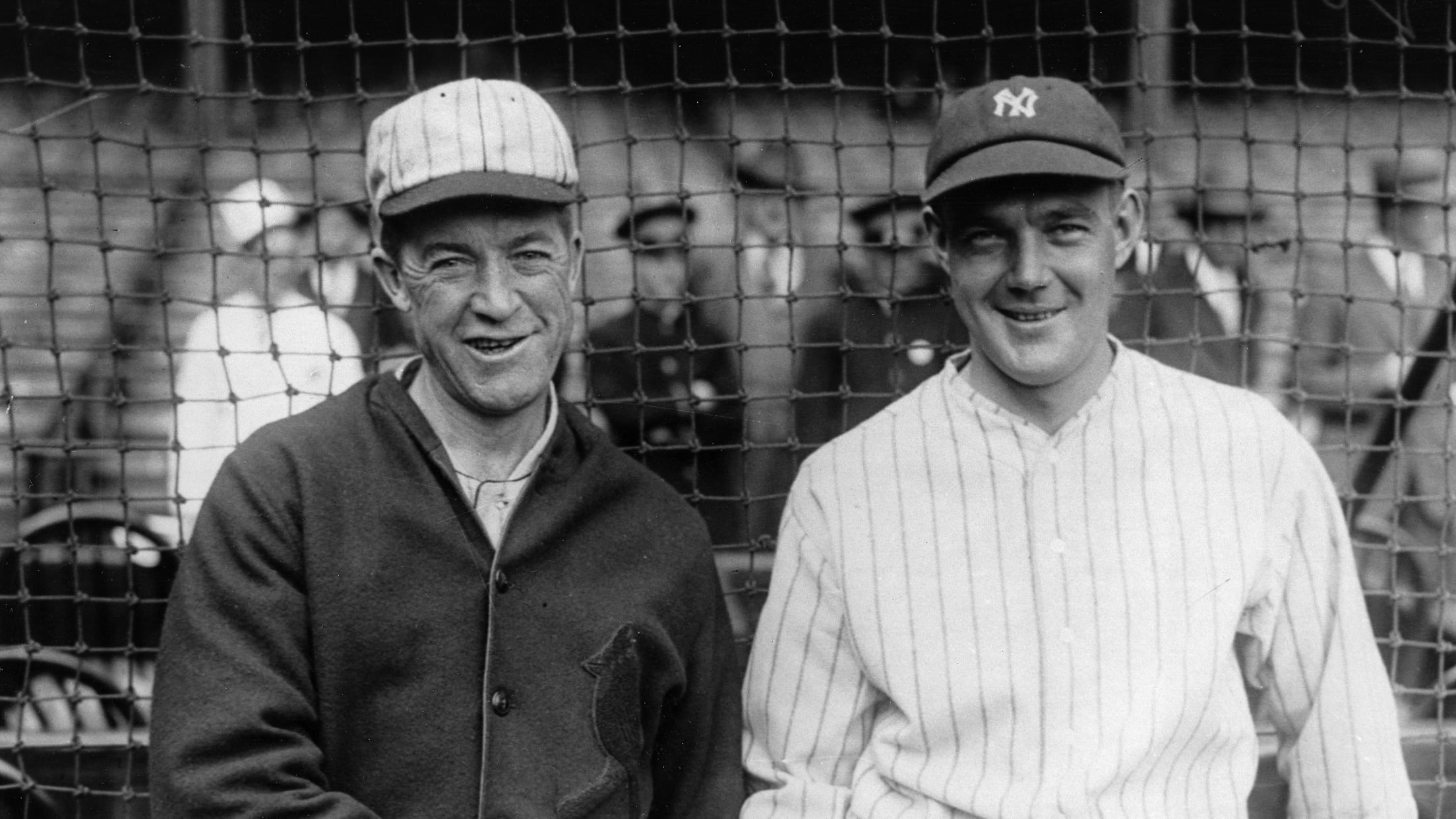 Mariano Rivera, 1995 ALDS Game 2
Rivera is likely the greatest postseason pitcher of all time. In 96 games, he has 42 saves, a 0.70 ERA, 110 strikeouts and just 21 walks. He had some legendary performances, including World Series clinchers and a memorable three scoreless innings against the Red Sox in Game 7 of the 2003 ALCS.
But his postseason debut, way back in Game 2 of the '95 ALDS, might've been his finest. The rookie had been used as a starter for most of the regular season, going 5-3 with an unsustainable 5.51 ERA. Management had even considered trading him. But dropped into an extra-inning game to hold the monstrous Mariners lineup at bay, he was brilliant. Rivera pitched 3 1/3 scoreless innings with two hits and five strikeouts. He struck out Jay Buhner and got Ken Griffey Jr. to fly out to center field.
The Yankees won the game in 15 innings, Rivera got the victory and the 25-year-old began his ascension to becoming the greatest relief pitcher in history.
Matt Monagan is a writer for MLB.com. In his spare time, he travels and searches Twitter for Wily Mo Peña news.