Garcia thriving as Padres' starting 2B
Notes on Paddack, Machado, Myers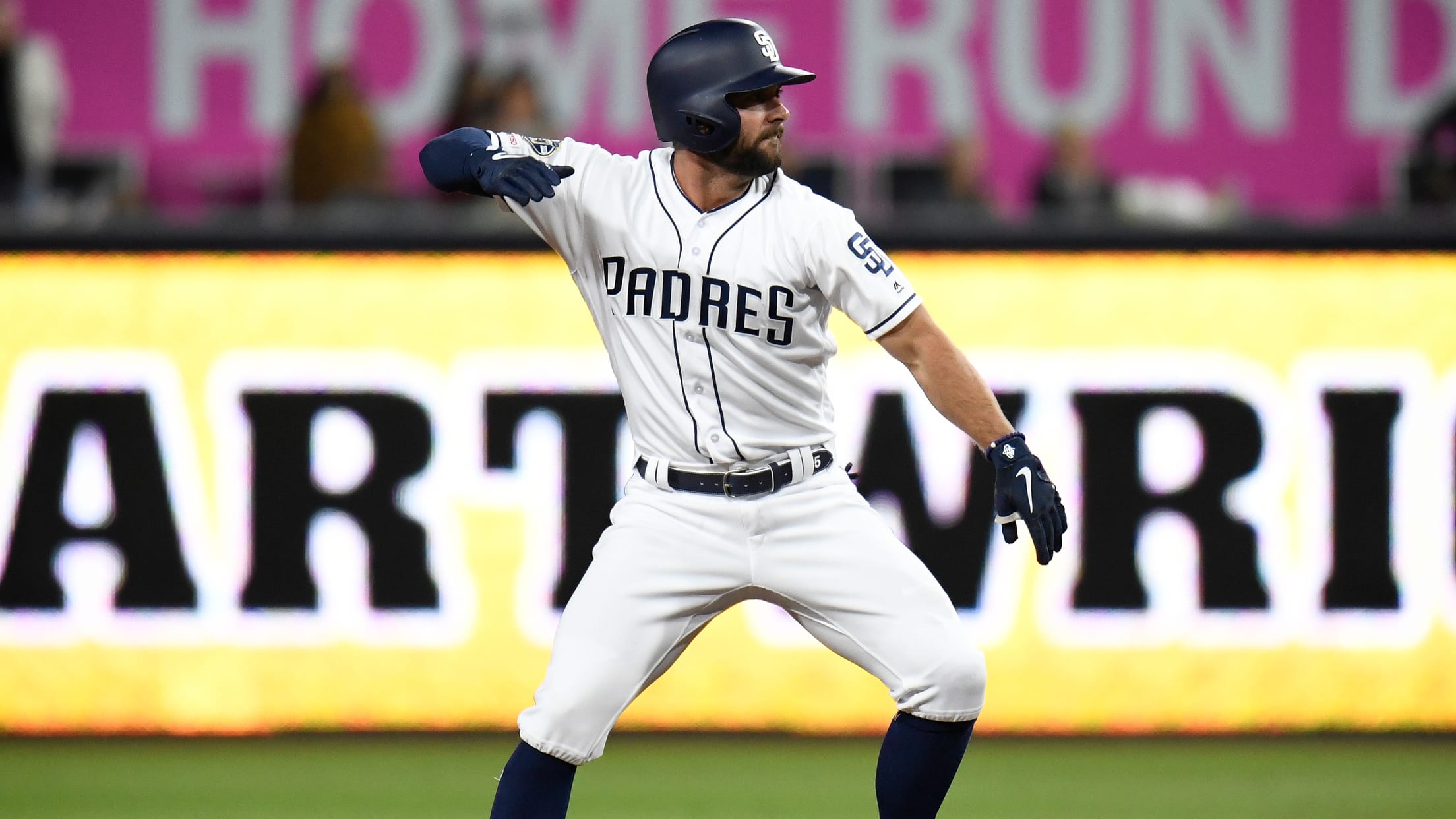 Bill Center, longtime sportswriter for U-T San Diego, is an employee of the Padres. With left-hander Clayton Kershaw starting for the Dodgers Tuesday night in Los Angeles against prized Padres rookie right-hander Chris Paddack, right-handed hitter Ian Kinsler could be starting at second for the Padres. But it is clear
Bill Center, longtime sportswriter for U-T San Diego, is an employee of the Padres.
With left-hander Clayton Kershaw starting for the Dodgers Tuesday night in Los Angeles against prized Padres rookie right-hander Chris Paddack, right-handed hitter Ian Kinsler could be starting at second for the Padres.
But it is clear that the left-handed-hitting Greg Garcia has become a regular at second base for the Padres.
Garcia, an El Cajon native and graduate of Valhalla High, has started four of the Padres' last five games at second base -- and he has gone 6-for-17 during those starts with a double, three walks, three RBIs and two runs scored.
Garcia has reached base in 13 of his past 14 games, although he was a pinch-hitter or late double-switch replacement in five of those games with only one plate appearance.
Over those 14 games, Garcia has gone 10-for-32 with a homer, two doubles, 10 walks, a sacrifice fly, six RBIs and eight runs scored. During the run, he has a .313 batting average with a .465 on-base percentage and a .469 slugging percentage for a .934 OPS.
Kinsler, meanwhile, is 9-for-30 (.300) over his past seven starts with two doubles and two homers for four RBIs and five runs scored for a .567 slugging percentage for a .867 OPS. But before those seven games, Kinsler was in a 5-for-49 funk that dropped his batting average to .133.
Notes
• Paddack is 3-1 with a 1.55 ERA in seven Major League starts going into Tuesday night's match with Kershaw at Dodger Stadium. But over his past three starts, Paddack is 3-0 with a 0.87 ERA and a 0.581 WHIP -- two runs allowed on nine hits and three walks with 25 strikeouts in 20 2/3 innings.
• Third baseman Manny Machado is riding a six-game hitting streak (8-for-24) and has hit safely in 11 of his past 12 games (14-for-49) and in 15 of his past 17 games (18-68) with two doubles, four homers and 12 RBIs.
• Outfielder Wil Myers was 4-for-8 in his past two games with a homer in Colorado after going 4-for-41 in his previous 14 games.