D-backs continue competition for closer
Lamb set to play every day; Walker fine after bullpen session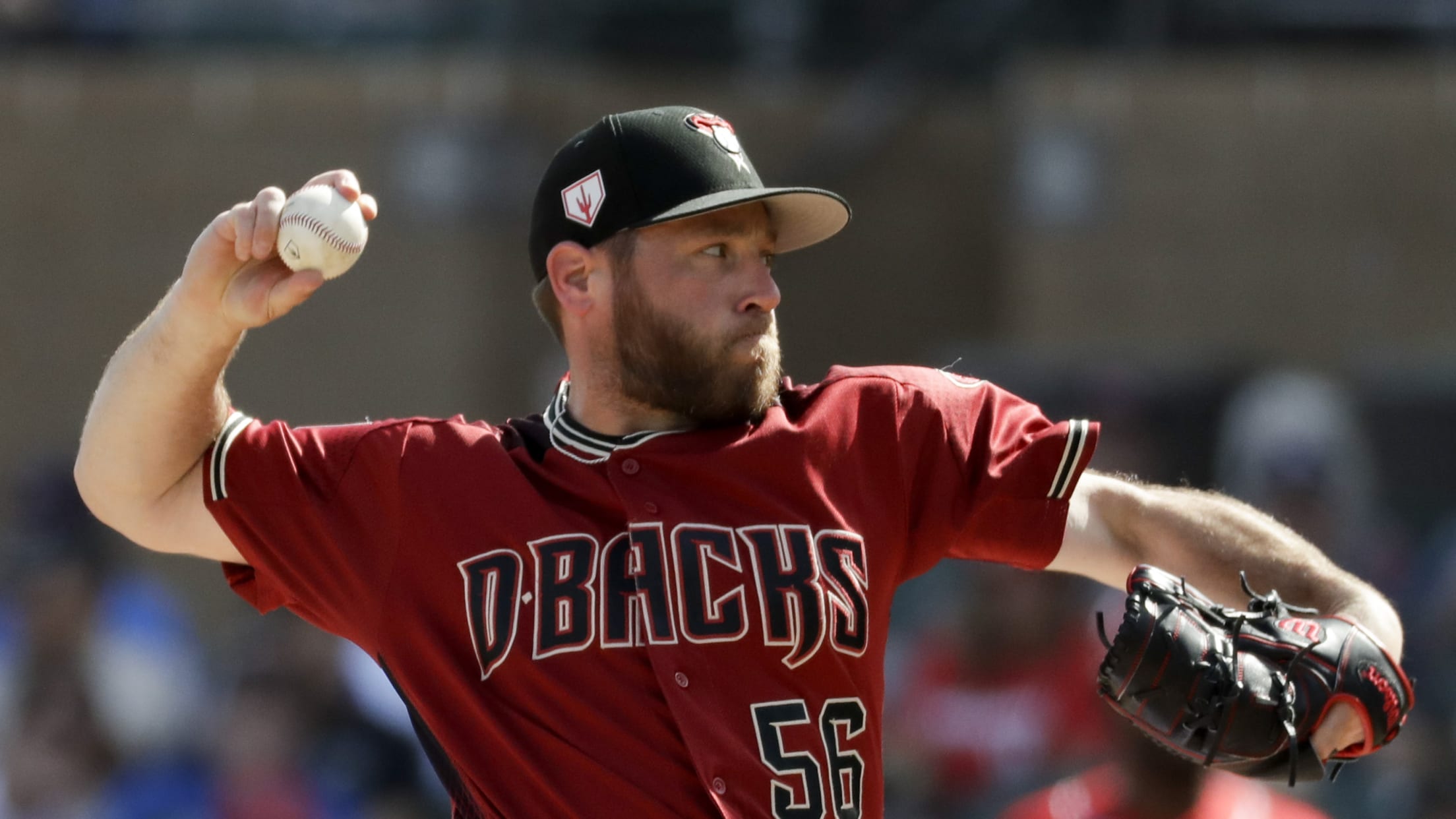 GLENDALE, Ariz. -- The competition for the D-backs' closer role, between Archie Bradley, Greg Holland and Yoshihisa Hirano, will continue through the final week of Cactus League play. "We'll have a closer that's going to be the last man standing out there, and then mix and match based on the
GLENDALE, Ariz. -- The competition for the D-backs' closer role, between Archie Bradley, Greg Holland and Yoshihisa Hirano, will continue through the final week of Cactus League play.
"We'll have a closer that's going to be the last man standing out there, and then mix and match based on the matchups and the information I'm getting and who's available," manager Torey Lovullo said. "That's what we've done in the past, and it's seemed to have worked. We like our bullpen pieces. We like all three guys that are competing for the [closer] spot, and we have additional guys that get big outs as well."
Joining Hirano, Holland and Bradley in the big league bullpen will be Andrew Chafin. Yoan Lopez, Marc Rzepczynski, and Rule 5 Draft selection Nick Green are among the top candidates also competing for a job.
In Wednesday's 11-2 win over the White Sox, Bradley threw 1 2/3 perfect innings before Lopez relieved him. Lopez finished 1 1/3 frames in the matchup, and allowed one run on two hits with one strikeout.
"We're getting really good reports on everybody on those back fields, and not just because of the results but because of the stuff," Lovullo said. "We're evaluating as we always do. I'd probably like to make a decision here in the next several days, but I want to give it the right amount of time."
Lamb gets every day nod
Jake Lamb is going to play first base for the D-backs when the regular season starts, and it doesn't matter who is pitching against him.
Lovullo confirmed the left-handed hitting Lamb will start against right-handed and left-handed pitchers, although the manager said he is open to adjustments as the season progresses.
Right-handed hitters Wilmer Flores and Christian Walker -- if he makes the team -- will also see action at first base, but it will not be a platoon situation.
"That's what's so great about this sport is that there's competition, and we have good players that are ready to step up and hopefully get opportunities," Lovullo said. "If they don't, I have to look at things a little bit differently and say, 'It might be time to make some adjustments.' That's just the nature of where we're at. Guys are going to earn some playing time, and you've got to go out there and do your job and help us win baseball games."
Lamb, who has struggled against left-handed pitching, has played only 29 innings at first base at the professional level. He was slowed by injury last season, but was an All-Star in 2017. He is expected back in the lineup Thursday after missing action because of back tightness.
"This particular Spring Training, the health is there, the swing path is there, and I know he's working extremely hard to learn first base, which I think he's done a nice job of," Lovullo said. "And then he's also working on an approach that I think will be very consistent against both left-and-right-handed pitching. I know those details from the coaches that are working with him every day, and they feel like Jake is ready to have a big year for us."
A family affair
D-backs outfielder Alek Thomas' Cactus League debut was one to remember. It was one his father, White Sox strength coach Allen Thomas, will never forget.
White Sox Director of Conditioning Allen Thomas participated in today's Lineup Card Exchange with his son, Alek Thomas, who was drafted by the @Dbacks in 2018. pic.twitter.com/pw9qvyWncs

— Chicago White Sox (@whitesox) March 20, 2019
Thomas, who is ranked Arizona's No. 6 prospect, according to MLB Pipeline, exchanged lineup cards with his father at home plate before the first pitch of Wednesday's game. In the matchup, he played in both left field and center field, and went 1-for-3 with a three-run home run in the ninth inning.
"That was a great moment," Lovullo said. "As a parent myself, you are always looking for those types of things to happen to your child. You hear about them on the telephone because you never really cross paths, because you are dad in baseball. But when you can watch your son do something that special on the baseball field, I'm sure he's feeling pretty amazing right now."
Thomas was drafted in the second round by Arizona in 2018.
Worth noting
• Luke Weaver was scheduled to pitch against the White Sox, but was scratched because he was not feeling well.
• T.J. MacFarland (shoulder) is scheduled to throw a bullpen Saturday.
• Taijuan Walker (elbow) felt fine Wednesday after throwing a 20-pitch bullpen session Tuesday.
Up next
The D-backs will send Merrill Kelly to the mound Thursday against the Angels at Salt River Fields. First pitch is set for 1:10 p.m. MST. Matt Koch is scheduled to pitch Friday against the Dodgers at Camelback Ranch.