Blanco revels in career as baseball lifer
Veteran considering coaching role once playing days end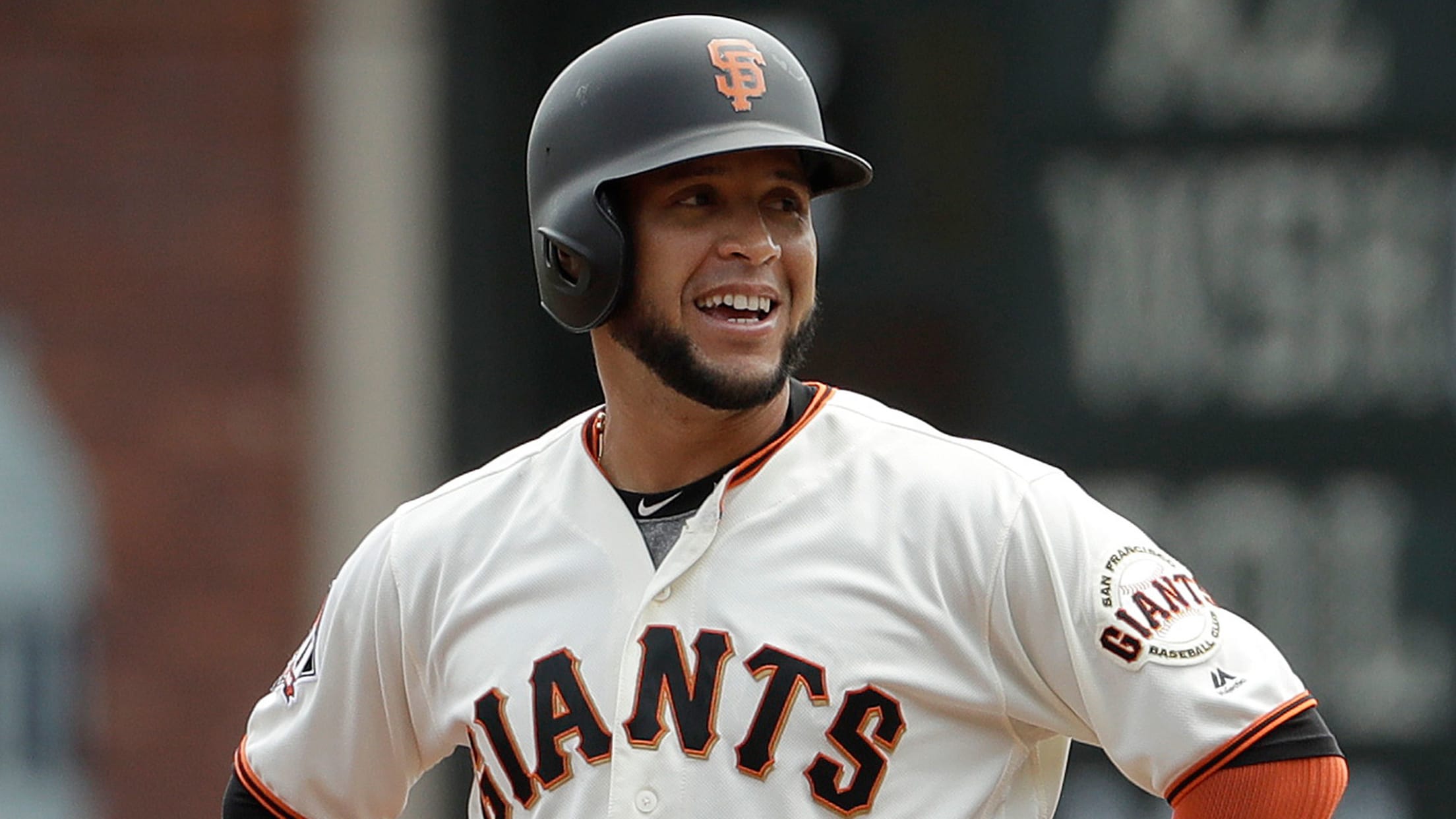 SAN FRANCISCO -- Accumulating 10 years of Major League service time is a goal that Gregor Blanco will chase with the same zeal that he has brought to chasing distant fly balls.Blanco, who has appeared in 717 of his 1,060 career games as a Giant, regards the 10-year mark as
SAN FRANCISCO -- Accumulating 10 years of Major League service time is a goal that Gregor Blanco will chase with the same zeal that he has brought to chasing distant fly balls.
Blanco, who has appeared in 717 of his 1,060 career games as a Giant, regards the 10-year mark as an achievement that would forever stamp him as a veteran among veterans.
"To me, that's the only thing I'm fighting for," said Blanco, who owns eight years and 72 days of service time in the bigs. A Major League "year" is defined as 172 days spent on the big club's roster.
Eligible for free agency, Blanco realizes that at his age (he turns 35 on Christmas Eve) and ability level (he's widely regarded as a quintessential fourth outfielder), he won't be highly sought after on the open market.
That doesn't spoil his dream of eventually becoming a 10-year big leaguer, however.
"If I can't make it as a player, at least I'm going to try to make it as a coach," Blanco said shortly before the regular season ended. In that event, his service-time odometer would stop, but that's not the point. The significance lies in Blanco's desire to remain in baseball.
"The last few years, I've been thinking about [coaching], and I think it's in me to do it," he said. "I love this game so much. I don't think I can get enough."
Giants manager Bruce Bochy enthusiastically endorsed Blanco as a coaching candidate.
"What a great person he is," Bochy said. "He's positive. He knows the game from being a role player and from being a starter. He would make an outstanding coach. You see him helping out players and he's not even a coach now. The energy he brings; the knowledge, really, in all facets of the game. You look at where Gregor could help a player. Outfield defense, the hitting, the bunting, the baserunning -- he's a pro."
Blanco demonstrated each of those skills in memorable fashion during his Giants tenure, which began when he made the team as a non-roster invitee in 2012. Samples include:
• His running, lunging catch of Jordan Schafer's seventh-inning drive to right-center-field to preserve Player Page for Matt Cain's perfect game against Houston on June 13, 2012.
• His seventh-inning bunt that rolled more than halfway up the third-base line and stayed fair for a single that loaded the bases and set up the run that broke a scoreless tie in Game 2 of the 2012 World Series against Detroit.
• Fitting the description of being a basestealing threat more than any other Giant by swiping 81 bags in 111 tries during six seasons with the club.
• Muscling up when necessary. Though Blanco was anything but a slugger, he hit 23 homers in 2,410 plate appearances as a Giant (postseason included). His two-run homer in Game 4 of the 2012 National League Division Series at Cincinnati propelled San Francisco to victory in that must-win game.
Just this year, his Sept. 21 single off Cardinals right-hander Jordan Hicks came on a 102.4-mph sinker, the fastest pitch a Giants player has ever struck for a base hit since Statcast™ began tracking such data in 2015.
"I feel blessed. I feel comfortable," said Blanco, a .255 career hitter. "I feel so happy and so proud of myself for my career. I've done so many things in my career that I can appreciate."