Canning punches out 8 in up-and-down outing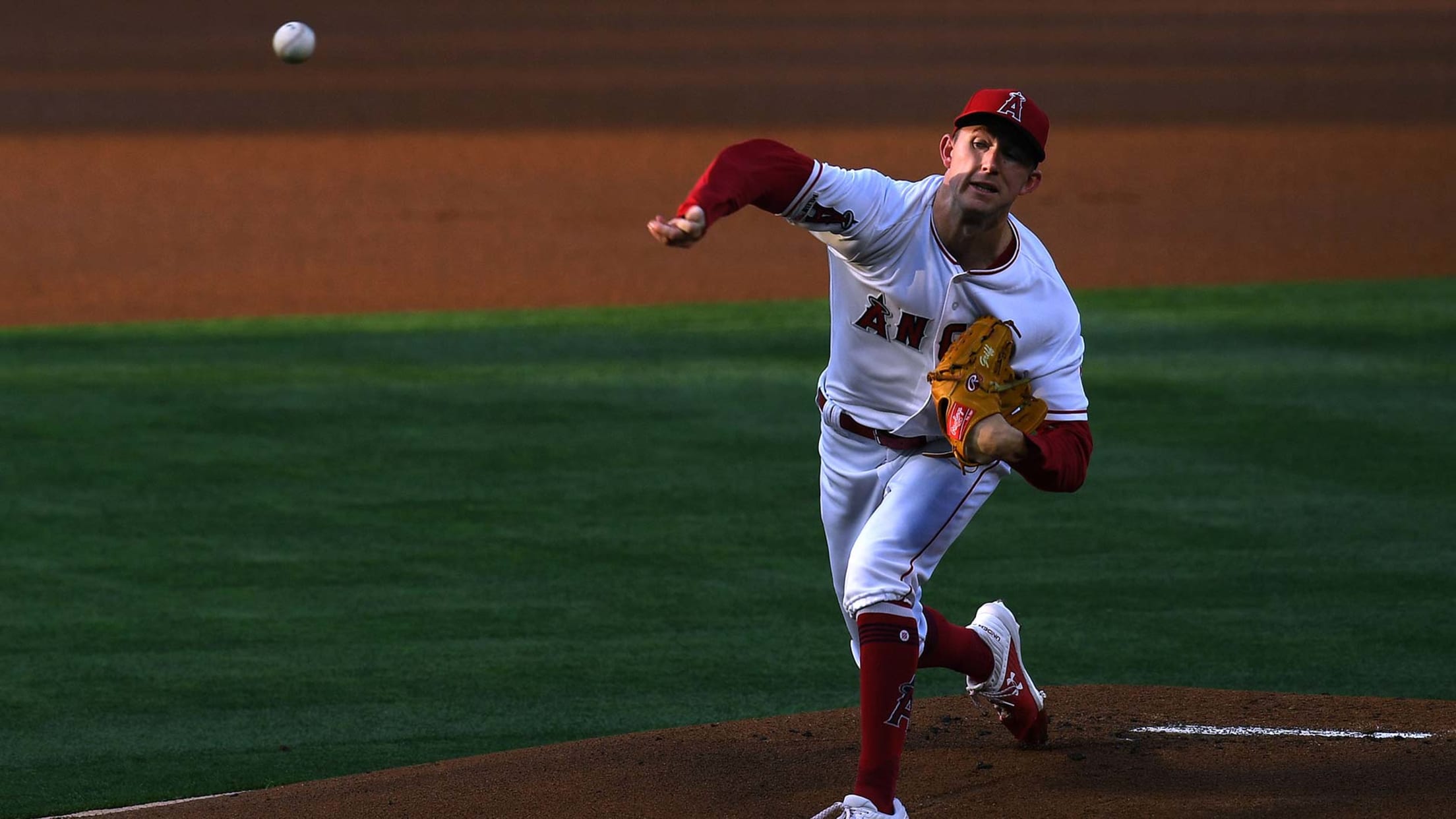 ANAHEIM -- Rookie right-hander Griffin Canning, tasked with facing a team for a second time for the first time in his young career, was solid early, but was hurt by a two-run homer in the sixth inning in a 4-2 loss to the A's in the series opener on Tuesday
ANAHEIM -- Rookie right-hander Griffin Canning, tasked with facing a team for a second time for the first time in his young career, was solid early, but was hurt by a two-run homer in the sixth inning in a 4-2 loss to the A's in the series opener on Tuesday night at Angel Stadium.
Canning, starting against the A's for a second consecutive outing, couldn't replicate his success from Oakland, when he allowed just one run on three hits over six innings on Wednesday. This time, Canning was charged with four runs on seven hits and one walk over six innings, with eight strikeouts.
"Overall, he's been pretty consistent about giving us a chance to win the game," Angels manager Brad Ausmus said. "The two-run homer at the time hurt. But he did a good job. Not every outing is going to be hitless through three and scoreless through five. But he does a good job of limiting damage and getting swings and misses."
Canning, making his seventh career start, cruised early before running into trouble in the third inning. After giving up a one-out single to Matt Chapman, he walked Matt Olson on five pitches. Khris Davis then made him pay with an RBI double to left-center field to bring home the game's first run. Stephen Piscotty followed with a sacrifice fly to right to give Oakland an early 2-0 lead.
Canning settled down from there and looked like he was on his way to yet another strong start, but in the sixth, he learned the hard way about falling behind in counts. After giving up a one-out single to Robbie Grossman on a 2-1 fastball, Canning also fell behind Ramon Laureano, 2-1, and served up a two-run homer on a hanging breaking ball. Canning recovered to get out of the inning and threw a season-high 102 pitches on the night.
"Just not enough pitches for strikes, falling behind guys and obviously getting myself into bad counts," Canning said. " [The homer] was a curveball that just stayed up."
It wasn't all bad for Canning, however, as he still displayed his ability to generate whiffs, registering 18 swings and misses, including 12 from his slider, four from his fastball and two from his changeup. It helped him become the fourth pitcher in American League history to begin a career with at least five strikeouts in the first seven starts of a career, joining Masahiro Tanaka (11 times), Herb Score (10) and Orlando Hernandez (nine). His 42 strikeouts through seven starts is also the second-highest total in Angels history through that many outings, behind Shohei Ohtani's 52.
"There's definitely some positives I can take," Canning said. "My slider was better. I threw a couple good changeups. Fastball command was a little bit better. I'll watch the video tomorrow and really kind of pick it apart."
As far as pitch mix, Canning stayed away from his curveball more than in previous starts, as he went heavy on the slider, throwing it 30 times. Canning said that was part of the game plan, as he also believed his slider was better than his curve in his last outing.
"He seemed like he held his curveball back until later innings," Ausmus said. "He was mostly fastball, slider, change early, and then he used the curveball a little bit more as he got deeper in the game."
After Canning departed, the Angels finally got on the board against right-hander Frankie Montas in the bottom of the sixth. Mike Trout was hit by a splitter on the 13th pitch of his plate appearance, and Ohtani followed with a towering two-run blast to left to get the Angels on the board. Ohtani's fourth homer of the year came on a first-pitch 95-mph fastball that he inside-outed, leaving the bat at 104.1 mph and traveling a projected 388 feet, per Statcast.
"Mike's at-bat was outstanding," Ausmus said. "I think Montas was getting a little bit frustrated trying to get him out. Maybe in theory he wore him down for Ohtani. But really that was the only offense we were able to muster tonight."
It was a good sign from Ohtani, however, as he's been working to elevate the ball with authority recently and is starting to see better results. Pitchers have been working him with inside fastballs because he hasn't been pulling the ball much this year, but this time, he was able to hit it the other way with power.
"I've been feeling better at the plate daily," Ohtani said through interpreter Ippei Mizuhara. "Sometimes the results aren't there even when I make hard contact. But I'm feeling better, so I'm hoping the results come with it."